Game news God of War Ragnarok: You're not going to leave the PlayStation exclusive thanks to this developer surprise!
Published on 22.12.2022 at 20:28
Now that the war between Elden Ring and God of War: Ragnarok has given its verdict at the Game Awards, the two games will be able to continue on their journey. As for Kratos, he will finally be able to bury the hatchet with GOTY 2022 and enjoy his success on PlayStation consoles. However, not everyone is eligible for this vacation, starting with the Santa Monica Studio teams hard at work on the next features to be featured in the title, and the one just made official is one of the most popular!
Summary
The PS5 and PS4 exclusive continues to be updated, a nice surprise for 2023!

Even if there is no DLC, Kratos and Atreus will go on an adventure
The PS5 and PS4 exclusive continues to be updated, a nice surprise for 2023!
While the Game of the Year war is behind us – it's more of a time for cohabitation, as this stunning recent mod has shown us – the battle for ratings is still going on and seems more like playing against Kratos and Atreus' new adventure. However, the former god of war and his son know how to make money and really plan to move forward with new updates. If for now Santa Monica Studio is content to spruce up the game with small improvements and other fixes, PlayStation exclusivity is gearing up for 2023.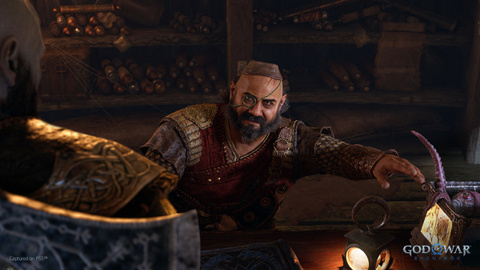 Indeed, God of War: Ragnarok still has great things to do, and we're not necessarily talking about the Amazon series that's currently on everyone's lips following recent announcements from the TV subsidiary's co-president. We're interested in the gameplay aspect of this sequel here, and while the DLC issue seems rather hidden on the dev side, the Santa Monica studio teams are in place to keep you enjoying the game. again and again! Better: they've already found a solution, but we'll have to be patient.
Even if there is no DLC, Kratos and Atreus will go on an adventure
In between the traditional God of War: Ragnarok updates, the developers are redoubling their efforts to add some features that players sometimes look forward to. At release, for example, players weren't able to fully express their artistic fiber thanks to the deservingly named photo mode. Problem solved in just two weeks! Players will now love being able to start the adventure of Kratos and Atreus all over again without having to start all over again. Do you see us coming?
We know many of you have asked this, so we're excited to announce that New Game Plus will be coming to #GodofWarRagnarok in Spring 2023!

We'll share more details as we get closer to release! 🐻 🐺 pic.twitter.com/vmv5X2USuW

— Santa Monica Studio — God of War Ragnarok (@SonySantaMonica) December 22, 2022
In addition to talking about the content of this sequel, as well as the recent admissions of creating the biggest slapper of this second part, the developers of Studio Santa Monica posted on Twitter announcing that God of War: Ragnarök will soon have a New Game + mode is a gift for those who want to get back to adventure while keeping their hard-earned gear. However, while this is not the case, now the teams are working on its creation, which means that the release will not take place until spring. Until then, the studio staff promised us new details when the release is close, but not before.