He is the best companion for cooks in need of time. Launched almost ten years ago, the famous Cookeo de Moulinex has revolutionized the daily lives of many French people. If you've always dreamed of offering yourself one, Amazon is currently offering, as part of a flash sale, the Cookeo CE704110 model at a price defying all competition: 184 € instead of 229, 99 €, or 20% reduction (€ 45.99 savings). Note that as a bonus, delivery is free.
Moulinex Cookeo CE704110: 100 pre-programmed recipes
Smart pressure cooker, the Cookeo CE704110 from Moulinex is equipped with 100 pre-programmed recipes. Equipped with an intuitive control screen, it assists its user in the preparation and cooking of his dishes, while adapting the quantities to the number of people (2, 4 or 6). Multifunction robot, it is capable of steaming, browning, reheating and keeping warm at the end of cooking. It is ideal for people who lack inspiration in the kitchen or those who are sorely lacking the time to concoct small balanced dishes.
" Super investment "
On Amazon, it is one of the best rated multifunction robots and has an honorable score of 4.5 out of 5 out of 4,443 reviews. Among the many comments, we can read: " I received this device as a gift for my birthday. I haven't stopped using it ever since. Very practical, both for the way of cooking and for saving time. For example a bourguignon cooked in 35 minutes instead of 2 to 3 hours with gas. A risotto in 15 minutes "; " Truly the best food processor I have had, the recipes included inside are awesome (…) It is super easy to clean and maintain. In addition, the internet is full of recipes with this robot! Super investment ". To take advantage of the flash sale on the Cookeo CE704110 from Moulinex, go to this page.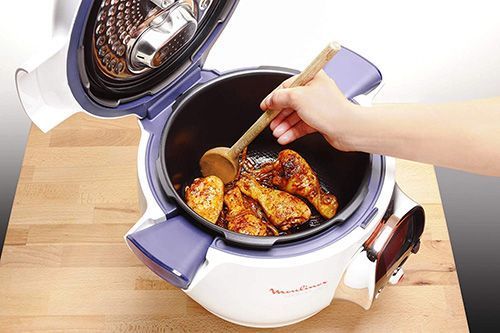 Also to discover: Lidl launches flash sale of oriental products at knockdown prices on April 7