The Google Pixel Tablet based on the Google Tensor G2 chip is in development and should arrive sometime in 2023.
Google first unveiled the Pixel Tablet during the Google I/O 2022 press conference and gave us more details during the October 6th event. Google is introducing the new tablet as a complement to the Pixel 7 and Pixel 7 Pro smartphones, as well as the new Pixel Watch that was unveiled at the October event. There are rumors that a second Pro tablet may also be in development.
Here's what we know so far about Google's planned Pixel tablet, which we hope will prove good enough to earn a spot on our list of the best tablets on the market.
Google Pixel Tablet: Latest News (Updated October 29th)
Google Pixel tablet: price and release date speculation
So far, we don't know much about the Pixel tablet, but we do know that the release date will be sometime in 2023. Prices are still unknown.
We could see it debut anytime this year, but it's actually unlikely that Google will bring this new tablet to market in early 2023. It's much more likely that the Pixel tablet will debut in the spring or fall, when Google traditionally releases hardware.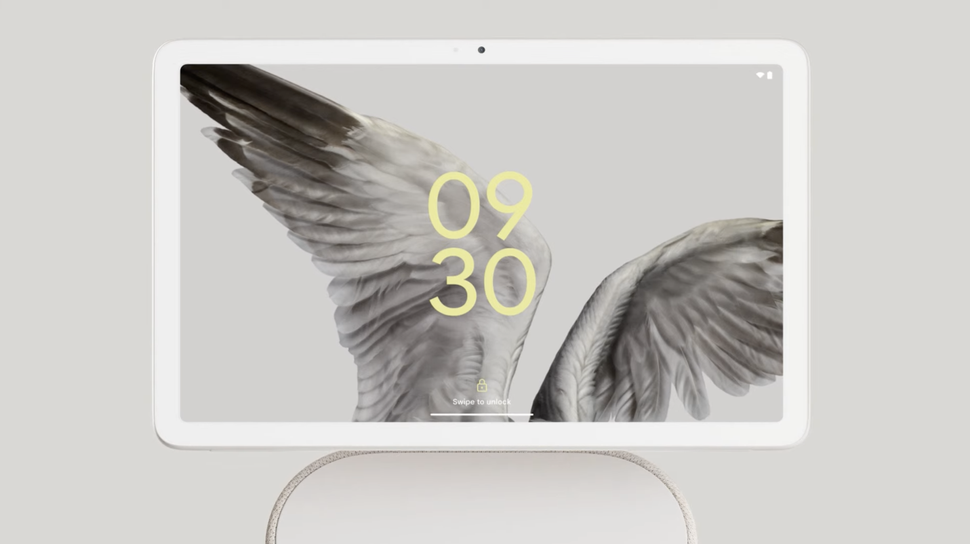 (Image credit: Google via YouTube)
The fall seems especially likely given that Google's latest tablet, the Pixel Slate, was released in October 2018. Before that, Google released the Pixel C tablet in December 2015. The Google Pixel tablet will debut in the second half of 2023.
However, given that Google actively teased the device at its October 2022 event, there's a chance it will release the tablet sooner rather than later. So while fall is still a reasonable bet, don't rule out an earlier launch.
Google Pixel Tablet Design
At the Google I/O 2022 event where it was unveiled, we got a sneak peek at some promotional shots of the tablet, and they suggest it's going to be a rather gaudy tablet.
Here's a quick look at our upcoming Pixel tablet 👀A next-gen @Android tablet powered by Google Tensor designed to complement your Pixel phone.#GoogleIO pic.twitter.com/5WU6O09UKdMay 11, 2022
To learn more
Luckily, we got more information at Google's October event and it seems to confirm some of the rumors we've seen.
First, a rumor from developer Kuba Wojciechowski suggests that the Pixel Tablet could have a big screen with a huge 10.95-inch display. Google has specifically stated that the display will be larger and is tweaking the device to compete with smart displays like the Amazon Echo Show 10 in addition to other tablets. So this rumor seems to be confirmed for now.
Another rumor suggests that the Google Pixel Tablet could also come with a stylus, like the Google tablet codenamed "Tangor" on the Universal Stylus Initiative (USI) website. Google explicitly stated at its October event that they are working with developers on stylus-enabled apps, so whether or not the Pixel Tablet comes with a stylus, it looks like it will definitely support it.
There were also persistent rumors about the Nest Hub with a removable screen. The Android codebase mentions a Google dock capable of charging the tablet and allowing it to act as a smart screen. The same thing was seen just recently in a randomly released version of the Google Home app that had a tablet dock setup feature.
While the Nest Hub may still be in development, it's now clear that the Pixel Tablet will work with this rumored Google Dock. Google wants the Pixel Tablet to serve as both a tablet and a smart home hub, and it will either come with a speaker dock or be sold separately. It looks like the tablet will attach to this dock (magnetically) when not in use to serve as a smart display, then quickly lift up when you need to take it on the road or relax on the couch with it. When docked, your tablet display will show a rotating carousel of images from your Google Photos library.
There are a few more design notes that Google confirmed at the Pixel event on October 6th. The Pixel Tablet will feature rounded edges and a nano-ceramic coating on the back of the tablet body, made from 100% recycled aluminum. These features are designed to make the tablet feel softer and more comfortable in your hands.
We also know that the Pixel Tablet will come in at least one color, as Google showed off the tablet in a Hazel color at an October event. Material You is also set to integrate with the Pixel Tablet, allowing users to set their own color palettes based on their lock screen and wallpaper. This feature is also available on the most recent Pixel smartphones, so it's no wonder it's here.
Google Pixel Tablet Specifications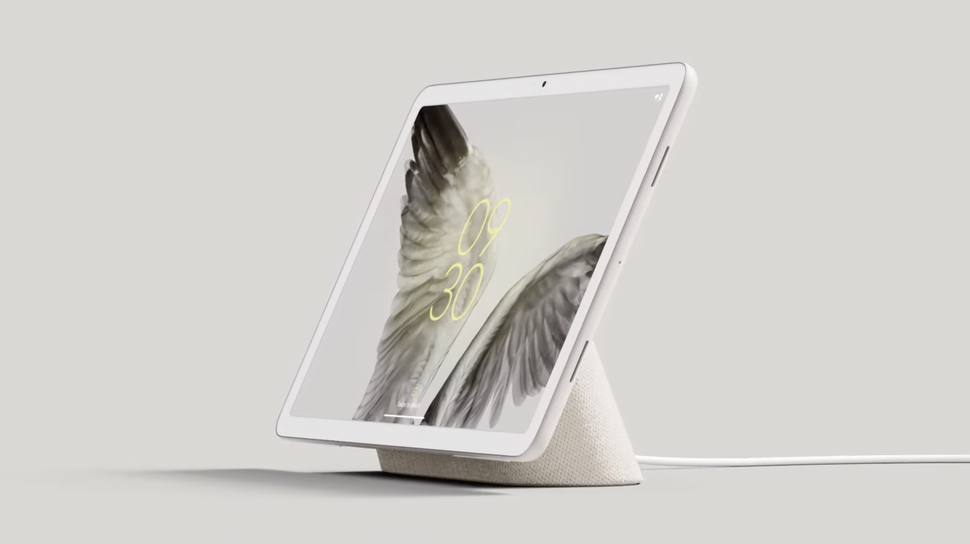 (Image credit: Google via YouTube)
According to the information found in the AOSP code, the Google Pixel tablet should receive the first generation Tensor chip, which should provide a set of AI and smart functions, and 4 GB of RAM should reduce costs. However, we now know that the Pixel Tablet will be powered by Google's new Tensor G2 chip, so take the RAM rumors with a pinch of salt.
Developer Cuba Wojciechowski said that the Pixel Tablet may come with 128GB or 256GB of internal storage and support WiFi 6. It may not have GPS or cellular support other than Wi-Fi. The report also mentions that Google is apparently preparing its own USI 2.0 stylus (universal stylus support) for the device and also supports third party styluses. Google has since confirmed at its October event that it is working on both stylus and split-screen support with various app developers.
And while few people use tablets for photography, it's interesting to note that both the front and rear sensors were powered by the IMX355 hardware from the Pixel 6's selfie camera. In fact, Google has hinted that it wants the tablet to have enough of the features of a Pixel smartphone, which is why this rumor about the hardware may be another indication of this.
Google Pixel Tablet: Android 13
The same people who work on Android are working on the Google Pixel tablet, and Google unveiled it during its I/O event in 2022 as an example of how the company is working to improve the Android experience on tablets.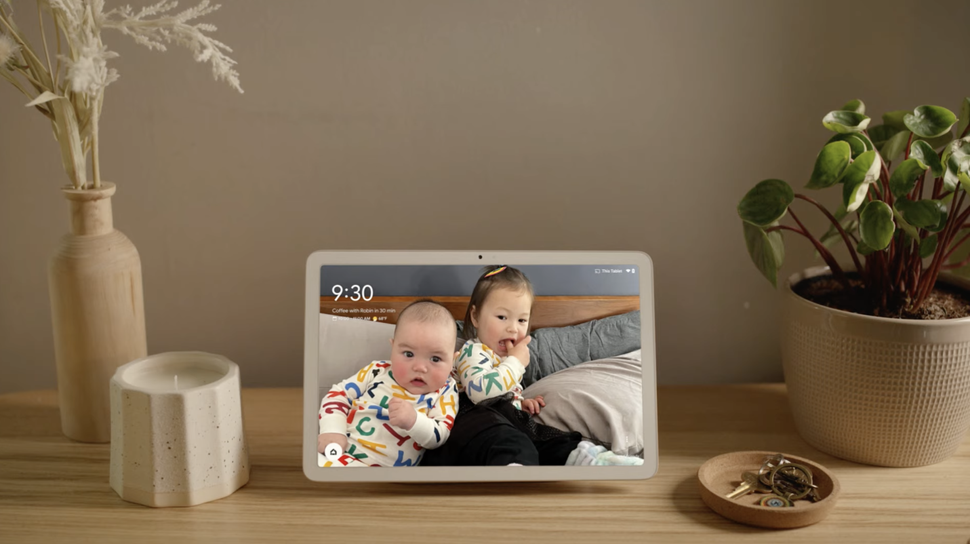 (Image credit: Google via YouTube)
This was part of a larger promotion for all the new features coming with Android 13, including some that should shine on the Google Pixel tablet.
In particular, Google has committed to updating over 20 of its own apps to make them more useful and easier to use on "big screen" Android devices such as tablets (as opposed to "small screen" devices such as phones). ). In addition, the tablet's overall interface is getting an overhaul, as you'll be able to see more information at a glance and have constant access to the taskbar located at the bottom. As you might expect, there will also be a drag and drop feature between apps.
The Google Pixel tablet may be getting a redesigned interface for Google Assistant and Discover, in line with the teardown of the beta update of the Google Search app, which is 9to5Google (will open in a new tab) disclosed. The assistant can be summoned with the same hotword, and while the colorful "lightbar" design that Pixel phones have is still present, the assistant will display its answers neatly on the right side of the screen.
Google also gave us an early look at the Pixel Tablet UI – it hints at a more shared device rather than a personal tablet. The status bar and taskbar are much taller than we originally thought. In the former, the icons and time are farther from the edges of the screen than you see on mobile, and the Keep GIF has a prominent account switch icon. This suggests that Google sees tablets less as a personal device and more as a device that family members can use.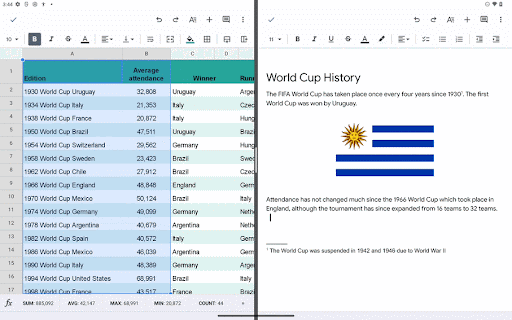 (Image credit: Google)
Google is also working with third-party developers to make their apps more tablet-friendly. This includes Zoom, TikTok, Facebook, and Canva. And the Google Play Store will make it easier to find apps optimized for tablets. Google said during its October 2022 event that it is working with various app developers on stylus and split-screen support for apps.
And while we're still learning what to expect from Android 13, we already know it's coming with support for features like virtual surround sound, themed third-party icons, Bluetooth LE audio, notification permissions, and better tools to manage your battery. use. And since Android 12L made so many small improvements to the overall experience of using Android on a tablet, it's likely that Android 13 will continue this trend.
Google Pixel Tablet: Cameras
Little is known about the camera specs that we could see on the Google Pixel tablet. Liquor and developer Cuba Wojciechowski tweeted (will open in a new tab)likely camera hardware we could see on the Pixel tablet. This includes two 8MP cameras – one on the front and one on the back.
In comparison, iPad Pro models come with 12MP front and rear cameras, while the entry-level iPad offers 8MP rear and 12MP front cameras.
Google Pixel Tablet: Outlook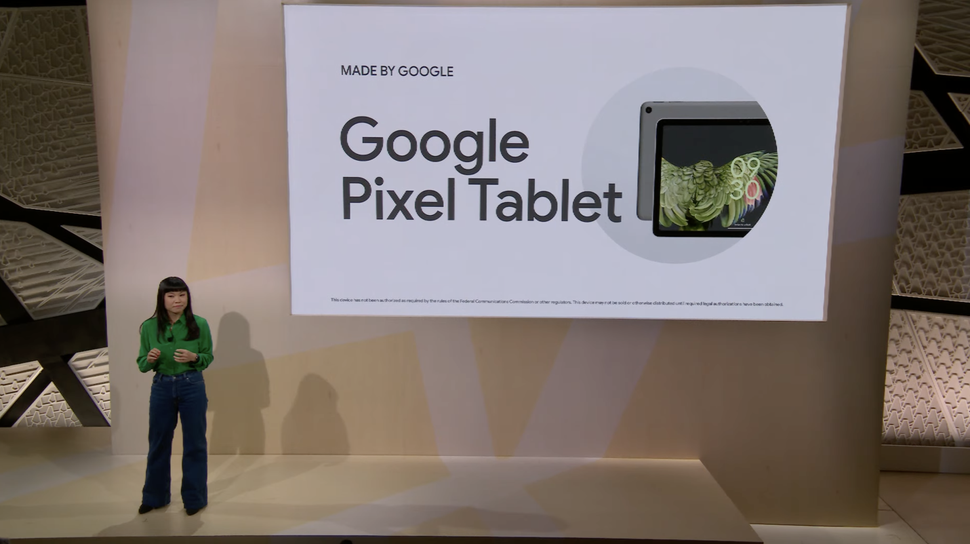 (Image credit: Google via YouTube)
Based on what we now know, it seems that Google is targeting Amazon in the same way that Apple is targeting the Pixel tablet. The speaker dock integration is a clear step in the smart display market, currently led by the Echo Show 10. But it's still a tablet designed for use at home or on the go, so it still competes with the iPad. and iPad Air. Aside from the bigger screen, it doesn't seem to be trying to directly compete with the iPad Pro.
For what it's worth, the Android tablet market could use some competition. Just take a look at our list of the best Android tablets you can buy and you'll see that it's dominated by Samsung tablets, including the excellent Galaxy Tab S8 and Galaxy Tab S8 Ultra. It would be nice if Google introduced a new contender to the table that puts the best Samsung tablets in competition for their money; we'll just have to wait and see if the Pixel Tablet can handle it.