Available since last year (August 2021) on PC, Grime, the alliance between Action-Adventure RPG, Metroidvania and Souls-like 2D, is finally coming to home consoles in late 2022, and that's on the occasion of the release of "DLC" Colors rot." What is this adventure published by Akupara Games worth? That's what we're going to see together!
Grime, along with the "Colors of Rot" DLC (free), was developed by Clover Bite, an Israeli studio founded a few years ago with Team Malignant, a team passionate about hardcore game development.
As stated in our introduction, for its appearance on consoles (PS4, PS5, Xbox One, Xbox Series X | S), the software is accompanied by its "Colors of Rot" DLC, completely free. Overall, the latter brings a few extra things: cinematics, area, new enemies, weapons, exploration abilities, adding interactions with characters, bosses, etc.
In other words, nice and welcome additions, even if there are still some bugs. Please note that the team is slowly fixing these bugs through various patches. But also that a new DLC (New Game+) different from the traditional habits we've seen elsewhere is also in the works. But for now, let's look at history.
Very very mysterious story.
Grime's adventure takes us to the very heart of a mysterious and very mysterious world, in the manner of Souls / Souls-like. In this world, we embody a barely born character, moreover, a "dumb one". Inevitably, with a body of rocks and a black hole instead of a real head, otherwise it would be difficult. Soon we find ugly and imperfect beings, as if striving for perfection. Then we are offered a mysterious journey.
Unknown, enigmatic, enigmatic and enigmatic are the words that best describe the scenario part of Grime. In addition to allowing our imagination to judge the content of the story, the developers also wrote here and there, in the descriptions of each element, bestiary, objects, …, snippets of information. In general, the intriguing universe is rather dark, full of despair and at times even unsettling.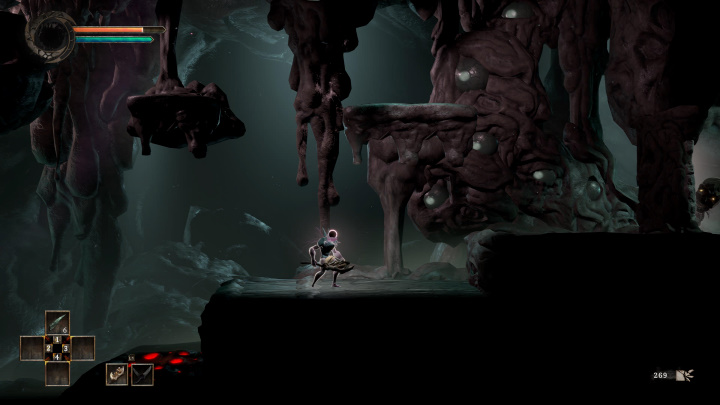 Metroidvania: powers, secrets, traps, enemies, replay, it's all there
Yes, "disturbing", I must say that the atmosphere also gives off something more "creepy and repulsive", even with an atypical bestiary: attacking members of the corps, for example. But also a very unique atmosphere during this journey through different environments.
As the main mix between Metroidvania and Souls-like 2D, we find the codes of the genre, namely the acquisition of abilities for the former, which allows you to re-read places in search of "new items", as well as difficulties, as well as endurance and patience for the second name.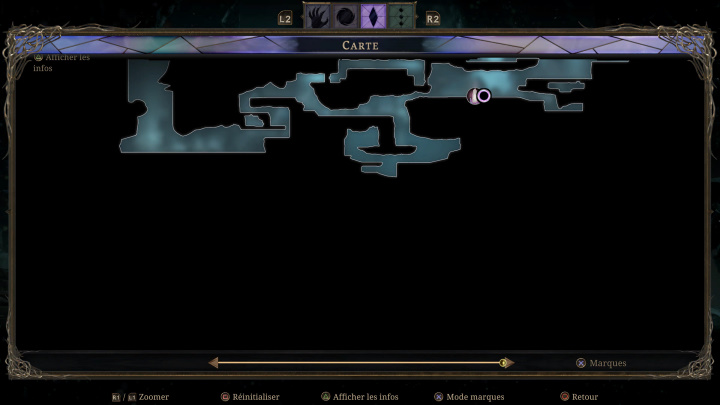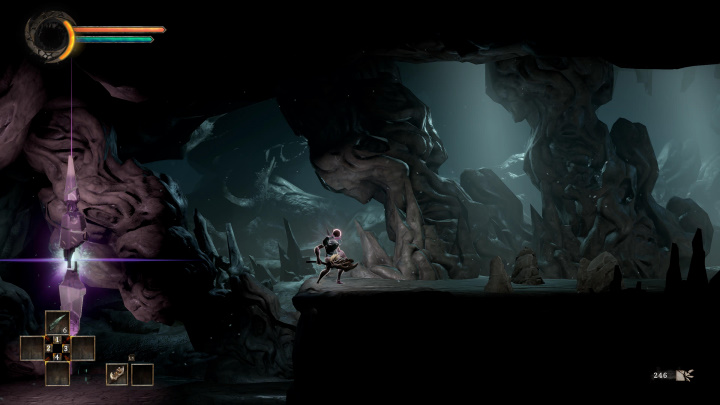 In this universe, as in classic Metroidvania, all environments that benefit from beautiful art direction and well-chosen colors/paints, despite often being in caves, are interconnected with each other. Thus, we find the usual progression, i.e. combat phases, platforms (with traps) – sometimes more accurate, given the link to the stamina bar – and a lot of secrets.
Sometimes they are also quite well hidden, offering rewards to encourage you to discover them. Moreover, like apps using the same Metroidvania process, replaying with "new power" in hand (double jump, etc.) is nice and enjoyable; provided, of course, to enjoy learning from top to bottom, but also to know how to manage abilities and stamina, which are intertwined and can hinder progress if we don't pay attention. This will probably happen quite often in the beginning for those impatient in the platform stages, but in return, if successful, satisfaction will be in order.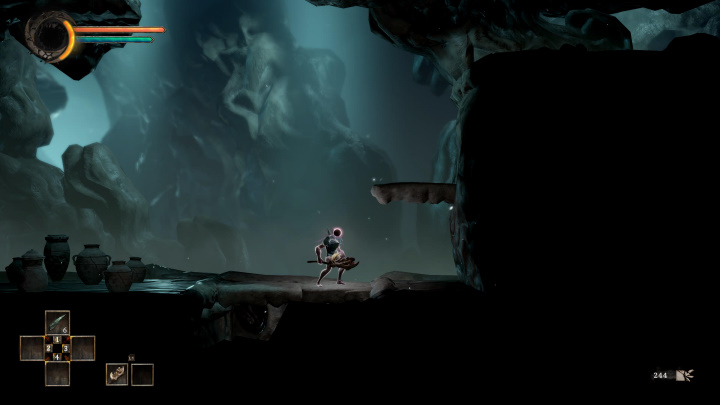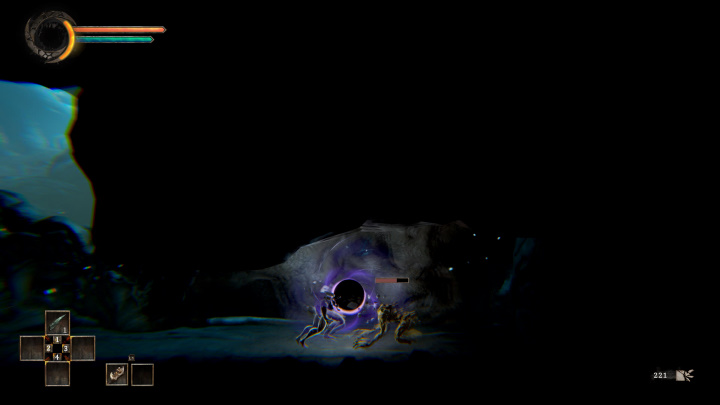 Soulful: Stamina, arcane storytelling, patience, concentration, and even an RPG axis.
Grime is not only about exploration and platforming, it's also about "upgrade zones" and complex confrontations that require concentration and patience. Basically, our protagonist can use a simple jump, "advanced abilities", dodges, as well as living weapons. The latter are very effective, but also slower to handle during powerful attacks, unlike light attacks, although they still lack the flexibility that makes it good to take your time and watch what is happening around.
In addition to these movements, it is possible to use a parry in the form of a counterattack. And obviously this Souls-like feature is absolutely essential to master in order to progress more easily. If you think this is just a gimmick, think again, because Parry is an element that also benefits from several other mechanics, including something called Consume.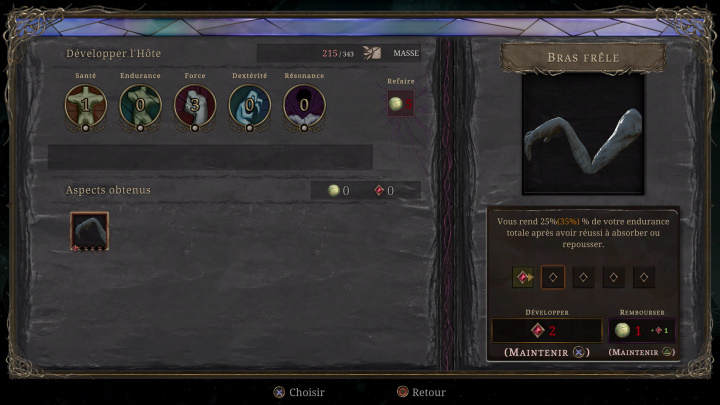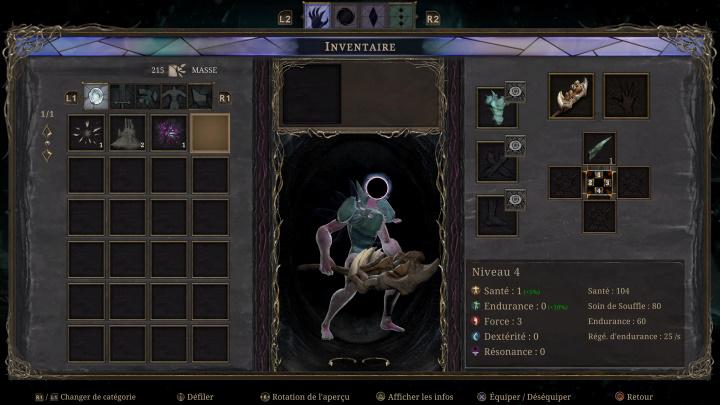 Simply put, we are dealing with an intellectual derivative of a certain Castlevania or even Bloodstained – Ritual of the Night, that is, instead of the classic elimination of opponents in order to acquire their offensive / defensive abilities, or even to access more detailed information in other types of games ( DQ Treasures, to give a very recent example), in Grime this elimination must be done with the parry/counter-offensive function.
From there, as soon as the required threshold of enemies is reached, we acquire defensive abilities, by the way, very useful. Abilities that can also be upgraded at specific locations, such as campfires in Dark Souls. Thus, in these places we can, with the help of souls (or mass) obtained in battles, develop our statistical attributes: strength, endurance, etc. However, be careful, because this "help", which makes this Soul look like, is slightly more accessible title, needs to be managed well, spent points need to be farmed/purchased from enemies again.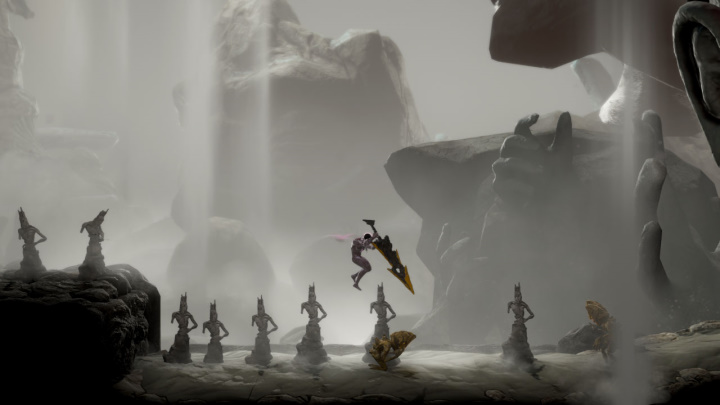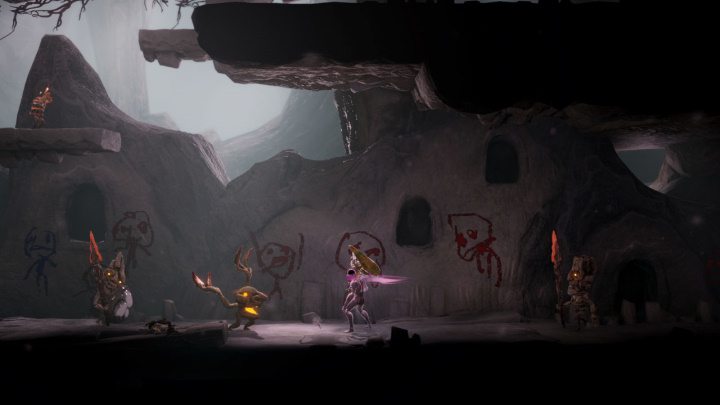 Because even if they can be redistributed, powerful materials/items must be found first. In addition, we also appreciate the fact that we can improve the attributes of passive abilities obtained against our opponents, without forgetting the improvement related to equipment. Ultimately, this axis is really welcome and can help more than one person progress if they run into an obstacle: enemies like platform stages, stamina, an upgrade option to make more achievements.
To briefly return to Absorption, do not neglect the latter, because, in addition to access to passive techniques, the accumulation is carried out through a special sensor. The latter then allows for healing, which is a bit like a derivative already seen in Hollow Knight, for example. Of course, as usual, we leave you with a few surprises.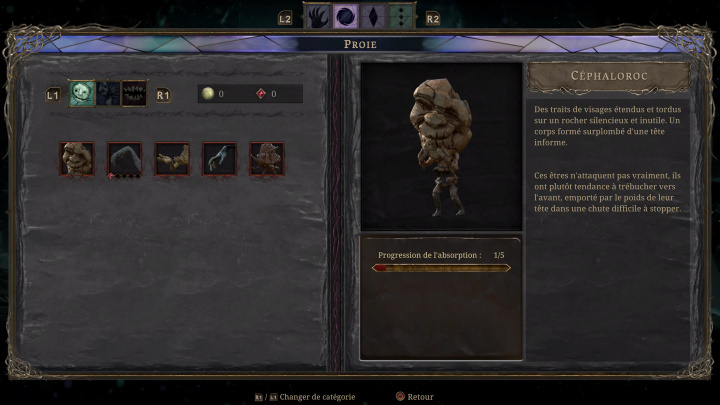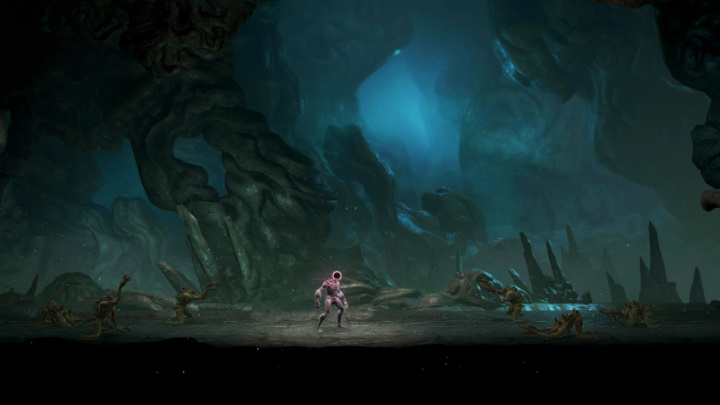 Intriguing, dangerous
Aside from a few bugs, probably due to DLC integration (reminder, fixes are in the pipeline), we can tell you that our experience on PS5 was smooth and stutter-free, so good point.
Returning to the graphical palette, Grime's environments usually consist of caves and sometimes exteriors. The models are very regular, with a well thought out bestiary, and the backgrounds and backgrounds, whether they be paintings, drawings, frescoes, or just more classical decorations, benefit from a lot of neat detail. Again, this universe is intriguing insofar as it contains a sense of insecurity and palpable "embarrassment", especially when many eyes are staring at us.
In terms of sound, the sound effects and music go well with it all. Finally, texts, descriptions and menus in French.
Tested on PS5
_____
Info: Grime will also be coming to Nintendo Switch at a later date.
A mixture of Souls-like and Metroidvania in 2D, Grime, available since last year on PC, has therefore taken advantage of this end of the year to land on home consoles. Between his main adventure and his Colors of Rot DLC, the work of Clover Bite and Team Malignant offers good content, a well-crafted Metroidvania atmosphere with many secrets to discover, new abilities,… very mysterious storytelling and maybe a little too mysterious, important upgrade axis to progress without too much difficulty, but also combat in the typical spirit of Souls or even an intriguing universe in particular due to its excellent art direction. If we can blame it for some of the details, or even bugs (corrections will come), it's a great experience and should please fans of the aforementioned two genres. Real score: 7.5/10, fixes pending.