Game news Guardians of the Galaxy: A streaming mode is planned by Eidos Montreal
Announced at E3 after a few days of rumors, Guardians of the Galaxy will land on consoles and PC on October 26th. The license having a strong link with the real Earth music of the 80s, the question of streaming arose.
In recent years, rights holders have strengthened control of their intellectual property, and this has consequences on streaming, and especially on Twitch. To avoid seeing your channel suspended or having to delete your replay, you have to be very careful, and it is sometimes very complicated when the licensed music is played in a title. This will be the case with the game Guardians of the Galaxy, in which Starlord will regularly listen to music, as in the MCU comics and movies. Asked about music by VentureBeat, Mary DeMarle, Senior Narrative Director, explained how the music will play its part in the title. The players will find in particular Iron Maiden and Rick Astley, via KISS, Wham !, Blondie, and many other rock classics. She also added:
The way we use music in the game is fun. Of course, we'll use it as part of the cutscenes or to intensify the drama of certain scenes. You will be in great battles and hear something amazing like "The Final Countdown", because this song fits the story. But at the same time, we have two unique ways to use it. (…) There is a jukebox in the Milano where you go to choose the song you want to hear as you explore. You can listen to the songs on your own, however you like, while you hang out.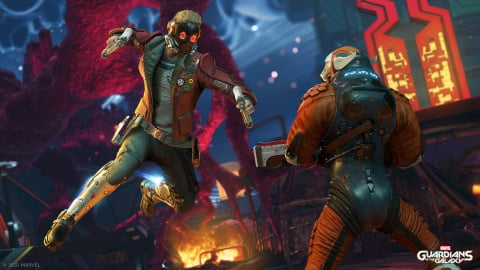 Following this response, VentureBeat asked how it was going to be when players want to stream Guardians of the Galaxy. She could not answer at the time, inviting our colleagues to contact someone who knows the subject. The answer actually came from TechRadar, who retrieved a statement from the spokesperson for Eidos Montreal. The latter said that there will be an in-game option to disable music that may cause trouble for content creators. It's a whole part of the Guardians of the Galaxy vibe that will suffer, but the title can at least be released unhindered.
To read also
Via: Eurogamer
Through MalloDelic, Journalist jeuxvideo.com
MP