Prime Matter announces release date Gungrave GOR. The grave and his coffin will return under a hail of bullets on November 22, 2022 on PlayStation 5, PlayStation 4, Xbox and PC.
You can now pre-order the Day One Edition game and get exclusive content (on AMAZON for example), and thus become a reaper, cutting down your enemies in style in the Grave Ronin Mortel costume designed by Ikumi Nakamura (or jump back to 2004 with the Grave Overdose costume).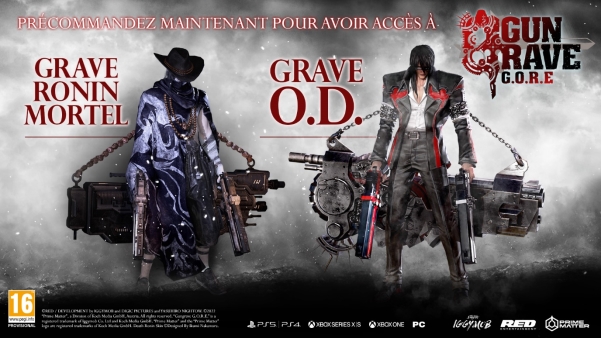 let's remember this Gungrave GOR is a third-person shooter game created by the South Korean studio IGGYMOB in which you play as Heavythe cool anti-hero of your dreams, who destroys many enemies under a hail of bloody bullets.

As a sequel, Gungrave GORE is the definitive revival of the Gungrave franchise for veterans, and a standalone and great gory experience for a whole new generation of gamers.
Here is the trailer announcing the release date:

.