With the launch of its first IEO, Bybit intends to strengthen its position in the market against platforms such as Binance, Crypto.com or FTX.
Bybit Summary
Bybit is one of the largest cryptocurrency derivatives platforms, with almost 1.6 million registered users. Founded in March 2018, the exchange offers an intuitive and innovative trading experience for both individuals and professionals thanks to a strong team of experts from the finance and blockchain sectors.
Introducing BitDAO and the BIT token
BitDAO is an active decentralized autonomous organization (DAO) and a major player in the DeFi sector. It has the support of Peter Thiel, Founders Fund, Pantera, Dragonfly and Bybit, among others. It is a structure controlled and governed by the holders of BIT tokens, who therefore have the right to vote in relation, for example, to any proposed financing of new projects, the update of the BitDAO protocols or the allocation of cash.
BitDAO wishes to contribute to the development of DeFi, by allocating the necessary financial resources to ensure the growth of this ecosystem, and Bybit is committed to contributing on a recurring basis to the organization's treasury.
Specifically, BitDAO's first promoter has committed to contribute 2.5 basis points to BitDAO's cash flow from its futures trading volume, which is expected to exceed $ 1 billion per year.
The supply of BIT tokens is set at 10 billion tokens, the distribution of which is as follows:
30% will be effective to facilitate transactions between ecosystems;
5% will be distributed through private sale;
5% will be offered as a reward to launch partners;
60% will be allocated to Bybit for the establishment of research and development centers to support BitDAO and for the development of Bybit (which in turn increases BitDAO's cash flow). The 15% will be immediately usable, while the remaining 45% will be locked for one year and then distributed linearly for two years.
The launch of Bybit IEO
On the occasion of the launch of the BIT token, three events will be organized:
Bybit Launchpad is a platform to launch tokens for blockchain projects. It allows access to pre-listing operations, but also to earn tokens directly on Bybit. A prize pool of 5 million BIT tokens will be up for grabs and from September 22, 2021 to September 28, 2021, users will be able to win up to 3,500 free BIT tokens. The final amount of BIT tokens that a user can obtain will be determined based on the total balance of a wallet, calculated in USD, over a period of five days. The limit will be 1000 BIT tokens per person. One lottery ticket will also be distributed for every USD in a wallet. 400 winners will be chosen at random and will be able to win the lottery of 2,500 free BIT tokens.
From September 28, 2021 to October 13, 2021, it will be possible to bet BIT tokens to win other BIT tokens at the ByFi center, with the highest annualized rate of return (APY) in the market.
From September 29, 2021 to October 16, 2021, 600 BIT tokens will be distributed to those whose trading volume on Bybit has reached a certain level. The spot volume traded prior to the event will be multiplied by 3, while the spot volume and the volume of derivatives traded during the event period will be counted at multiples of 4.5 and 1.5, respectively.
The advantages offered by the BIT token
The BIT token is similar to Binance BNB, Huobi HT, or even FTX Exchange FTT. These tokens play an important role in the functioning of the platforms and their ecosystem. Therefore, they offer many privileges to their holders, including a reduction in transaction costs or participation in exclusive launches of new tokens.
It should also be noted that investing in the launch of a project like this is interesting, especially when it is a long-awaited project. A lot of excitement is expected around the exchange, as its daily trading volume is currently nearly $ 10 billion.
Therefore, it is possible that after the price, which should arrive at the end of September, its price will increase. The BIT token valuation will be over 2 billion.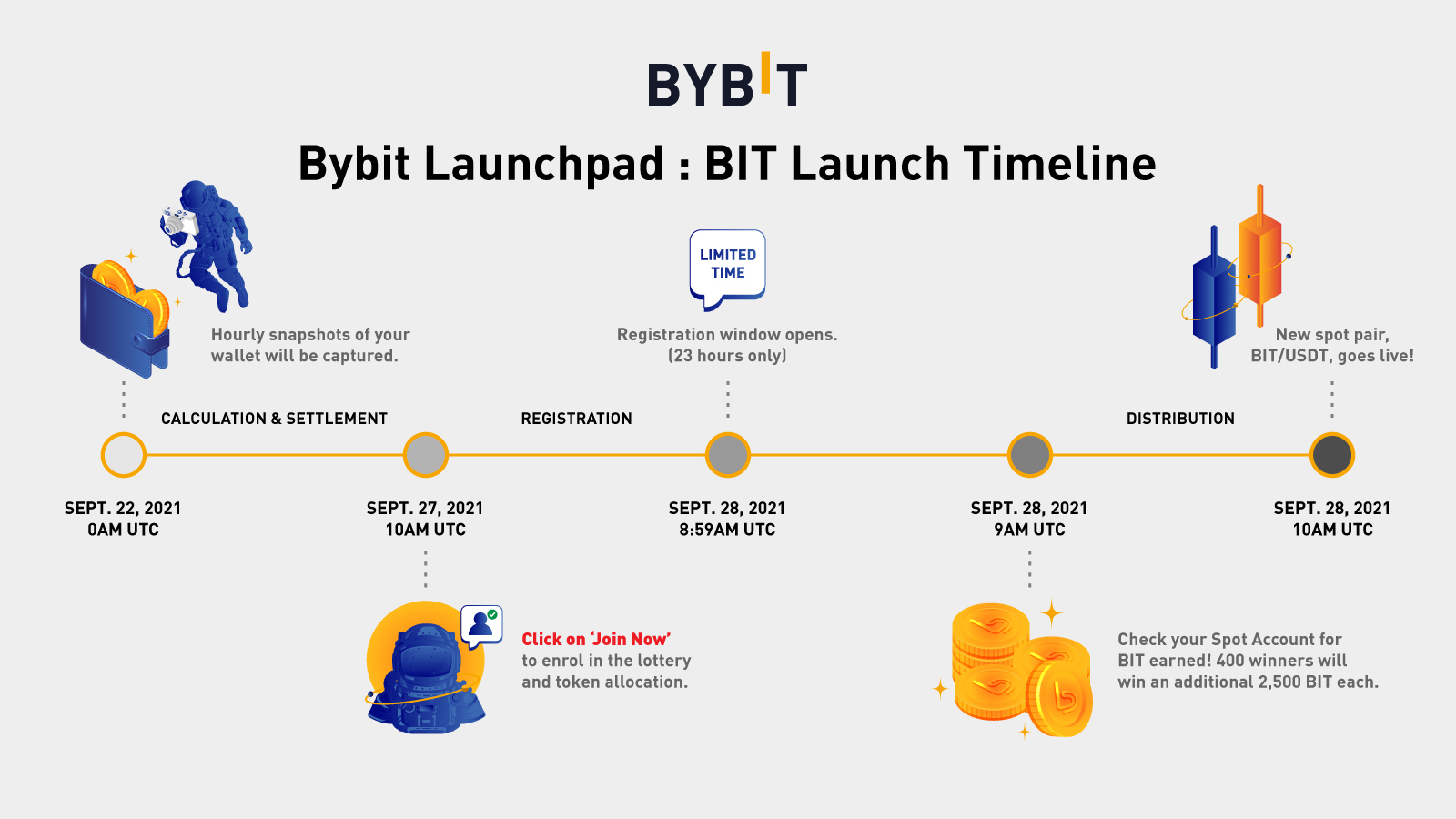 Follow the news from Bybit on your social networks:
Telegram
Twitter
Facebook
Instagram
This article does not constitute investment advice. It is important to do your own research before investing.