Unlike Kindles, Kobo e-readers don't have generic splash screens that appear on the idle screen. Not by default. Even on more premium models like the Kobo Libra 2 and Kobo Sage, your only choices are the cover of your current book or a blank screen with "Sleep" written on it.
Luckily, if you're unhappy with this non-standard interface, a quick addition to your Kobo's folder structure will change that. You can then add your own images, which will automatically randomize in any set you copy to your device.
You can use one of two methods to get custom splash screens, as long as your Kobo is running firmware version 4.13 or higher. Below are instructions for a simpler method that is quick to implement but turns off the display of current book covers in favor of new splash screen images. For older Kobo readers, or for more control over what is shown when your new Kobo is idle or turned off, you need to head over to the MobileRead forums for a solution created by user frostschutz.
How to Add Screensaver Images to a Kobo eBook
Step 1: Connect Kobo to your computer.
Using the appropriate cable for Kobo (such as USB-C), connect it to your computer.
Step 2: Let your computer manage your Kobo files.
When a prompt appears on your Kobo asking you to allow your PC to manage your eBook, click the "Connect" button.
Step 3Open Your Kobo Files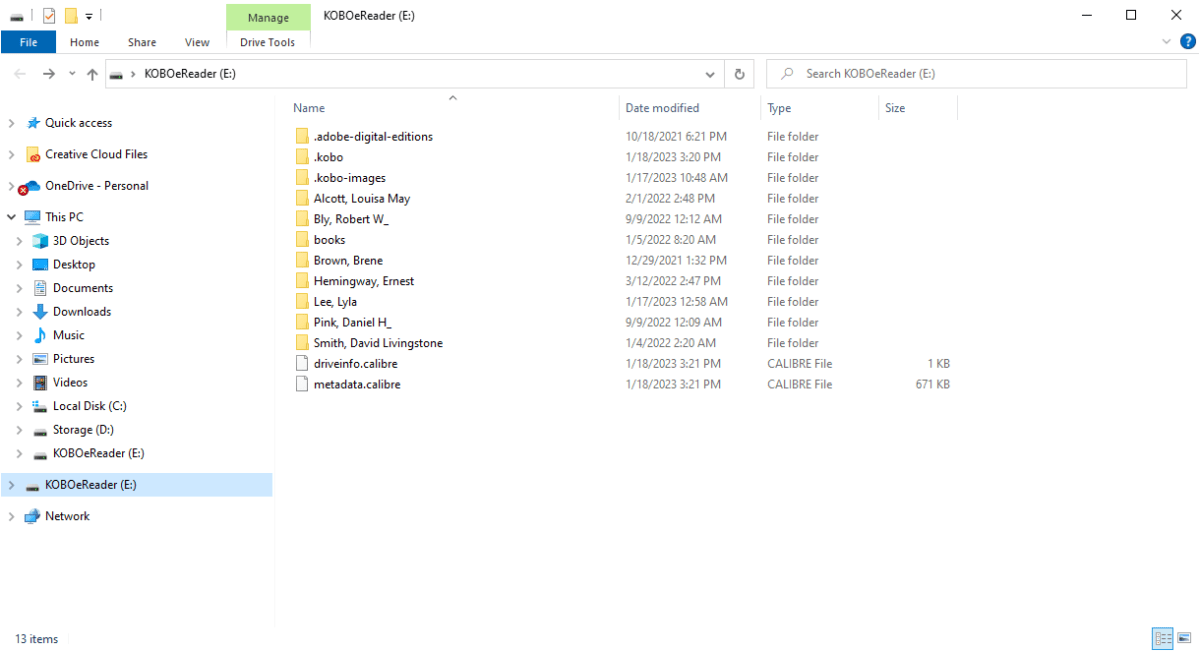 On this PC, Kobo is recognized as drive E:/.
PC world
Your Kobo eBook will become available as a USB drive. Navigate to it using File Explorer. (The drive letter will vary depending on how your computer is currently configured.)
Step 4 (Optional): Back Up Your Kobo
As a precaution, you can back up your Kobo drive. (Kobo hasn't published official documentation on this process – rather, the information lives mostly on the MobileRead user forums.)
The safest way to do this is to open File Explorer, then navigate to This PC and right-click on the Kobo. Select Copy.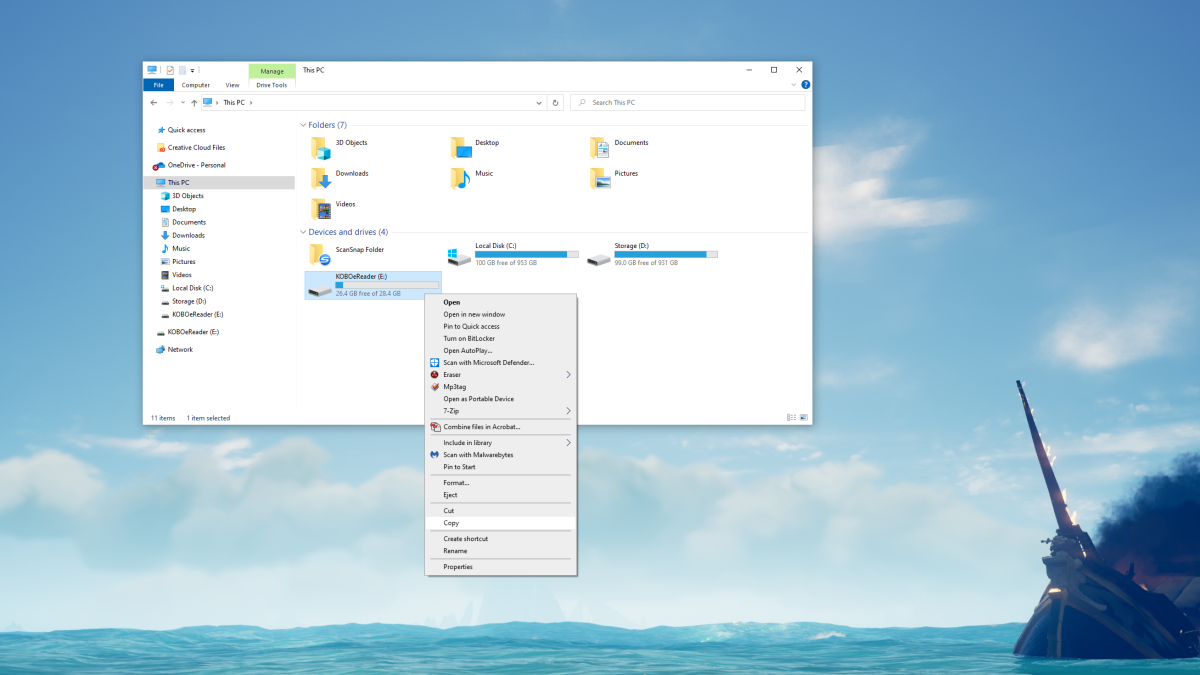 This method of copying is somewhat inelegant, but it avoids the accidental appearance of separate folders.
PC world
Then create a folder in the location where you want to save the backup. Inside this folder, select Paste. Wait for the file transfer to complete. Before moving on to the next step, check a few files to make sure the copy process was successful. (You can open EPUB files with a free program like Caliber.)
Step 5: Create a Screensaver Folder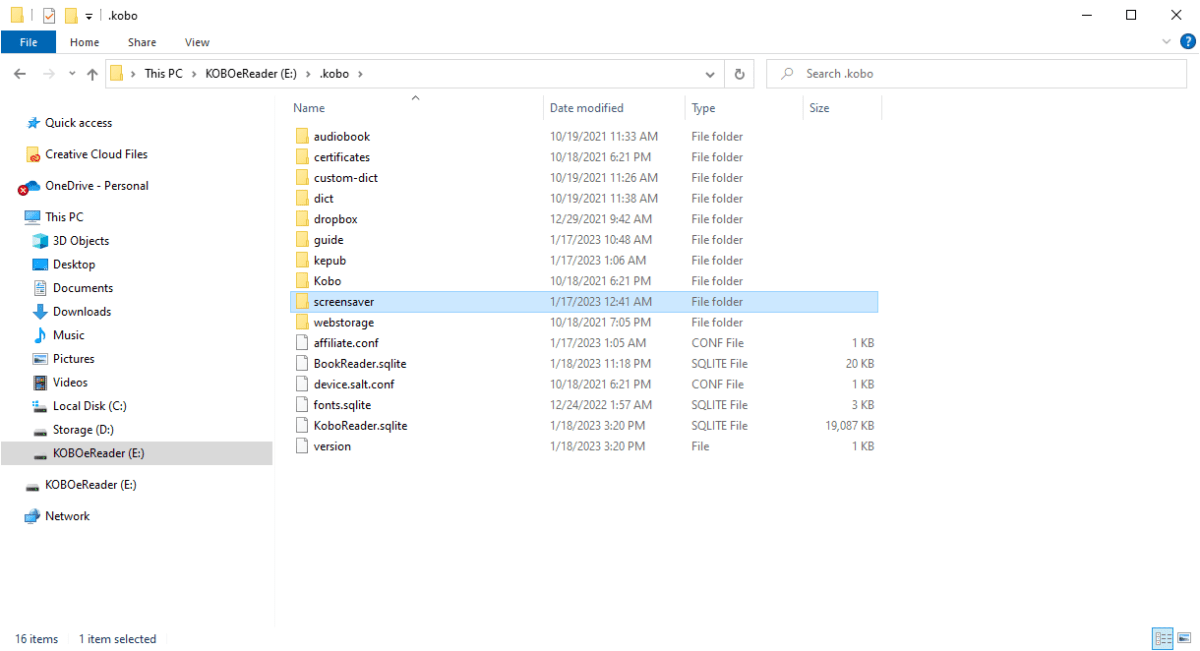 PC world
Open the folder named .kobo. If you don't see it, go to the View tab in the File Explorer window menu. Click the box for hidden items. Then create a new folder and name it splash screen.
Step 6: Add Images
The photo set is a fun, themed intro, but you can use any PNG or JPG photo.
PCWorld / Unsplash
Now you can start adding images to the screensaver folder. Each file you drag and drop into this folder will become part of a set randomly displayed on the idle screen. If you want only one image to be displayed, just copy that single file into a folder.
JPG and PNG formats work. For a better experience, crop them to fit the screen resolution of your Kobo reader (e.g. 1264×1680 for Libra 2). You can find the screen resolution of your Kobo by searching the web. Otherwise, the file will be displayed with the correct proportions and not fill the entire screen.
Looking for good images? Try free sites like Unsplash, Pexels, and Pixabay. When it comes to editing file cropping apps, check out our recommendations for the top five free Photoshop alternatives.
Step 7: Remove the device
From the Windows system tray or File Explorer, eject the Kobo Reader as a drive.
Step 8: Change your device settings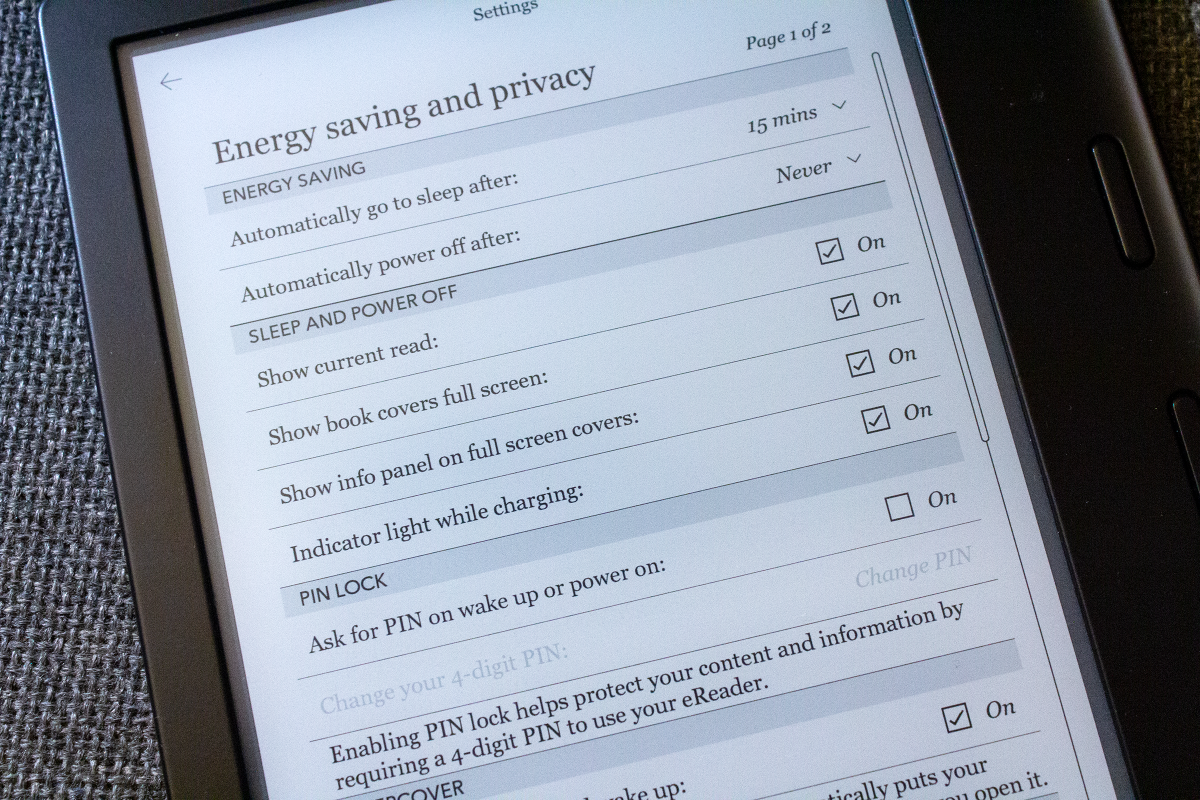 In order for your new custom splash screen images to display properly, "Show current reading" and "Show book covers in full screen" must be enabled in your Kobo's settings.
Alaina Yi / Foundry
From the Kobo system menu, select "Settings" > "Power saving and privacy". To see the screensaver files, you need to check the options "Show current reading" and "Show book covers in full screen". Put your device into standby mode. You should now see one of your custom splash images.
Additional Tips
As mentioned above, adding custom splash screens in this way overrides the display of book covers in idle mode. To see the book covers again, rename or delete the splash screen folder.
This trick also only works in idle mode. If you turn off Kobo, it will show the cover of the book you are currently reading. To switch between custom wallpapers and book covers in standby mode, or set different images for standby and power off modes, you need to follow these instructions on the MobileRead forums.