These days, Microsoft is keen to showcase their work. You probably know that Microsoft shares preview builds of Windows 10 and 11 ahead of major releases. But did you know that Microsoft also offers an Insider Program for Microsoft Office?
If your heart is racing at the thought of trying out the powerful new features in Excel, advanced editing methods in Word, or taking a first look at the One Office client of the future, then the Office Insider program is for you.
Microsoft offers two levels for insiders. There is a beta channel (formerly Insider Channel or Insider Fast) for those who want to get access to new features as early as possible. The downside to this level is that it is more prone to errors and other issues that can make using Office frustrating. Then there is the Current Channel (Preview) level, which offers significantly less risk. Both options are available for Windows PCs and Macs, while other platforms may only offer one of these options. Here's a look at how to join the Office Insider Program whether you're using a PC, Mac, Android phone, or iOS device.
How to join the Office Insider Program on a Windows 10 or 11 PC
Joining the Office for Windows Insider Program requires a Microsoft 365 (formerly known as Office 365) family or personal subscription plan or a business or education license. (Here's how to get Microsoft 365 for a low price.) If your Microsoft 365 license was provided by your university, you'll need to ask your university administrator to allow you access. Unfortunately, Microsoft does not allow insiders access to so-called "perpetual" versions of Office, such as Office 2016.
You will see this screen when you sign up for the Office Insider program as a consumer…
Microsoft
Consumers can switch between the two programs by opening any Office application, such as Word. Go to File > Account. Then click the Office Insider Program tile and select Join the Office Insider Program from the drop-down menu.
…or this screen if you have an Enterprise subscription.
Microsoft
You'll then see some rather complex legal language paragraphs informing you about what data Microsoft will collect about your use within the program. Then select the level of Insider you want – beta or current channel (preview) – and click OK.
Windows 11 may then open the User Account Control (UAC) window. Click Yes, and when you return to your program, you should see confirmation that you have joined the Office Insider Program. You may need to restart your computer.
How to join the Office Insider program on Mac
Unfortunately, Mac computers now require an Office 365 subscription to participate in the Office Insider Program. To join, all Mac users must open the Office app on their Mac. Then click Help > Check for Updates > Advanced. You will then need to select your current channel (preview) or beta channel.
You will see this when you begin the process of joining the Windows Insider program on Mac.
Microsoft
You will be prompted to review the license agreement. After that, you'll probably want to check the box to automatically download and install all available updates now and in the future. Then click "Accept" and then "Check for Updates" to download the necessary files.
This is where you choose which Office Insider program you want to join on Mac.
Microsoft
How to join the Office Insider program on Android or iOS
Android:
Joining the Office Insider Program on Android requires different steps to join either the Current Channel (Preview) program or the Beta Channel program. The last channel is currently reserved for Word, Excel, and PowerPoint only.
To join the Current Channel (Preview) program, you need to manually download and install individual applications using the links below:
This will automatically enroll your phone in the Insider program, although you can also opt out by clicking the button on the setup page. To receive additional Current Channel (Preview) builds, you will have to wait a few hours until your membership is approved by the Insider community.
Microsoft
To join the beta channel, you need to join the WXP beta group, a rather rare Google group. Click the button to join the group. Wait a few hours and you should start receiving Beta Channel builds.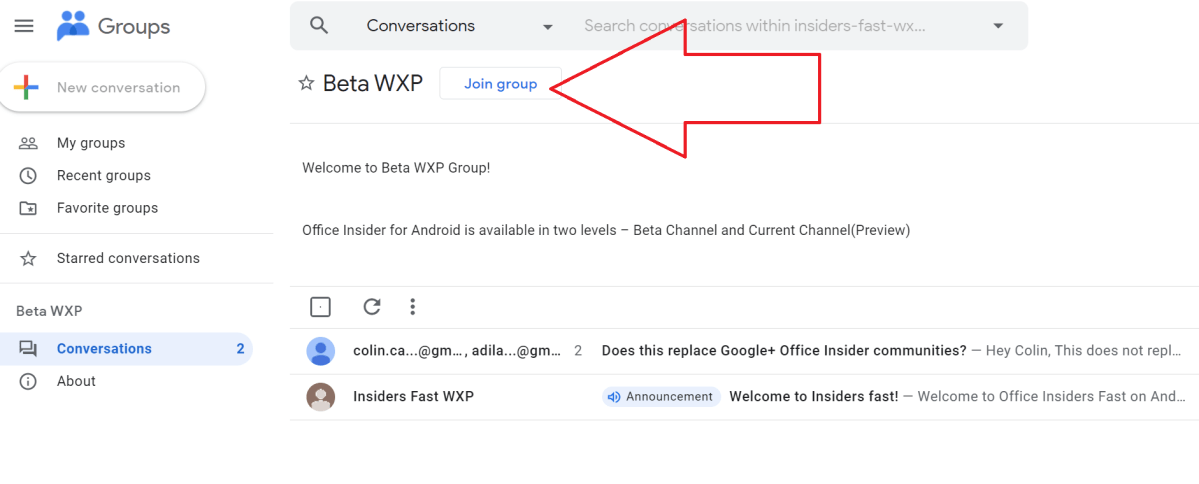 Microsoft
iOS:
On iOS, you only have one channel to choose from, which is called Beta in Apple TestFlight.
To join, download the relevant apps on your iPhone. You will be prompted to join TestFlight, if you have not already done so, after you read the terms of service and agree to install it.
For each app, click "Join Beta" > "Start Testing" > "Accept" > "Install".
Microsoft imposes some restrictions on iOS users. First, builds are only valid for 90 days, after which you'll be prompted to update them. If you don't upgrade, you risk being excluded from the program as seats are limited. However, you can always reapply.
This story was updated on May 18, 2022 with additional updated information including support for Windows 11.