The HTC Vive XR Elite delivers on a promise made by HTC years ago with a powerful, portable and comfortable headset that works in both VR and AR. It lets you access both Viveport and Steam's VR game library, plus a whole host of new AR experiences, all without the need for additional hardware.
It's certainly not the only standalone headset on the market – and it faces stiff competition from the Meta Quest 2 and Meta Quest Pro – but HTC has managed to bring back the original joy we had when playing the Vive, now in a headset that fits in a backpack. . .
Who knows if what Apple is working on will show up and knock it out from under its feet in just a few months, but compared to what's available now, the Vive Elite XR is a strong competitor and HTC's best chance of reuniting with diehard fans. BP.
Price and release date
The HTC Vive XR Elite was announced on January 5 at CES 2023 and became available for pre-order on Amazon the same day. The base package, which only includes the controllers, headset, and one battery, will cost $1,099.
In the future, HTC says there will be more packages available with different bezels, extra batteries, and more, but for now, you're limited to the basic package.
Is such a price justified? Well, it's cheaper than Meta's standalone XR headset, the Meta Quest Pro. According to HTC Americas CEO Dan O'Brien, the only reason it's so expensive is because HTC doesn't do anything with your data. This is not selling it to advertisers or using it to sell products to you. When you buy an HTC product, he says, you are not the product.
Design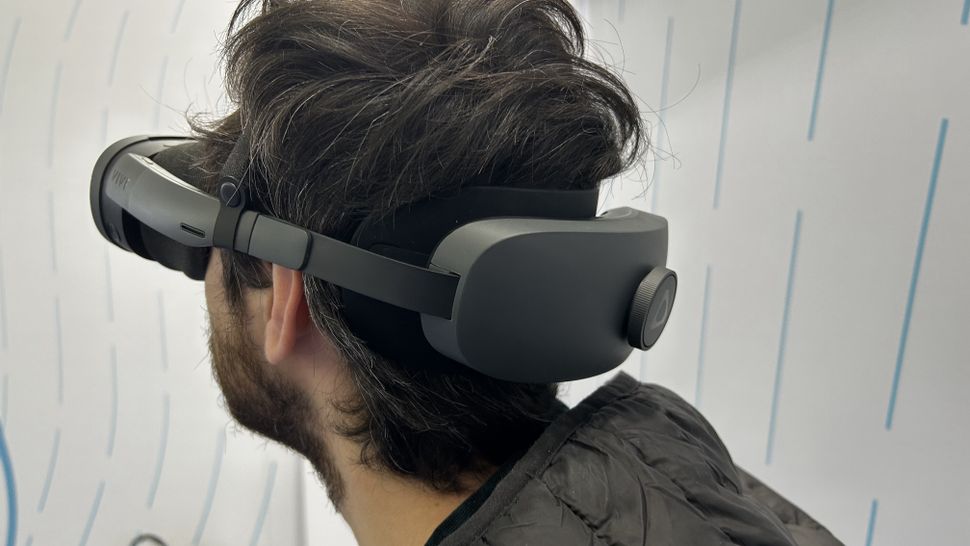 (Image credit: Future)
Let's start with the specs: The Vive XR Elite will offer a combined 3840 x 1920 resolution, up to 110° field of view, and a 90Hz refresh rate with four built-in controller tracking cameras and a depth sensor. The headset supports both standing and sitting orientation and room scale up to 10m x 10m with a minimum playing space of 1.5m x 1.5m.
One of the headset's unique features is that the headset has adjustable IPD sliders and a lens focus dial for those of us who wear glasses. The dial starts at 1 for people with perfect or near perfect vision and goes up to 6 for those of us who really need help with clear vision. (I have 5 if you're interested.)
Unfortunately, there's no eye tracking inside the camera, which in turn means no foveal rendering, but that could be added in future faceplates, according to O'Brien.
Speaking of bezels, those used on the HTC Vive XR Elite are interchangeable. This is great at events where multiple people use the headset one after the other, but it can also come in handy if you have a VR experience store where you want to keep things as hygienic as possible between players.
To make it more comfortable, HTC says the headset is incredibly light (about 625 grams) and has a counterweight to ensure it sits flat and comfortable on your head. In terms of storage and memory, the Vive XR Elite comes with 128GB of internal storage and 12GB of storage thanks to the Qualcomm Snapdragon XR2 processor. This should give it enough storage space for a number of your games and enough processing power to play most games without issue.
Performance
So how does a headset actually work, given everything inside it? Well, mostly not bad, but there are a few shortcomings that I noticed after spending about an hour with it on the HTC showroom at CES 2023.
The good news is that in terms of resolution, 1920×1920 pixels per eye is enough to make content look great without a noticeable screen door effect. With a total resolution of 3840×1920, it has a higher resolution than the Meta Quest 2 (3664×1920) and even the HTC Vive Pro (2880×1600), released a few years ago.
Thanks to the lightweight and comfortable design, I could wear it for an hour without any headache – something I can't say about every headset I've worn this week at CES (*cough* PS VR 2). In fact, it's so comfortable that I feel like it's the first headset I'll wear to work.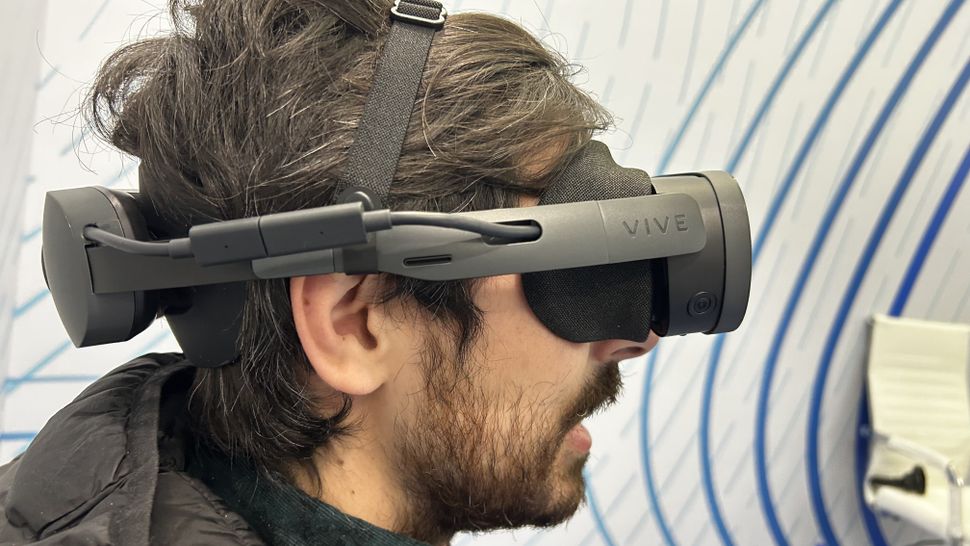 (Image credit: Future)
There are just a few issues…
So, the bad news is that there is latency when using the new high-resolution pass-through. This can be a little annoying if you're just sitting at your desk, but becomes a huge headache when you're trying to walk around the room with your headset on.
Another issue is that despite having four external trackers, hand tracking can still glitches from time to time. The worst of these moments came when I was kayaking in virtual reality on what looked like the Colorado River. It was a completely serene experience until my virtual paddle got stuck under the boat despite being held right in front of me in the real world. While these ridiculously bad moments were few and far between, they were the rare occasions when I felt the urge to hang up the headset and be done with it.
However, the real killer here is battery life. With only two hours on a single charge, the headset seems to keep alerting you when the battery is low. O'Brien says the battery charges quickly (one hour of battery life after 30 minutes of charging), but that's the only hurdle HTC needs to overcome before gamers go overboard.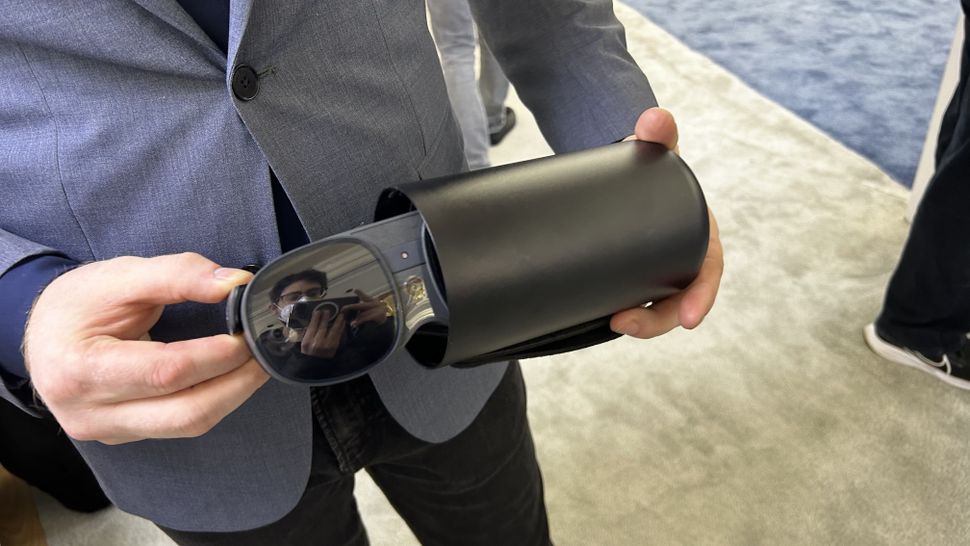 (Image credit: Future)
perspective
I really enjoyed getting to know the HTC Vive XR Elite. As a longtime VR enthusiast, having reviewed and tested every major headset since the launch of the original Oculus Rift and HTC Vive, I have found that my love for VR has been rekindled with the XR Elite. However, I can't ignore the issues I've seen with the headset. The delay in passing was disorienting; the hand-tracking gaffe was hard to ignore; and battery life warnings were frequent. The HTC Vive XR Elite without any ties to that headset, such as the platform-exclusive Beat Saber, is a comfortable and functional headset…but I don't think many people would have a reason to buy it.
Today's Best Samsung QN95B Neo QLED Deals