Equipment news I want this new laptop and its revolutionary touchpad!
Published on 09.02.2022 at 15:50
Huawei uses IFA to update its MateBook X Pro laptop: the manufacturer's flagship ultrabook benefits from a chassis upgrade as well as components.
If Huawei is no longer very popular among smartphones, the brand is still a win-win in other areas. Among them are laptops that are generally very good value for money. Huawei MateBook X Pro is the benchmark in its catalog, which is updated every year.
And we can say that Huawei has a head start in this, since the last update of the MateBook X Pro dates back only to February last year. Attending IFA in Berlin, the manufacturer decided not to wait any longer before lifting the veil on the new version of its ultrabook, as always focused on office work.
What's new in the new Huawei MateBook X Pro?
This new iteration of one of Huawei's best sellers is gearing up for the new school year:
14.2-inch 3.1K screen
Processor Intel Core i7-1260P
Intel Iris Xe graphics card
16GB LPDDR4x RAM
1TB NVME SSD
6 speakers
4 microphones with a range of up to 5 meters
1 HD camera 720p
battery 60 Wh
As far as connection is concerned, we find:
1 USB Type-A (3.2 Gen1)
1 USB Type-A (2.0) port
1 USB Type-C port with DisplayPort support
1 Thunderbolt 4.0
1 HDMI 2.0
1 x 3.5mm jack
Bluetooth 5.2
WiFi 6
This laptop is Intel Evo certified, ships with Windows 11, and has a battery life of around 7 hours of video playback. So for fully office use, we can hope for a bit more.
Redesigned chassis and new touchpad
In addition to optimizing the bowels of the 2022 Huawei MateBook X Pro back-to-school version, the manufacturer has also revised its chassis. This one is made from magnesium alloy, which promises good durability without compromising on its weight: it only weighs 1.26kg, making it a great candidate for on-the-go use. The previous version of the car weighed 1.36 kg, so the difference is significant.
The 14.2-inch screen occupies 92.5% of the front surface, which is an excellent indicator. Huawei has been working on this aspect of its laptops for years. It is also the first laptop to receive TÜV Rheinland Eye Comfort 3.0 certification. Finally, it benefits from a 90Hz refresh rate.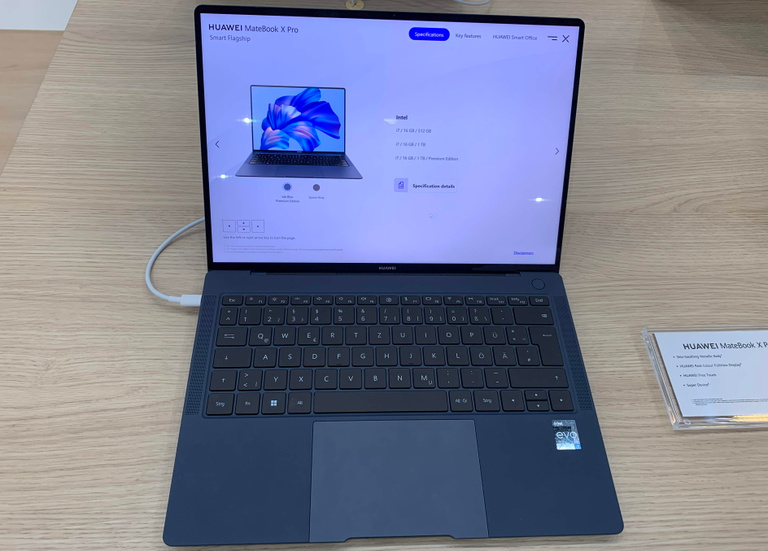 However, there is a new generation touchpad in the news called Free Touch. Huawei is trying to side with Apple by offering an intuitive and interactive model that doesn't just replace a mouse. It includes haptic feedback and has eight combinations, such as taking screenshots, closing a window, or even adjusting the car's volume and brightness.
Huawei MateBook X Pro: price and availability
The new Huawei laptop will hit the French market on September 16th. As for prices, consider 2199 euros for the basic version equipped with the above-mentioned equipment, but it will be possible to choose more productive components by increasing the denomination.