News If you're on Windows 10, Microsoft wants to force you to upgrade to Windows 11
Published on 12/21/2022 at 09:20
Microsoft is still facing fierce resistance from some PC users regarding the adoption of Windows 11. The American company does not hesitate to force the resisters, of which you may be.
Windows 11 hit the market on October 5, 2021 as a free update available to all owners of Windows 10 computers. Well, not for everyone…because to run Windows 11, you must have a compatible machine, in particular, equipped with a TMP chip 2.0, which allows you to activate the security features of the new operating system.
However, many owners of compatible computers still resist this update. According to data released in November by StatCounter, 16.13% of PCs will now run Windows 11, compared to 69.75% on Windows 10.
Windows 11 struggles to prove itself while Windows 10 remains remarkably stable, which is not at all happy with Microsoft. So the Redmond firm decided to move forward.
Microsoft forces you if your PC is eligible for Windows 11
The latest Windows 10 update called KB5020683 displays a series of windows when you start your computer. These windows demonstrate the benefits of Windows 11 and prompt the user to install a new version of the OS.
"November 30, 2022, an unscheduled update was released to improve Windows 10 version 2004, 20H2, 21H1, 21H2, and 22H2 out of the box (OOBE). It provides eligible devices with the option to upgrade to Windows 11 as part of the OOBE process. This update is only available if the OOBE update is installed," says the official Microsoft website.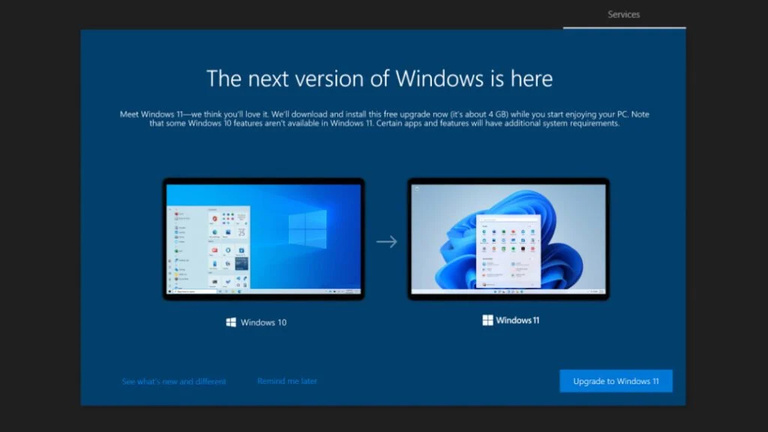 If your computer is running Windows 10 2004, 20H2, 21H1, 21H2 or 22H2 version, you will most likely see these windows. Of course, if your PC isn't compatible with Windows 11, you're spared.
Windows 10, relevant for several years
If Microsoft is forcing it, it's only to speed up the adoption of its latest OS and hope there will be some sort of ripple effect. In fact, you don't have to upgrade to Windows 11 right away if you don't want to: Windows 10 will be updated until October 14, 2025, which gives you time to think about it and wait for Windows 11 to be enriched with new features.
On the other hand, at the end of 2025, the continued use of Windows 10 will become less interesting due to the lack of updates, but also more risky, as security vulnerabilities will no longer be filled. However, we know that this does not always stop hardcore users of one version of Windows or another: just look at the fragmentation of the operating system, which still has 10.25% of users under Windows 7 and 2.53% under Windows 8.1.