Three questions to Marie-Hélène Pébaille, President of the Association of Financial Directors and Management Control (DFCG Provence) the day after the 11th Provence Finance and Management Prize ceremony held at the Intercontinental Dieu Hotel in Marseille in November. fifteen.
Marie-Helene Pébeil, President of DFCG Provence. Loan Archives Gomet
Are you satisfied with the 11th Finance and Management Prize Draw organized by DFCG Provence?
Marie-Helene Pebeil: Yes, absolutely. First, by the quality of the submitted projects and the availability of partners, then by the quality of the exchanges. We were close to 150 versus 110 last year. This event fits the bill: great companies with great projects, iconic venue and partners who come to contribute. This year E&Y, Qwote, La Banque Postale and Cegid joined us. The Association is doing well: our delegation has 142 members (Bouches-du-Rhone, Toulon and Vaucluse). We have exceeded the pre-Covid 2019 figures. At the national level, there are currently over 3,000 members.
Winners of the 11th DFCG Provence Finance and Management Prize:
Jean-Sebastian Leoni, Deputy Managing Director of NGE, receives the Jury Prize in the Large Company category.
Joris Galea, CFO of robot broker +Simple, based in Marseille, wins the Jury Prize in the SME category.
Caroline Notre Dame, CFO of Fondasol Group, expert engineer, construction consultant, receives Jury Prize and Public Prize.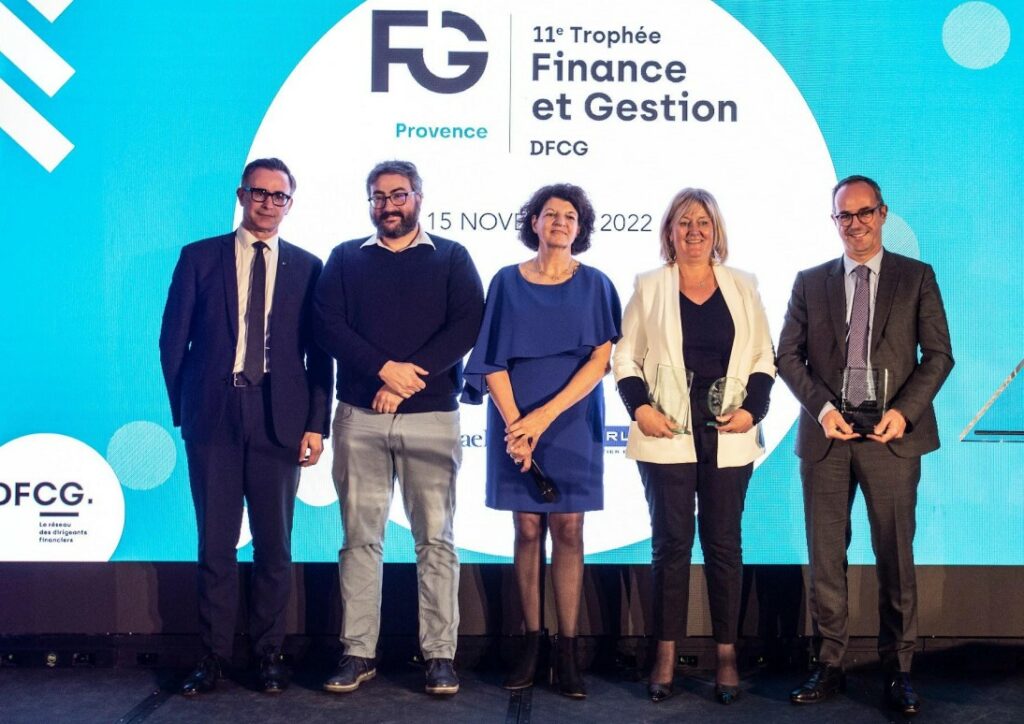 Presidents of the DFCG and DFCG Provence and winners of the 11th Trophée Finance et Gestion Provence. From left to right: Emmanuelle Millard – President of DFCG, Joris Galea – + Simple, Marie-Helene Pebaille, President of DFCG Provence, Carolina Notre Dame – Fondasol, Jean-Sebastien Leoni – NGE. (Credit ©MTBAGENCY)
What trends are changing the management and finance professions?
MX. P: We have been tested in the last three years, but we have shown our resilience. Two recent developments have had a particular impact on the finance manager profession: big data development, artificial intelligence, and data access. Financial leaders have more and more information at their disposal. Sometimes conflicting information: how to predict in this context? How to reconcile short time and long time? These are topics that we think about together at DFCG. Another phenomenon at work is the search for meaning: how to combine economic performance with a positive impact on society? How to make a business model sustainable in the era of climate change? As a financial manager, we accompany the strategy of changing the model so that the projects of the companies become the projects of the society. DFCG is part of all these developments and wants managers to be able to discuss and address these issues more effectively. As such, the DFCG has established two new trophies at the national level: the "environmentally responsible" DAF and the Diversity Trophy.
How does DFCG Provence help members adapt to these new challenges?
MX. P: Yes, we organize regular meetings within our regional delegations, as well as at the national level through industry or business discussion groups, which allow us to keep abreast of the various topics discussed. It's as much about networking as it is about educating each other. We work a lot with remote tools, but not only. Our work has allowed, for example, the preparation of a white paper on taxonomy in CSR. The goal is really to create content with members that can be used by all members.
Useful links :
Previous editions of the DFCG Provence Trophy in the archives of Gomet'
[Vidéo] Public-Private: Sharing information between finance departments to improve efficiency