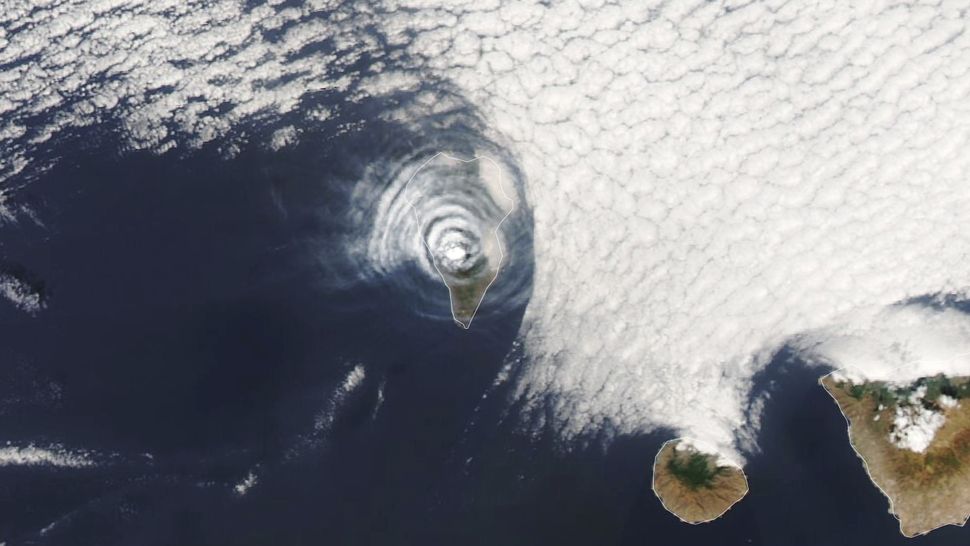 A satellite image of the concentric cloud rings over La Palma created by its erupting volcano. (Image credit: NASA Earth Observatory / MODIS / Aqua satellite)
New satellite images have revealed a striking pattern of concentric cloud rings, resembling a bull's eye, that was formed by the continued eruption of the volcano on La Palma in the Canary Islands of Spain.
The La Cumbre Vieja volcano, which means "The Old Summit" in Spanish, has been erupting since Sept. 19 for the first time in more than 50 years, Live Science previously reported. The eruption has forced thousands of locals to evacuate when huge lava flows, which were visible from space, burned farmland, roads and houses in the southwestern part of the island.
Now, satellite images captured on October 1 by the Moderate Resolution Imaging Spectroradiometer (MODIS) aboard NASA's Aqua satellite show a peculiar bull's-eye-shaped cloud formation over La Palma. Together, the volcano's column of eruption, a mixture of ash, smoke, water vapor and other volcanic gases, and a rare atmospheric disturbance led to the circular pattern, according to NASA's Earth Observatory.
Related: The Five Most Active Volcanoes in the World
Typically, a volcano's column of eruption rises directly into the stratosphere, the second layer of the atmosphere, extending from about 4 to 12 miles (6 to 19 kilometers) above the Earth's surface to 31 miles (50 km). ), forming an imposing column of cloud and ash. This happens because hot air and gases rise above the colder ones and the temperature of the atmospheric air decreases with altitude, creating a kind of invisible elevator that the column can climb.
However, a rare phenomenon known as temperature inversion meant that a temporary raised layer of hot air acted as a lid, trapping the volcano's plume in the troposphere, the first layer of the atmosphere just above the Earth's surface, to an altitude of 3.3 miles (5.3 km). That cap forced the column outward horizontally, according to the Earth Observatory. The trapped plume ended up creating concentric rings due to the natural ebbs and flows in the intensity of the volcanic activity, which generated a kind of pulse in the emissions emitted by the volcano.
This unique process was also captured on camera by the Izaña Atmospheric Research Center, based in Tenerife (another Canary Island), and can be seen in a fascinating time-lapse video shared on Twitter.
The official name for this type of concentric cloud formation is gravity wave, according to the National Weather Service. However, the formation has nothing to do with gravity and is completely separate from waves in space-time called gravitational waves.
Although experts initially thought the eruption would last only a few days, La Cumbre Vieja continues to spew lava and gases.
Originally posted on Live Science.
Business Consulting Nulled, WeaPlay, Elementor Pro Weadown, PHP Script, Slider Revolution Nulled, Newspaper – News & WooCommerce WordPress Theme, Avada 7.4 Nulled, Fs Poster Plugin Nulled, Wpml Nulled, Elementor Pro Weadown, Flatsome Nulled,Woodmart Theme Nulled, Jannah Nulled, WordPress Theme, Astra Pro Nulled, Rank Math Seo Pro Weadown, Yoast Nulled, Dokan Pro Nulled, Nulledfire, Wordfence Premium Nulled, Woodmart Theme Nulled, Consulting 6.1.4 Nulled, Jnews 8.1.0 Nulled, Premium Addons for Elementor, Plugins, PW WooCommerce Gift Cards Pro Nulled, WP Reset Pro, Woocommerce Custom Product Ad, Newspaper 11.2