On Monday (March 6), the International Space Station had to move out of the way of a satellite taking pictures of the Earth.
At approximately 7:42 a.m. (1242 GMT), the engines of the Progress-83 supply ship, currently docked to the International Space Station (ISS), were running for just over six minutes, raising the station's orbit to avert a potential collision, reports NASA. says the blog post (will open in a new tab).
The satellite in question appears to have been an Argentine Earth observation satellite launched in 2020, Sandra Jones of NASA's Johnson Space Center said. In a tweet (will open in a new tab)Dr. Jonathan McDowell, an astronomer and astrophysicist at the Harvard-Smithsonian Center for Astrophysics, narrowed down the list of possible candidates to Nusat-17, noting the breakup of the constellation's orbit.
On the subject: International Space Station: facts about the orbital laboratory
Nusat-17 is one of ten commercial surveillance satellites launched in 2020 and operated by geospatial data company Satellogic. As McDowell points out in a tweet, the Nusat constellation is one of several whose orbits are slowly approaching that of the ISS.
Such evasive maneuvers are not unusual for a space station. According to a December 2022 NASA report (will open in a new tab)since 1999, the ISS has made a total of 32 course corrections to avoid satellites and tracked space debris.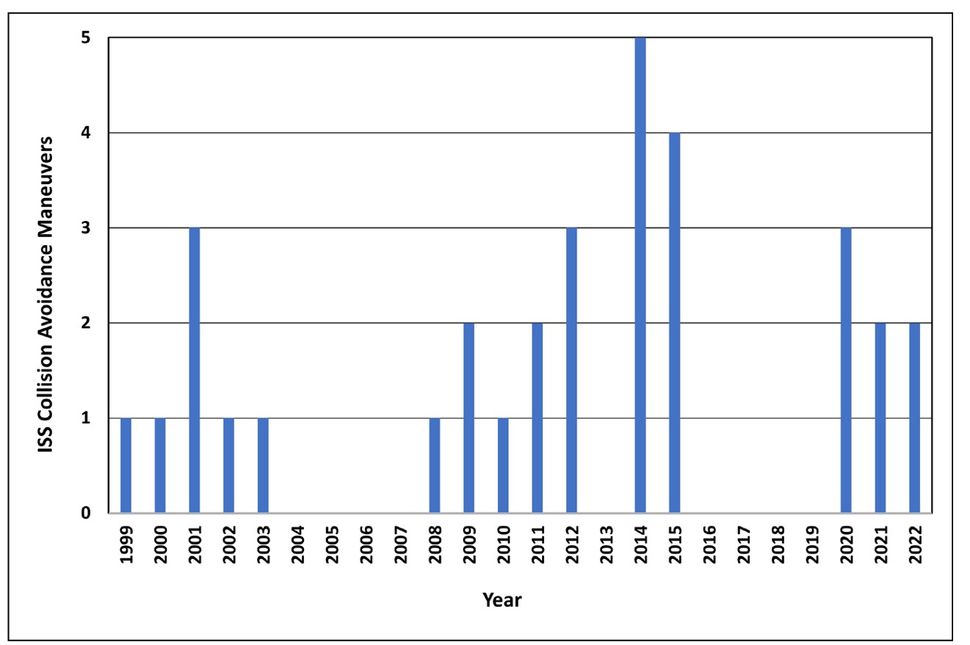 Graph showing the number of ISS collision avoidance maneuvers between 1999 and 2023. (Image courtesy of NASA's Orbital Debris Program Office (ODPO))
Two such adjustments were needed last year to avoid the debris of the Kosmos 1408 satellite that Russia destroyed in an anti-satellite weapons test (ASAT) in November 2021 — a display that has since been largely condemned by the international space community.
Monday's course correction came with sufficient notice: NASA received initial warnings of a potential collision about 30 hours before the satellite's estimated closest approach, Jones told Space.com. A predetermined avoidance maneuver (PDAM) was calculated and crews aboard the ISS, in tandem with NASA and Roscosmos ground teams, prepared for the scheduled engine launch. However, "About 20 minutes before PDAM, a 'green update' about the connection was received," Jones said, adding that "the engines were already on, so the burn was still in progress."
Monday's PDAM takes place in the midst of heavy traffic on the ISS and just days after the arrival of the SpaceX Crew Dragon Endeavor and Crew-6. Over the next week, astronauts aboard the space station will say goodbye to Crew-5, scheduled to depart Thursday (March 9), and begin preparing for the arrival of the SpaceX CRS-27 Dragon cargo vehicle, currently scheduled. launch March 14th.
A NASA blog post says that the March 6 evasive maneuver will not affect the upcoming Crew-5 mission. In a statement to Space.com, Jones reaffirmed that stance, adding that "this burn does not interfere with the phasing of any of the space station's upcoming streams." NASA announced on Wednesday afternoon that Crew 5 would undock from the ISS at 5:05 pm on March 9 for a scheduled splashdown at 9:25 pm on March 10.
Follow us @Spacedotcom (will open in a new tab)or on Facebook (will open in a new tab) and instagram (will open in a new tab).