After spending 25 years talking and writing about video games, not only have I seen them differently, but I've also noticed a few trends. One of them concerns Nintendo's approach to communities. Indeed, for several years, Nintendo has sought to reach its public directly through public events during which it has allowed anyone to try out their new products. In this vein, the Japanese firm recently stopped at the Saint-Hyacinthe agricultural show with its new ambassador, Étienne Boulet. I got to talk to him and here's what he told me about Nintendo, his career and the lack of integration into the old football game!
St-Hyacinthe Agricultural Exhibition: fun for kids and their parents
A major annual event in the city of Saint-Hyacinthe, the Agricultural Exhibition has several objectives. First of all, it is a meeting of the urban environment and the rural environment. Thus, various agricultural enterprises, as well as many farmers, can imagine the stages of their work, production processes, the work of their huge machines and animals inhabiting the farm. To do this, there are hundreds of animals that we can very carefully observe or even pick up. The little rabbit, chickens and goats were especially liked by my two-year-old godson, who was not used to seeing these animals in the middle of the city.
The second goal of this great exhibition, as you have already understood, is to entertain both young and old. While it is useful for the oldest to learn about the realities of agriculture, the smallest are immediately captivated by the forms of entertainment presented on the impressive exhibition grounds. In addition to attractions, kids can ride a train, splash in water games, go to a hay labyrinth, ride tractors and much more. Word of my godson, who was snoring in the car, the kids came out of this day exhausted!
Etienne Boulet: Nintendo hat added to several others
It's from this reunion and entertainment perspective that Nintendo stopped its summer caravan at the 2022 St-Hyacinthe agricultural show. For two hours, the general public could try out some of the latest Nintendo games, including Kirby and the Forgotten Land, Mario Strikers: Battle League, Nintendo Switch Sports, and the popular Mario Kart 8 Deluxe. The firm's latest ambassador, Étienne Boulet, was also around to play with the audience and talk to his fans.
From the outset, the former Montreal Alouettes and Toronto Argonauts player admits he has never been a big fan of video games. Apart from playing football on the PlayStation 2 when he was at university, he never had a real passion for this kind of entertainment. Of course, like all Mr. and Mrs., some games piqued his curiosity, but nothing more.
However, how did Nintendo approach him with an offer to become its ambassador? Simply because of the simplicity, accessibility and closeness to the people that Etienne Boulet and his wife Maika Desnoyers represent. With a heart on his sleeve, Étienne Boulet will address you as if he has known you for many years and quickly put you at ease. The host has also confessed several times to his past drug and suicide problems. For Nintendo, this human side made it an obvious and logical choice to represent their products.
In addition to this role, Etienne Boulet is very busy with various projects. In addition to raising three children, he is active in television productions, his podcast and his companies Atypique as well as Balistique Musique. Of course, he continues to diligently follow sports, especially Canadian and American football. However, he does not see a return to this discipline. Although he hung up his shoes a decade ago, Etienne Boulet doesn't see himself as an advisor or coach for the Montreal Alouettes, at least not in the short term.
In addition, attention to Tik Tok lovers and the famous advice of the couple from Etienne: the door is not closed in order to engage in others or even develop this project further. "During the pandemic, I was able to grow my Tik Tok channel and do a lot, much to Mikey's chagrin! It was his reaction that motivated me to do more," he laughs. Today I have very little time, but I have ideas and projects to maybe come back with this vein! »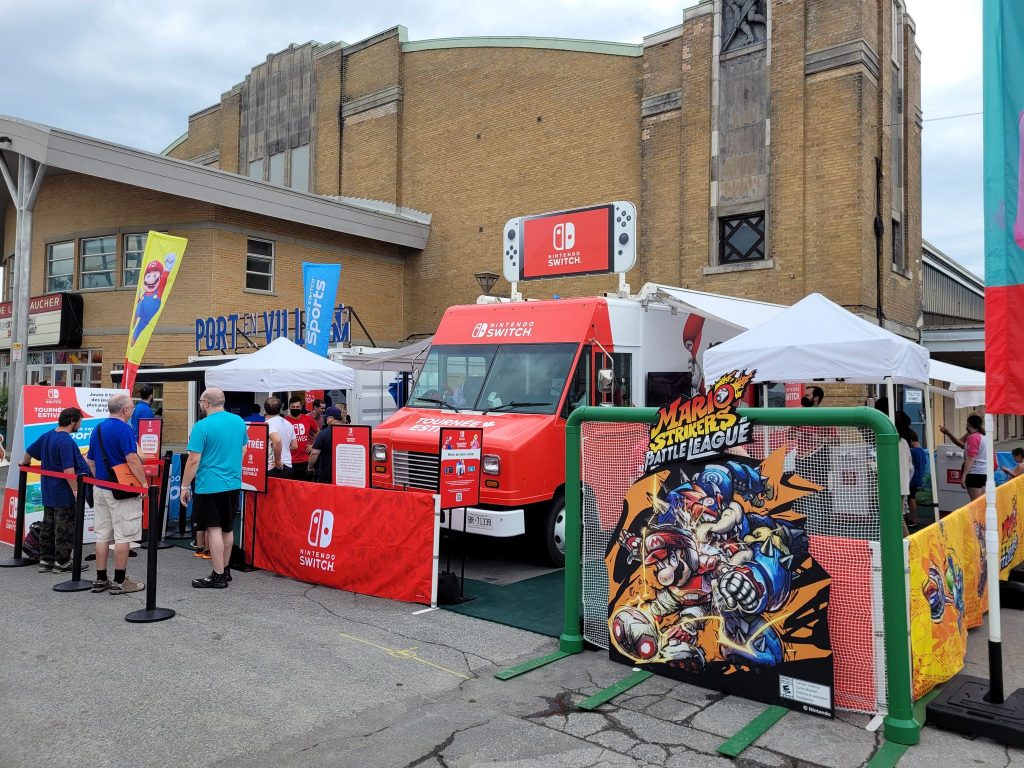 Photo: Jean-Francois Carosella
Nintendo Switch in Boulay-Denoyer
As for the video game itself, if the former soccer player is not a gamer, he confessed to me that the Nintendo Switch literally changed his family life as well as his relationship with video games. "The accessibility of the console, the fact that you can play it in many different ways without having to worry about learning a lot of button combinations, made it our family console," he said. We play as much with our teenager as we do with our younger daughters. Nintendo Switch makes it easy for us to spend time with our family, whether it's short or long games. »
The game that became a hit in the Boulet-Desnoyer family cocoon? "Nintendo Switch Sports, especially the mini bowling game. It's a lot of fun to recreate the movements, like we're bowling and trying to hit. Some other Nintendo games, such as Animal Crossing: New Horizons, have also enjoyed success at home, but not as much as Nintendo Switch Sports. Because it's easy to learn, the pace is fast, and you can play it whenever you want, the game has become as beloved as the Nintendo Switch itself."
Too fast to be Caucasian in a video game!
Before leaving, Étienne Boulet told me a little anecdote about his participation in an old university football game. While he continued his studies and his career at the University of New Hampshire, the developers of the defunct NCAA Football series in particular used his name and his characteristics to integrate him into that university's team.
So far everything seems to be fine. The problem is that, after examining his speed statistics, the developers came to the conclusion that Etienne Boulet was an African American player. "They decided that no Caucasian player could run that fast, so they pretended I was African American," he told me with a laugh. So without checking they included the real Étienne Boulet with his real stats but no good looks! The mistake was never corrected, and even today this misadventure sometimes makes the presenter laugh as much as his former football teammates!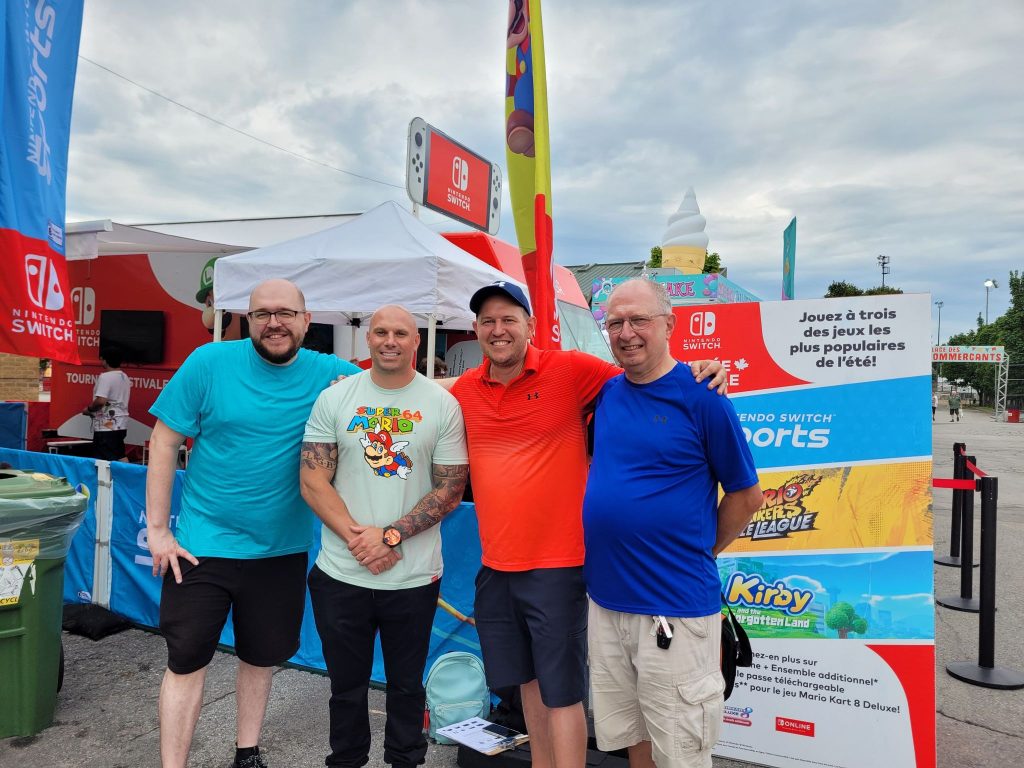 Photo: Julie Gagnon
Many thanks to Nintendo of Canada and Etienne Boulay for creating this column. In particular, you can listen to Étienne Bouley talk on various topics with several guest personalities on the Chiller chez Boulay podcast.