Last year at Gamescom, we talked about Park Beyond. This amusement park management game has attracted attention for its looks, features and promises.
A year later, as Gamescom reopens its doors to the public, we had the opportunity to interview Marco Huppertz, Lead Game Producer at Limbic Entertainment.
Note: The interview was conducted online and in English. You have a transcript translated into French.
JeuxOnline: Hi Marco, nice to meet you. Could you introduce yourself to our readers? What is your background?
Marco Hupperts: Of course. I've been with Limbic for 3 years now. So I only worked on Park Beyond. Initially, my experience was mainly related to film production. I studied in this perspective for film production and it wasn't until the end of my studies that I decided to move on to video game production.
Park Beyond is your ultimate amusement park management game. Why did you choose this topic as your current project?
Even before the start of the Park Beyond project, after the creation of Tropico, we all consulted to determine what topic we were going to focus on. And we have a lot of people at home who are into amusement park management games, so we leaned towards that. We talked a lot about what we could bring to the genre, what innovations we could bring to this universe. We were really looking for something new, and one of the things that materialized came from this idea: "What could we create if we could free ourselves from the constraints of all that was security and cost? This is where the idea of ​​"impossification" came from: to take our rides to the next level, to bring all our ideas to life, like this rocket launcher that runs our rollercoaster sends us high into the sky to reach for the continuation of the carousel. It really is what we focused on in Park Beyond.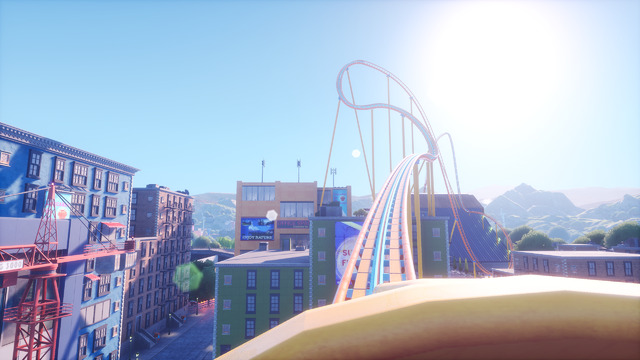 You use the term "impossification" a lot in your presentations. Where did he come from?
This is the word we really came up with for Park Beyond. Obviously, it comes from the word "impossible" with optics to make the impossible possible. To be able to create an amusement park, which, unfortunately, cannot be in real life.
What was your main source of inspiration? On the net, many call him the heir to Thrillville. Is it so?
There are many games in the amusement park that have served as inspiration for us. Everyone was really good, everyone had their own unique elements that belonged to them, but Park Beyond, with its concept of impossibility, as well as its very large story mode, its large campaign, also brings new things that can attract new players to the genre. , perhaps people who have little or no experience in this kind of management games. This makes the game really different from others.
This type of game usually attracts two types of audience: fans of management games in the broadest sense and those who dream of creating attractions according to their imagination. How to satisfy these two audiences? What direction is Park Beyond heading in?
We have several ways to achieve this. For example, we want our creative players, those who are not particularly attracted to management, those who really want to create everything on their own, can also enjoy the campaign. Therefore, we created campaigns with varying degrees of complexity. This allows, depending on the degree of complexity that we are launching, to emphasize the game on the creative side or the management side. For the latter, this sets them different tasks and puts them to the test.
The same for sandbox mode. it is possible to start this mode with unlimited money unlocked by all research without any restrictions and use all the assets that exist in the game. Or vice versa, impose money restrictions, force yourself to reach a certain number of visitors, etc.
And will this sandbox mode be available after the release of the game?
Yes.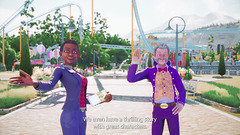 The game was a critical success last year at Gamescom. What have you been working on since then?
Since last year, we have been working on many features of the game, as well as on the control aspect of the game, so that the player who will play long games, throughout this game, set interesting tasks for himself. . We have also been working on the creative side of the game to improve ease of use, object manipulation. That's something we're working on right now, we're continuing to improve object placement, etc. We work a lot with the feedback we get. There are many interconnected elements in Park Beyond. We always have to make sure everything runs smoothly, such as visitor AI interacting with staff AI, etc.
From what I've seen, the game will have multiple environments, different themes. Can you tell me how much?
There will be 5 themes in the game, 4 of which I can already talk about. You've already seen one in the demo, it's the "Park Beyond" theme, which usually appears on a new player at the start of the game. Then we have much more specific themes, such as the "Da Vinci" inspired by the architecture of Venice, as well as the "Western" theme, which allows us to recreate villages from the Far West. There is also a Candy Land theme with lots of candies and food, where we can create our own candy castles, gingerbread houses, etc.
In total, players will be able to use over 3,000 items in their creations. We really give players a very large set of tools to create what they want.
At the biome level there will be 4 different ones. You have already seen the alpine biome inspired by the Alps and we will be able to use these biomes in all game modes and they will also be integrated into the campaign. As you progress, players will visit different biomes.
You said that the creative aspect would be greatly enhanced. Can we mix all genres with creative tools?
Yes, you can pair whatever you want with whatever you want. If, for example, you want to mix western and candyland, this is not a problem. Our developers have already had some fun creating mixes like this and it can make for some really cool elements. It's very interesting to see how much can be created using all the elements of the game.
At some point, you mentioned the possibility of sharing our creations with other players. Will this go through the Steam Workshop or an in-game feature?
We won't be using the Steam Workshop, but we will actually be able to share everything with other players so everyone can use other players' creations in their own parks. The reason we don't use the Steam Workshop is because we just want player creations to be able to be shared across platforms between PC, Xbox and PlayStation 5 players.
As for the campaign, will it be long enough to explore different aspects of the game?
Yes, the campaign is quite long. It is estimated that more than thirty hours of play must be overcome. Based on the experience of our previous developments, we wanted the story mode to be a gateway to this genre for new players. For example, the first mission, which is the prologue of the campaign, introduces players to the specifics of building a rollercoaster. It was very important for us to introduce this aspect to the players from the very beginning because it is one of the hardest things you can do in Park Beyond. But the whole side of park management is just as complex, and it is through the campaign that we will be able to present this whole aspect, from the basics to more advanced functions such as managing park employees, shops, etc. there for sale, analyzes, etc. For example, we learn that we can restrict certain stores from selling very specific items, restricting their offerings, which will affect the time staff spend getting things ready for sale, such as food items that take less time. be ready for visitors.
I think the campaign does a very good job of introducing players to all the important aspects of Park Beyond.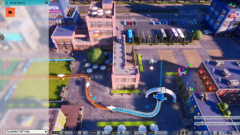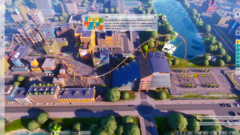 Will it be possible to directly interact with visitors in the game?
What we can do with visitors is to analyze each of them individually to look at their needs and overall satisfaction.
You can also put yourself in first or third person mode to visit your park, but there is no direct interaction with visitors.
How many people are currently working on the project?
At Limbic we have 86 people in the studio and half of them are working on Park Beyond. We started working on it over 3 years ago.
This is your first collaboration with Bandai Namco. How were these relationships created?
We talked about our project with Bandai Namco and from the very beginning they were just as interested in the project as we were. So the association was naturally formed three and a half years ago, and since then everything has been going very well.
Do you have a roadmap for what comes after the release of the game?
Yes. We will of course support the release of the game, in the future we will offer new elements and more, but I can't talk about it at the moment, sorry.
Don't worry, I understand. What will you be working on before release?
Over the next few months, we will be focusing on the ease of use of the game for players, improving the player experience, the identity of the game in terms of player experience, be it keyboard/mouse or controller. Improve everything that revolves around the modularity of elements among themselves, etc.
Thank you so much Marco for all these answers! Good follow up and see you soon.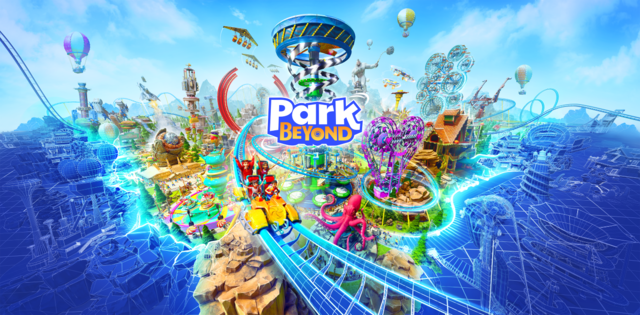 .