Apple has made some big changes to the iPhone 14 Pro and updates are expected to continue in 2023 with the iPhone 15 Pro. Of course, there are also rumors about the so-called iPhone 15 Ultra, which, according to some, will continue the legacy of the iPhone 14 Pro Max.
Right now, it looks like some Ultra rumors apply to the iPhone 15 Pro as well. Some of these include things like solid-state buttons, USB-C, and faster data transfer rates, but Apple could create an additional gap between its models, even the Pros – similar to what happened with the iPhone 12 Pro and iPhone 12 Pro. Max.
We've rounded up what to expect from the iPhone 15 Pro. If you'd like to read up on the iPhone 15, we've got a roundup of those rumors too.
iPhone 15 Pro: News (updated January 1st)
iPhone 15 Pro: possible price and release date
Apple likes to stick to September as its iPhone launch timeline, so we're betting that the iPhone 15 Pro will be released in mid-September 2023. the day when new models may arrive.) iPhone 14 Pro released on September 16, 2022, and iPhone 13 Pro on September 24, 2021.
As for pricing, we won't hear about it until pre-Apple's event, and even then, you'll want to remain skeptical until we get official pricing information. This is because the rumors could be wrong, as was the case with reports of price increases for the iPhone 14 series.
Obviously, this has not yet come to pass. We don't know, but right now we're guessing that the iPhone 15 Pro will cost $999, just like its predecessors. However, one source seems to be hinting at a price increase, at least when it comes to high-end iPhone 15 models. LeaksApplePro predicts an increase in the cost of the iPhone 15 Ultra by $ 100-200 compared to the iPhone 14 Pro Max. It's unclear if the iPhone 15 Pro will see a similar jump or if Apple will keep the price just below $1,000.
Similarly, another report suggests that Apple may cut prices on the iPhone 15 and iPhone 15 Plus after the iPhone 14 Plus has reportedly struggled to win over buyers. It's unclear if this will affect iPhone 15 Pro prices, but in one scenario, Apple will raise the Pro's prices to make its standard models look more attractive.
iPhone 15 Pro: design and display
The iPhone 14 Pro really shocks with the iconic iPhone design. Dynamic Island replaces the infamous notch with a responsive UI thanks to iOS 16 features like Live Activity and the like. We expect Dynamic Island to stay here for a long time. (In fact, rumor has it that all iPhone 15 models will feature Dynamic Island.)
There is no reason to believe that Apple will change the screen size for the iPhone 15 Pro. The 6.1-inch form factor has stood the test of time and is a favorite with many (including some of the Tom's Guide staff). And the always-on display is likely to remain.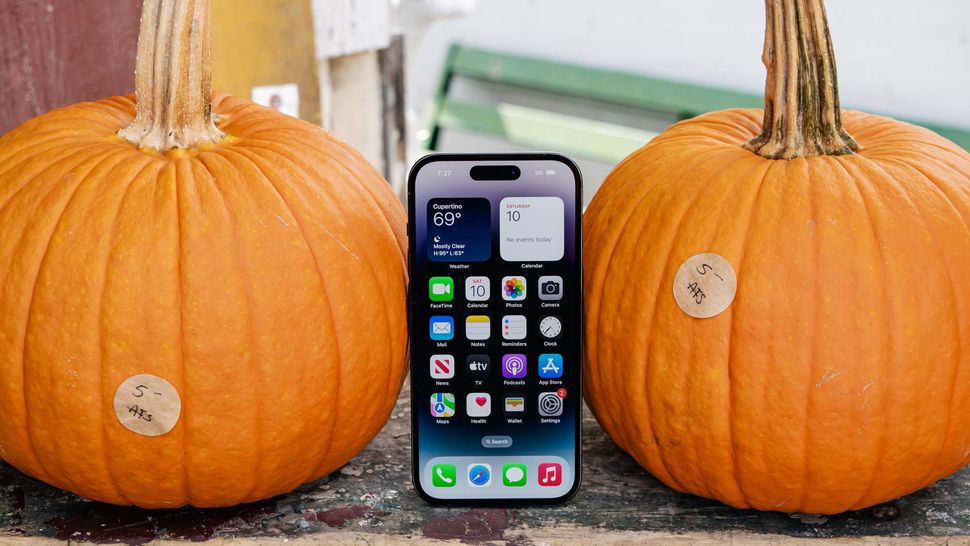 (Image credit: Tom's Guide)
But the design can change a lot. Bloomberg's Mark Gurman notes in one of his columns that Apple likes to redesign the iPhone every three years. (will open in a new tab) or so. The flat-edged look we have now has been around since the iPhone 12, which is three generations older than the upcoming iPhone 15.
This means a fresh look can be seen in 2023, but what? Apple may return to rounded edges for the iPhone 15 Pro, which is more ergonomic, especially when combined with the weight of current iPhones. It can also make the iPhone 15 Pro thinner. And the case could be made from titanium, which has been rumored for a long time for the iPhone.
However, the latest rumors from LeaksApplePro suggest that the iPhone 15 line may not get a rounded design. Supply chain issues and design limitations associated with wireless charging may have an Apple sticker with its current flat design.
Another recent rumor from Ming-Chi Kuo claims that "two high-end iPhone 15s" will feature solid-state buttons. Replacing mechanical buttons with ones that don't have any moving parts and use haptic feedback instead can make the phone more durable, last longer, and be better protected from water and debris. If you want an example of this, go back to the iPhone 7's home button, which is now fully tactile.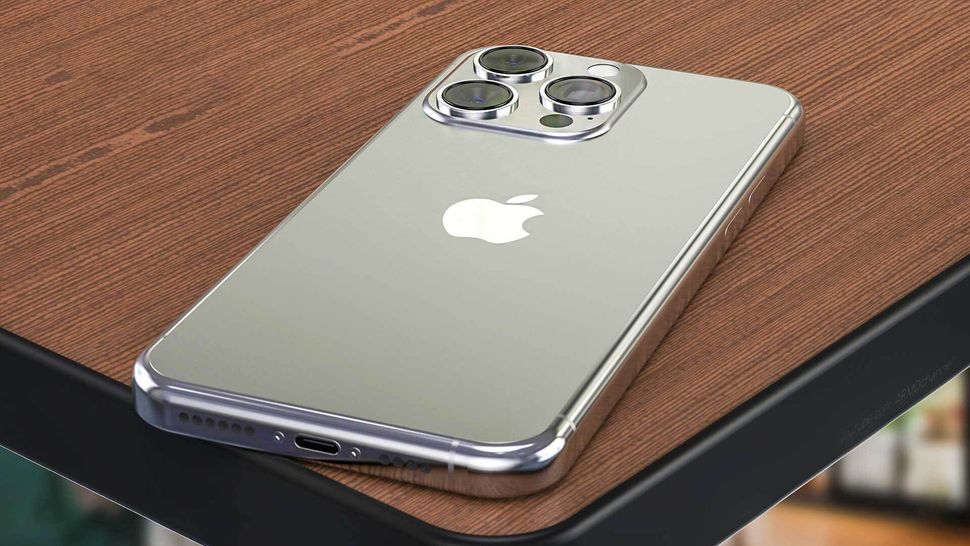 (Image credit: 4RMD)
In 4RMD's rendering of the iPhone 15 Pro, these potential design changes have been combined into a concept that looks great, although it's only based on rumors. It showcases tactile power and volume buttons, a smaller Ceramic Shield backplate that provides a curved-edge design, and a titanium chassis all make it into this latest render. While the actual iPhone 15 Pro will likely end up looking a little different, the concept definitely got us excited about what could happen.
iPhone 15 Pro: USB-C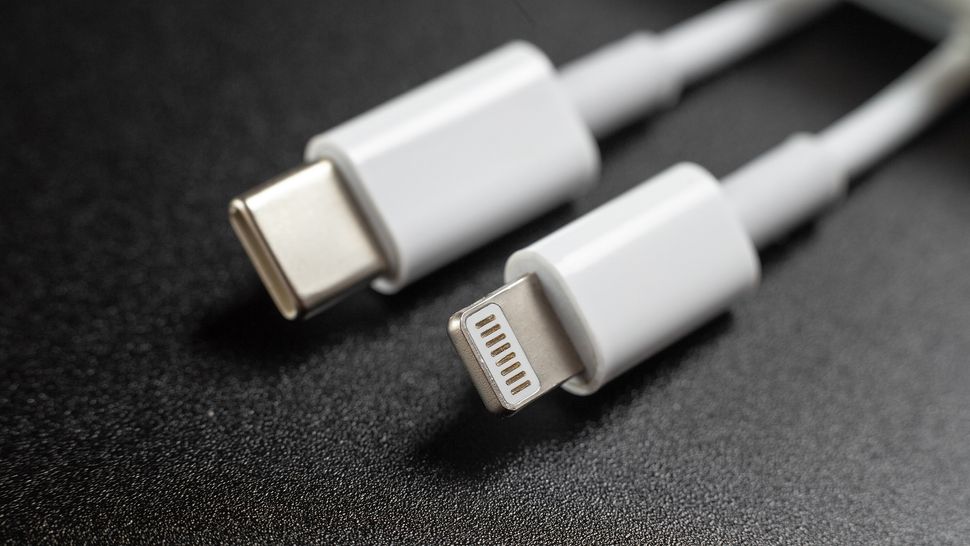 (Image credit: Ivan Shenets | Shutterstock)
Many, including us, expect 2023 to be the year that Apple permanently phases out the Lightning port on iPhone, moving to USB-C instead, as mandated by the European Union, effective December 2024. Of course, this could also be the year Apple introduces the iPhone without a port, but that's a fuzzy guess at best.
High-end iPhones will reportedly get faster data transfer speeds through their USB-C connectors, while regular versions will run at the same speed as Lightning, equivalent to the ancient USB 2.0 standard. This is one of the reasons why the addition of USB-C will make a big difference to the iPhone 15 lineup.
iPhone 15 Pro Cameras
The iPhone 14 Pro and iPhone 14 Pro Max are considered some of the best camera phones you can buy, thanks in part to a new 48MP primary sensor. It can take great pictures and even use all 48 megapixels for RAW photos.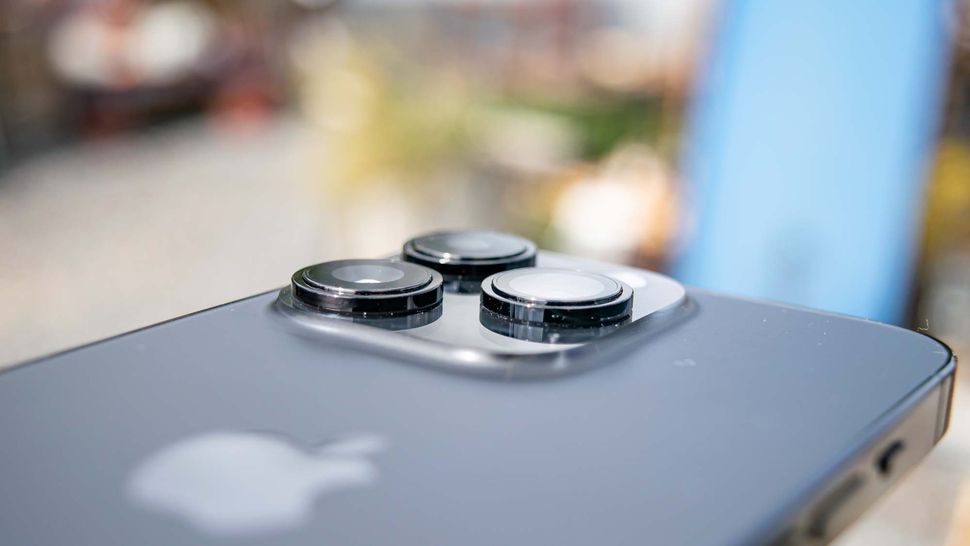 (Image credit: Tom's Guide)
Right now, however, we know very little about the iPhone 15 Pro's cameras. One of the things we've heard is that Apple will be using Sony's new "state of the art" sensor for the iPhone 15. This sensor can double the pixel saturation levels, potentially improving the overexposure and underexposure of the iPhone 15 Pro. compensation. That would be great, as the iPhone 14 Pro struggles a bit with exposure control in complex scenes.
We've been hearing about a periscope telephoto lens in the iPhone for a long time, and it could happen in 2023. Ming-Chi Kuo claims that the iPhone 15 Pro will finally get this periscope telephoto capability, helping it match Samsung and Google in zoom performance. However, it could have been reserved for the iPhone 15 Ultra, although a recent iPhone 15 Pro render included it in the design.
Kuo's other rumor claims that the iPhone 15 Pro will feature an 8P primary lens to reduce distortion in wide-angle shots, but given that Apple has just switched to a 7P lens for the iPhone 14 Pro, we'd take it with a grain of salt. salt.
iPhone 15 Pro performance
Even before the launch of the iPhone 14, analysts predicted that in the future, Apple would use different processors for its different phones, which happened. This means that the iPhone 15 Pro will most likely get a new chipset at launch.
It's safe to assume that it will be the A17 Bionic. A TrendForce report says that the iPhone 15 Pro line will use this rumored A17 Bionic, while the iPhone 15 and iPhone 15 Plus will retain the old A16 Bionic chipset.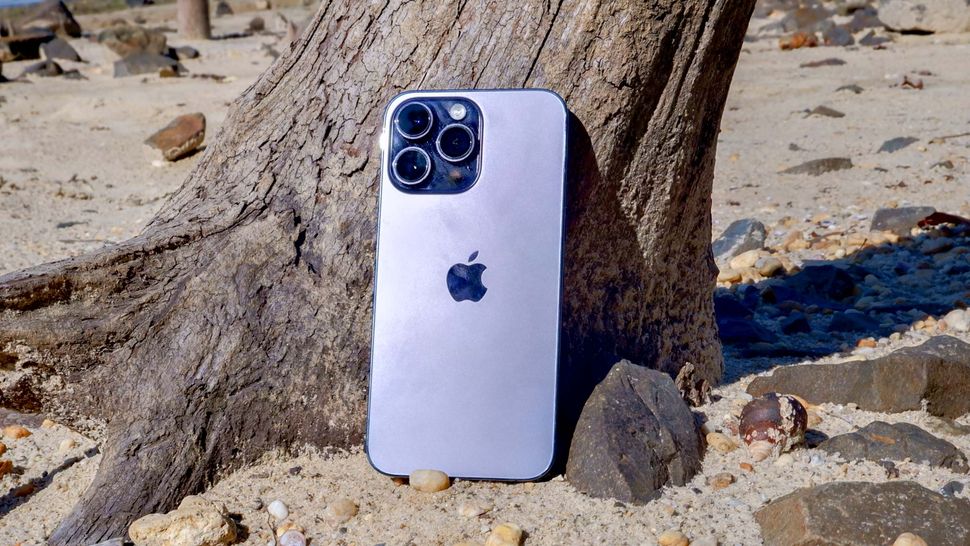 (Image credit: Tom's Guide)
In fact, the A17 Bionic is rumored to be manufactured using a 3nm process that would theoretically improve both performance and power efficiency. So while the A16 Bionic is very impressive, its successor could be even more impressive. In fact, TSMC, which makes silicon for Apple and has begun mass-producing its new 3nm chip, predicts a 35% improvement in power efficiency when using the 3nm process. This bodes well for the iPhone 15 Pro's battery life.
We have long heard that Apple wants to create its own wireless modems for the iPhone to break away from Qualcomm. In 2019, the Cupertino phone maker even bought Intel's faltering modem business. Some say 2023 is the year we finally get an Apple modem, but that might not be true.
Qualcomm says it expects to ship the "vast majority" of Apple modems in 2023, and Apple has apparently just placed a large order for 5G modems from Qualcomm, so we're more inclined to bet on that than analysts' predictions. If so, we think the iPhone 15 Pro will use the X70 modem.
iPhone 15 Pro: Appearance
September 2023 is still a long way off, so expect more iPhone 15 Pro rumors and leaks to come. We might hear about this alleged difference between the iPhone 15 Pro and iPhone 15 Ultra, if there is one – and we sincerely hope there isn't.
The Pro models are solid devices, especially the iPhone 14 Pro. But let's hope we continue to see meaningful updates to a small phone that packs a punch. But there's more we'd like to see, like 256GB of base storage and faster charging speeds to start with. What's more, Apple needs to shorten the battery life of the iPhone 15 Pro, which has been drastically reduced in 2022.
Keep it locked up here as we learn more about the iPhone 15 Pro in the coming months.
Today's Best Apple AirPods (3rd Generation) Deals