Today we are going to talk about cryptocurrencies and NFT (don't go!)
This article is taken from our weekly Règle30 newsletter. We are publishing the November 11, 2020 edition to help you discover the topics that Lucie Ronfaut addresses. To receive it every Wednesday, subscribe for free on this page.
On the internet (and, perhaps, soon in the street), our face does not belong to us. This is a truth that concerns almost everyone. There are many ways that a selfie posted on social media can be exploited. By a facial recognition algorithm, which trains to recognize you. By a search engine, which can list your photo. By an unknown person, for a variety of reasons, ranging from identity theft to gender harassment.
This phenomenon particularly affects celebrities, whose photos flood the web, whether consented or not. A few months ago, model Emily Ratajkowski told a strange story: in 2014, as her popularity began to take off, she discovered that an artist was selling reproductions of her Instagram photos. Could not prevent the sale. She finally resolves to acquire one of these "works", as a (rather ironic) means of redeeming her own image.
Back in 2021. This time, Emily Ratajkowski decides to go even further. In May, she will sell an NFT. Subject of the digital auctions: a link to a photo of the model posing in front of the famous image taken from her Instagram account, and sold in 2014 without her consent. The whole thing is titled "Redeem myself: a redistribution model" (note: in English, "model" can mean mannequin and model).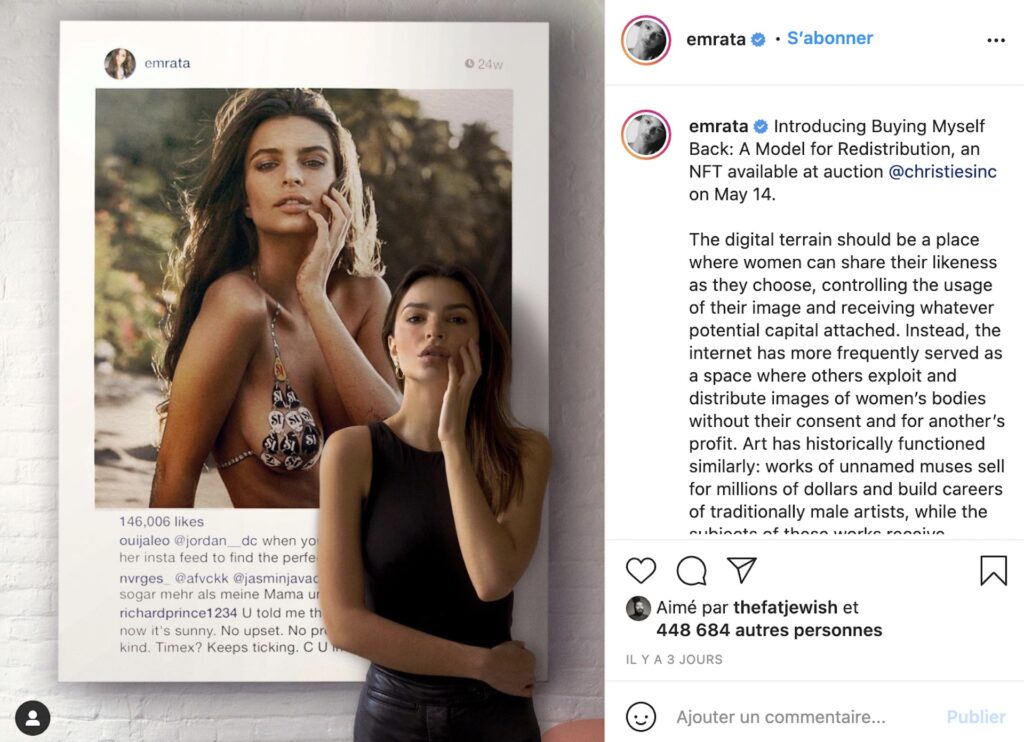 If, at this stage, you are lost, I invite you to read this summary article from Numerama concerning NFTs. To make it short, an NFT works on the same principle as a cryptocurrency. We authenticate an image (or any online object) using a virtual token, which is then added to a blockchain (in this case Ethereum). When we buy an NFT, we are not acquiring so much a work as the proof that it belongs to us. It is a system that has enjoyed a certain popularity since the beginning of the year, but which is also very much criticized in the artistic community.
So, of course, Emily Ratajkowski is not just any woman. A priori, if I propose to Christie's to sell one of my selfies in NFT, they will let me "seen". I still find this approach strong, and feminist. "Digital should be a place where women can share images of themselves, while remaining in control, and potentially be paid for it if they wish," writes the model on her Twitter account.
" But in the end, the internet is above all a place where others exploit images of our own bodies without our consent. It has always been so in the history of art: anonymous muses have enabled the wealth and careers of male artists, while receiving nothing in return. "
The digital terrain should be a place where women can share their likeness as they choose, controlling the usage of their image and receiving whatever potential capital attached. Instead, the internet has more frequently served as a space where others exploit and distribute image

– Emily Ratajkowski (@emrata) April 23, 2021
For a feminist blockchain?
I'm not going to lie to you: I'm generally critical of anything related to blockchain near or far. The madness of NFTs depresses me, crypto-bros frighten me, digital speculation disgusts me as much as that of traditional finance. But Emily Ratajkowski's story made me think. Is a feminist approach to blockchain possible? I'm not talking about the place of women in crypto startups (though, that's a real topic too), but the technology itself.
What could the storage and transmission of data in a decentralized, secure and authenticated manner, without a control body, bring to the struggles of women? I can cite several examples, such as the Pussy Riot's investment in cryptocurrencies and NFTs, or the American artist Claudia Hart, who recently published a "feminist blockchain manifesto", and who sees this technology as a means of " authenticate our gender identity. Finally, more concretely, cryptocurrencies are already widely used among some sex workers, often driven out of other online payment methods because of their activities.
These initiatives do not cancel the flaws of the current exploitation of certain blockchain technologies: rampant speculation, ecological impacts, etc. Moreover, placing women in a deleterious environment (at random, capitalism) will not suddenly solve all of its problems. Technology is never neutral. But it is not necessarily bad by default. It is the product of the people who make it, and of the society in which it operates. Suddenly, without falling into techno-solutionism, I want to do a little exercise in optimism. Can we still upset the models?
The information sent through this form is saved in a computer file to process your request. They will in no case be transferred to third parties. Your email address will be kept for the duration of your subscription to our newsletter. In accordance with the law "Informatique et Libertés", you can exercise your right of access to data concerning you and have them rectified by contacting: Humanoid – 137 boulevard de Sébastopol – 75002 PARIS. Your email address is only used to send you our newsletter. You can use the unsubscribe link integrated in the newsletter at any time. See our privacy policy to learn more.

Some links
Young lady is looking for a deadly girl
Monday was lesbian visibility day. A great opportunity to read this article from Numerama on the broad issue of lesbian dating apps. Why is it hard for queer women to meet on apps? Why are there so few services dedicated to them? An article that combines issues of visibility, economy, homophobia and moderation, which I invite you to read here.
Unnatural
The Quebec site Urbania has collected the testimony of the young woman who accused, a few months ago, the French youtubeur Normal Thavaud of manipulation and incitement to send him sexual content. At the material time, she was 16, and the videographer 30. She has since filed a complaint in Canada for sexual exploitation of a minor. A case that raises the more general question of the relationship of false proximity between creators and creators of content and their fans, often very young. You can read and watch the survey here.
Kiss kiss fall in love
Leticia Andlauer is a researcher specializing in game studies and online women's communities, whom I have been working with for some time. I was therefore delighted to see her interviewed in a medium, in this case Stories, a site produced by the French video game giant Ubisoft. In this interview, Leticia Andlauer details the content of her thesis, dedicated to otome games (flirting games dedicated to women) and Amour Sucré, a French romance game. You can read it here.
Hi Musculars
"Flashback: it's 2007, you're 8 years old, and Wii Fit tells you you're obese." On TikTok, in recent weeks, Internet users have shared their more or less positive memories of Wii Fit, the sports game for the Wii console, which has traumatized more than one. Starting from these memes, the American site Polygon asked an interesting question: how to develop a sports video game, without pushing players to hate their bodies? You can read it here.
Something to read / watch / listen / play
I am a freelance journalist in the midst of a global pandemic. So it's been a long time since I set foot in an office. Nevertheless, it is difficult not to succumb to the charm of Say No! More (note: I was able to discover the game for free thanks to a press copy, which was sent to me by its publisher). In this short video game, imagined by the German studio Fizbin, we play a young intern on their first day in a new company. Very quickly, we realize that we are taken mainly for the servant on duty. What if we learned to say no?
Thanks to the wise advice of a strange audio cassette, we therefore become the nightmare of the office, sending all our colleagues and their abusive requests to the ground. Make the coffee? No ! Photocopies ? No ! Overtime tonight? Certainly not ! Little by little, our successive refusals lead us to climb the corporate ladder, and to fight against (literally) several bosses.
In terms of gameplay, Say No! More is not very exciting. It is impossible to lose at the game, just press the NO button repeatedly. But it's not that bad ! The experience remains very cathartic, and above all very funny. The story is well written, wraps up in two short hours, and leaves us with a few existential questions as a bonus. What if, in the end, the hardest part was saying no to the people you love?
Say No! More, available on Nintendo Switch, PC, Mac and iOS
The continuation in video