Good plan news It Takes Two on PS4 is back and at the lowest price!
The famous It Takes Two on PS4 is again available on PS4 at Micromania which offers it with a particularly interesting reduction! We will talk to you about it now.
It Takes Two will have charmed a lot of people! So many people that the title was almost nowhere to be found at times. We're not at the PS5 or Xbox Series X stage, but you get the concept.
It Takes Two, however, is a story that starts off badly with a couple who decide to separate. As their little girl hears the news, tears of infinite sadness run down her cheeks to crash into two dolls she was grabbing at that moment. The girl's parents instantly find themselves in these dolls who will have to cooperate in order to meet the challenges of their therapist, Dr Hakim.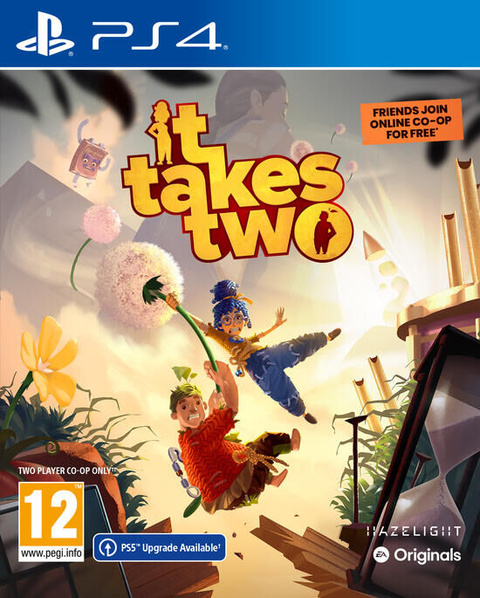 The gameplay of the game is based solely on the cooperation between the two main characters. Indeed, the latter must cross places which have a strong connotation in the imagination of their daughter and Dr. Hakim will have a front row seat to push them to work together and to surpass themselves. This means that the gameplay of this game manages not only to renew itself over the course of the adventure, while keeping a common thread this cooperation aspect which is the key to the puzzles that you will have to solve and the obstacles that you will have to overcome.
In addition to that, the game has a very particular graphic touch which will make you plunge into a colorful world with childish inspirations. And don't worry if you are alone at home, it is also possible to play online with someone who will come and help you!
Where to buy It Takes Two on PS4
This highly demanded title is back at Micromania, which also offers it with a 25% discount, which brings the game down to less than € 30. A very good deal in view of the adventure that It Takes Two offers you.
Find It Takes Two on PS4 for € 29.99 instead of € 39.99 at Micromania
Learn more about It Takes Two
It Takes Two is a platform, action, and co-op game. In the heart of a family that is tearing itself apart, you play as the two dolls that come to life, representing the parents who will have to go through hardships in their daughter's imagination.
The opinion of
[87]
18/20
Josef Fares can rest easy and should therefore avoid ruin because no, we do not get bored in It Takes Two, on the contrary. Besides, it is a game that is worth more than the sum of its parts. This 12-hour fully cooperative adventure is not only teeming with a multitude of great ideas, it's enchanting, funny and terribly refreshing. Multiplying sequences at a frantic pace, It Takes Two shows an overflowing creativity and it is an endless pleasure to discover what surprises the developers have in store for us at each corner of the board during an experience that will surprise you as much as 'she will make you smile. We could just mention a camera on rare occasions badly placed and a rather withdrawn challenge, the spirit of the game is clearly not to be difficult, on the contrary, but it would be a shame to dwell on these points facing a title that will bring a lot of sun to those who will play in this period a bit gloomy.
To find out more about this title, we invite you to consult its full test


Through Matt_Clank, Journalist jeuxvideo.com
MP