Between Thomas Pesquet, Elon Musk and Jeff Bezos, space travel is a topic that we deal with more and more regularly. If Elon Musk wants to bring part of the population to Mars, Jeff Bezos sometimes seems even more adamant, explaining that we will not be allowed to stay on Earth in the future anyway. Statements that may seem surprising.
Jeff Bezos and space travel
The two richest men on Earth, Jeff Bezos (Amazon, Blue Origin) and Elon Musk (Tesla, Space-X), each have their own project to invest in space and compete with national and international organizations like NASA or the ESA. .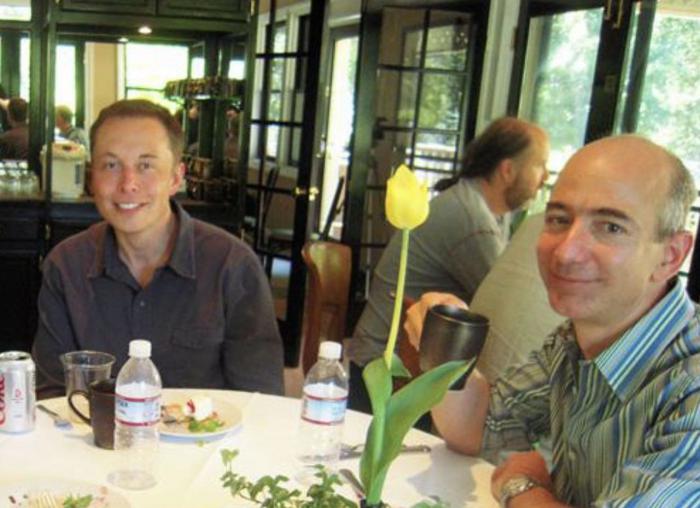 Elon Musk and Jeff Bezos discussed space-related issues in 2004.
Jeff Bezos has also previously sat on a "tourist" flight in space, and netizens have fallen on him by signing a petition for him not to return to Earth. In fact, Jeff Bezos is not generally unanimous when he talks about the future of humanity. And today will not be the exception, since the billionaire has a very specific idea about the life of our successors on Earth, and it is not really encouraging.
Jeff Bezos' latest statement
In a speech delivered during the Ignatius Forum in Wahsington, Jeff Bezos wanted to predict the future of humanity. And the least we can say is that the billionaire has not imagined us for a long time on our beautiful planet Earth. Indeed, the businessman has affirmed that, according to him, the Earth could one day become a holiday destination, like "our national parks". All the production we need to live would take place in space, and workers would only be able to return to dry land on very rare occasions.
Here is the exact statement from the billionaire:
Yes, humans will be born in space and then visit Earth, just like one visits Yellowstone National Park. Throughout the centuries, many people will be born in space, it will be their first home. They will be born in these colonies, they will live in these colonies, and then they will visit Earth in the same way that you would visit, you know, Yellowstone National Park.
According to our colleagues at The Independent, the entrepreneur dreams above all of floating space cities, containing rivers, forests and wild animals. His statement, therefore, does not surprise those who know Jeff Bezos directly or indirectly, but in any case it has the merit of making us wonder about the future of humanity and the living conditions of our successors on Earth. Jeff Bezos also took advantage of his speech to tackle a tackle to Elon Musk, as the latter explained that according to him, the floating cities of the future are much more likely than the colonization of distant planets (a subtle allusion to Elon's predictions). Musk on Mars). It remains to be seen if we will stay alive long enough to see which of the two billionaires was right.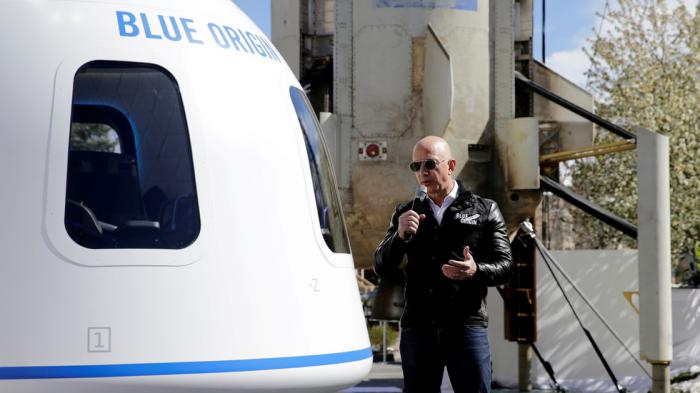 And if you want another example of Elon Musk and Jeff Bezos' cat and dog relationship, you can check out our previous article that looks at Elon Musk's taunting of Jeff Bezos, who previously lost his case against NASA.
Business Consulting Nulled, WeaPlay, Elementor Pro Weadown, PHP Script, Slider Revolution Nulled, Newspaper – News & WooCommerce WordPress Theme, Avada 7.4 Nulled, Fs Poster Plugin Nulled, Wpml Nulled, Elementor Pro Weadown, Flatsome Nulled,Woodmart Theme Nulled, Jannah Nulled, WordPress Theme, Astra Pro Nulled, Rank Math Seo Pro Weadown, Yoast Nulled, Dokan Pro Nulled, Nulledfire, Wordfence Premium Nulled, Woodmart Theme Nulled, Consulting 6.1.4 Nulled, Jnews 8.1.0 Nulled, Premium Addons for Elementor, Plugins, PW WooCommerce Gift Cards Pro Nulled, WP Reset Pro, Woocommerce Custom Product Ad, Newspaper 11.2