The Joby GorillaPod 5K is a flexible, professional grade tripod from Joby. Over the past few decades, Joby has established itself as a supplier of an innovative type of tripod that uses articulated joints that rotate around anything and everything to give you the ability to stabilize your camera wherever you go.
Key Features:
Material: aluminum, ABS, stainless steel and thermoplastic elastomer.
Leg sections: 1
Weight: 1.6 lbs
Max load: 11 pounds
Folded Height: 13 inches
Ball head or pan/tilt head: Ball head
While it looks more like a child's toy than what you might associate with a precision professional photography kit, the choice of materials and careful engineering have resulted in a product that is both rigid and flexible in all the right places. Previous iterations reportedly failed after wear caused the ball joints to come loose, but this latest offering promises much stiffer joints and a ball head kit that can handle the weight of a DSLR plus lens.
Primarily designed for Instagram and YouTube users, the Joby GorillaPod 5K is ideal for on-the-go photos and videos while traveling, especially selfies and direct-to-camera clips. But the question is, does it offer anything useful to the astronomers, long exposure fanatics, and night sky photographers among us? The truth is yes and no, depending on what you want to shoot and where you are going to shoot it.
Joby GorillaPod 5K tripod review
Joby GorrillaPod 5K Tripod Review: Design
Lightweight and compact
Practical for mobile scenarios
Easy to use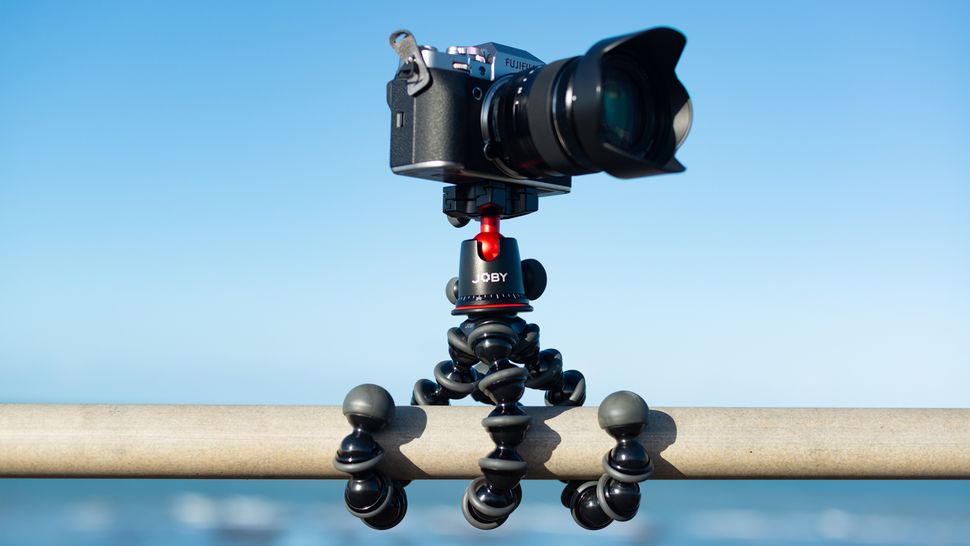 (Image credit: Diana Jarvis)
The GorillaPod 5K is primarily designed to attach to railings, trees, and just about anything in the urban landscape, as well as rocks and rocky natural landscapes. The ball joints are made from a combination of stainless steel and aluminum with rubber around the widest part of each ball, giving it a softer, more tactile feel than if it were all metal. It also has a practical dimension as it is what allows the GorillaPod to stick to whatever you choose to attach it to without slipping off.
The joints are the perfect combination of flexibility and rigidity; they are flexible enough to be manipulated, yet rigid enough to ensure they stay there once you decide where you need them.
The ball head has only two handles; a smaller one to secure the entire head in a horizontal plane and a larger one to rotate the ball head. Like most ball heads, it also has a recess for vertically shaped compositions. The ball head is made from a rather delightfully bright red aluminum and (at least in our tests) turns easily without colder conditions affecting the metal and preventing it from moving.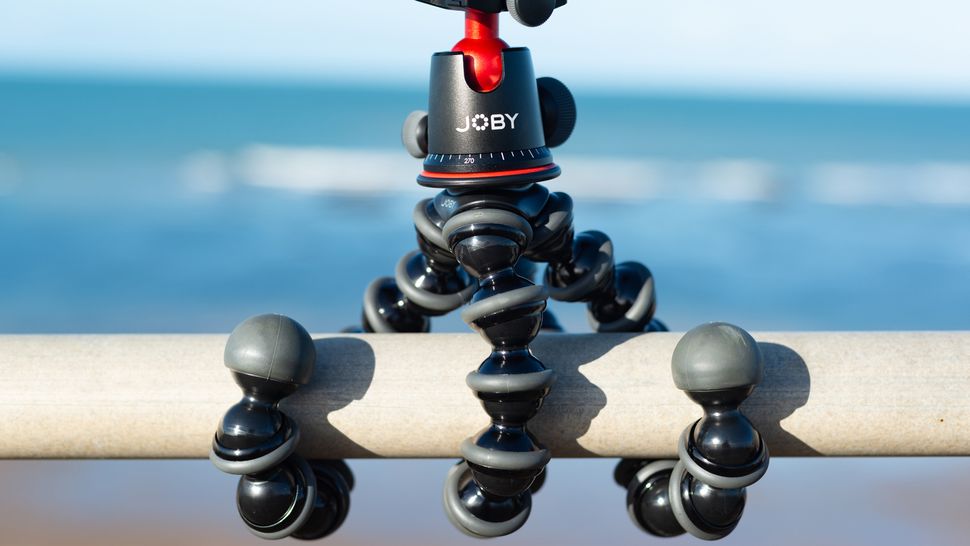 (Image credit: Diana Jarvis)
We're testing the complete GorillaPod 5K kit, which includes the tripod itself and the ball head. You can buy a tripod without a ball head and attach your own if you already have one, as it uses a standard screw. You can also remove part of this screw to reveal a standard screw that goes straight into the bottom of the camera so it can be used even without the ball head attached.
The connection plate uses the Arca-Swiss design and snaps directly into place rather than sliding in and out. The Arca-Swiss design, if you haven't seen it yet, is a great example of tripod design standardization because it means you can use this plate on tripods from other manufacturers that also use it (eg Benro, 3 Legged Thing). ) and just as easy to fit. The plate uses a D-ring and is easy to screw in and out.
Joby GorrillaPod 5K tripod review: functionality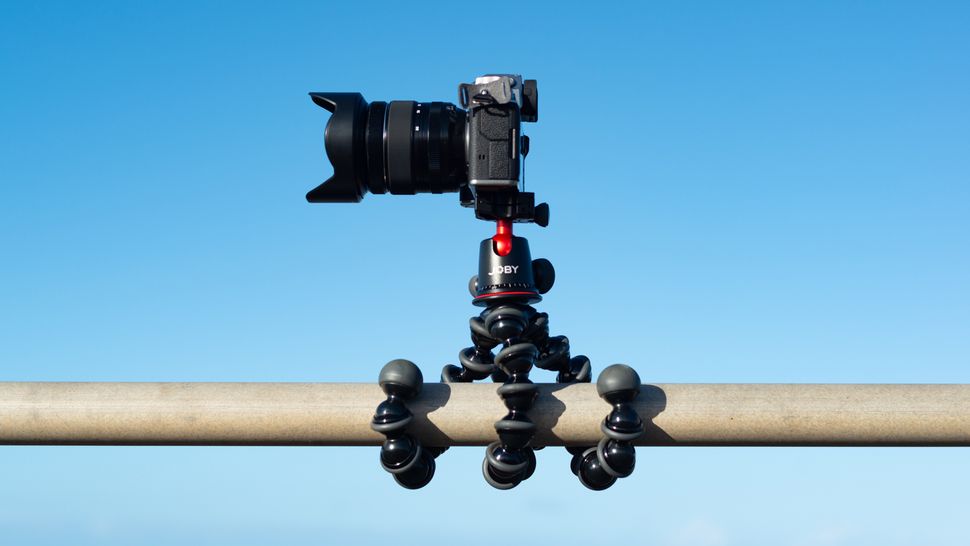 (Image credit: Diana Jarvis)
The great thing about the GorillaPod 5K is that, at 1.6 pounds, it's the lightest tripod we've ever tested. It's something you can happily attach to the outside of your camera bag and hike all day long without getting in the way or adding too much weight to your luggage. This is great for those days when you think you might need it but don't necessarily plan to. But this is certainly not very similar to shooting the night sky!
When we tested the GorillaPod after dark, we found that, contrary to initial expectations for something this small, it's not a bad option for capturing the night sky.
The main disadvantage of the GorillaPod is that it pretty much needs to be attached to something to ensure it stays still long enough for the exposure duration required to capture the Milky Way or star trails. This means that the composition you choose is limited to outdoor furniture, railings, trees, etc. available. You can of course set it freestanding on the ground, but this is not recommended when the ground is too flat, wet or muddy, as despite the rubber feet it can slip. It also doesn't do well in the wind, and you'll need a tasteless night if you use it on its own.
However, once it was attached to the railing, its tiny size immediately proved to be quite useful in keeping still against strong sea breezes, because the tripod swayed much less in the wind. It was easy to manipulate the legs into position, and using a combination of rotating the ball head around its horizontal axis and moving the ball head made it easy to frame directly into the sky.
While the Joby GorillaPod 5K can handle the weight of a mid-range zoom DSLR in landscape, compositing in portrait has proven challenging. When the tripod was wrapped around the railing, the camera was too big to fit in the space between the tripod and the pole. However, the mirrorless was small enough to not be a problem.
Should I buy a Joby GorrillaPod 5K tripod?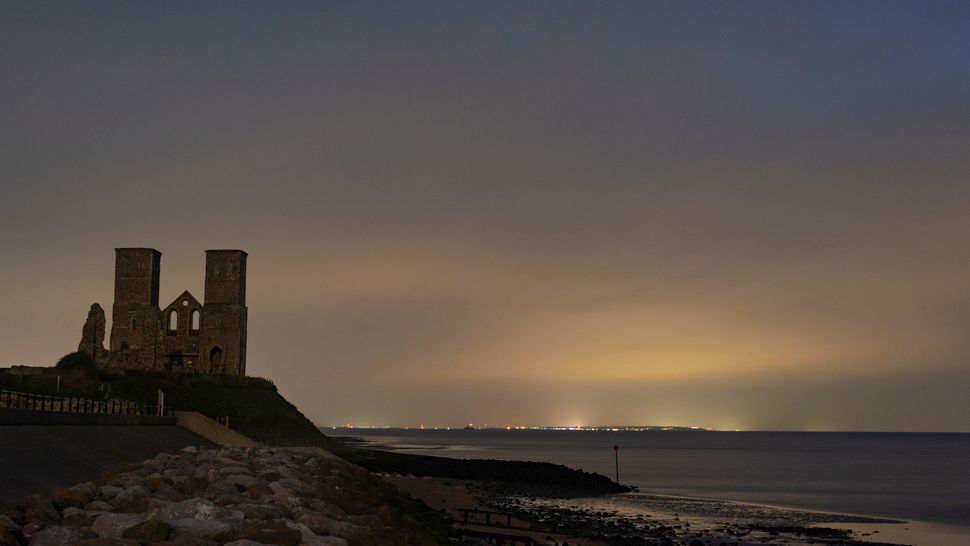 An overview image taken with the Joby GorillaPod 5K tripod. (Image credit: Diana Jarvis)
It's unlikely that this tripod will cover all your stabilization needs, but if you want to complete your kit – for example, you might want to take something with you on a trip in which you might want to take a few long exposures, but it's not the purpose of the trip, it is a convenient backup that will not increase the volume or weight of your luggage. But it is by no means as versatile for shooting night skies as other models on the market that sell for a similar price. If you are looking for a dedicated tripod for shooting the night sky, then this is not the tripod for you.
If this product is not for you
If you're looking for a lightweight travel tripod at a similar price, Benro Slim (will open in a new tab) only slightly heavier at 2.2 pounds and slightly more expensive. It's a fully extendable tripod down to about 64″ yet compact enough when folded at 20″ not to be too bulky when you're traveling or packing for a long trip.
Curiously, if you're using a phone camera, there's no phone mount for the Joby GorillaPod 5K. This seems like an oversight, but it could be because they have a dedicated system for would-be youtubers with their GorillaPod mobile blogging kit. (will open in a new tab) which is designed for mobile phone and also offers a range of other desktop phone mount solutions such as Handypod Mobile Lock. (will open in a new tab).
Today's Best Joby Gorillapod 5K Deals