When Sony introduced some of the titles that we were going to discover on Playstation 5 during the Future of Gaming presentation, one title particularly caught my eye: Kena: Bridge of Spirits.
With a charming and colorful presentation, a mysterious universe that immediately captured my attention, and most of all, an incredibly polished presentation for a studio that no one had heard of, Ember Labs, Kena stood out from the crowd.
After several delays, the game is now available on the Playstation and Epic Game Store. Did Kena keep her promises or was it all just a showcase?
Sometimes you have to believe in magic.
A presentation worthy of Pixar
The first thing that stands out when playing Kena: Bridge of Spirits is the presentation.
It is a cliché to say when we talk about a game with a more cartoonish style, but it is more true than ever; Kena gives us the impression of controlling an animated 3D movie in real time.
In fact, (sorry to readers outside of Quebec who probably won't understand the reference), but it looks like we're monitoring an IGA ad. Kena's 3D characters have everything to remember the animated caricatures of Ricardo and Christian Bégin.
And this refined look is no accident. Before embarking on game development, Ember Labs, the developers, worked for many years producing 3D animations in the world of advertising.
It was after designing Terrible Fate, an animated short that pays tribute to Majora's Mask, that the Ember Labs team decided to pursue their dream of developing a game (by the way, Zelda's influence is evident in the studio's first title).
Ember Labs know-how has carried over well to the gaming world. The characters are expressive, to the point that the cut scenes could be shown like in a movie at the theater, without adjustments.
Even the graphics during the game are up to par. The deliberately minimalist interface maintains this impression of controlling a big-budget animated movie.
After a year in which PS5 players didn't have much to eat, Kena: Bridge of Spirits is one of the first titles that really made me feel like I was playing a next-gen game (but the title is still out there. on PS4).
An equally Pixar story
The secret to Pixar movies is telling sad stories in cute, lightweight packaging.
Ember Labs clearly copied Pixar's homework.
Kena tells the story of the heroine of the same name, a spirit guide. Armed with a simple stick passed to her by her father, her task is to help the spirits progress to the other world.
He arrives in a town that has been the victim of a mysterious epidemic. Several spirits stayed behind, refusing to go on. Prisoners of their anger or their father, they become abominations, perverting the nature around them.
To carry out her task, Kena is helped by the Burps, cute and mysterious little creatures who have the ability to bring nature back to life … once the spirits have calmed down.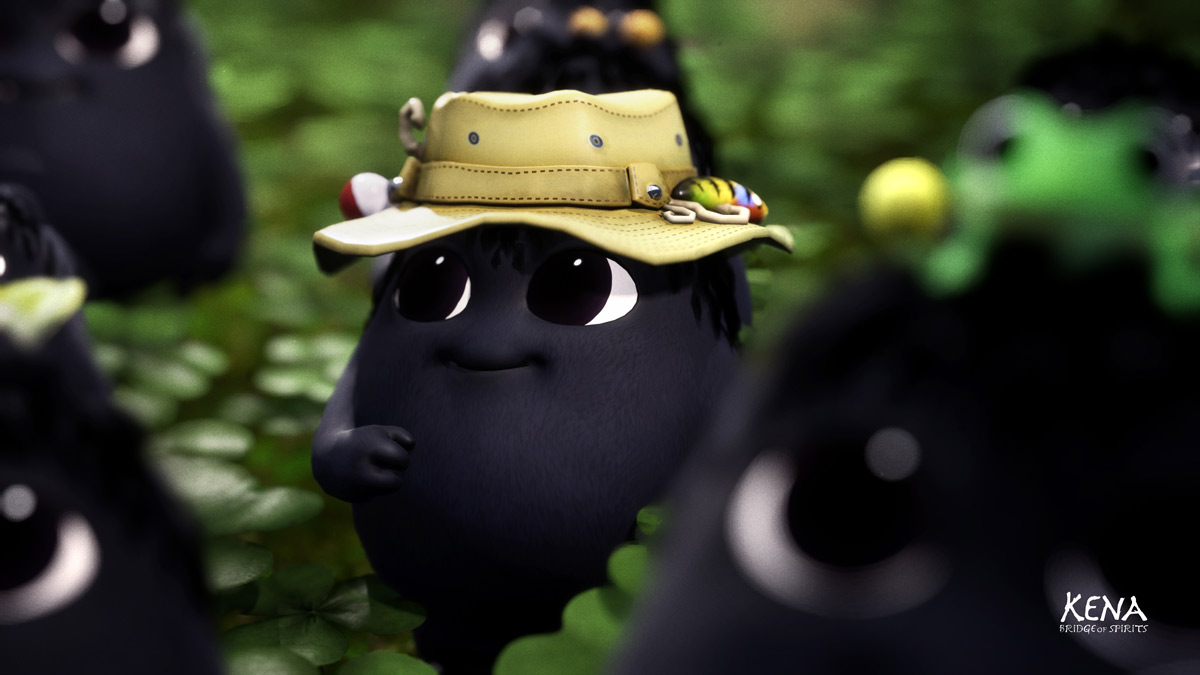 I'll be careful not to divulge the rest of the facts to you, but I can still tell you that the themes of grief, death, and acceptance, not forgetting the near-apocalyptic environmental subtext, are heavy topics.
But Kena manages to approach these issues in an upbeat and engaging way. We can't wait to find out what happens next, instead of being exhausted.
Everything but child's play
However, there is a strange aspect to Kena; the level of difficulty.
From the beginning, we suggest you choose between easy or normal level. I started out normal, having a lot of experience in action games like this.
It went well for the first third of the game, then I ran into a particularly tough boss, who took me over an hour of consecutive attempts to succeed. I believed in an exception, but soon all bosses turned out to be just as difficult, if not more.
I ended up downgrading to easy, when one of the last bosses turned out to be too difficult for my experienced thumbs. It's a shame, because the normal enemies were on a perfectly balanced level of difficulty with the normal one.
And with ease, everything became too … easy. It is as if a level of difficulty is missing somewhere in between. At the end of my adventure, I was told that I had unlocked a more difficult level.
Without form.
Competent if not original
Kena: Bridge of Spirits is not a game that revolutionizes anything.
We see that the bosses at Ember Labs are fans of the games, and have obviously relied on their favorites. We feel very clear influences from God of War, Horizon Zero Dawn, Dark Souls and of course The Legend of Zelda.
Regarding the visual style and the story, the inspiration of Pixar is very present.
But between wanting to imitate the masters and getting there, there is a step. A step that Kena takes brilliantly.
The presentation is masterful, the music sublime, and the gameplay satisfying, although it could have been better balanced.
In the end, Ember Labs offers us an excellent title to chew on if our DualSense starts to collect dust.
Verdict
The best
Exceptional presentation
Burps are SO cute
Good grip
Talentedly explored dark themes
The least
Correct lifespan (about 15h)
Poorly balanced difficulty
Final note

8.5 / 10