Refresh
2021-11-28T00:20:54.729Z
(Image credit: Sony)
While it's not the biggest discount, this deal has still got a heck of a lot of appeal for anyone with a PS4 or PS5: 12 months of PlayStation Plus membership.
Why would you want PlayStation Plus? Well, it gives you access to online multiplayer, 100GB of cloud storage and a suite of free games in the form of the PlayStation Plus Collection, as well as new titles on a monthly basis. Saving a neat $20 can't be sniffed at. Get this straight away if you're not already a member. 
PlayStation Plus 12-month membership: was $59 now $39
2021-11-28T00:15:57.809Z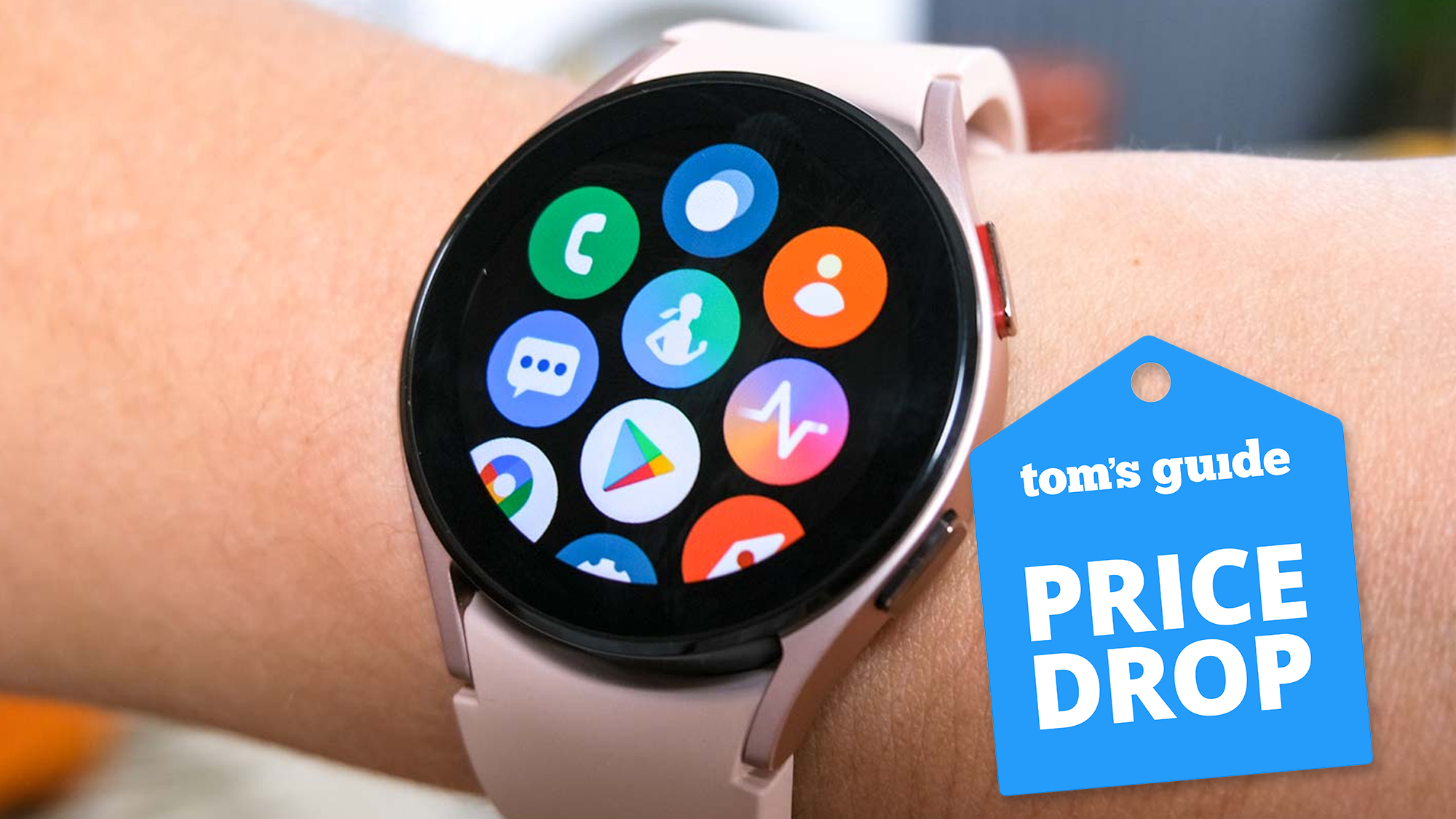 (Image credit: Future)
A lot of wearables have been discounted over the Cyber Monday season, and Samsung's Galaxy Watch 4 line is no exception. Sure, the Galaxy Watch 4 is pretty new, but the Discount Fairy doesn't really care about age when Cyber Monday comes around.
Right now, Amazon has knocked $50 off the price off the entire Samsung Galaxy Watch 4 range. No matter what the size or connectivity type, the discount is exactly the same — which isn't bad going. 
The cheapest option, the 40mm Bluetooth-only Galaxy Watch 4, is now $199 instead of the normal $249 price tag. If you want something bigger and more powerful, the giant-sized 46mm model, with built-in 4G/LTE is now $379 — down from $429.
No matter what Galaxy Watch 4 model you get, the features are pretty much the same. There's an ECG monitor, heart-rate tracking, fall detection, body-composition measurement and everything Samsung needs to track all the different workouts you might want to do. Plus, the Galaxy Watch 4 runs on Google's new Wear OS software, which means there are more apps on offer than Samsung's older Tizen-powered smartwatches.
Samsung Galaxy Watch 4: now $50 off all models
2021-11-28T00:04:56.166Z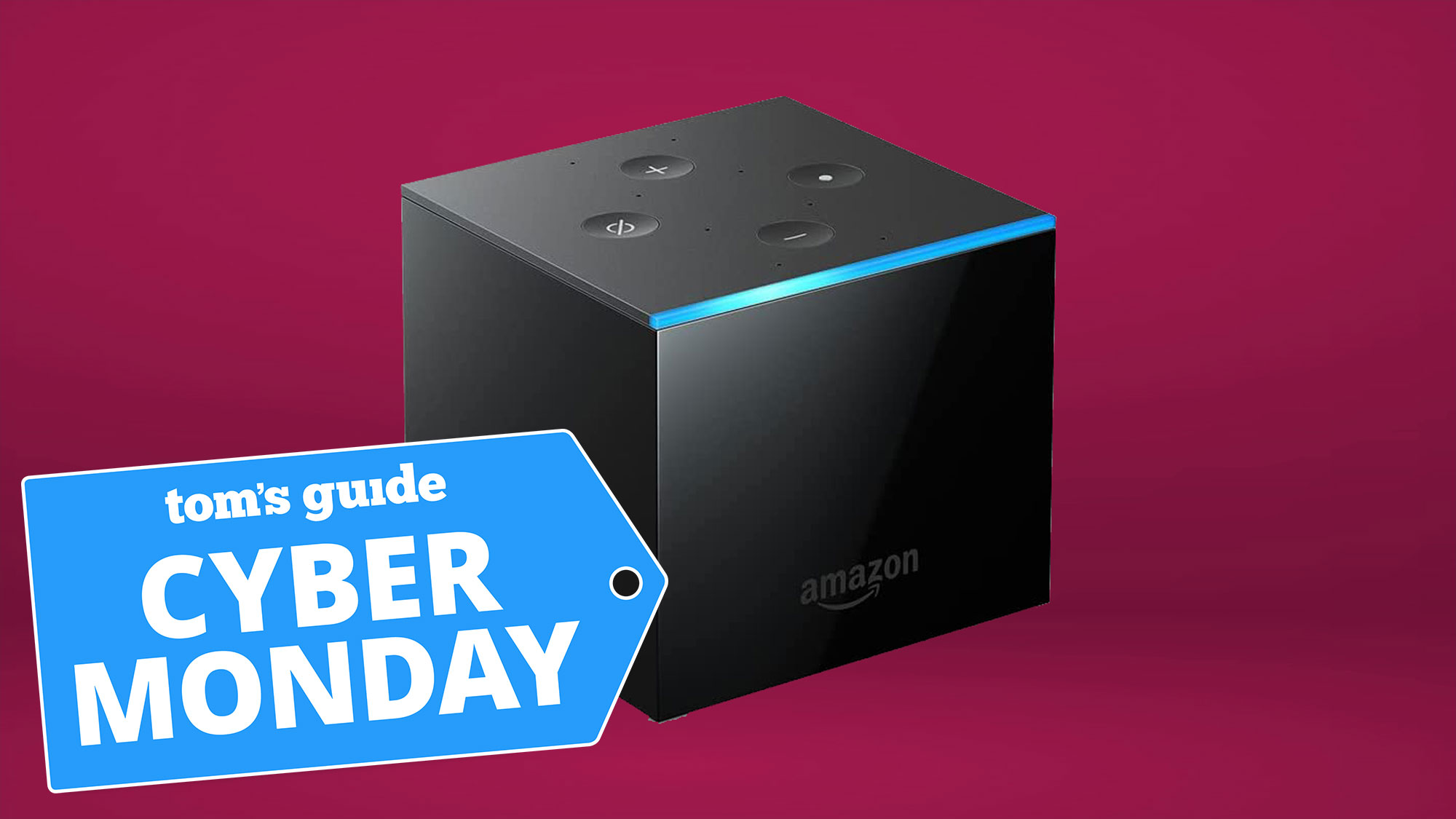 (Image credit: Amazon)
Deals season has reminded me that there are a lot more Fire TV devices than you might have realized. One you might have forgotten about is the Fire TV Cube, which is what you'd get if an Amazon Echo and a Fire TV box had a baby. Amazon has also knocked the price of the Fire TV Cube down to $79 — a $40 saving on what you'd usually pay.
The point of the Fire TV Cube is to unify your existing A/V equipment, and give you the option to control them with Alexa voice commands. The Fire TV Cube is compatible with soundbars, A/V receivers, cable and satellite boxes. The cube also offers the full Fire TV experience, and supports 4K, Dolby Vision, HDR10+ and Dolby Atmos.
Amazon Fire TV Cube: was $119 now $79
2021-11-27T23:58:05.128Z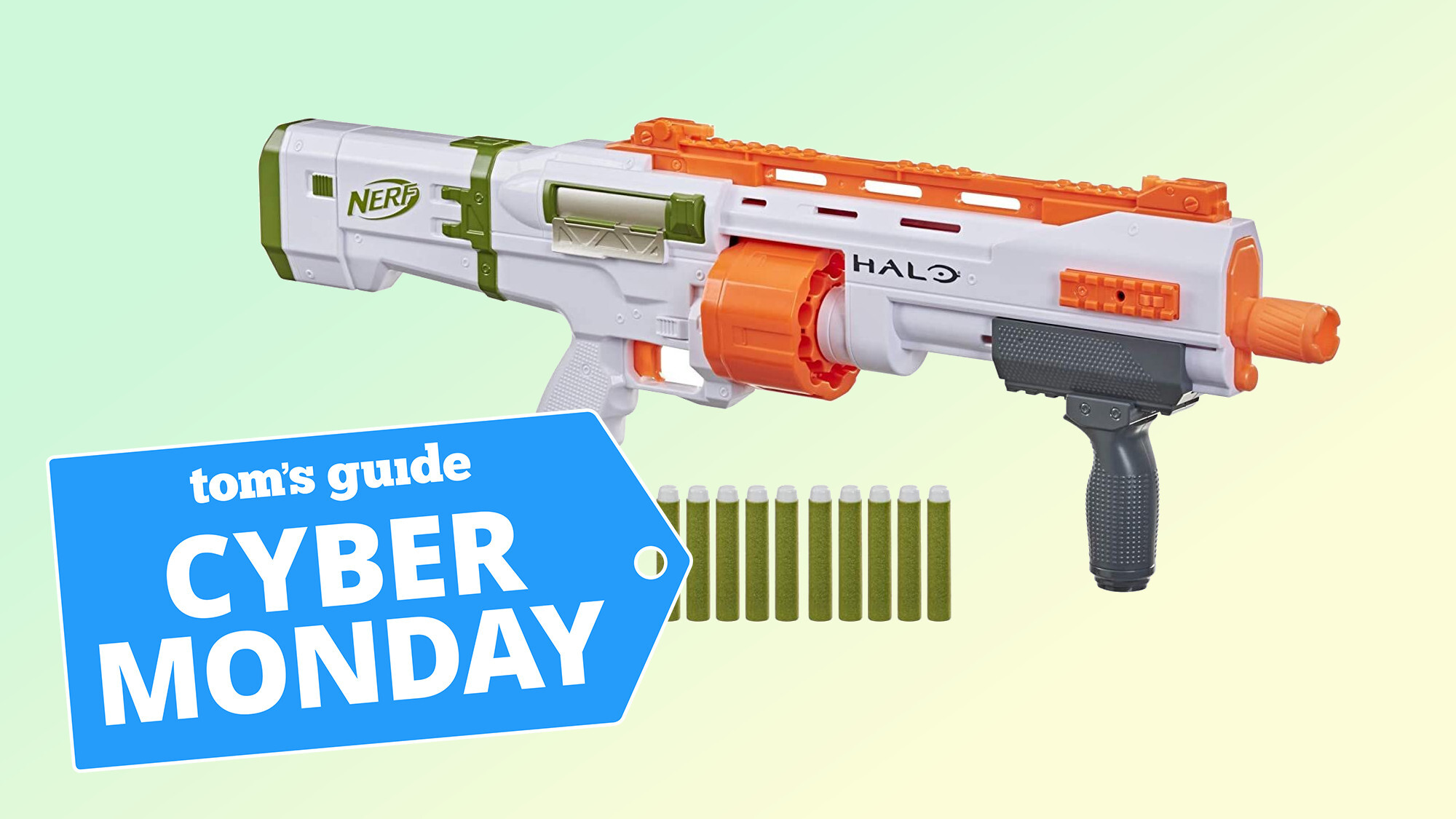 (Image credit: Hasbro)
Halo is back in the news thanks to the recent launch of the Halo Infinite multiplayer. To celebrate the game's release, Microsoft teamed up with Nerf to make some of the iconic guns available as dart blasters, like the assault rifle and Needler. But there's also a blaster for the Bulldog shotgun.
It's a pretty sweet Nerf gun, helping you feel more like a Spartan. You also get a code to unlock a skin in-game that matches the Nerf replica. It's a perfect gift for Halo fans.
Nerf Halo Bulldog blaster: was $36 now $25 @ Amazon
2021-11-27T23:28:38.152Z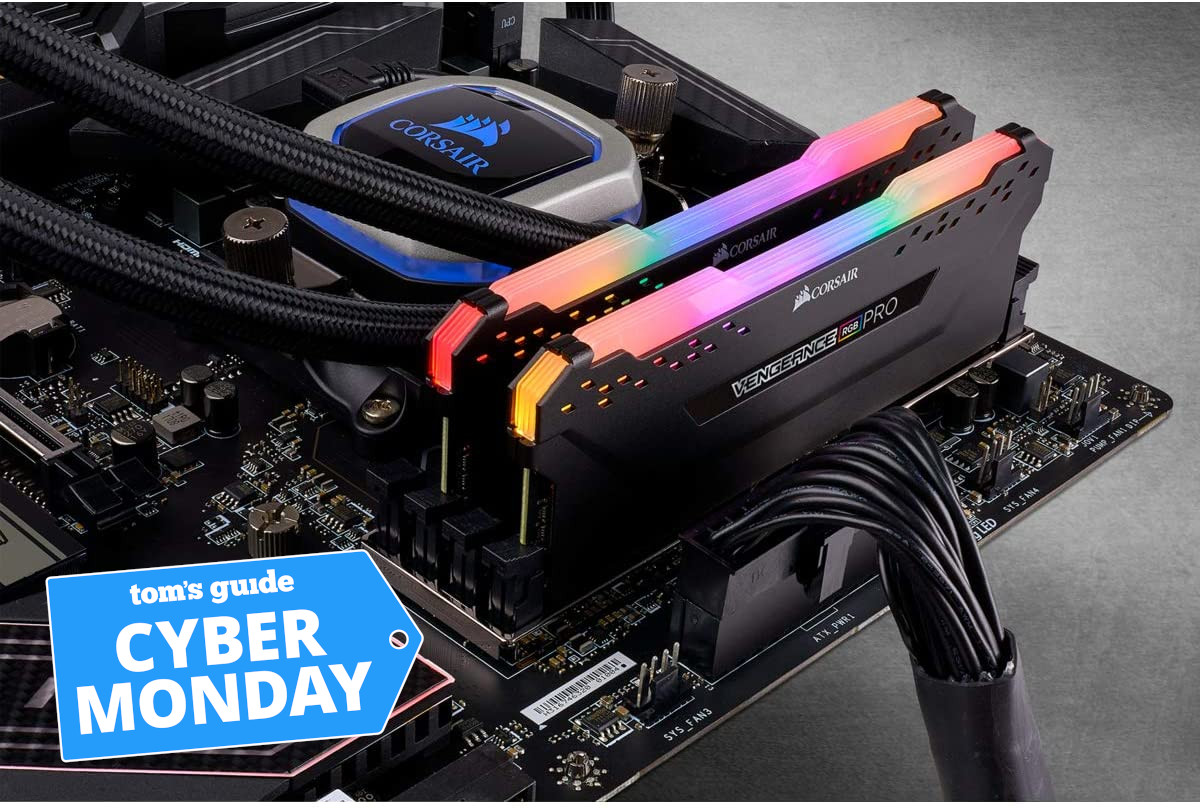 (Image credit: Corsair)
RAM is, like many other PC components, difficult to come by, especially at a good price. But this deal over on Amazon is certainly an exception to that rule. You can grab a pair of 16GB Corsair Vengeance RGB PRO sticks for a mere $132.
And this isn't your usual, boring old couple of memory modules. Each one of these chips has ten ultra-bright, individually addressable RGB LEDs per module, letting you light up your gaming rig with a rainbow of glowing goodness.
Sold in a pair of 16GB modules, this 32GB clutch of system memory is just what your desktop needs. It might even be enough to handle all those Chrome tabs.
Corsair Vengeance RGB PRO 32GB RAM: was $149 now $132
2021-11-27T22:58:12.354Z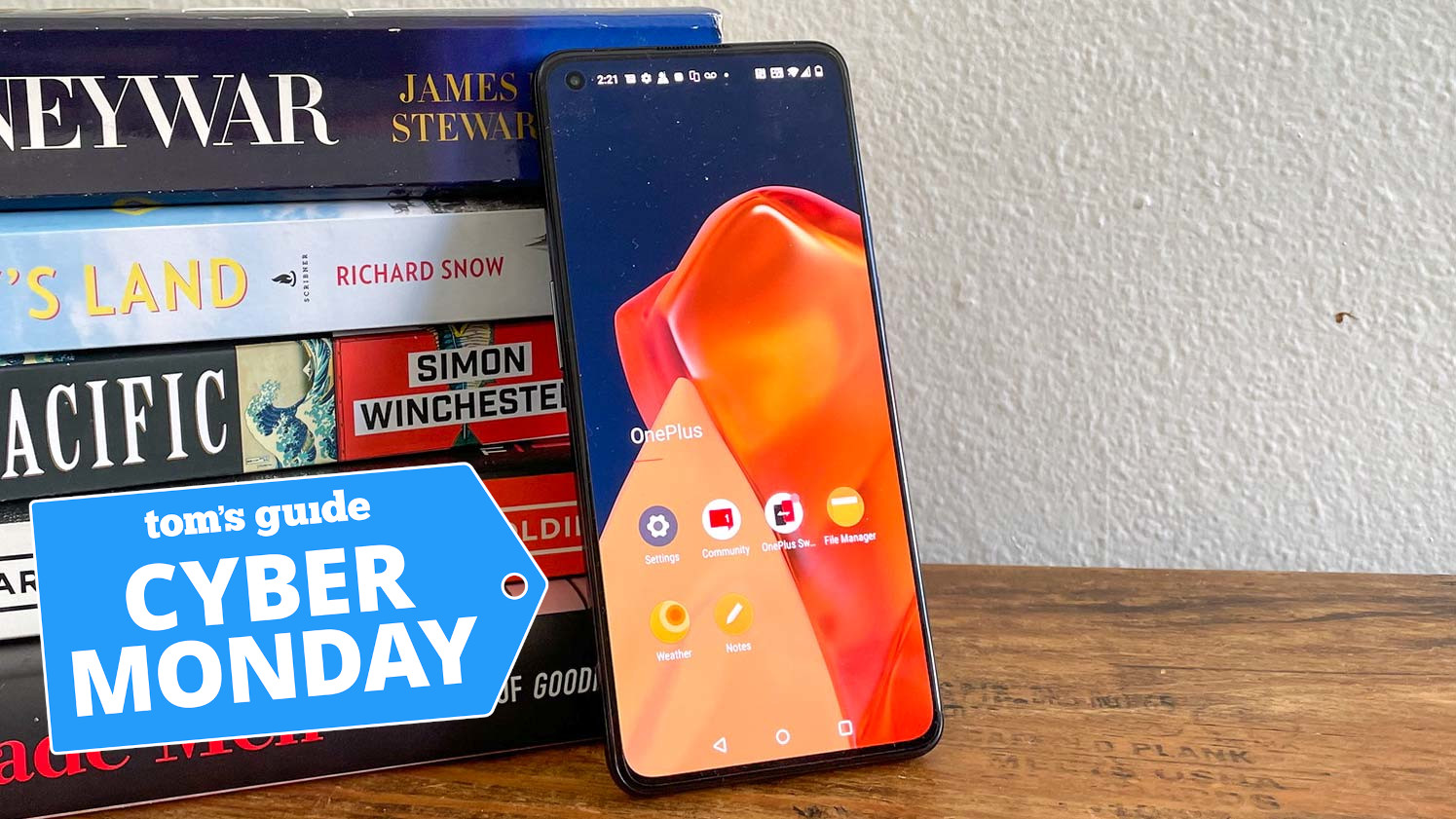 (Image credit: Tom's Guide)
Few phones have impressed us in the past year like the OnePlus 9, which continues to deliver premium phone features for less than what most flagships cost. The best thing about the OnePlus 9 this year was OnePlus' collaboration with Hasselblad to improve the cameras on its phones — long a weak point when compared to other top handsets. Instead of limiting those improvements to the OnePlus 9 Pro, OnePlus brought them to its cheaper phone as well, making the OnePlus 9 a more compelling buy.
The OnePlus 9 doesn't cost that much regularly, at $729. But Amazon is dropping the cost further, selling the OnePlus 9 for $599, a $130 discount. This is a stellar deal on an excellent phone. Better yet, it's easier to get a hold of than the Pixel 6.
OnePlus 9: was $729 now $599
2021-11-27T22:27:13.835Z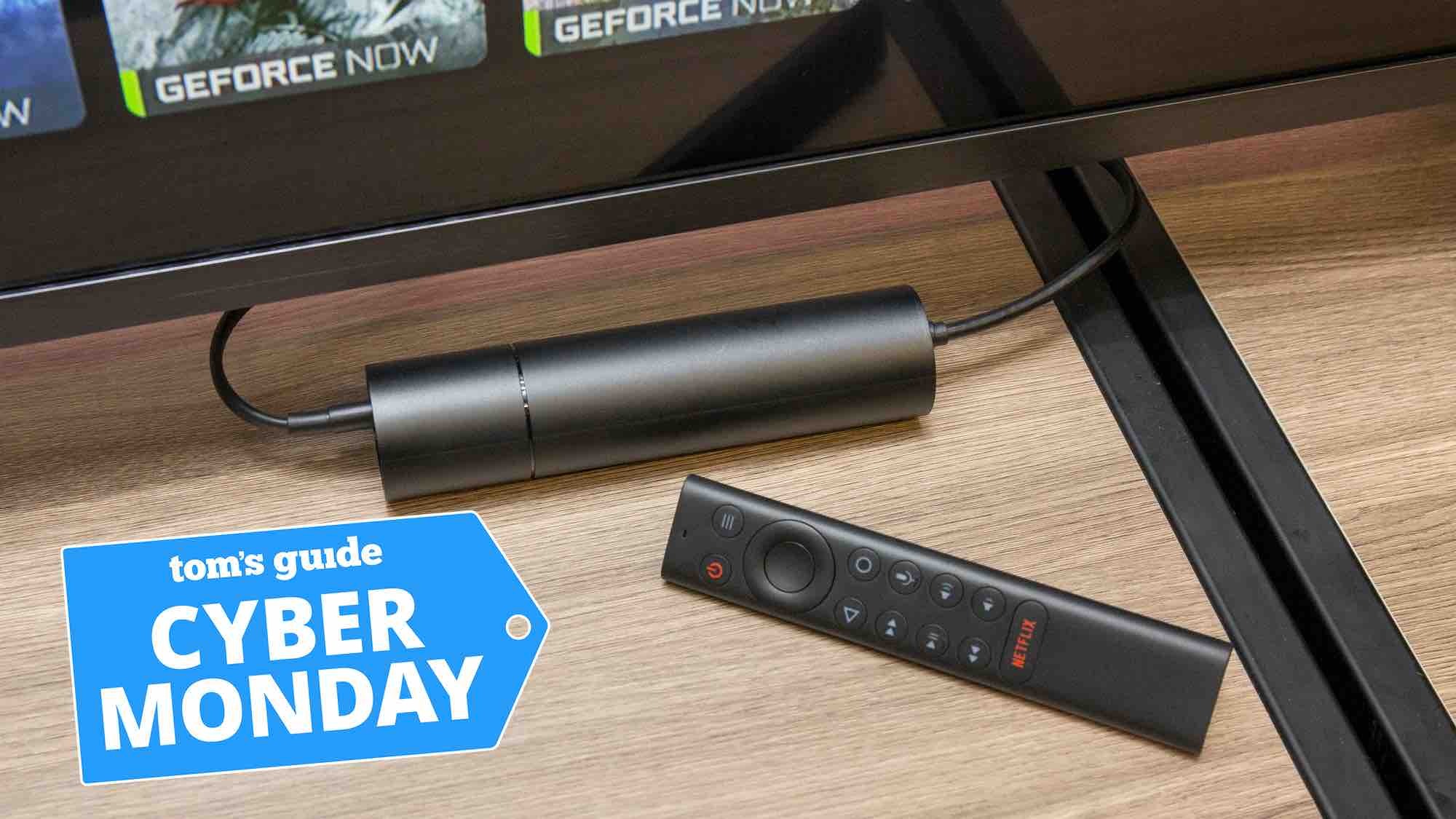 (Image credit: Tom's Guide)
If you want an upgrade from your Chromecast, then might I suggest the Nvidia Shield TV (2019)? This is one of the best streaming devices you can buy, featuring a great remote and powerful hardware. Android TV has most of the apps you could want, plus the Shield TV also acts as a Chromecast.
Nvidia has admirably kept its Shield TV devices up to date, despite the original launching in 2015. I (Jordan) still have my 2017 unit as my family's main TV hub and it endures heavy daily use. The new Shield TV remote is also a huge improvement over the previous ones with its better batteries, backlit buttons, and more substantial footprint (the old ones felt flimsy and small in the hand).
If you want more power, the Shield TV Pro is available for $199. You can also get the new remote for $29 if you want to replace one of the old ones (something I fully intend to do since my 2017 Shield TV is still kicking).
Nvidia Shield TV (2019): was $149 now $129 @ Amazon
2021-11-27T21:55:19.219Z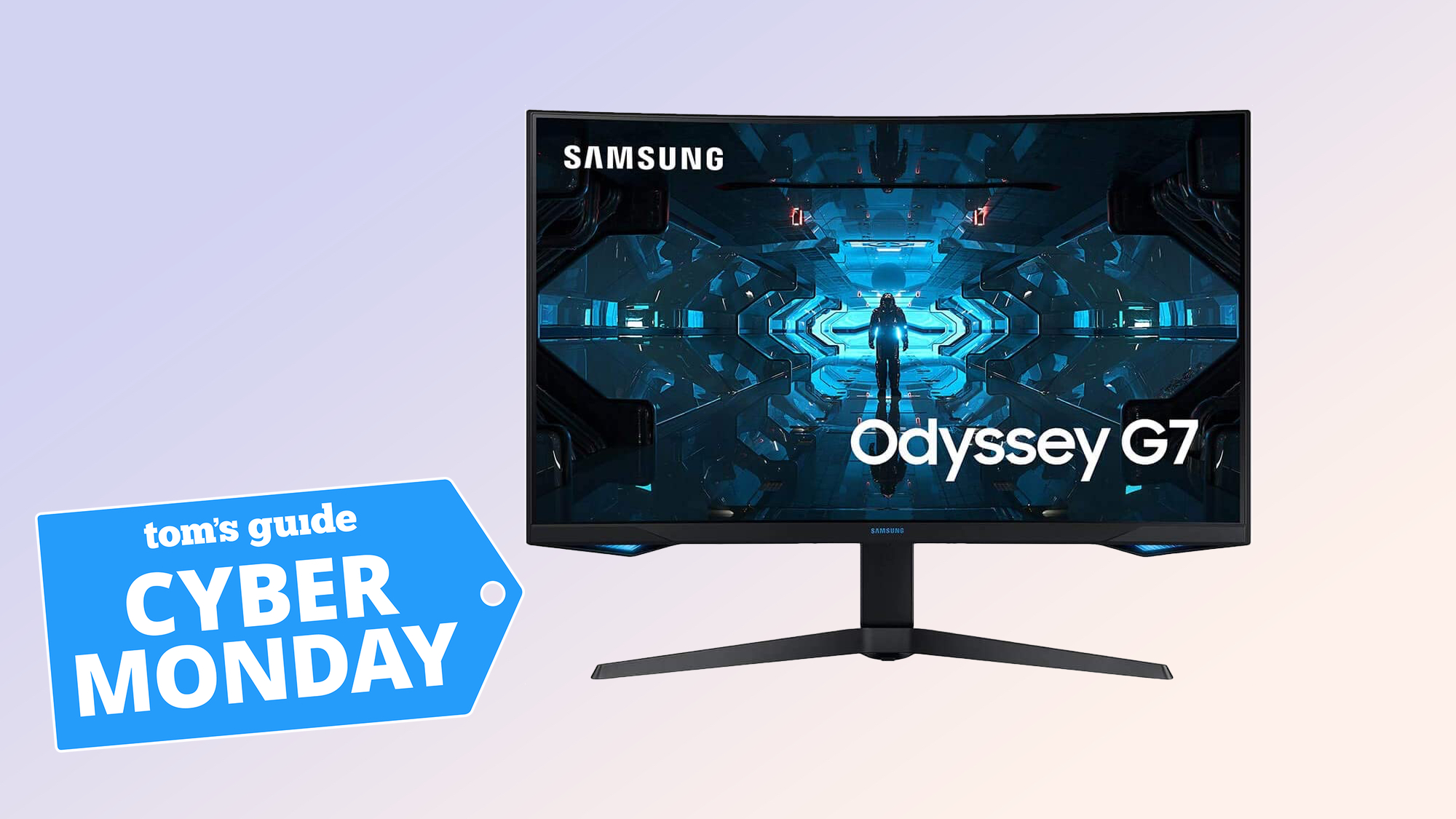 (Image credit: Samsung via Amazon)
Time for another deal that yours truly may actually be spending his savings on. Amazon's taken $200 off the 27-inch WQHD Samsung Odyssey G7 monitor, knocking its price down to $499. First and foremost, it's worth looking at because this is a QLED display that uses Samsung's Quantum Dot tech for better color output.
And with this monitor's fast 240hz refresh rate, it's a deal definitely worth checking out. On top of that, you've Nvidia's G-Sync and FreeSync for optimal smoothness, and the Infinity Core lighting to add some color to your gaming situation. As someone who is looking to build his own gaming rig at home, this is a monitor I'm considering, even though it doesn't hit 4K resolution (WQHD's 2560×1440 isn't that shabby, though).
Samsung Odyssey G7 Series 27″ Gaming Monitor: was $699 now $499
2021-11-27T21:41:35.572Z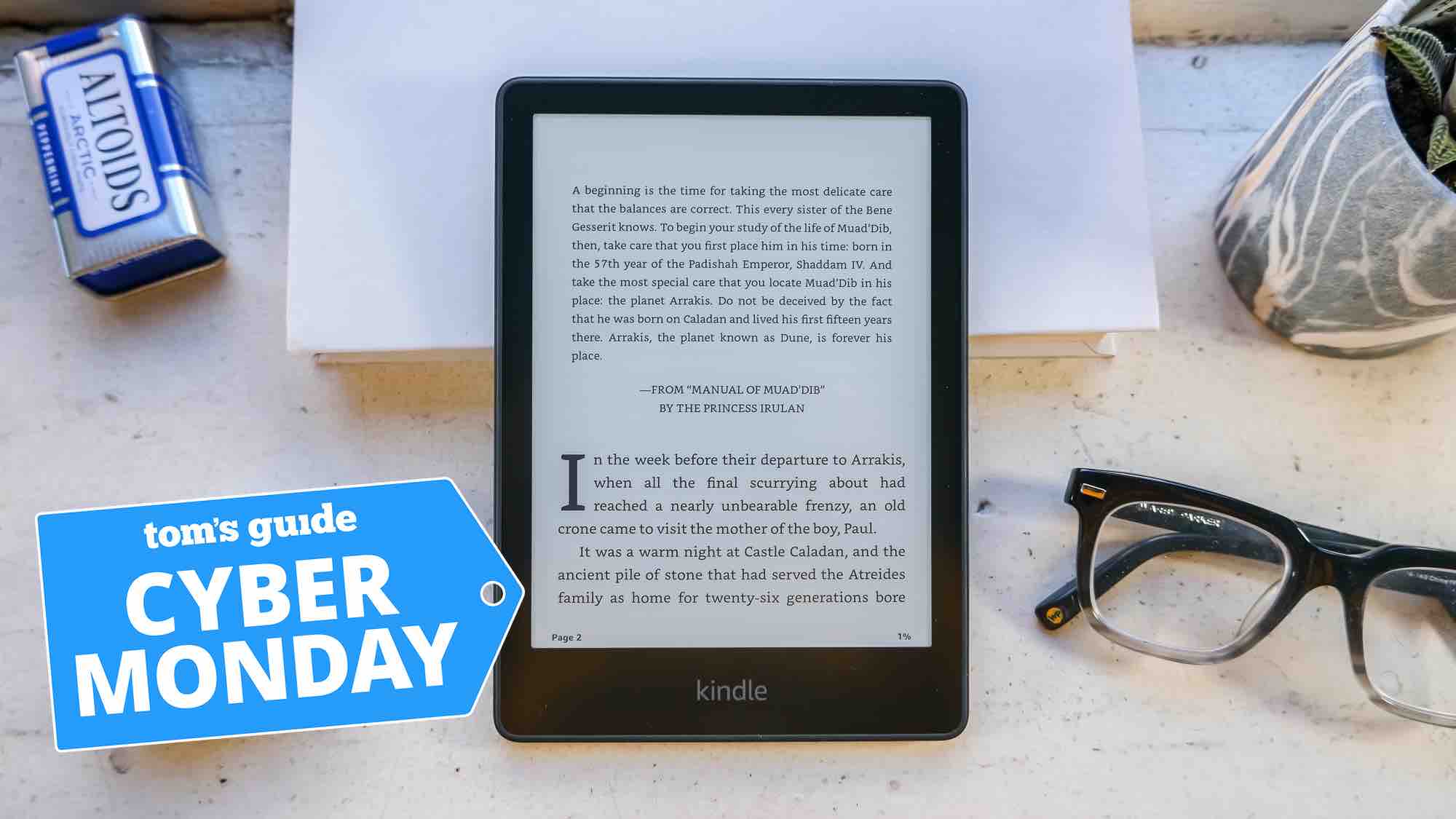 (Image credit: Henry T Casey)
Amazon's been steadily (and somewhat quietly) improving the Kindle Paperwhite, our pick for the best Kindle. But as it's been improving the design and upgrading the internals, the price has stealthily creeped up as well. Now it's at $139 by default, having been as low as $119 back in 2017. That's where Cyber Monday deals swing by to help us all out, as Amazon's cut the price down to $104.
As I wrote in my Kindle Paperwhite (2021) review, the larger 6.8-inch display is a welcome touch, as is USB-C charging. This model has wonderfully even backlighting, and it's waterproof (just like the 2018 model). To test the waterproofing, I dropped it into my kitchen sink, which was full of tap water. 20 minutes later, it came out working just as smoothly as ever.
Amazon Kindle Paperwhite: was $139 now $104
2021-11-27T21:15:59.766Z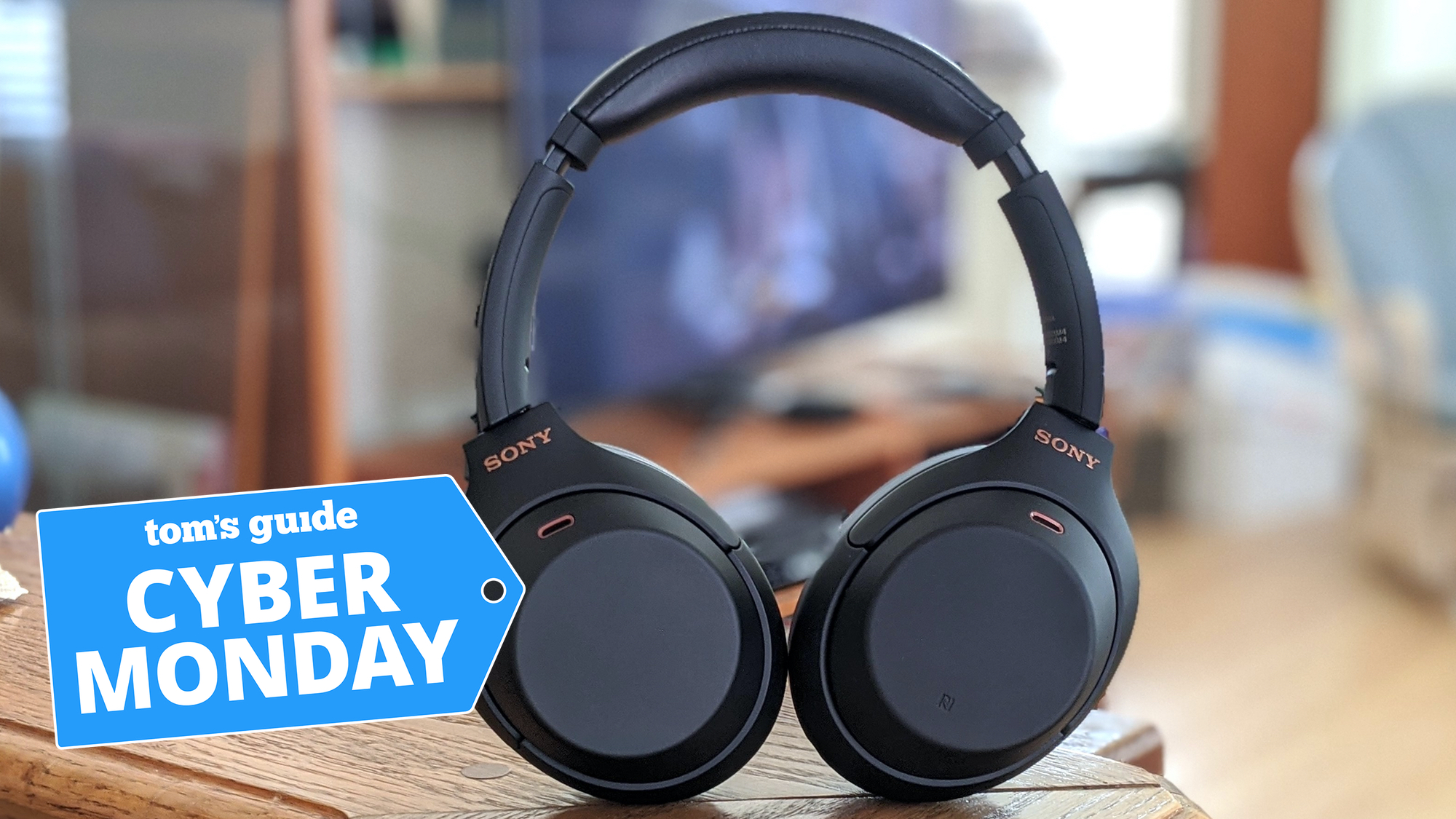 (Image credit: Regan Coule/Tom's Guide)
Hi there, it's Henry T. Casey back again to run another hour of the Amazon Cyber Monday live blog. As for what I've got to share? First up is a pair of headphones I really want for myself, though I'm trying to not spend more on myself (even when the deal is this good).
They're the Sony WH-1000XM4 wireless headphones, which are the best overall pair of headphones, and this $101-off sale brings them to their best price ever. I've coveted them for a while because of how our review lauds their excellent sound quality and active noise cancellation. And their battery life is seriously impressive.
Sony WH-1000XM4: was $349 now $248 @ Amazon
2021-11-27T21:00:05.852Z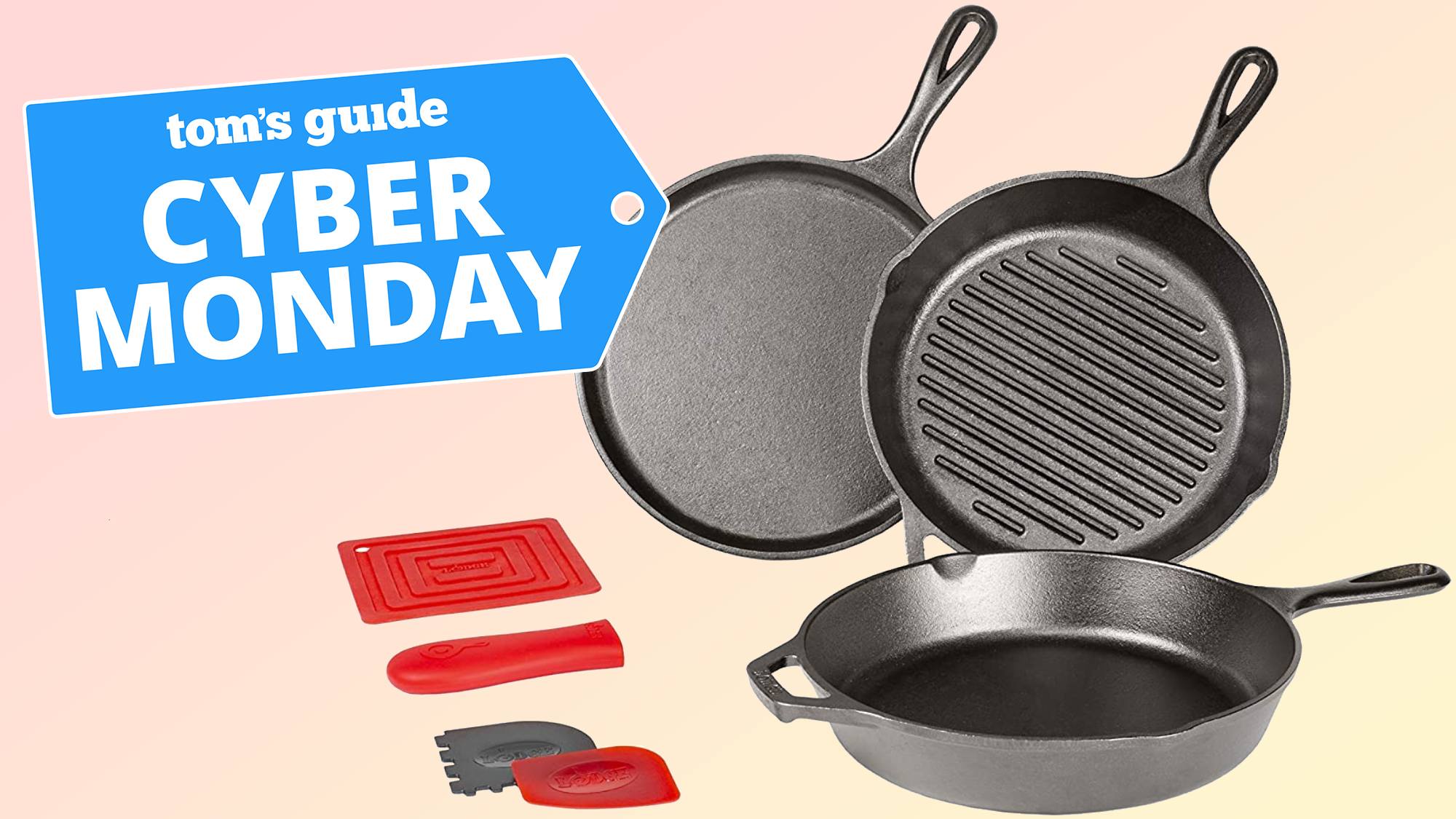 (Image credit: Lodge)
The cook in your life will love this cast iron gift. I own several Lodge cookware pieces and they are good quality, durable, pre-seasoned and much more affordable than Le Creuset.
Lodge Essential Pan Set is $78, which is $20 off regular price. The seven-piece ensemble comes with a 10.5″ Griddle, 10.25″ Skillet, 10.25″ Grill Pan, 6″ Red Silicone Pot Holder, Red Silicone Handle Mitt, Red Pan Scraper and Black Grill Pan Scraper. Cast iron is great for cooking pretty much everything and easily moves from stovetop to oven.
Lodge Essential Pan Set, 7 Piece: was $98 now $78
2021-11-27T20:26:33.627Z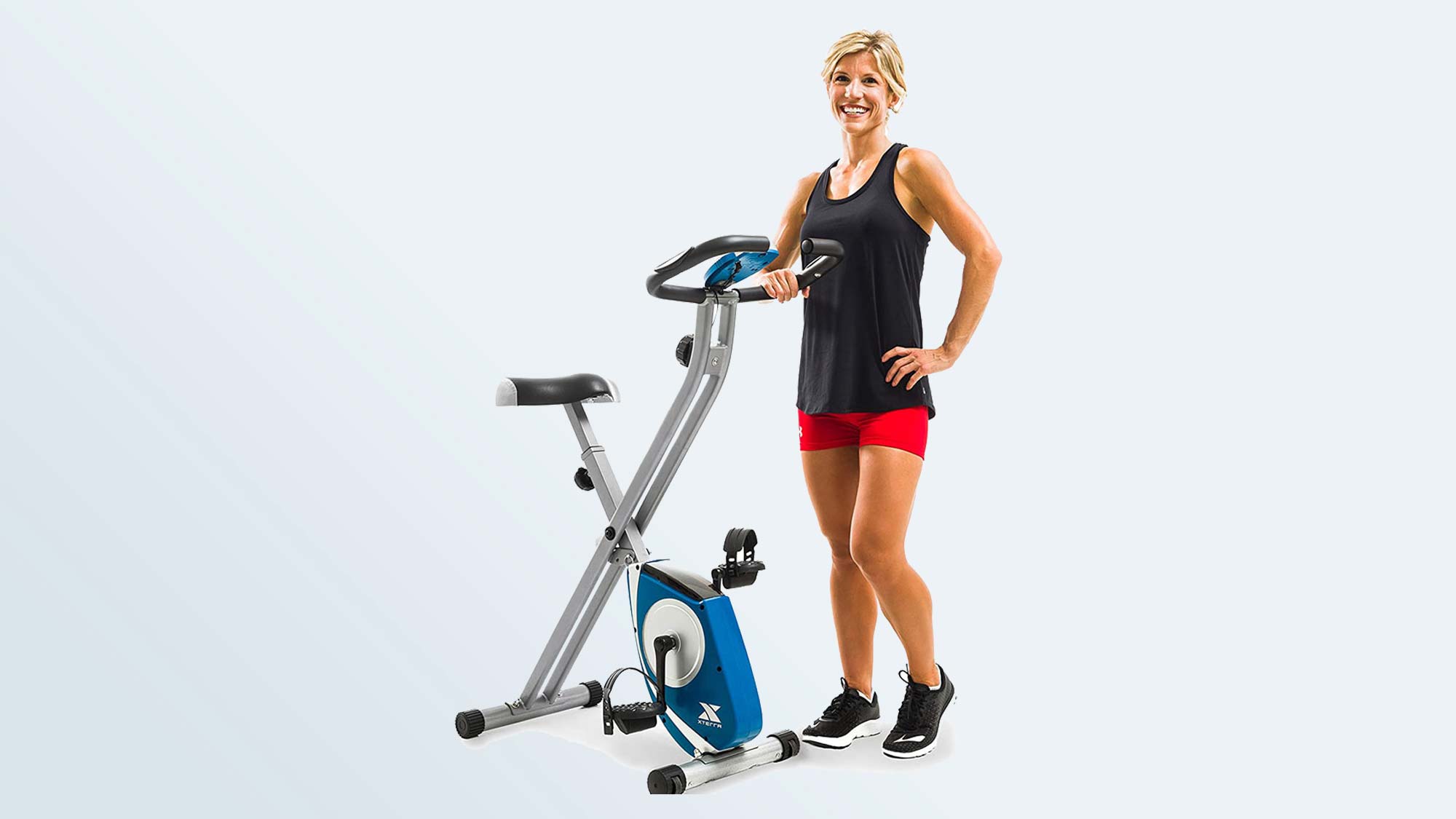 (Image credit: Xterra)
As much I'd like to get a Peloton, it's just not possible for me — not for my budget, not for my apartment space. 
Luckily, you don't have to spend a fortune to cycle at home. The XTERRA Folding Exercise Bike is just $129 in this Amazon Cyber Monday deal, which saves you $50 on our favorite low-budget option. It folds to about 18×18 square inches of floor space and comes with wheels so you can easily move it around. The eight resistance levels still work up a good sweat, so even though you're paying less, you're not skimping on your workout.
XTERRA Fitness FB150 Folding Exercise Bike: was $179 now $129
2021-11-27T19:59:41.283Z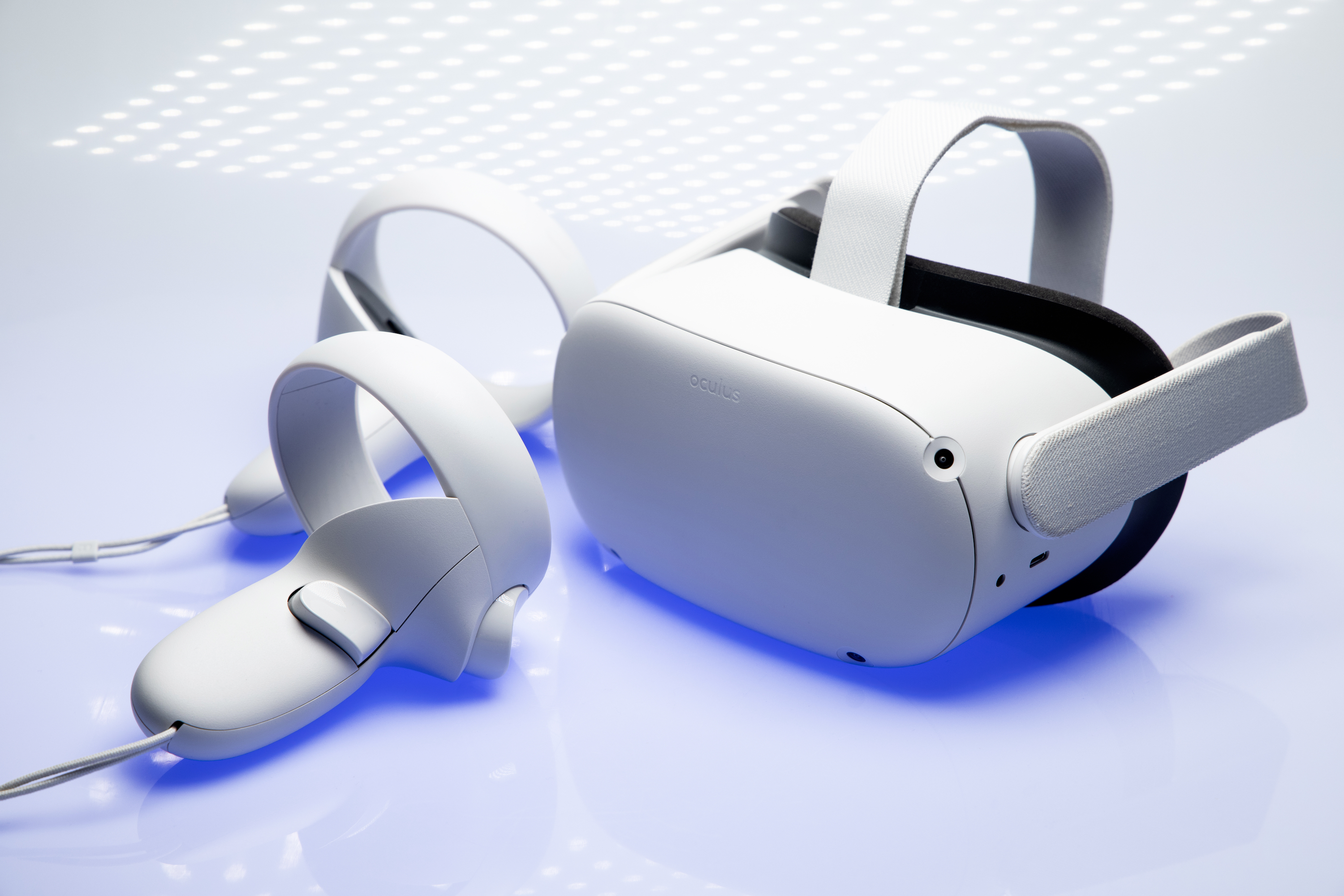 (Image credit: Shutterstock)
In case you missed it! Oculus Quest 2 deals are extremely rare. Even finding it in stock can be difficult. But Amazon's got it right now and is offering a $50 Amazon credit with purchase. Use the coupon code OCULUS50 when checking out to receive the digital credit to your account. 
I jumped on board the Oculus Quest 2 wagon after testing a boxing workout app on the virtual reality headset. Supernatural's VR workouts boast stunning visual landscapes, peppy and pleasant trainers and great soundtracks. Plus, the workouts really do get you sweating. The Oculus Quest 2 is going to liven up my cardio routine this winter.
Oculus Quest 2: for $299 w/ $50 Amazon credit
2021-11-27T19:28:19.733Z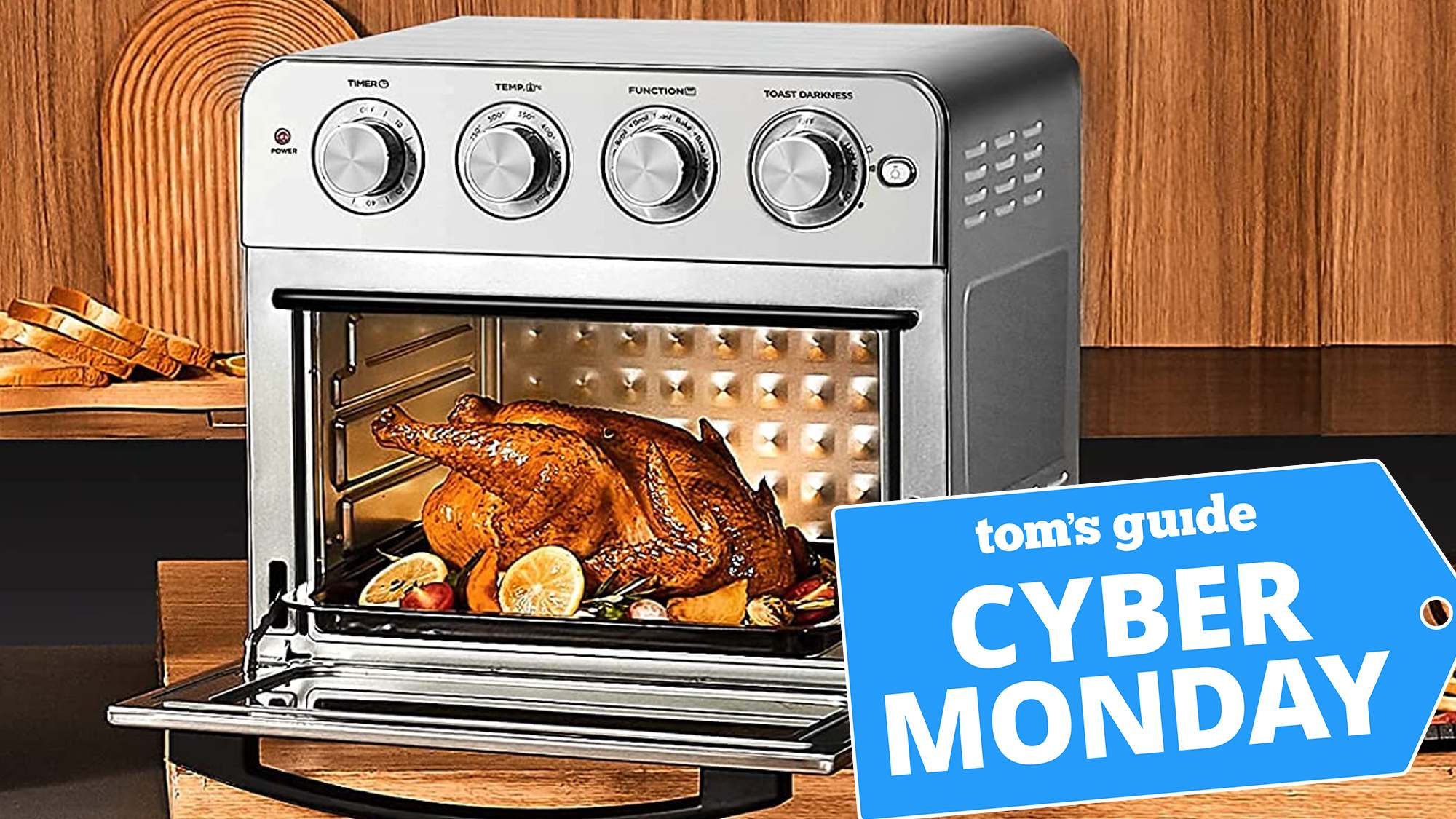 (Image credit: GeekChef)
As someone whose kitchen has very little counter space, I'm always on the lookout for appliances that perform multiple functions. After reading my colleague Katie Mortram's guide on buying an air fryer over the Black Friday/Cyber Monday stretch, I started researching air fryer toaster ovens. Why have two machines when you can have one that does it all?
If you're in the same boat, the Geek Chef Air Fryer Toaster Oven is $139 (with coupon) at Amazon, which is $60 off. This is not a small appliance, but I'll save on counter space because it does so many things. It's an air fryer, toaster, convection oven, microwave, dehydrator and warmer all in one. And the 24QT capacity and three  rack levels means you can cook for 10 people at once.
Geek Chef Air Fryer Toaster Oven: was $199 now $139 (with coupon)
2021-11-27T18:57:52.733Z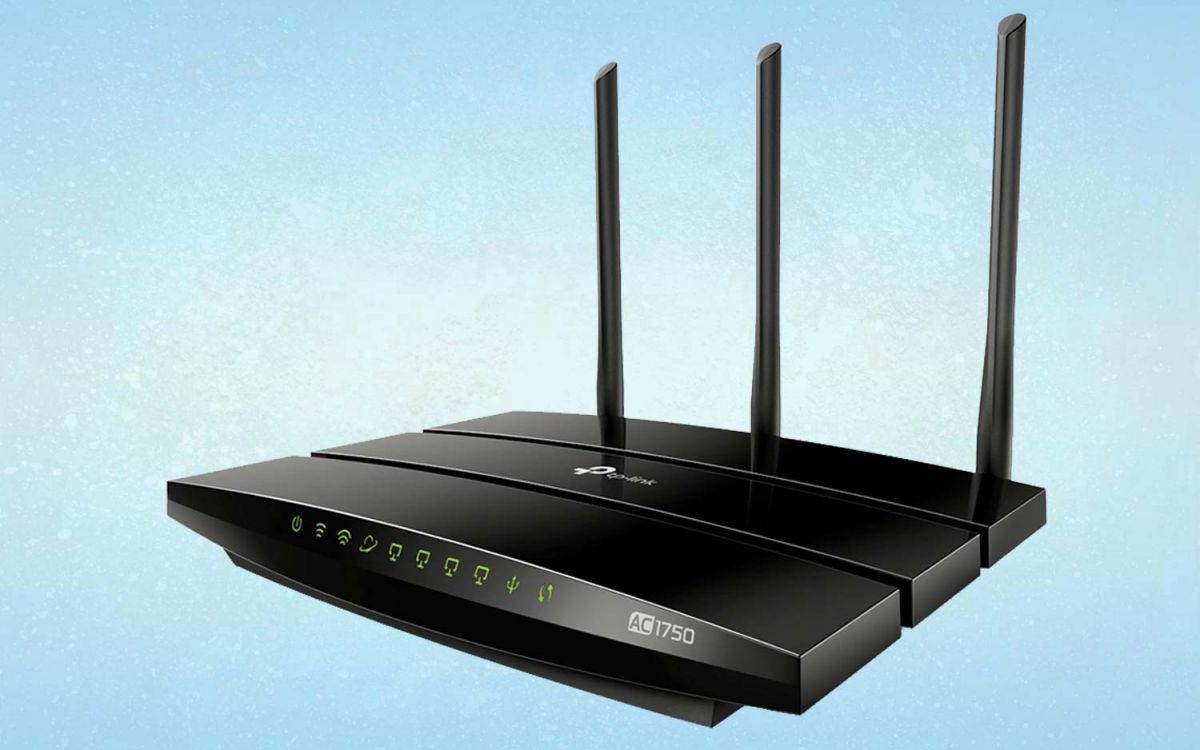 (Image credit: TP-Link)
In years past, my WiFi has always been spotty. It was annoying, but not a huge problem. But then, I started working from home due to "unprecedented times" and poor internet access became unacceptable. 
My absolute best WFH purchase was the TP-Link Archer A7 router, now on sale for $49 at Amazon. That's $30 off (and less than I paid for it). I bought the Archer 7 after consulting TG's list of the best routers. It delivers very good 802.11ac performance, especially at a budget price. Over the last 20 months or so, the Archer 7 has never let me down. I've never experienced a hiccup with the router, nor had to reboot it even once. Better WiFi has not only improved my work productivity, but kept my streaming services running smoothly.
TP-Link Archer A7 router: was $79 now $49
2021-11-27T18:25:25.123Z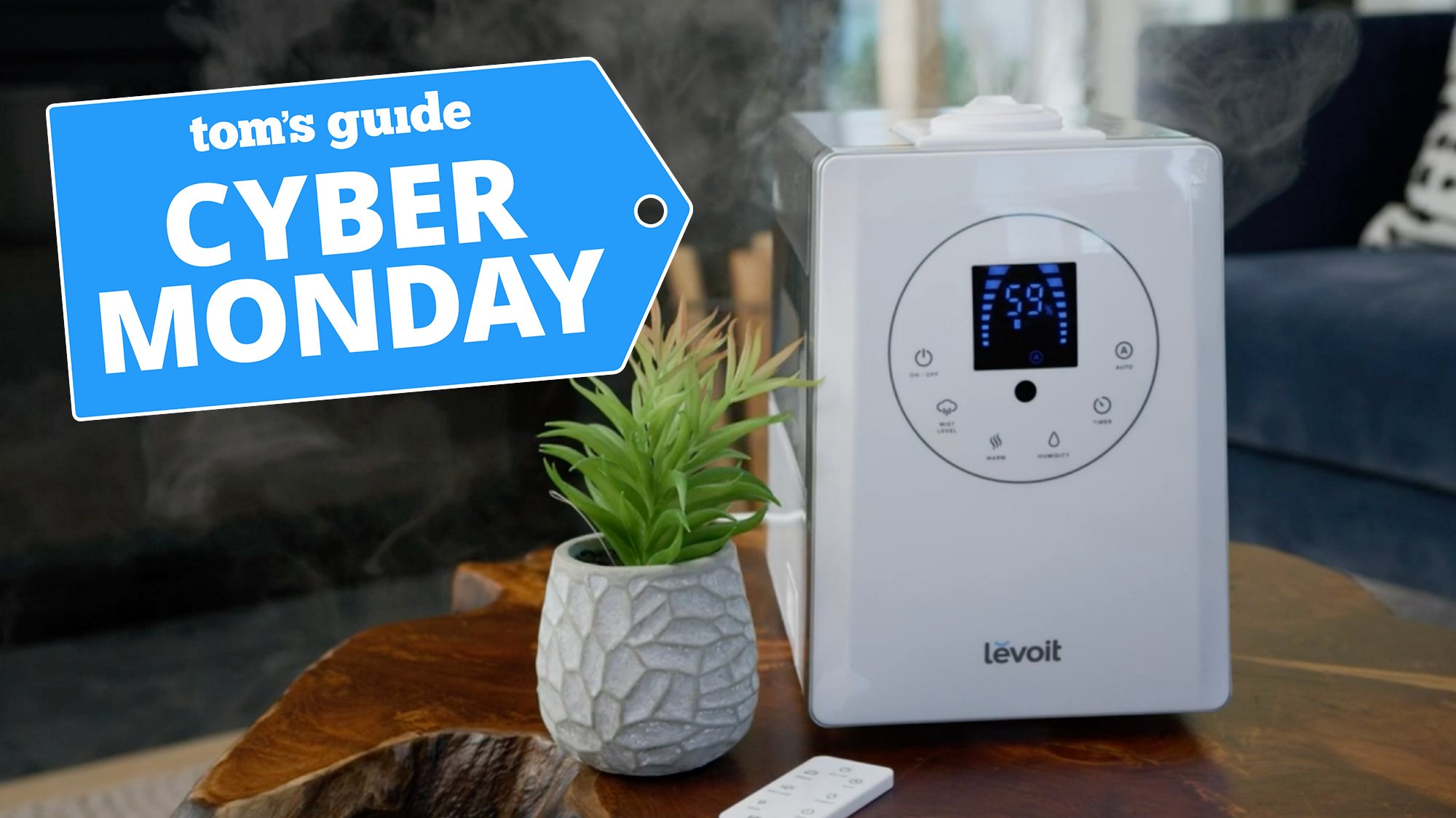 (Image credit: Levoit)
Hi, this is senior writer Kelly Woo checking in for live blog duty for the new few hours! 
Winter has fully arrived in my area and the cold, dry air always wreaks havoc on my sinuses, skin and eyes. I have a humidifier but I'm thinking about upgrading to this beast of a machine: the Levoit LV600HH 6L Warm and Cool Mist Humidifier, now $76 at Amazon. It's got over 18.5K reviews, with an average 4.5 rating. Sounds like winner.
I really like the option to use either warm or cool mist, which have different benefits. With a tank that large, this humidifier will work continuously for hours (and overnight) without requiring frequent refills. Plus, Auto Mode relies on a smart humidity sensor to adjust output to the room's humidity level.  
Levoit LV600HH Humidifier: was $89 now $76
2021-11-27T18:01:23.929Z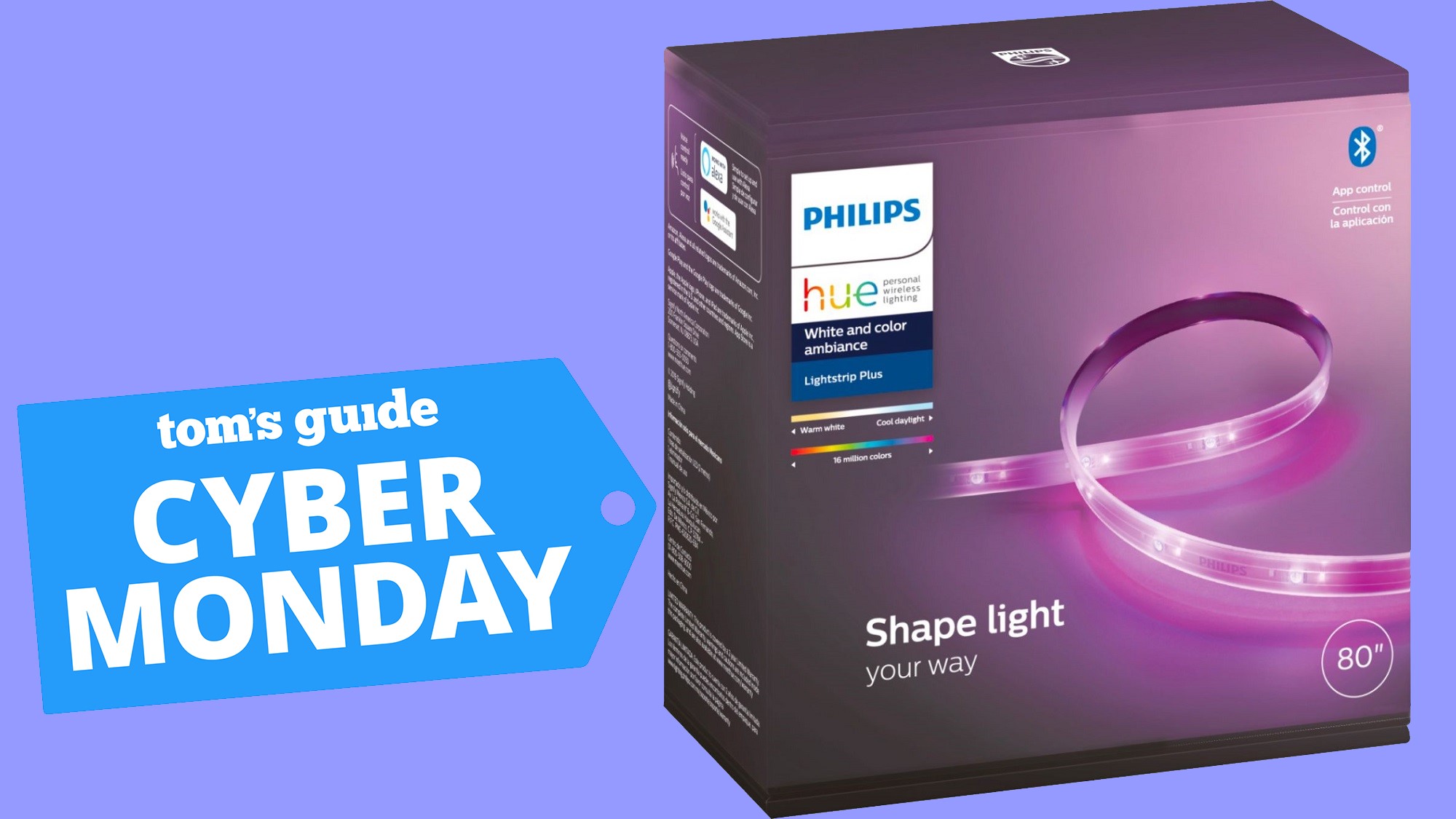 (Image credit: Best Buy)
Home offices aren't drab oak-desk and shag-carpet affairs anymore. Now, smart lighting systems help make any room pop with color and aesthetic, reflecting off of white surfaces. 
Right now, the Philips Huge Lightstrip Starter Kit is on sale for $49. That's $60 off the retail price. It includes an 80-inch light strip that can be cut and reconnected in all manner of ways, the base plug and Hue Hub. This kit can be controlled via a smartphone app or Alexa. It can sync with your PC as well as music. 
Philips Hue Lightstrip Starter Kit: was $109 now $49
2021-11-27T17:31:13.923Z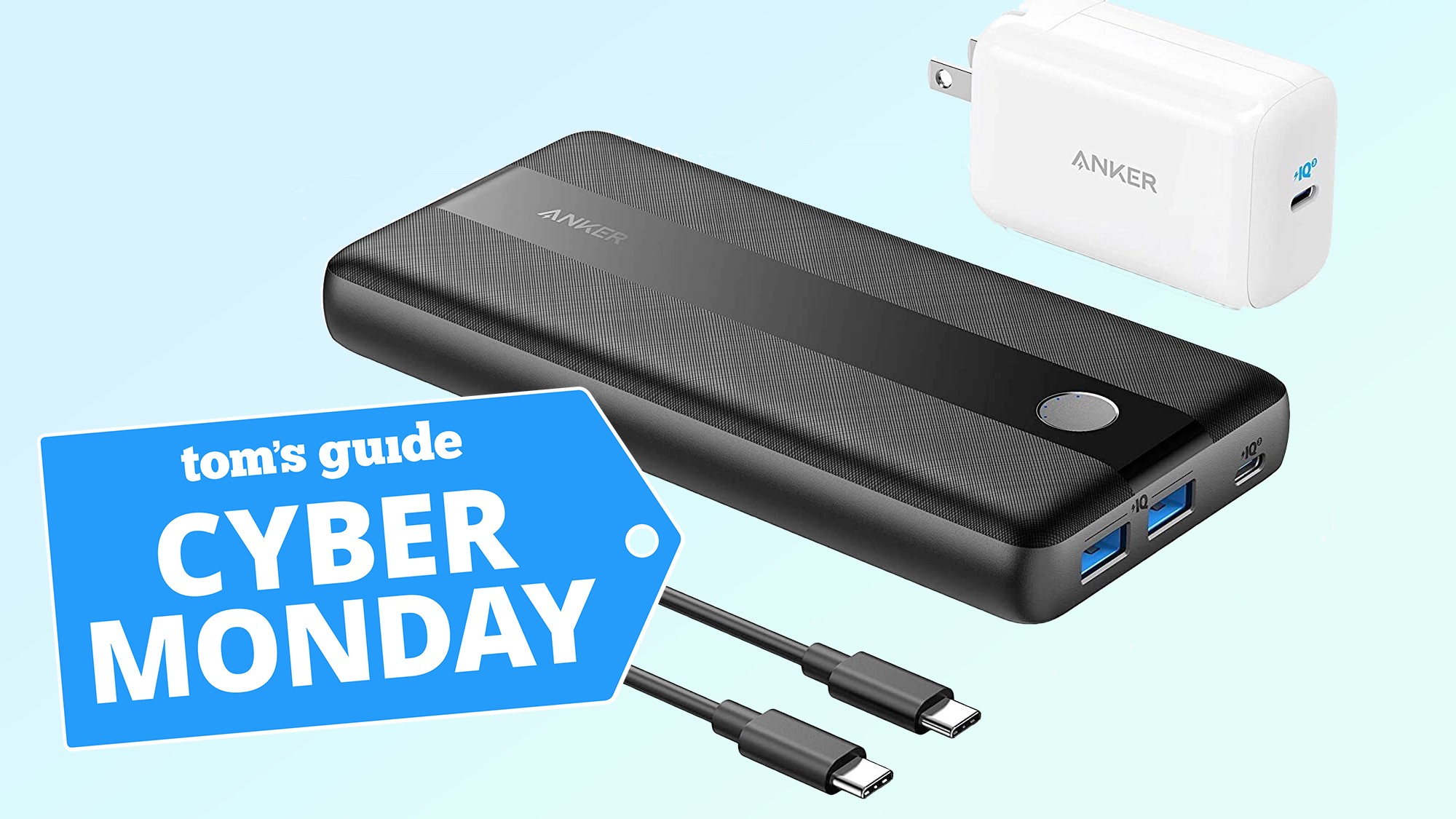 (Image credit: Amazon )
Hi, this is Imad, the news editor here at Tom's Guide. I'll be taking over the Cyber Monday liveblog for the next hour. I'm not sure what to call the weekend that sits between Black Friday and Cyber Monday. Black Friday weekend perhaps? Well, it seems that Amazon is content with calling Saturday, Nov. 27, Cyber Monday as deals have already begun. 
Here's a stellar deal for the Anker Power Bank Bundle. It includes PowerCore III Elite and the 65W PD Wall Charger for $51. That's $48 off the retail price. 
The PowerCore III Elite is a massive 19,200 mAh battery bank that can charge a MacBook Air from zero to full. The 65W PD Wall Charger, is, as the name suggests, a wall charger with super-fast charging. Both the PowerCore and PD Wall Charger feature 60-65W of charging speed, so you'll be able to top up devices in a snap. 
Anker Power Bank Bundle: was $99 now $51
2021-11-27T17:01:03.776Z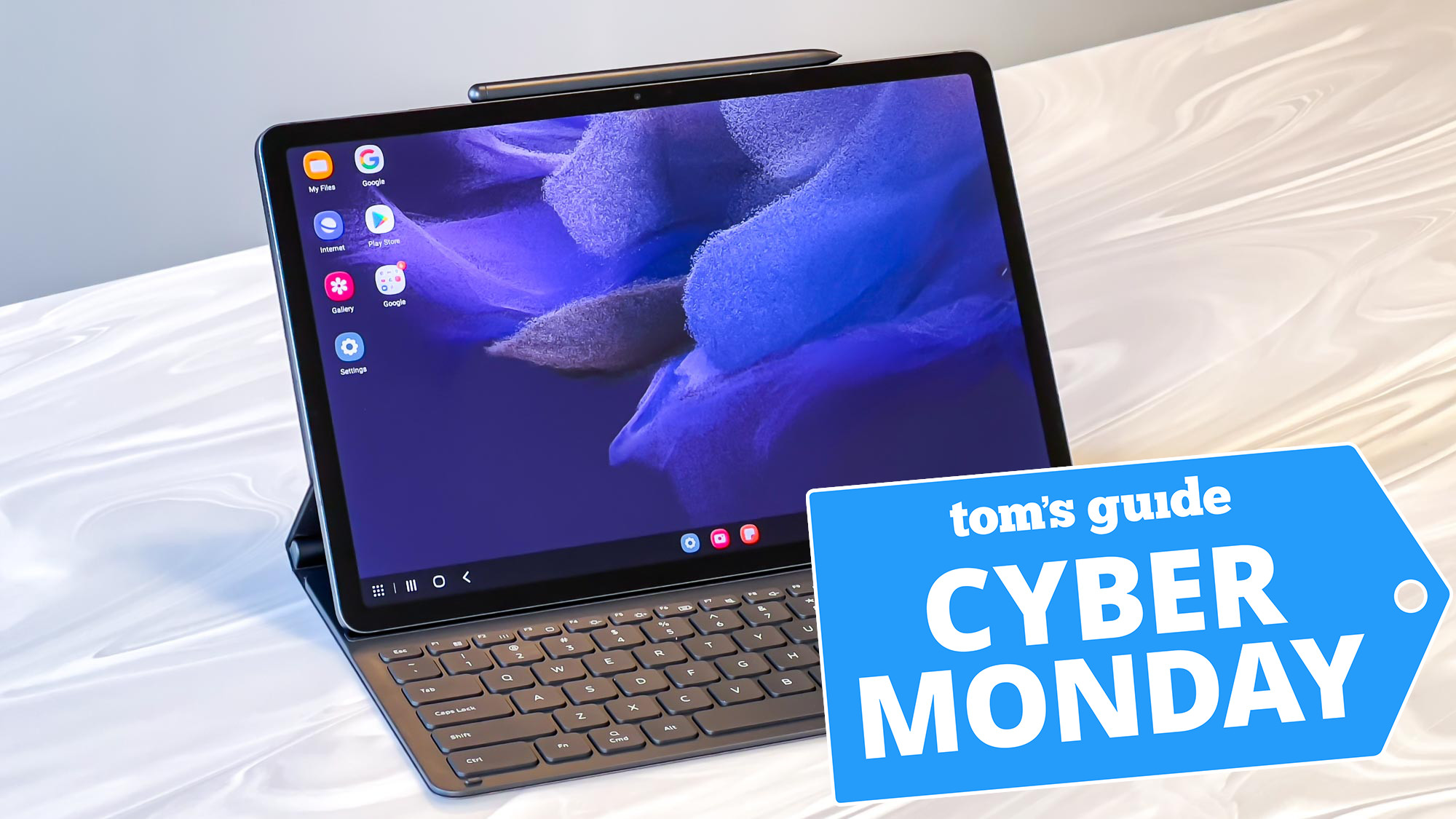 (Image credit: Tom's Guide)
What if you're not living in the Apple life? I'm guessing there are people out there who want a great Android tablet, but don't want the hamstrung no-Google apps situation that is found on Amazon's Fire tablets. So, let's talk about the Samsung Galaxy Tab S7 FE. 
One of my colleagues has been testing it, and raves about its thin bezels, huge 12.4-inch screen and included S-Pen. Yes, unlike with the iPad, Samsung actually throws in a stylus for free. And right now, Samsung's got it at $100 off! Want the attachable keyboard cover, and to save more money? Amazon's slashed $180 off that bundle.
Samsung Galaxy Tab S7 FE: was $529 now $429
2021-11-27T16:52:20.117Z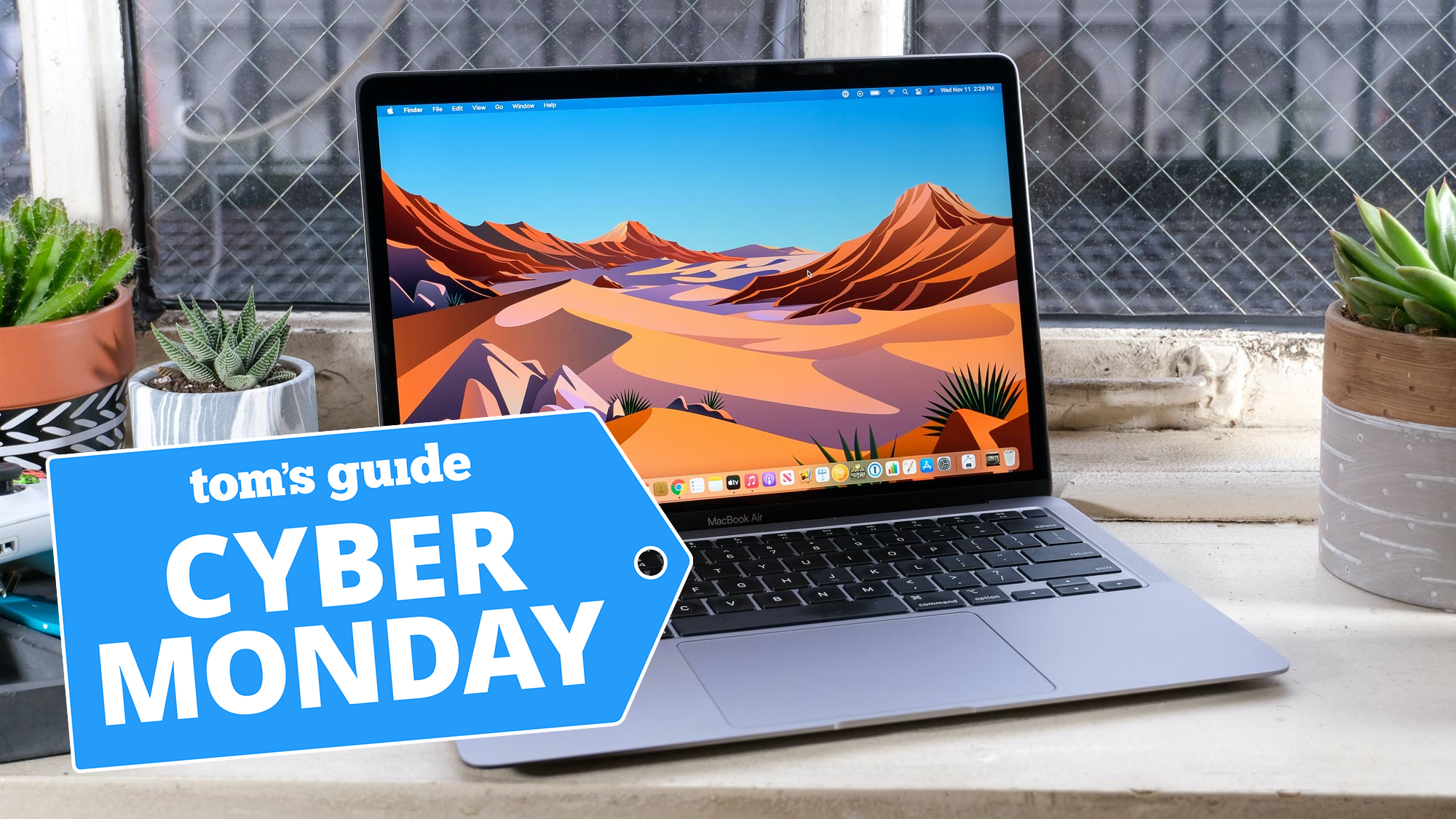 (Image credit: Henry T. Casey)
We've seen pricing on the entry-level M1 MacBook Air go up and down throughout the week, but I feel compelled to call out the fact that this excellent laptop is still on sale. Still the latest MacBook Air, this is one of my favorite laptops I've used in years thanks to its amazingly long battery life. 
I've held onto our review unit for testing beta versions of macOS, and I use it throughout the week and rarely, if ever, think to plug it in for a charge. In my MacBook Air with M1 review, I explain everything to love about this laptop, including its sharp screen and surprisingly fast (for an Air) performance.  The 512GB MacBook Air is currently $1,099, with an even bigger $150 discount.
MacBook Air (M1): was $999 now $899
2021-11-27T16:43:29.889Z
Hi there, I'm Henry T. Casey, and I'm taking over this live blog for the next little bit. I'm a senior editor at Tom's Guide, covering streaming, Apple, Kindles and various other things, so I'll have expertise on a range of Cyber Monday Amazon deals that I hunt for. 
I've been maintaining our Cyber Monday iPad deals and Cyber Monday Chromebook deals hubs, so check those out for more of my recommendations.
2021-11-27T16:35:04.211Z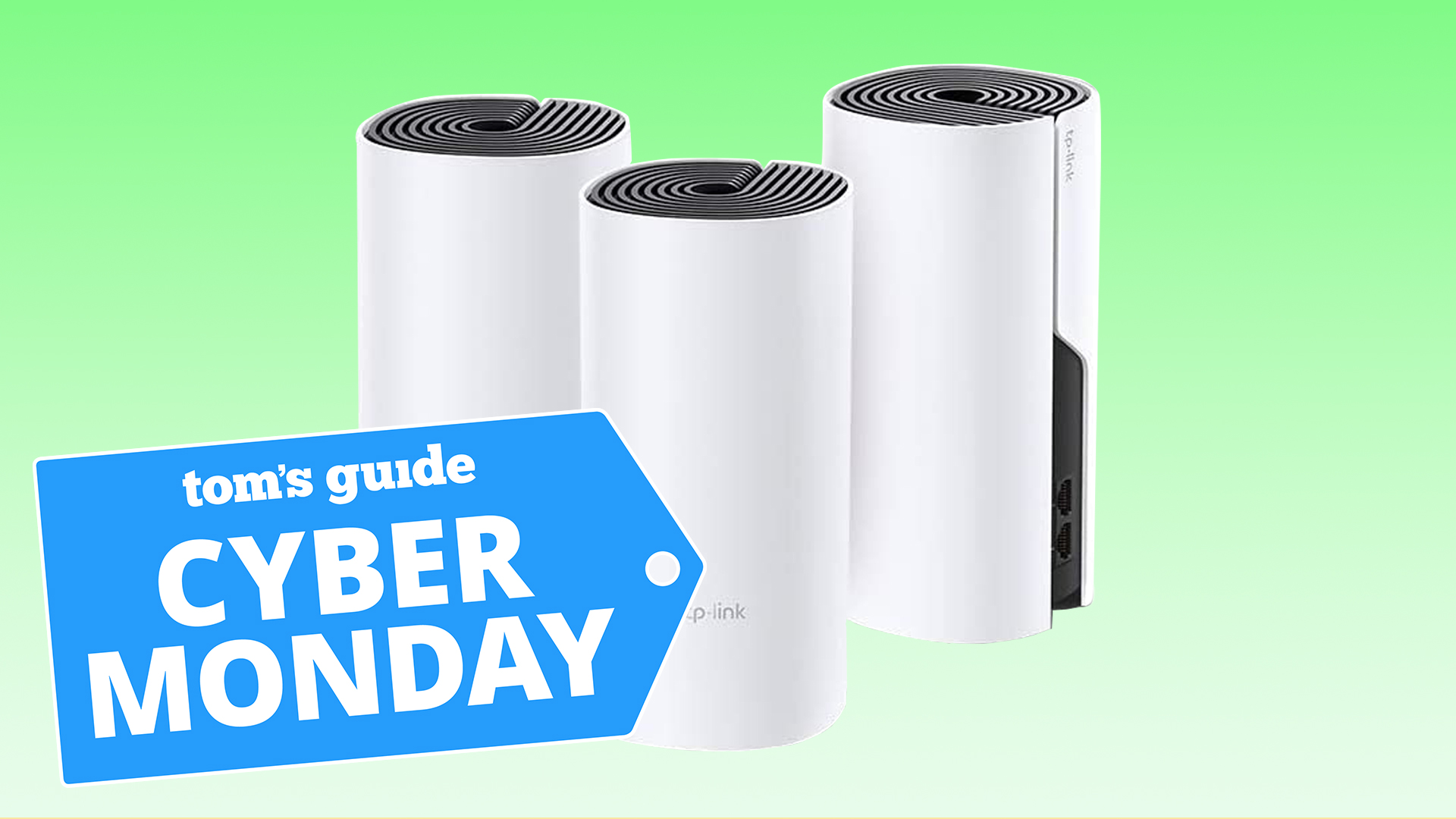 (Image credit: Amazon)
Question: Do you have a mesh Wi-Fi system yet? No? Well then this next deal is for you. A Mesh setup coats your house in Wi-Fi, giving you a strong signal even in those awkward corners where you can never normally get a connection. 
TP-Link's Deco range is one of the best and Amazon currently has a great deal on the Deco P9, giving you three units for $157. Place one by your router and the other two in different rooms and you should have a great signal wherever you are.
TP-Link Deco P9 (3-pack): was $229 now $157 
2021-11-27T16:23:17.685Z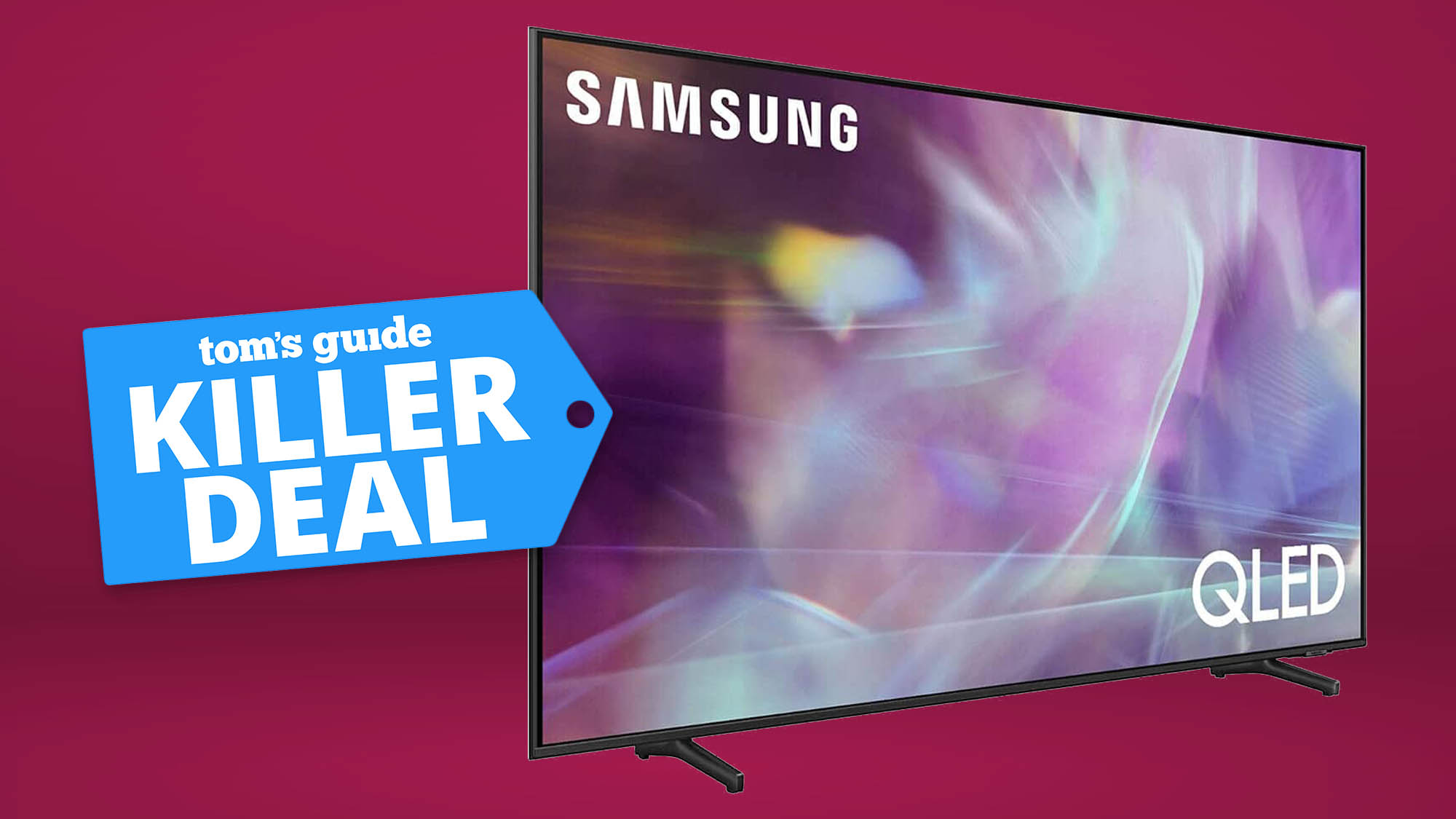 (Image credit: Samsung)
Too big is never big enough when it comes to TVs, which is why we like this $400 price cut on this 75-inch Samsung Q60A QLED TV. 
This QHD set uses Quantum Dot technology to produce an image that's nearly as good as OLED sets, and has dual LED backlights for improved contrast. It has a refresh rate of 60Hz, so it may not be the best for gamers, but it does have Alexa built in, and support for Google Assistant.
SAMSUNG 75-Inch Class QLED Q60A Series: was $1,499, now $1,097 
2021-11-27T15:52:58.653Z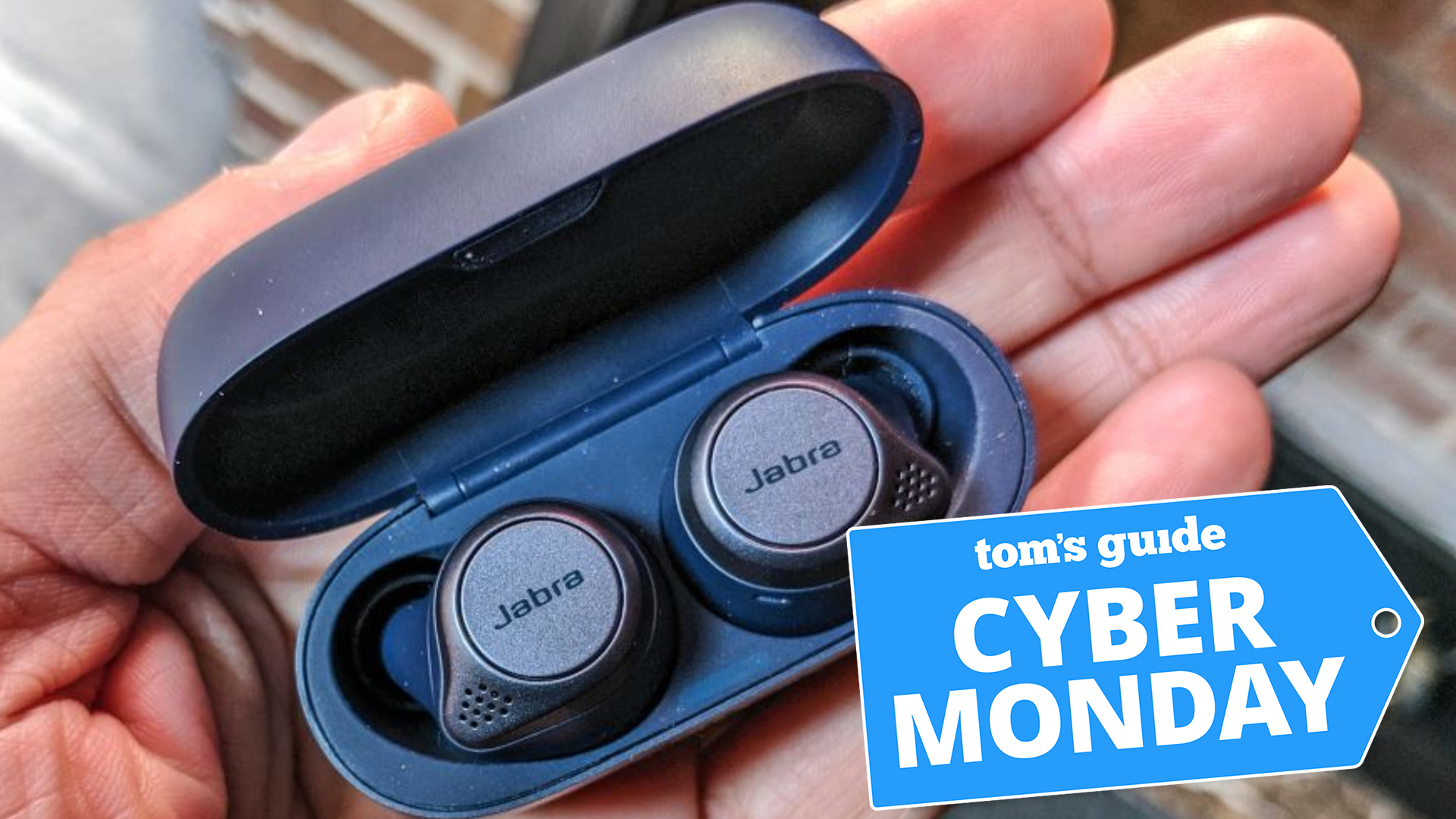 (Image credit: Tom's Guide)
Do you know what the best Cyber Monday earbuds deal is? It's not the Airpods 3 for $149 or AirPods Pro for $169, great though they are. Instead, I'd point you in the direction of the Jabra Elite Active 75t for $76!
The Elite Active 75t sits at the very top of our best wireless earbuds list, so any price cut is worthy of your attention. But to see it cut by 49% is just ridiculous.
As you'll see in our Jabra Elite Active 75t review, you get active noise cancellation, superb call quality and a comfortable fit. We also like the dynamic sound quality, waterproof design and that you get longer battery life than the AirPods Pro. Don't miss out on this one.
Jabra Elite Active 75t: was $149 now $76
2021-11-27T15:20:17.406Z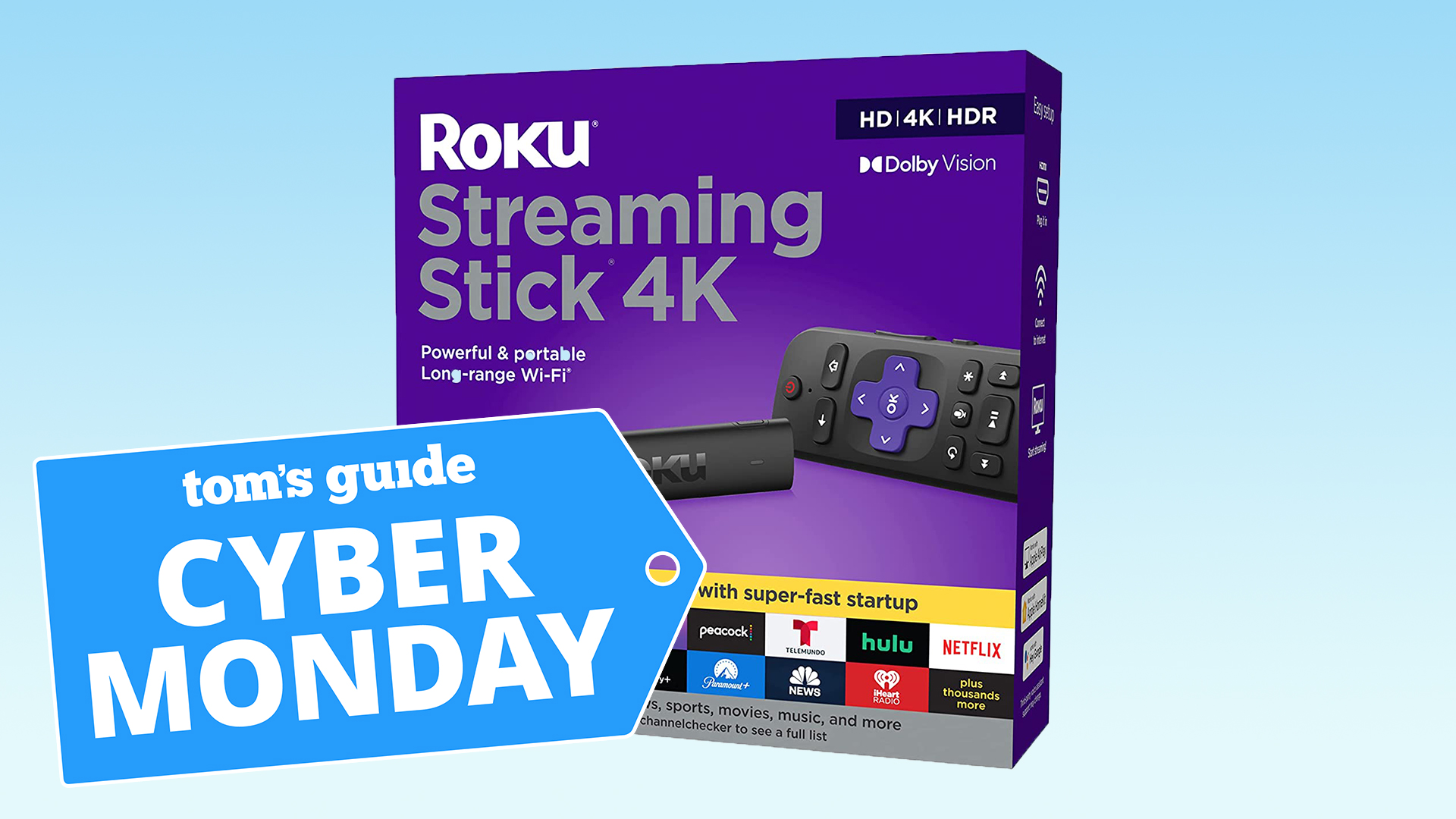 (Image credit: Amazon)
We love Roku devices here at Tom's Guide, so it's great that so many of them have enjoyed a price cut for Cyber Monday. 
For instance, the Roku Streaming Stick 4K is available for less than $30 right now! That's an incredible deal on what we consider to be the best streaming device on the planet. 
Just slot it into the HDMI port on the back of your TV and you'll get access to lovely 4K footage from all of your favorite streaming services, including Netflix, Amazon Prime Video, Disney Plus and more. It also supports Dolby Vision, plus the remote is great too, controlling your TV's volume so you don't need to use more than one.
Roku Streaming Stick 4K: was $49 now $29 
2021-11-27T14:56:33.395Z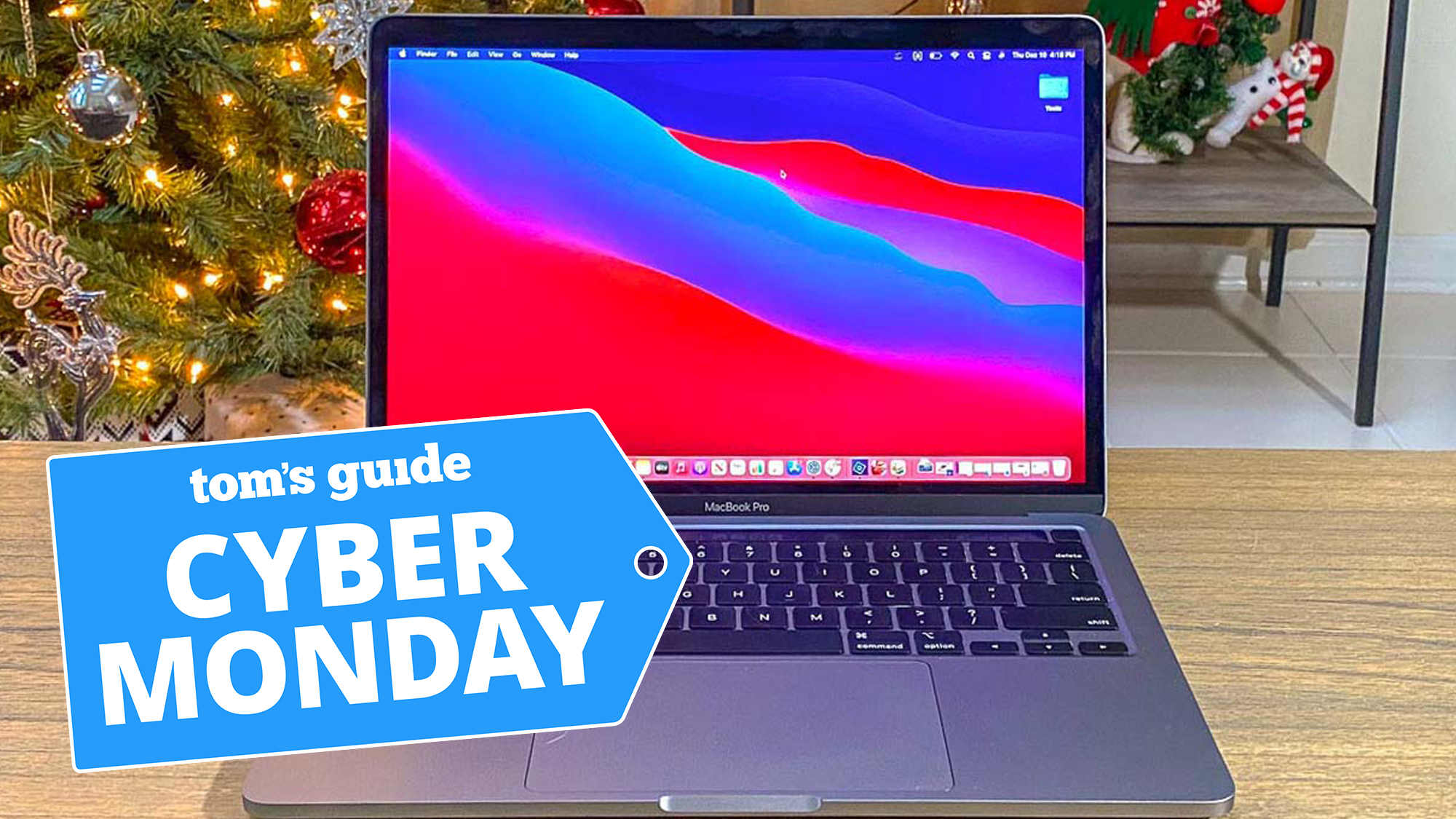 (Image credit: Tom's Guide)
If you've been after a powerful laptop but can't quite stomach the hefty prices of the new MacBook Pro 2021, then last year's MacBook Pro M1 is still well worth a look.
Not only does it have the powerful Apple M1 chip, but it's also a great macOS machine, with a solid display, minimalist design and a lovely large trackpad. And thanks to the best Cyber Monday deals, you can now get it for $100 off at Amazon. 
It's not the biggest saving ever, but any discount on an Apple product is worth having. And for $1,199 you'll be getting a laptop that'll last you for years and play nice with your other Apple devices. 
MacBook Pro M1 13-inch: was $1,299 now $1,199 @ Amazon
2021-11-27T14:38:31.954Z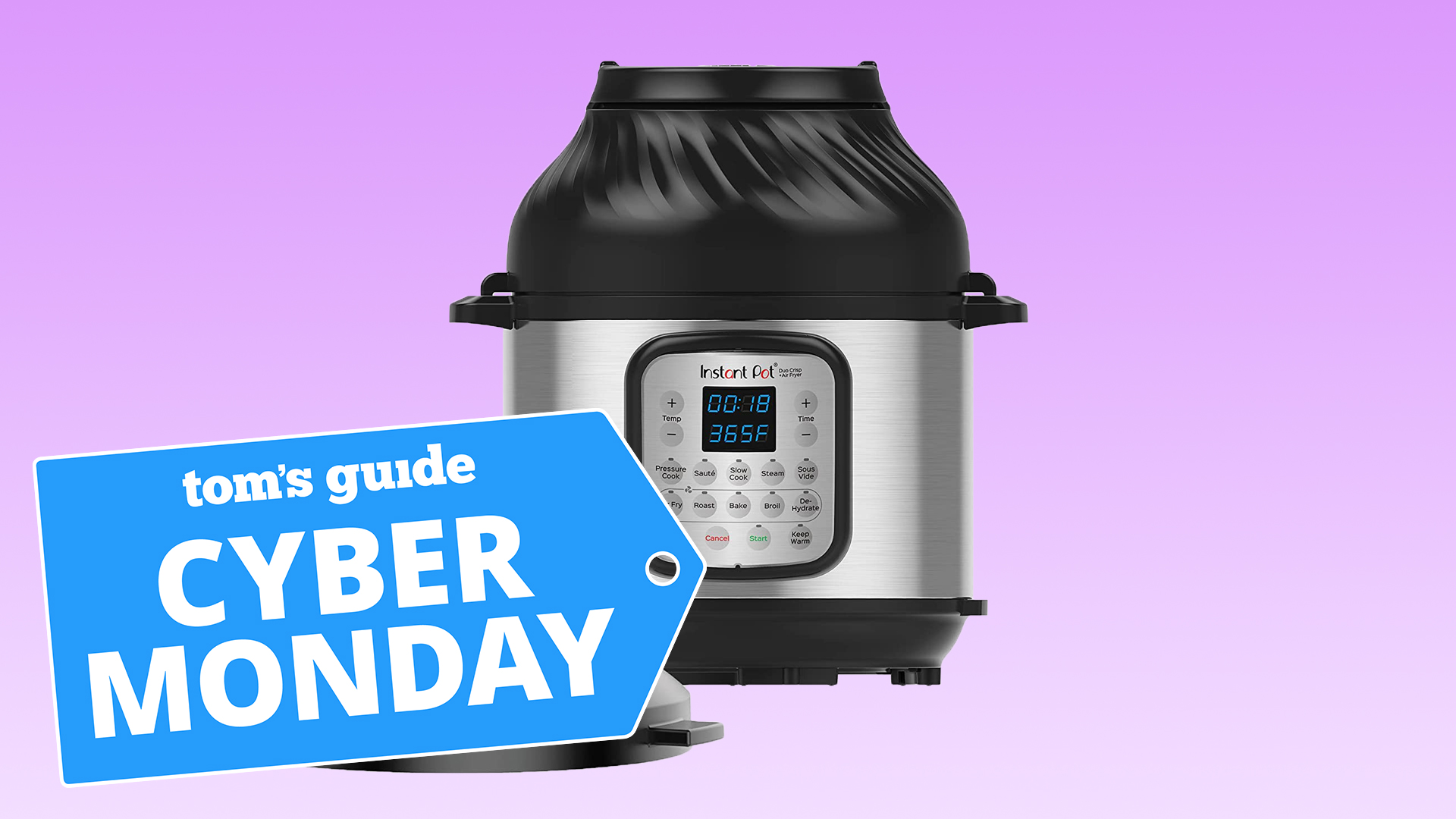 (Image credit: Amazon)
Air fryers are one of the hottest items this Cyber Monday, and I've totally bought into the hype and got one for myself.
The model I went for (after lots of agonizing) is the Instant Pot Duo Crisp and Air Fry from Amazon, which is reduced from $199 to $119 right now. It's supremely versatile, giving you 11 abilities in one including air fryer, slow cooker, sauté, sous-vide, dehydrate, roast, bake and more. 
Instant Pot Duo Crisp and Air Fry, 8 quart: was $199 now $119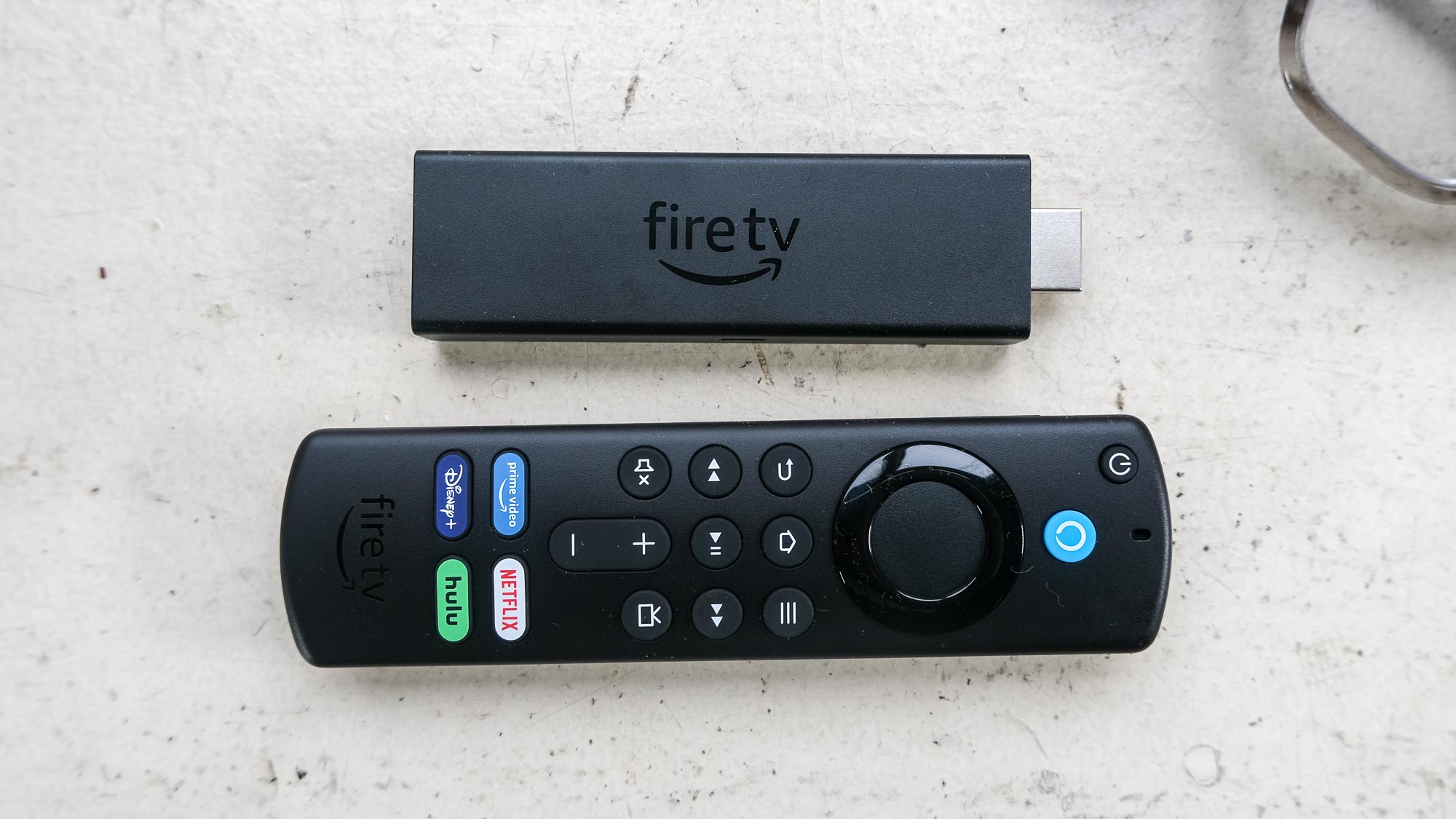 (Image credit: Henry T. Casey)
Right on cue Amazon has cut the price of almost all of its own devices, among them the new Fire TV Stick 4K Max. This is the first time the recently released streamer has ever been reduced, making it a solid Cyber Monday deal.
This is Amazon's best Fire TV Stick to date. It sports a new quad-core CPU and a 750MHz GPU that speeds up the load time of apps like Disney Plus. It also makes for a smooth and snappy navigation experience overall. Per our Amazon Fire TV Stick Max review, this is our favorite Fire TV device to date. 
Amazon Fire TV Stick 4K Max: was $54 now $34 @ Amazon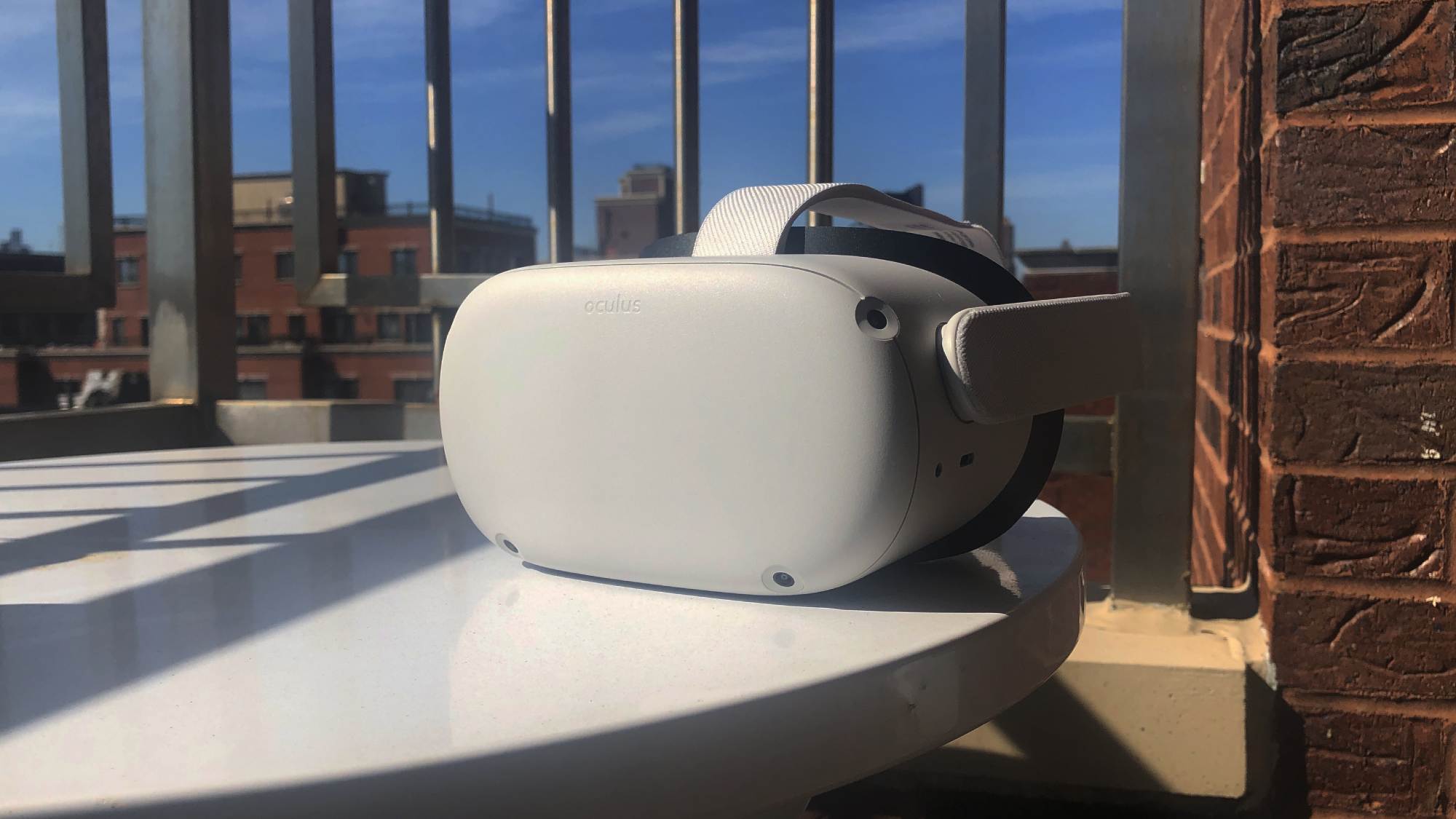 (Image credit: Tom's Guide)
One of our favorite Black Friday deal was on the Oculus Quest 2, and it's good to see that it's still going for Cyber Monday.
Not only does Amazon have the best VR headset in stock, but when you buy it you'll get a free $50 Amazon gift card with your purchase. Be sure to use coupon "OCULUS50" at checkout to get the gift card.
The Oculus Quest 2 is an all-in-one VR system, which means you don't need to set up any external sensors or cameras. Just charge it up, pop it on your head and you'll be exploring virtual worlds in minutes. Talk about an awesome holiday gift.
Oculus Quest 2: Free $50 Amazon gift card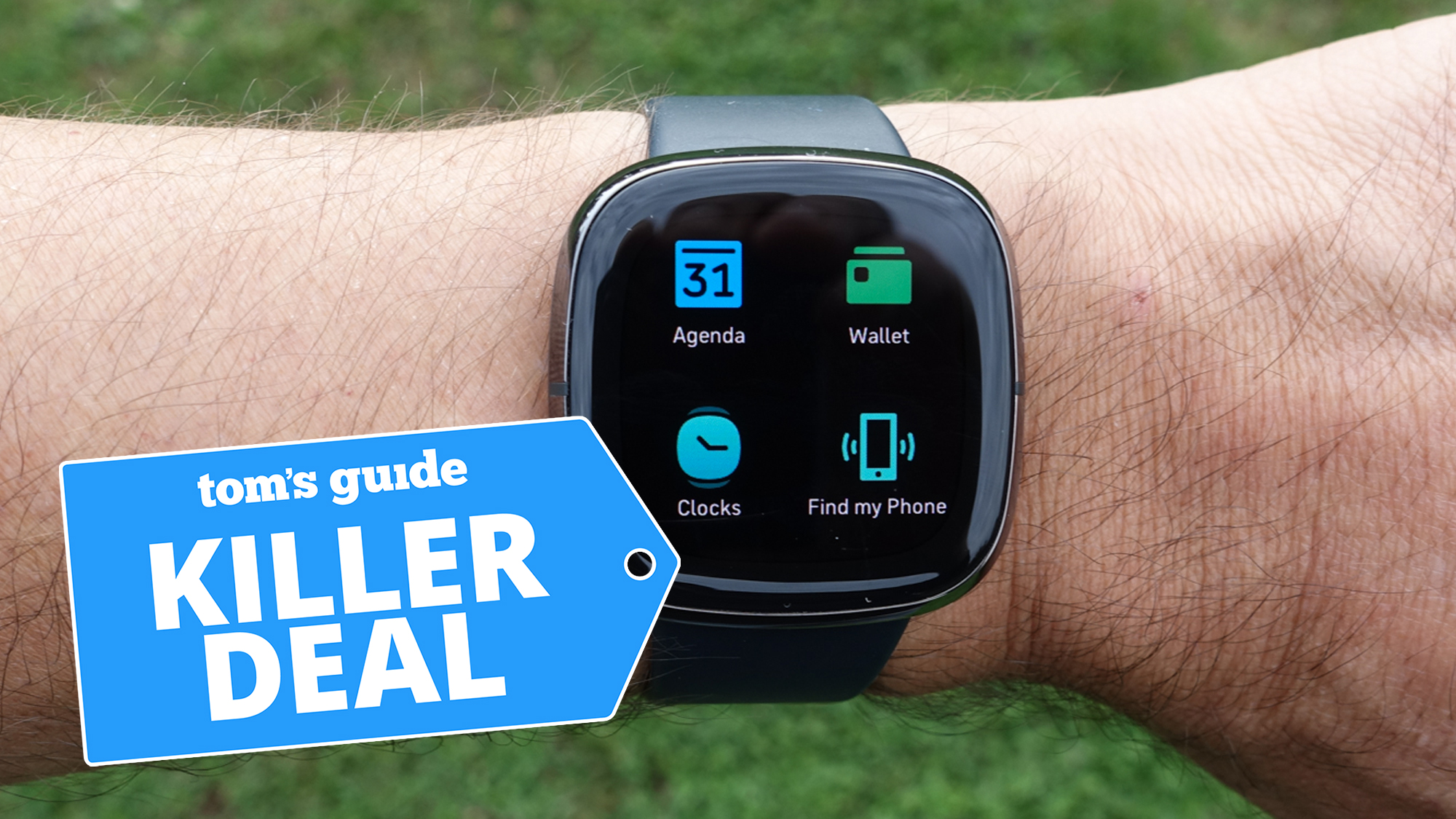 (Image credit: Tom's Guide)
If you're looking to get healthy and you want a good affordable smartwatch, the Fitbit Sense is on sale for $199 right now at Amazon.
This is a great deal for anyone who's overindulged this Thanksgiving, as it's packed with sensors to help you get fit and healthy. As we said in our review, it's a pretty ambitious device offering not only expected features such as GPS tracking and heart-rate monitoring, but also blood-oxygen and ECG monitoring, sleep tracking and more. It can even detect your skin temperature.
Fitbit Sense: was $299 now $199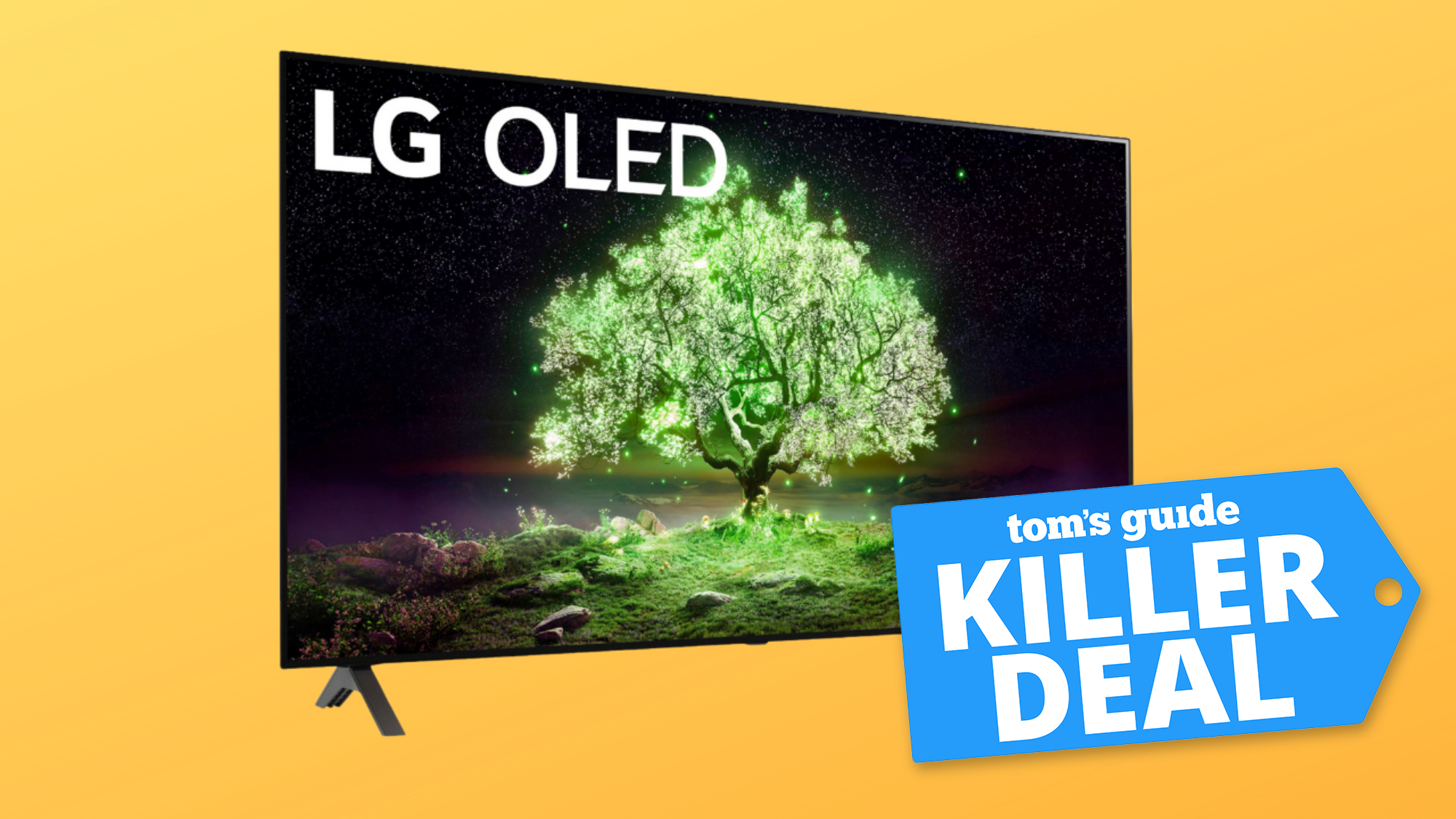 (Image credit: LG)
On the lookout for an OLED TV, but put off by the high price tags? That's fair enough — they are pretty expensive. Or at least they were, because we're seeing some great OLED TV bargains ahead of Cyber Monday, and this is one of the best. 
For a limited time, Amazon has the 48-inch LG A1 OLED TV on sale for $896. That's a 25% saving on the usual $1,199 price, but the deal gets better still, because you can get a free $100 credit on your Amazon account if you use the coupon code "HBQ5KMZKGRRP" during checkout. It'd almost be rude not to buy it, right?
LG A1 48″ 4K OLED TV: was $1,199, now $896
2021-11-27T11:18:39.035Z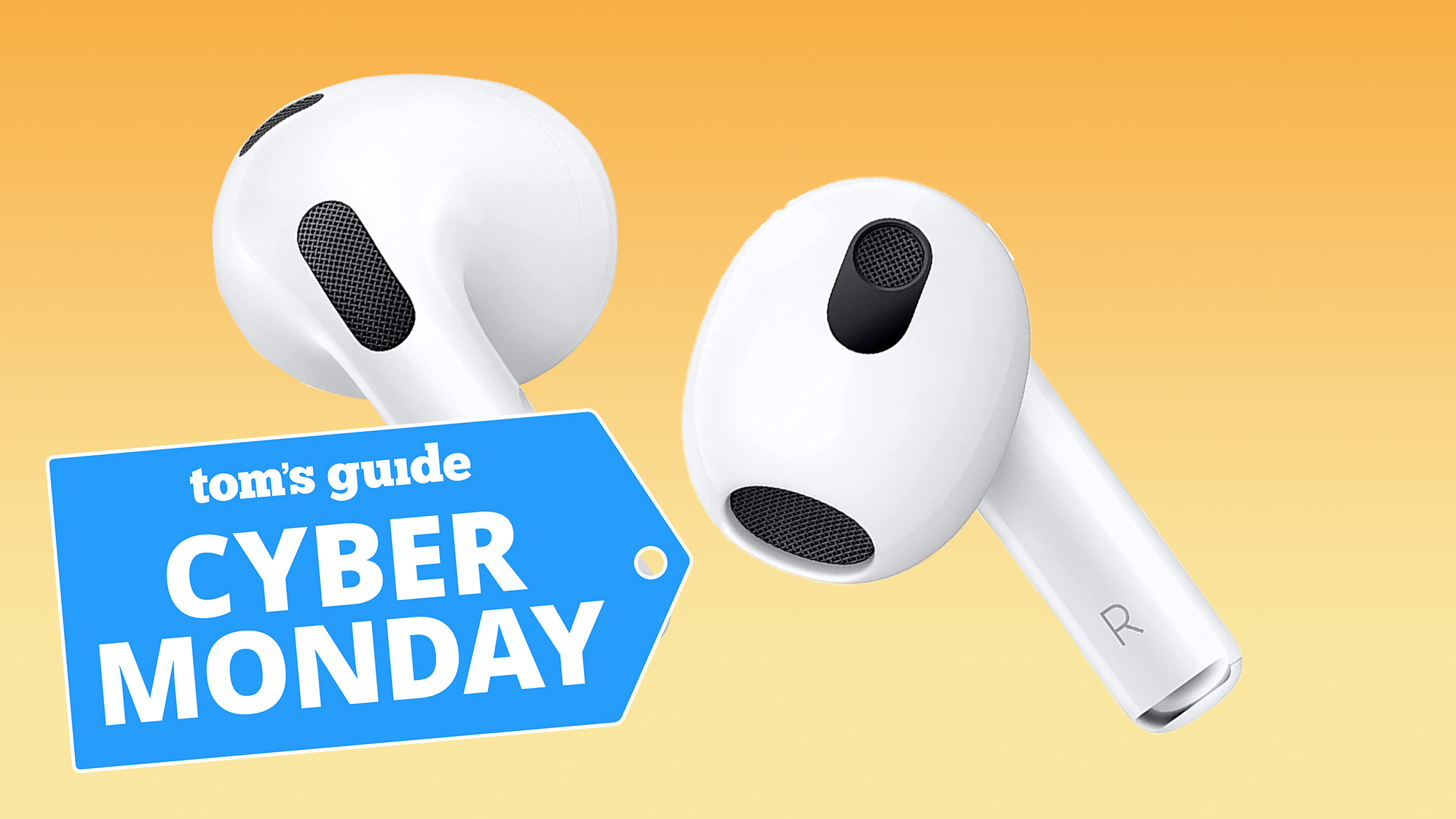 (Image credit: Amazon)
Hello and welcome to Tom's Guide's Amazon Cyber Monday deals live blog. It wouldn't be Cyber Monday without some massive AirPods deals, and 2021 isn't letting us down on this front. Every single model of Apple's wireless earbuds have been reduced, from the AirPods Pro to the newly-released AirPods 3. 
The redesigned AirPods 3 are $149 at Amazon. That's a fantastic savings of $30 on Apple's newest wireless earbuds, which only launched in October. Amazon lists them as being on sale for $169 ($10 less than RRP), but you can save another $20 at checkout.
Apple AirPods 3: was $179 now $149
Woodmart Theme Nulled, WP Reset Pro, Newspaper 11.2, Newspaper – News & WooCommerce WordPress Theme, Premium Addons for Elementor, Rank Math Seo Pro Weadown, WeaPlay, WordPress Theme, Plugins, PHP Script, Jannah Nulled, Elementor Pro Weadown, Woocommerce Custom Product Ad, Business Consulting Nulled, Jnews 8.1.0 Nulled, Avada 7.4 Nulled, Nulledfire, Dokan Pro Nulled, Yoast Nulled, Flatsome Nulled, PW WooCommerce Gift Cards Pro Nulled, Astra Pro Nulled, Woodmart Theme Nulled, Slider Revolution Nulled, Wordfence Premium Nulled, Elementor Pro Weadown, Wpml Nulled, Consulting 6.1.4 Nulled, Fs Poster Plugin Nulled