As the price of Luna Classic (LUC) dropped over 99% following the collapse of the Terra ecosystem stablecoin, UST, the cryptocurrency seems to be trying to regain its colors once again. It is currently ranked 43rd with a market value approaching the $1 billion mark.
Luna Classic: over 70 million in a week
Despite a lightning-fast fall in May, Luna Classic (LUC), the old version of the Terra Luna cryptocurrency, is once again coming to the fore. Thus, it is again in the top 100 cryptocurrencies and is one of the projects whose value is approaching the symbolic level of one billion dollars.
The new breakthrough of Luna Classic is explained by the growing interest of investors in its token. Indeed, data from CoinmarketCap shows that crypto market participants continue to access LUNC. In a week, they would have invested more than 70 million in the Luna Classic ecosystem. The statistics of the data aggregator show that in this way the capitalization of LUNC increased from $892.19 million to $965.68 million.
Capitalization dynamics of Luna Classic for the last 7 days. Source: Coinmarketcap
Why this renewed interest?
Investor appetite for Luna Classic is driven primarily by profit motives. They know that the project failed miserably in May after the UST collapse scandal, but they continue to bet on it because the LUNC token can bring quick profits in the short term.
Thus, in early October, the cryptocurrency provided these acquirers with a profit of more than 500%, increasing from $0.00012 to $0.00065 in two weeks. Then it fell again to the level of $0.0001. At the time of this writing, Luna Classic is trading at $0.0001678.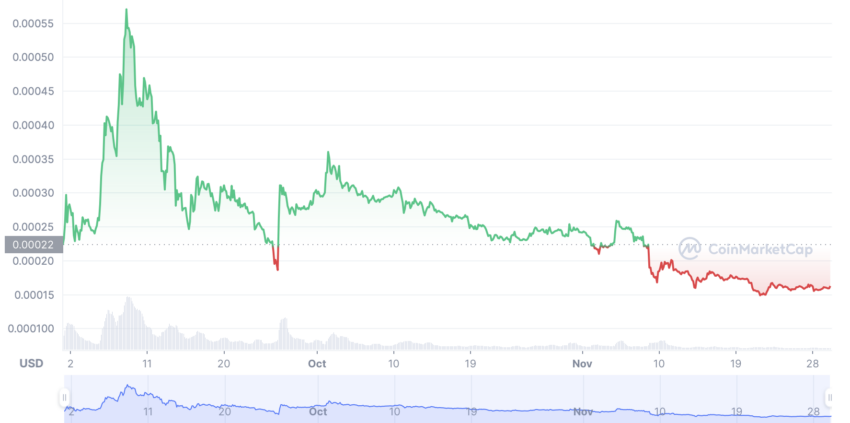 LUNC price dynamics for the last three months
However, it should be noted that there have been changes in the LUNC network. The project leaders recently released the Terra Classic v2 update, which is expected to improve ecosystem management, support staking protocols, and facilitate automated token burning. We also learn that it may have a Terra Classic v3 update that aims to push communications from the Luna network to the Cosmos network.
What are the forecasts for the future?
Forecasts of specialized sites regarding the future course of Luna Classe confirm a certain tendency to optimism. Indeed, Wallet Investor's prediction algorithm predicts that LUNC will reach $0.000499 in a year, which is three times its price and $0.00186 in 5 years. Bitnation, however, has been more moderate, with a $0.00034 forecast for LUNC in 2023 and $0.0009 in 2027. As for DigitalCoinPrice, its forecast turned out to be more optimistic with price targets of $0.000713 in 2023 and $0.0027 in 2027.
Denial of responsibility
All information on our website is published in good faith and for general informational purposes only. Any action taken by the reader based on information found on our website is done solely at his own risk.