Brilliant idea or rotten idea? CleverFiles has decided to release 100 licenses of Disk Drill, data recovery software for Mac and PC, in NFT form. These 100 NFTs are up for sale on OpenSea, the leading digital property certificate trading platform.
Each NFT, which acts like a true perpetual license for Disk Drill, is sold at a fixed price of $79, a cryptocurrency designed to be much more "stable" than others and follow the US dollar. By staying away from Ethereum and other mainstream cryptocurrencies in the NFT world, the publisher avoids selling their NFT licenses for next to nothing if the price of those currencies collapses… which is what is happening right now. Valuing their NFTs in $79 coins, CleverFiles is likely to get around $80 each if they ever sell.
In order not to create an oven, the publisher made their NFTs more attractive than traditional licenses. In fact, NFTs are sold for the equivalent of $80, while the classic perpetual license costs $118. Apart from this commercial gesture on the price, are these NFTs of any interest?
The publisher has several more or less valid arguments. First, NFTs can be easily resold or donated. These are indeed features that are rarely allowed, or at least rarely used, with traditional licenses. Fixed on the blockchain and available on OpenSea, NFT Disk Drills are part of a structured exchange economy.
CleverFiles also highlights the fact that it is enough to have a cryptocurrency wallet to buy one of its NFTs, which will be seen as an advantage by some (who will be able to spend their cryptocurrencies and will not have to enter the usual personal information). but as an inconvenience to others (to all those who do not have a wallet). And to ride the NFT wave as it should be, the publisher adds a unique image to each one, inspired by its mascot, a scientist with big glasses.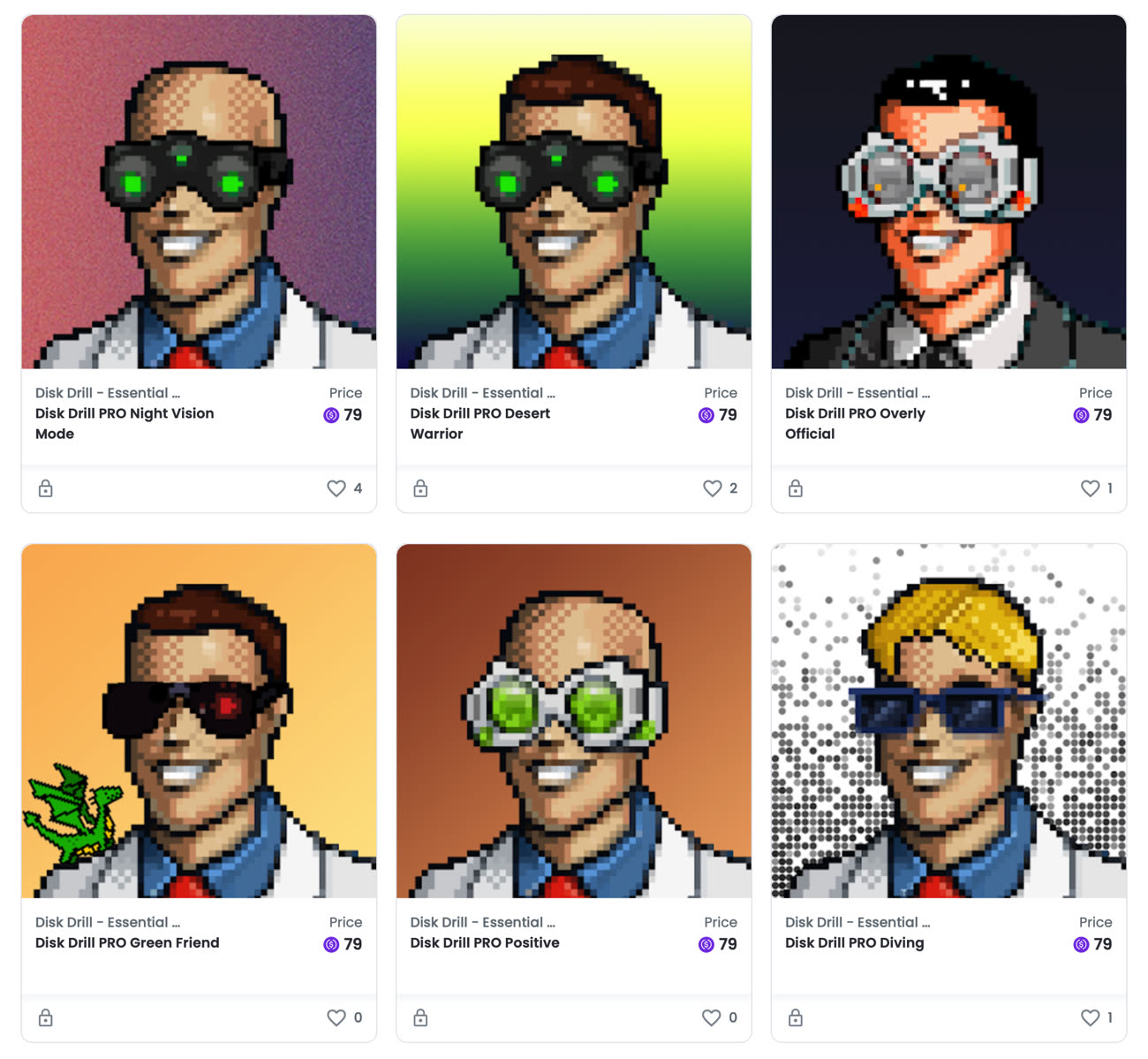 But the most important thing in this story for the publisher, of course, is to be talked about. CleverFiles claims to be the first to offer software licenses in the form of NFTs, which is not entirely true. NFT licensing projects have been around for many years, and "Web3" publishers are already offering NFTs as activation keys. However, it may be the first software commonly sold in the traditional way.
Of the 100 NFT Disk Drills offered for sale over the course of several months, only one has been sold so far, but the publisher has just begun its communications campaign.
.