This article is brought to you by a crypto expert and youtuber. Jonathan Novak… If you want to know how to easily and automatically invest in order to make a profit every month, while protecting your capital as much as possible, click by this link and sign up for a free video tutorial.
Cryptocurrency ELROND recently released its mobile app, which will soon have its own management token called MEX. All of this new token will be distributed. These tokens will be distributed fairly between the community and liquidity providers. The number of tokens on offer is 1 billion. To use these tokens, you must install the Maiar app. This article is a Maiar tutorial that lets you install the mobile app. He highlights the ELROND cryptocurrency, the Maiar app and exchange, and the criteria that must be met to hopefully earn MEX.

Vision of cryptocurrency ELROND
The project behind this cryptocurrency is huge. ELROND plans to democratize blockchain use for the general public with a scalable network at a low cost and very easy to use. The digital asset ELROND and its blockchain do use the primary and secondary networks. The consequence of this is the speed of transactions. For this reason, thirteen thousand transactions per second can be confirmed.
In this light, ELROND and its blockchain represent an opportunity for crypto traders and crypto investors. Indeed, currently, using the Ethereum network is extremely expensive. This is not the case for ELROND due to its very low transaction costs.
Maiar mobile application
The digital asset EGLD recently released the Maiar mobile app. From now on, you can store your capital there. Alternatively, you can use this app to get cryptocurrency nuggets. The purpose of this Maiar guide is to help you install the said application. It is currently possible to buy certain tokens, in this case ELROND, Binance Coin, Ethereum and many more. More digital currencies will be added soon. This is the case, for example, with bitcoins and some stablecoins.
In addition, the Maiar app allows you to block your cryptocurrencies in order to receive rewards later. The good news is that the Maiar exchange will officially launch on April 30, 2021. This exchange will be an Automatic Market Maker (AMM) like Pancakeswap.
Thus, it is a platform that allows you to add liquidity to liquidity pools that will generate income for you. The Maiar exchange offers you the opportunity to conduct cryptocurrency swaps, that is, the exchange of digital assets between them. Maiar also allows you to engage in cryptocurrency lending. You can also connect your Maiar wallet as you do with Trust or Metamask wallet when using pancakeswap or uniswap. Thus, Maiar offers us many possibilities through its application and exchange. Let's just say Maiar is revolutionizing the way we interact with money.
This Maiar tutorial shows you how to do it step by step. To hopefully win MEX tokens, you must purchase one of the following cryptocurrencies:
– EGLD
– UNITED
– SUSHI
– CAKE
Then you have to store these tokens in your wallet. If, for example, you leave your tokens on Binance or another similar platform, you are not eligible to use Maiar Exchange tokens for free.
For all intents and purposes, in order to participate in this free distribution operation, you must purchase ELROND by downloading the Maiar app and adding your MEX to it. You can also buy your EGLD directly from the ELROND wallet as shown in this main guide. You will receive a full discount if you buy your EGLDs from this link: https://get.maiar.com/referral/4odyenvqxd.
Community Distribution Mechanism
ELROND holders with available and unlocked balances will participate in a weekly distribution based on daily random snapshots throughout the year. The multiplier that will be used for this will be 1.
ELROND holders with an available balance who use the Maiar app can also participate in the giveaway and earn more. You can easily install the app by following the instructions in this basic guide. If EGLD holders have at least one coin and share the Maiar app with 5 people who actually signed up, a multiplier of 1.25 will be applied to them.
On the other hand, if you choose to bet with your EGLDs, you can still earn more. The multiplier that will be applied to those who prefer this option will be 1.5.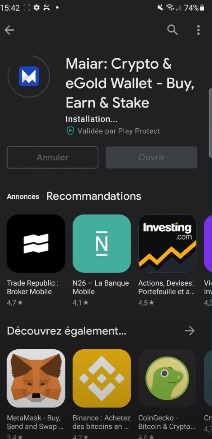 This Maiar guide will guide you to download the app step by step. You have to go to the Play Store or App Store. Then you write in the search bar "Mayar", click "install", then "open". This gives you direct access to the application. Once on the main page, you click "Start", then "Continue". You go to a new page, you click continue a second time, click continue again a third time, and then click create a new portfolio.
The next step is to click on the number you want to associate with this Maiar account. As soon as you do this, you will receive an SMS with a code. You must paste this code into the appropriate field to proceed with the installation of the Maiar app. You will be redirected to a new page to complete opening your Maiar app. It is important to carefully follow the instructions given in this step.
1- Protect your wallet
It is very important to protect your wallet from possible attacks from intruders. This master guide explains how to do this. Every time you log in, the Maiar app asks you for a four-digit (4) PIN. Thus, in order to better protect your digital wallet, upon first installation, you will be prompted to define a code that is only numbers. It is actually a sequence of four numbers.
2- Save your wallet
This second step is very important. Indeed, it should be remembered that the Maiar app is an automated market maker (AMM). You have complete control over your capital. Therefore, it is your responsibility to jealously guard the private key of your wallet. If your phone is lost or you accidentally deleted the app, you can restore your wallet to another phone using your private key. By following the information provided in this basic guide, you should be able to install or reinstall the application without any problems.
To access your private key, you click the blue button at the bottom of the screen that says "Yes, I Accept," and then the eye icon. Once you do this, a 24-word series will appear. You must keep these words in order in a precious way. Because these are the words that will allow you to reinstall the Maiar app later. When you click continue, you will be prompted to reproduce these words identically in the same order to validate your private key.
3- Purchase and deposit eGLD
You can now buy your tokens directly or transfer them from one platform to your Maiar wallet. If you decide to make a purchase, you have the option to pay by card or bank transfer. To receive ELROND tokens using a credit card, all you have to do is click the Moonpay button and then continue. Then you enter the payment amount in the appropriate field.
Those who already own ELROND and want to deposit their cryptocurrencies in the Maiar exchange app should press the blue button in the middle. Then you click eGold Deposit and copy the destination address. The ELROND tokens you wish to transfer to the Maiar Exchange app can come from Binance or any other platform. It is important to point out that the ELROND blockchain should be used to send tokens to the Maiar app.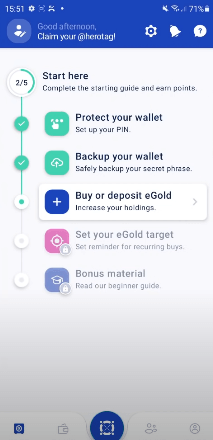 After submitting your tokens, you click "get your hero tag". The sentence is written at the top of the screen, directly in front of the cogwheel that symbolizes the parameter icon. As soon as you click, a dialog box will appear. All you have to do is write your username. It is thanks to this identifier, called herotag here, that other Maiar wallet users can find you and send you payments.
To finish, you press the blue button, which is in the lower right corner of the screen and which says "Earn". By carefully following this master guide, you will be able to stake your ELROND cryptocurrencies, which will generate other tokens of the same type for you.

Well done, you've read this entire article! To congratulate you, we are going to offer you our free method to easily and automatically invest in cryptocurrency in order to generate regular income while protecting your capital as much as possible. To access your gift, click here and register!
This text is not investment advice. Do your own research and only invest money that you can afford to lose.
________
Follow our affiliate links:
To buy cryptocurrency in the SEPA zone, Europe and French citizens, visit Coinhouse
Buy cryptocurrency in Canadavisit Bitbuy
To generate interest with your bitcoins, go to the BlockFi website
To protect or store your cryptocurrencies, get Ledger or Trezor wallets
To invest in mining or masternodes:
To accumulate cryptocurrency while playing:
In poker on the CoinPoker gaming platform
Into the world of fantasy football on the Sorare platform
If you want to learn more about Bitcoin and cryptocurrency investing, here are two excellent books: Understanding Bitcoin in 2 Hours and Investing in Bitcoin.
Watch the latest video of "5 Crypto News of the Week":
________________
Here are the sources of information we offer:
Our free weekly newsletter: https://www.getrevue.co/profile/CryptonewsFR
Our audio podcast: https://www.buzzsprout.com/1111262
Our YouTube channel: https://www.youtube.com/channel/UCEu7E2wqP3t3QzAWTWF9weg
Twitter: https://twitter.com/cryptonews_FR
Instagram: https://www.instagram.com/fr_cryptonews
Facebook: https://www.facebook.com/cryptonewsFR
Telegram: https://t.me/cryptonews_FR
_________
…