Major tokens in the cryptosphere traded lower on Monday night; the global crypto market capitalization fell 2.6% to $2.15 trillion.
What happened
Bitcoin (CRYPTO:BTC) price fell 1.6% to $42,346.42, losing 1.1% over the seven-day period.
Ethereum (CRYPTO:ETH) price fell 3.2% to $3,232.69, posting +4.7% in a week.
Dogecoin (CRYPTO:DOGE) fell 2.5% to $0.18, jumping 20.6% from last Tuesday, as rival Shiba Inu (CRYPTO:SHIB) dropped 3.7% to $0.00003, or +9.3% weekly.
The top crypto gainer of the day was Cardano (CRYPTO:ADA), which soared 12.8% to $1.59, up 40.8% in seven days.
According to data from CoinGecko, other tokens that made big 24-hour gains also included Litecoin (CRYPTO:LTC), IOTA (CRYPTO:MIOTA) and BitTorrent (CRYPTO:BTT), which respectively rose 4% to $152.10, a 3.3% at $1.17 and 2% at $0.003.
why does this matter
BTC and ETH hit intraday lows of $41,640.63 and $3,156.67 amid generally declining trading volumes as the United States celebrated Martin Luther King Day.
ADA stopped its trend of low-volume trading on Monday, crypto investor Lark Davis noted on Twitter. Davis's tweet, in turn, received a tongue-in-cheek response from Cardano creator Charles Hoskinson.
Just starting Lark, it's only January https://t.co/ToJ923QOAk

— Charles Hoskinson (@IOHK_Charles) January 17, 2022
In the last three months, the number of whales holding more than 10,000 BTC has increased by 12.7% from the 9-year record low recorded at the end of October, according to information and financial data platform Sentiment.
In the last 3 months, 10 new #Bitcoin whale addresses have resurfaced that hold 10k or more $BTC. This is a 12.7% increase from the nine-year historical low of mega whale addresses that were recorded in late October. https://t.co/XxxWNnm7sL pic.twitter.com/CWzcrnG1Pf

— Santimento (@santimentfeed) January 17, 2022
Large bitcoin accounts accumulated coins in early December, except they plateaued towards the end of the month. As the pace of whale accumulation slowed, more and more small accounts or "little fish" began buying tokens in late 2021, Delphi Digital explains in an emailed note.
The amounts of BTC held by the addresses (0-100 BTC) and (100 ≥ 100K BTC) — Courtesy of Delphi Digital
Although some analysts interpret this buildup of retail investors as a positive sign, the flat calm of the whales could spell trouble for the centerpiece of the crypto sphere.
"This is obviously an ideal scenario to analyze the whale accumulation as it tends to coincide with a BTC price increase. The lack of whale activity would suggest that the worst is yet to come," the research firm continues.
Meanwhile, Ethereum co-creator Vitalik Buterin on Monday shared a paper written by researchers at Peking University and Duke University, discussing the implications of implementing the London hard fork in August.
"We're seeing dwell time drop significantly after the London hard fork, which could be a result of lower gas prices and varying block sizes."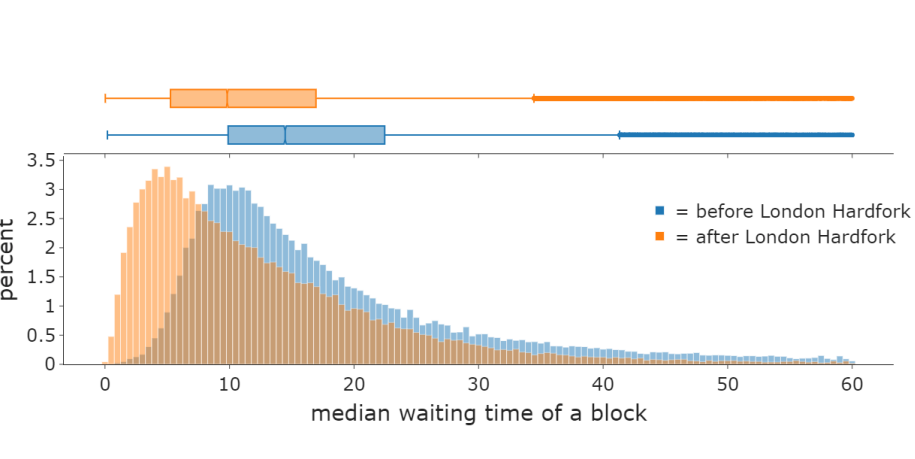 Average waiting time for a block on the ETH network.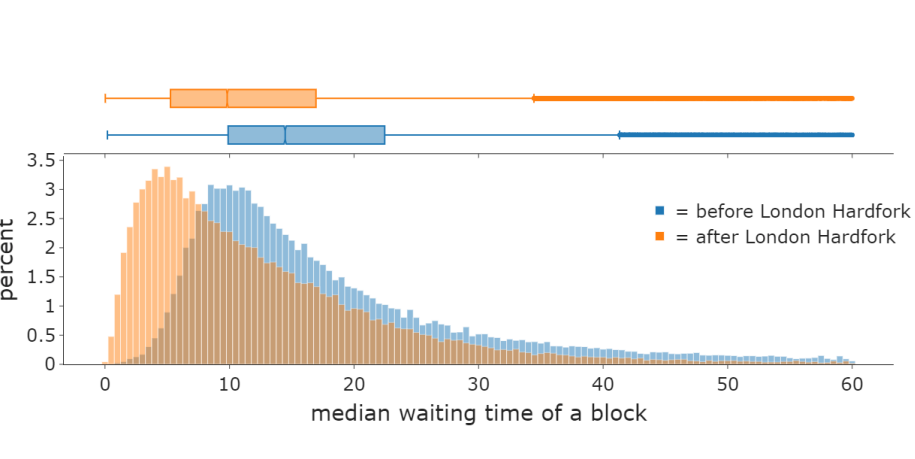 Source: Empirical Analysis of EIP-1559: Transaction Fees, Latency, and Consensus Security
The researchers' findings indicate that the hard fork did not reduce transaction fees, it merely "simplified fee estimation for users."
Rank Math Seo Pro Weadown, Wordfence Premium Nulled, Yoast Nulled, PHP Script, Fs Poster Plugin Nulled, Astra Pro Nulled,Woodmart Theme Nulled, Wpml Nulled, Avada 7.4 Nulled, Woodmart Theme Nulled, PW WooCommerce Gift Cards Pro Nulled, Elementor Pro Weadown, Newspaper – News & WooCommerce WordPress Theme, Nulledfire, Slider Revolution Nulled, Elementor Pro Weadown, Jnews 8.1.0 Nulled, WeaPlay, Business Consulting Nulled, WP Reset Pro, Newspaper 11.2, Flatsome Nulled, Woocommerce Custom Product Ad, Premium Addons for Elementor, Jannah Nulled, Consulting 6.1.4 Nulled, Plugins, WordPress Theme, Dokan Pro Nulled