Express delivery startups are expanding their offices, always as close to their customers as possible, in the Paris region. Find out their location using data collected by JDN.
As of May 2022, there are already more than a hundred darkstores in Paris and its environs. These shops, which are not open to the public and serve as warehouses for fast-paced startups like GoPuff, Cajoo or even Gorillas, are proliferating in the Paris region. With their 115 dark stores in Île-de-France, according to JDN's tally, these young shoots can offer their customers express delivery in just a few minutes of around 2,000 everyday items.
Among the seven players present in the capital, Turkish Getir has increased its presence in the eastern part of Paris and has 43 dark stores in Ile-de-France, according to information that we were able to gather, but which the company did not give us. not confirmed. Behind it is the French Frichti, bought by the German gorillas, which links the capital with its 19 dark kitchens, which are also used to deliver their own brand products, while the German Flink has 16 warehouses evenly distributed throughout the Paris region. Gopuff and Cajoo spread more slowly, each with fewer than ten warehouses, mostly in Paris. Zapp is the least affluent player in the market with 5 dark shops, only in inner Paris.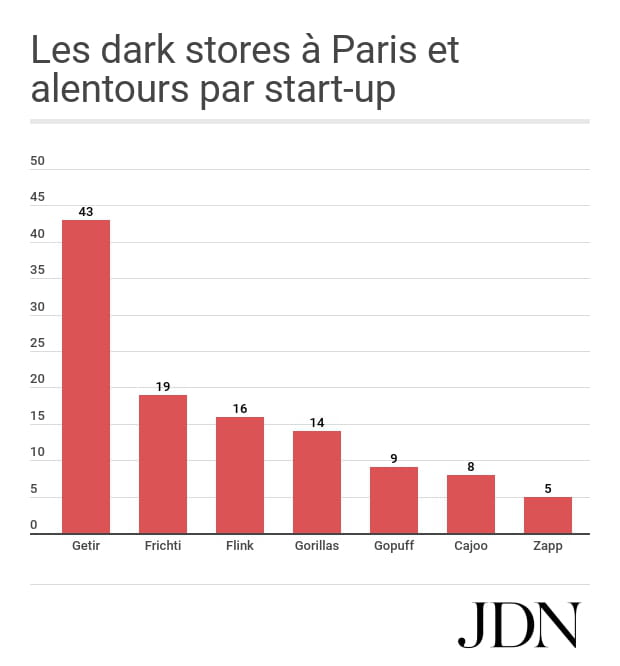 It should be noted that the Right Bank of Paris is more served by express delivery players, and in some areas, such as the 11th and 19th arrondissement, there are half a dozen dark shops each. However, the area on the left bank is best provided for: there are 8 dark stores in the 15th arrondissement. On the contrary, the 6th district is the only one who is completely deprived of it. Outside of Paris, Hauts-de-Seine (92) has the most stores, with 25 dark shops compared to 16 in Val-de-Marne (94) and 10 in Saint-Saint-Denis (93).