Game news Mario Strikers, Duke Nukem… 10 Video Game Ads That Would Be Censored Today
Published on 23.07.2022 at 16:05
If today video game ads are becoming increasingly rare, preferring Twitch and Youtube channels to TV commercials and magazine pages, until recently they were legion. And the least we can say is that it was a completely different era… Here are 10 commercials that will never see the light of day today.
Battlecruiser 3000AD
You probably already have some idea of ​​what kind of pubs could be found at that time. So we get to the heart of the matter with an ad that emphasizes the female body rather suggestively. As you can imagine, there are a lot of them (Game Boy, BMX XXX, Davis Cup World Tour…) and in order not to repeat too much, we have chosen only one: Battlecruiser 3000 Ad. Released in 1998 by Take Two /GameTek and Derek Smart, of course not let you cross paths with this young woman who seems to really want to play the game. We just wonder why she has to be almost naked for us to show.
Burnout 3: Disassembly
We are changing the registry, but not necessarily for the better. We're in the early 2000s and it's obvious that publishers have decided to ditch nudity for outrageous ad campaigns. Therefore, for its racing game Burnout 3: Takedown, Electronic Arts found it necessary to dedicate one of its advertising pages to … traffic accidents. This is not a joke, and today it is difficult to understand where the publisher wanted to lead us with such advertising. However, this is rather bad taste, and today it is difficult to imagine that this is possible. Especially since even the commercials you see on TV today are less straight forward than this page intended to sell Burnout 3: Takedown.
bold
Do you know Cheese? This game, released in 1996, puts you in the role of a mouse trying to escape from a castle. It took the form of a platformer aimed at very young teenagers. Suffice it to say that with this primary purpose, one can only be puzzled by the advertisements below. The latter really compares the game to a venereal disease that you would love to catch. A choice for the less daring, especially since this ad was born in the midst of an HIV awakening and explosion (7,710,000 AIDS-related deaths from 1990 to 1999). We still have the right to make rather dubious videos on this topic today, but so far there is little chance that someone can confirm such an advertisement.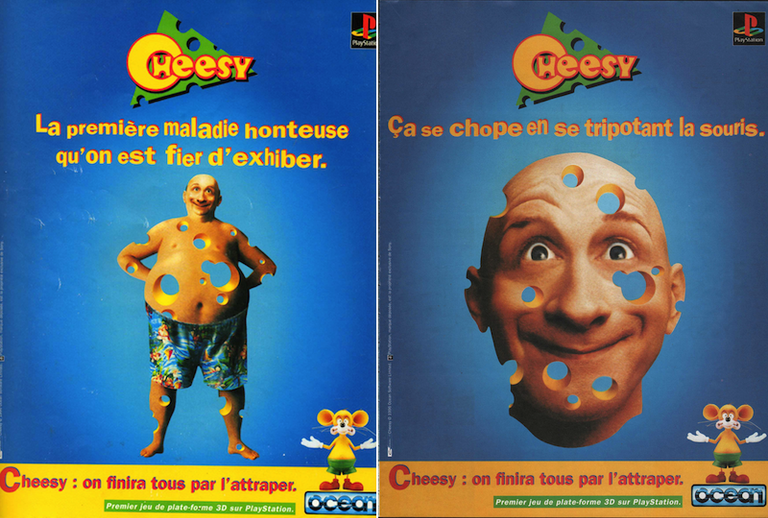 daikatana
Daikatana is one of the games that made history for the wrong reasons. Announced on Christmas Day 1997, the game was finally shelved until the summer of 2000, went through many changes in the development team, caused the latter to fail, and cost a small fortune. Suffice it to say that even before its release, the general public was already expecting a failure. So a few months before the fateful date, the teams decided to go all out with an outrageous advertising campaign in a rather bad tone. Based on the reputation of its creator John Romero (Doom, Wolfenstein 3D), he was simply inviting you to be "his little whore"… Charming…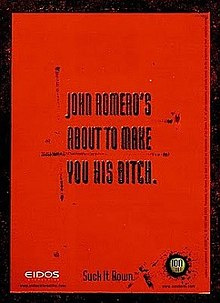 donkey kong ground
After sexism, we are on another slippery slope with Donkey Kong Land. This time we are in 1995 and it must be said that at this time it is quite rare to see people of color in advertising. So when, opening your favorite magazine, you suddenly stumbled upon this man named Yamiga Kanavi, there was something to be surprised at. It's especially difficult to understand the logic when you see a member of an African tribe proudly holding a Game Boy. And, unfortunately, the only connection that can be found between them is that the ad is immersed in racism. Donkey Kong Land actually makes you impersonate a monkey… With all the racist imagery revolving around this animal, the ads immediately seem more disturbing.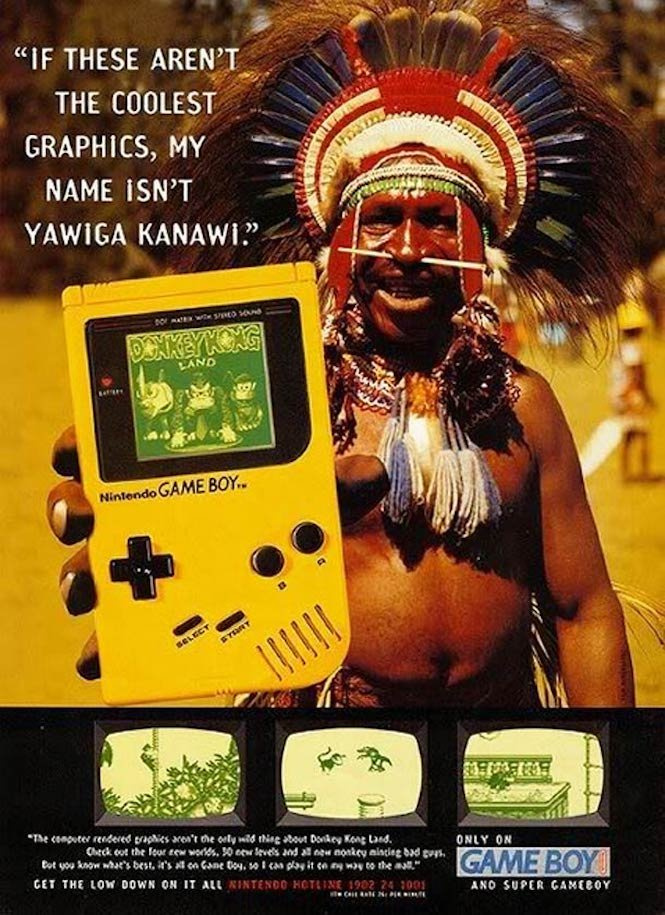 Duke Nukem 3D
No more sexism! Racism too! All that is missing to complete this unhealthy advertising trilogy is… homophobia. And Duke Nukem 3D will take care of that. For once, if there's a license that couldn't be released as it exists today, it's Duke Nukem. It must be said that it is difficult to imagine a scene like the opening of Duke Nukem Forever possible in our time. And the same goes for some advertisements, such as the one below, which confirms that if you don't like Duke Nukem 3D, you are definitely homosexual. Given the lack of a specific connection between the two statements, one suspects that this is a good dose of outdated judgment that would be difficult to accept today.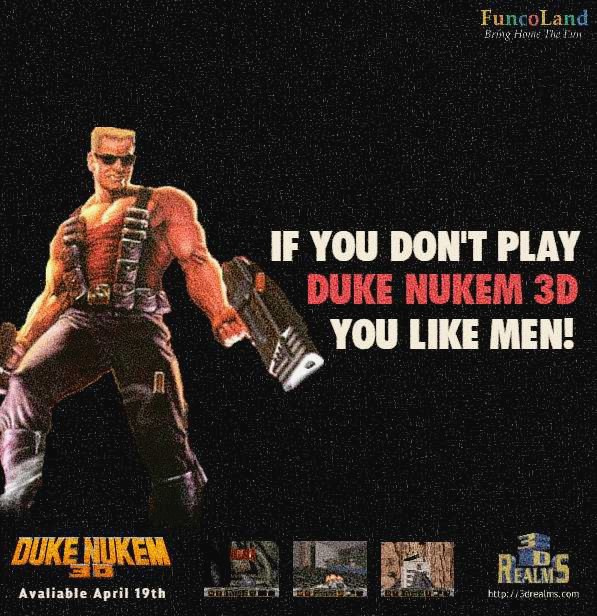 F1 racing
We will continue our momentum, if you will, with a new layer of sexism. No female nudes this time, and especially the cliché and sexist portrayal of the F1 Racing Championship player's companion. Aside from the fact that, again, the ad doesn't make much sense, showing a woman graciously doing housework while her companion lives her great career (or plays video games) is not exactly in the zeitgeist anymore. At a time when men are slowly starting to appear in advertising for household goods, it is difficult to imagine such a possible representation.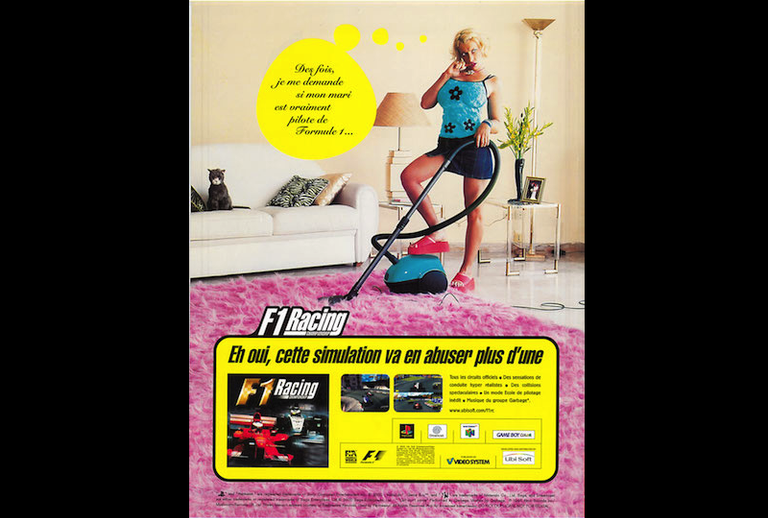 Nintendo has always controlled its image down to the millimeter… or so we tend to think. But between ads asking you to "turn on" Luigi and Mario Sunshine ads presenting you with Mario "wetter than ever," Big N hasn't always been so skittish. The best example of this is the Mario Strikers license, a soccer game that features our plumber and his friends. For the first time in the Nintendo universe, you can shamelessly smash your enemies or see toads enslaved. And we certainly find that irreverent side in the conversations around Mario Smash Football and in that famous ad that invites you to forge a couple of nice balls before launching the game. Suffice it to say, it's hard to imagine Nintendo confirming such an ad. Today.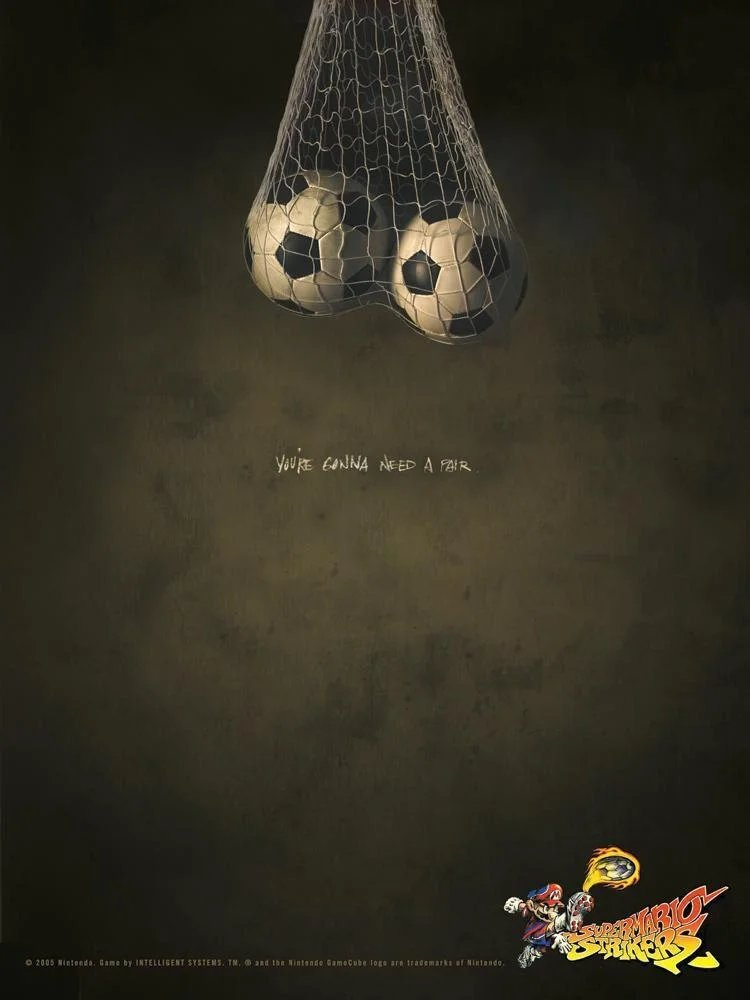 Microsoft Flight Simulator
The case of Microsoft Flight Simulator is a bit special. Advertising in itself is not problematic, but, unfortunately, became very outdated after a certain event. If you don't recognize the monument on screen, the little text that accompanies it should help you sort out the problem: "Remember, when you drive past the 42nd floor of the Twin Towers and maneuver around the roundabout over Times Square, safety is the pilot's primary concern." . In 1982, there were no trouble spots in this ad. But nearly twenty years later, the Twin Towers were marked by a cataclysmic event: the September 11, 2001 attacks. Needless to say, it is now impossible to imagine such publicity.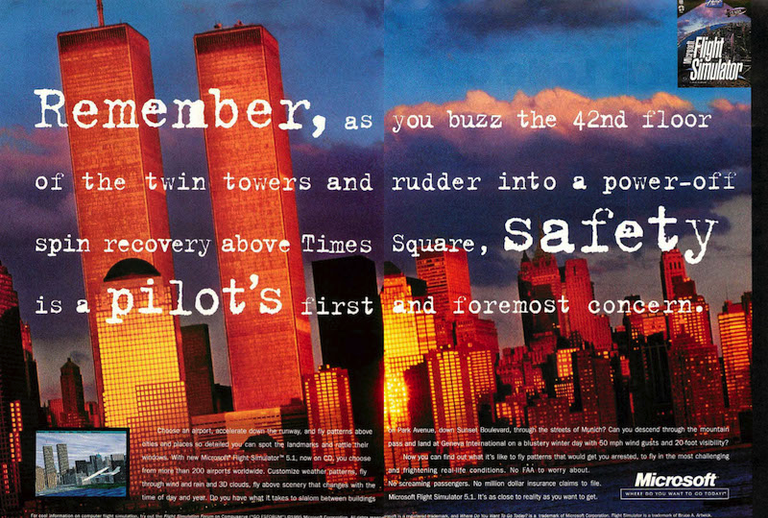 Sega Mega Drive Arcade Power Stick
At the time, Sega was especially prolific when it came to crap advertising. We now remember the slogan "Sega is stronger than You" and Segata Sanshiro, but we have forgotten everything that would be impossible today. This applies to the Sega Saturn, which (still) displays a naked female body, as well as the Sega Mega Drive Arcade Power Stick. This Megadrive peripheral allowed playing with a large stick, which was clearly suggestive to members of the marketing team. We ended up with ads that were aimed at a relatively young audience and said, "The more you play with her, the harder it gets." Given the society of the time, one might even wonder how this could have happened.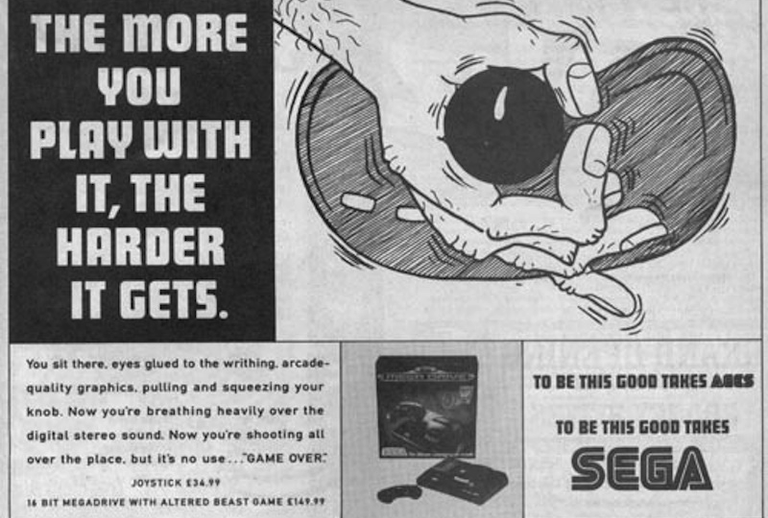 Nostalgia? Find more weird ads from the past on @weirdgameads on Twitter, it's a gift!