Game news Marvel's Avengers: Seven months on, where is it? (Tachyonic Anomaly)
After the release of its next-gen patch in March, Marvel's Avengers is getting its first temporary event at the end of April. Entitled Tachyonic Anomaly and scheduled to last until May 3, the event allows, among other things, several players to play the same superhero during a mission. On this occasion, we were able to discover these new features in the company of one of the developers who told us more about the future of the title.
After a complicated launch punctuated by many technical issues and especially a lack of endgame content, Marvel's Avengers is increasing the updates to address these problems. So, since September, the title of Square Enix and Crystal Dynamics has added two new characters, Kate Bishop in December and Hawkeye in March, each accompanied by several narrative missions that advance the overall story of the game. However, with Hawkeye being Kate's mentor, the two archers share fairly similar gameplay, albeit different in their approaches (Kate is fast thanks to her teleportation and Hawkeye has support skills). For those who haven't tried them, note that these heroes and their stories are playable for free, but their battle pass is not free. The latter allows you to unlock costumes, animations and other cosmetic elements.
Confronted with this, the biggest novelty added to the title since its launch remains the next-gen patch for PS5 and Xbox Series released at the same time as the DLC dedicated to Hawkeye.
Allowing you to enjoy gaming at 1080p / 60FPS or 4K / 30FPS, this update makes gaming more enjoyable by eliminating many of its framerate issues, without correcting all of its technical issues. It is therefore in this context that a month later, Marvel's Avengers is rolling out its first temporary event available until May 3: Tachyonic Anomaly.
A nice event but light in content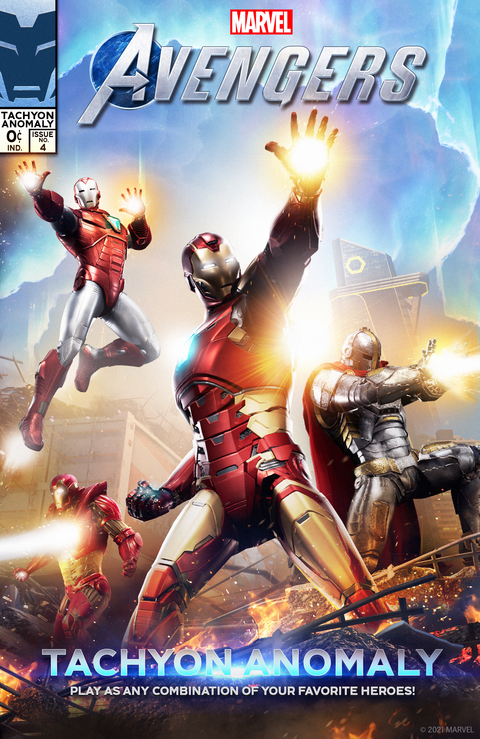 To discover the event, we played for an hour on PS5 with Phil Therien, War Zone Director of the title. Concretely, its role is to manage the multiplayer content, to see how the levels are arranged or to take care of the level design. "It's my team that has to think about challenges that we don't think about, such as taking into account the size of the environments so that they can accommodate all the characters, finding the right running speed or the right jumping distance so that all the characters are not unbalanced etc.". As for the content of the event, Tachyonic Anomaly allows several players to play the same character simultaneously during the same game, for all missions. Thus, we can end up in game with 4 Hulk, 4 Iron Man etc … If it is a feature requested from the start by the players, note that it is only available for the time of wind. However, Phil Therien told us that if successful with players, this feature may return or even become permanent. "This event allows us to test the matchmaking, see if it can hold up with four similar characters."he adds, adding that Iron Man is surely the most technically greedy character, especially when he transforms into the Hulkbuster.
In addition to being able to play any character, this event also brings special missions. Called Tachyon Rifts, these require players to constantly collect Tachyon Orbs so that the timer does not drop to zero, otherwise the mission will be restarted at the last checkpoint. During this session, we have observed that the number of enemies is particularly high and that this is a game mode that requires coordination between different players to see the end of it. Missions reserved above all for regulars of the endgame since the level required to participate is high, often beyond 100 power.
Finally, let us also specify that series of objectives have been added and that they require to fulfill certain conditions to obtain legendary equipment, even exotic, the highest degree of rarity in the game. In itself, if this event brings a little diversity to the missions of the game, it is intended above all for the players always present who will have new and more varied methods to obtain better quality loot. Unfortunately, not sure these multiplayer additions are enough to bring back those who only did the title single-player campaign last September.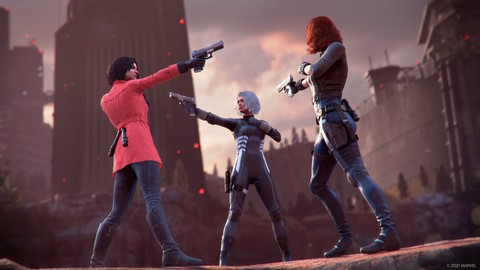 Many changes to come
Moreover, it is in particular on this last point that the developers are focusing at the moment. "We are working on a better visualization of the rewards, a better redistribution to know where to place the equipment, where to find it etc … We have learned a lot about this since the release and we will also rework the statistics of the equipment", Phil Therien told us. Some missions will also be redesigned such as the Villains Sectors (missions that end with a boss fight), the Hives (missions in the heart of an enemy base where the floors are linked) or the Mega-Hives, one of the best ways to collect exotic loot. As a reminder, these are long and difficult single player missions in which you have to change characters as soon as yours falls in battle. More specifically, the developers are considering reducing the number of rooms for these challenges in order to find the ideal duration. In addition, in the future, Mega Hives should be playable in multiplayer, according to the roadmap. However, note that since Sunday April 25, these have been inaccessible due to a bug.
Due to an issue that was discovered, we are temporarily disabling the Mega Hive. We'll let you know once we re-enable it.

– Marvel's Avengers (@PlayAvengers) April 25, 2021
Moreover, we took advantage of this session to discuss with Phil Therien the contents indicated on the roadmap:
At the beginning, there are a lot of things that should have been released much earlier like the Black Panther expansion, the Omega Level threats … But with COVID, everything was delayed and we had to adapt. The problem is that in the development chain there are often cascading consequences. For example, if an item cannot be delivered on time, the entire development suffers. But today, we have adjusted well to it.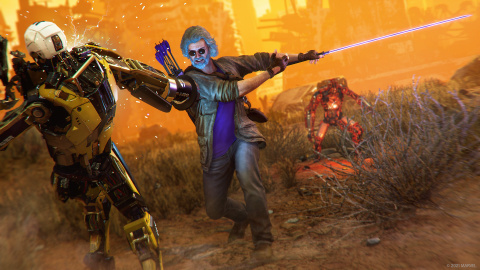 So, if the next major update, Black Panther War for Wakanda, is slated for this summer, new stuff will be available sooner. First, a dedicated Black Widow event called Red Room is due to arrive very soon to coincide with the film's initial release date which has since been pushed back to this summer. Moreover, it is with him that the first costumes from the MCU (Marvel Cinematic Universe) will appear in the game. If Black Widow will be the first to receive one, the developer has confirmed to us that more outfits from this universe should be available in the following months. Finally, he and his teams are currently working on Patrols, a game mode in which players will be free to evolve as they wish without specific objectives, and which should be available this summer before the release of the Black Panther expansion.
To go beyond the roadmap, we took this opportunity to discuss with Phil Therien the future of the title after this summer. So we asked him where the development of Spider-Man is, a character highly anticipated by players. Obviously, if he could not give us a precise exit window, he did confirm that the teams were currently working on it. Regarding the evolution of characters, new progression systems beyond level 50 and power level 150 are also planned, without the developer being able to tell us more. Many changes to come therefore which will above all aim to offer more and more content in the title.
If this first temporary event offers a long-requested feature, Tachyonic Anomaly is nonetheless dedicated to players still present who will find new methods to grind. Although more content should be released by then (the Red Room event for Black Widow, Patrol mode …), from now on, all eyes are on the Black Panther War for Wakanda expansion. turned. Thanks to the hero's popularity, this major update has the potential to attract new players or bring back those who only made the main campaign last September. In any case, see you this summer.
Experience The Complete MCU In The Infinity Saga Box Set