Brief review of the Naturepedic Adagio mattress pad
Whether you need to soften a hard mattress or breathe a little more life into an old one, the Naturepedic Adagio 2″ Organic Latex Mattress Pad will do that and more. This premium mattress pad is made from stretch cotton jersey coated latex, and it's all certified organic. .In terms of comfort, this is one of the best mattress toppers we've tested.
Organic latex is designed to relieve a pressure point – and it does a good job of redistributing weight and maintaining spinal alignment, especially when sleeping on your side. The mattress is 2″ deep so it's firm enough to support you yet soft enough to provide marshmallow comfort. While exact preferences may vary, for most people we find the Naturepedic Adagio 2″ Organic Latex Mattress Pad to provide a comfortable balance of firmness and cushioning.
Characteristics of the Naturepedic Adagio topper
Inner layer: organic latex.
Cover: organic cotton
Straps: No
Thickness: 2 inches
Trial period: 100 nights
Warranty: 10 years
MSRP: $499-$849
The cover is smooth under the sheets but has just enough texture that it doesn't slide around on the bed and doesn't need to be readjusted – which is a good thing because there are no straps to secure this topper in place. We found that the Adagio topper stayed cool all night, so you won't have to wait to be hot and sweaty. But be aware that you can't remove the cover and wash it, and this can be a concern for people who are prone to spills.
At $749 for a queen size, this is also one of the most expensive mattress pads on the market, even with the fact that you always pay more for organic products. (It's more expensive than some of the budget options on our best mattresses list.) If you can afford it, it's worth it – we recommend it in particular for side sleepers and those with joint pain. as it does such a good job of providing joint relief. You have a 100 day trial to make sure it fits you and latex is also known to be one of the most durable mattress materials so it should also last a long time. Read our full review of the Naturepedic Adagio 2″ Organic Latex Mattress Pad below.
Naturepedic Adagio Latex Mattress Pad Review: Materials and Design
2″ thick organic latex mattress pad
Organic stretch cotton cover
No straps and cover cannot be removed
The Naturepedic Adagio 2 Inch Organic Latex Mattress Pad is made from organic latex and is designed to relieve pressure on joint pain points. Latex foam offers some of the same benefits as memory foam in that it adapts to your shape and provides a personalized fit. support during sleep. It is also known as one of the most durable mattress materials, which promises a long service life. Naturepedic doesn't specify if it's the Dunlop or Talalay latex used in the Adagio mattress topper, but it's described as organic and comes with GOTS. (will open in a new tab) approval, which means that it meets certain environmental and socially responsible manufacturing standards.
The cover is made from stretchy organic cotton jersey for a luxurious feel. There are no straps or a stretchy skirt, but the cover is textured enough to hold the topper in place on the bed. Unfortunately, the lid is non-removable and can only be spot-cleaned. (In general, we recommend adding one of the best mattress toppers for easy, effective cleaning.)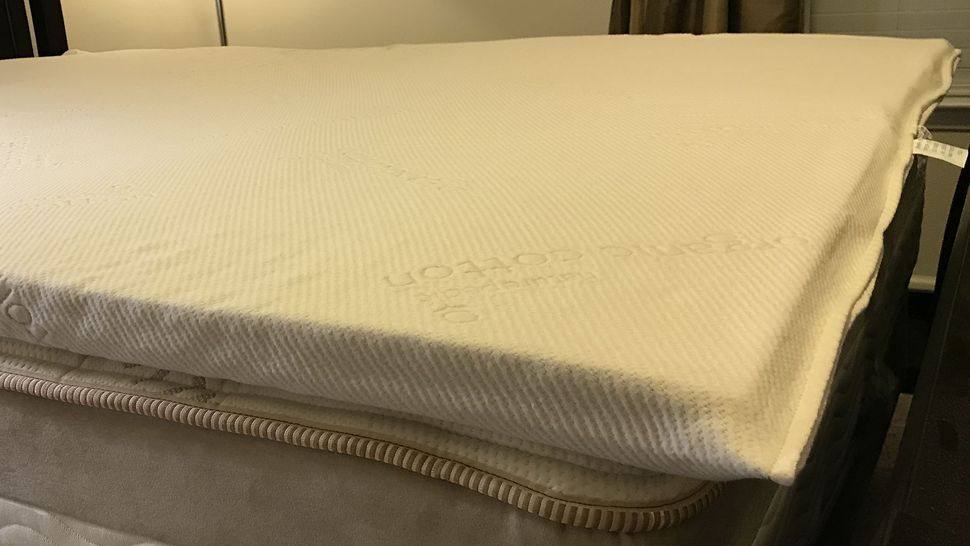 (Image credit: Terry Williams)
Naturepedic Adagio Latex Mattress Pad Review: Price
Market leader in price
Available in six sizes from Twin to California King.
Available only on the Naturepedic website
The Naturepedic Adagio 2″ Organic Latex Mattress Pad is considered a luxury mattress pad – in fact, it sits at the top of the premium mattress pad market. It can only be purchased directly from Naturepedic at the following suggested retail price:
Twin: $499
Twin XL: $549
Full: $649
Queen: $749
King: $849
Cal King: $849
Obviously, this is not a profitable option – if price is your main deciding factor, you can buy cheap mattress toppers for less than $50. Instead, it's aimed at people who don't want to compromise on quality or those organic characteristics. Note, though, that there isn't a significant price jump between this topper and some of the models on our list of the best organic mattresses (the cheapest all-organic latex mattresses will set you back around $1,099 for a queen, compared to $750 here).
Naturepedic Adagio Latex Mattress Pad Review: Performance
Smooth sleep feeling with marshmallow flavor and great pressure relief
Best suited for those who sleep on their side, like softness or a bed that is too hard.
Sleeps cool even with extra bedding
The Naturepedic Adagio 2 Inch Organic Latex Mattress Pad is definitely soft and really excels when it comes to relieving pressure points and ensuring our tester doesn't wake up with any pain. However, just because it's soft doesn't mean it doesn't support. The organic latex helps redistribute the weight, and it's thin enough that it doesn't feel too unstable.
Our lead tester tends to sleep on her side and wake up on her stomach, and during our three-week testing period, she found that the mattress pad provided support in both of these positions. Even when she slept on her back (which, admittedly, was not often the case, as it was an unnatural position for her), the mattress topper supported her. Overall, we'd say this level of softness is best for side sleepers – who tend to put more stress on their shoulders and hips in this position – as well as anyone who suffers from joint pain.
We understand that there is no one-size-fits-all pressure relief mattress pad. For example, some people who sleep on their stomachs may benefit from a firmer mattress, while those who sleep on their sides may find it more comfortable to sleep with an even softer mattress topper. Also keep in mind that you are putting it on top. Our tester prefers the soft top because she has a medium firm Saatva Loom & Leaf mattress, and the soft top helps balance the mattress and make it less firm. If you have a soft mattress, you may prefer a firmer mattress topper to balance it out.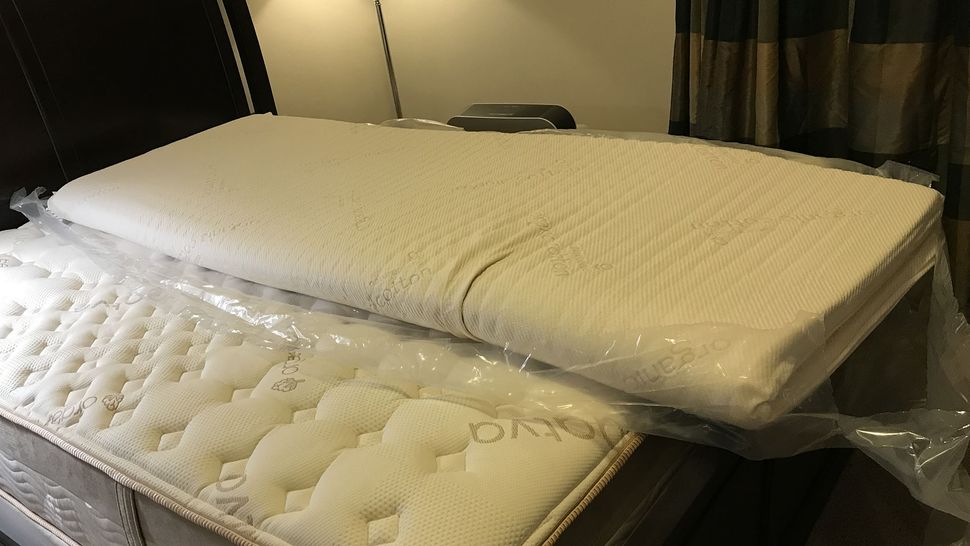 (Image credit: Terry Williams)
For the first few nights we didn't put a bed on it, so we could watch it work unhindered. It's not necessarily cool to the touch, but the important thing is that we were cool all night.
When we added bedding (Casper Percale sheets and duvet), the Naturepedic mattress topper stayed cool as we slept. This is because the latex material does not trap body heat, making it a good choice for hot sleepers (like our tester). Throughout the testing process, the Naturepedic Adagio 2″ Organic Latex Mattress Pad dissipated heat and regulated the test subject's body temperature to keep her comfortable throughout the night.
While the cover feels smooth under the sheets, it is textured enough that we had no issues with this topper shifting on the mattress during the night. For such a premium product, we would have preferred some straps to secure the topper in place. The fact that it can only be cleaned on site and not removed is also a little disappointing – we'll have to add a protective mattress cover to keep it fresh.
Naturepedic Adagio Latex Mattress Pad Review: Shipping and Extras
The Naturepedic Adagio 2″ Organic Latex Mattress Pad was delivered in a packaging box with the Naturepedic logo. It was wrapped very securely in one very long sheet of plastic, which was completely wrapped around the mattress pad twice, so it was equivalent to two layers of plastic. After cutting this outer There's still another layer of plastic left. It took about five minutes to cut through it all neatly – but we're not complaining because we like that level of neatness.
The mattress topper immediately began to expand. We don't stand and count down the expansion time, but when we got back to the room about 30 minutes later, the mattress topper had fully expanded. Luckily, there was no exhaust smell.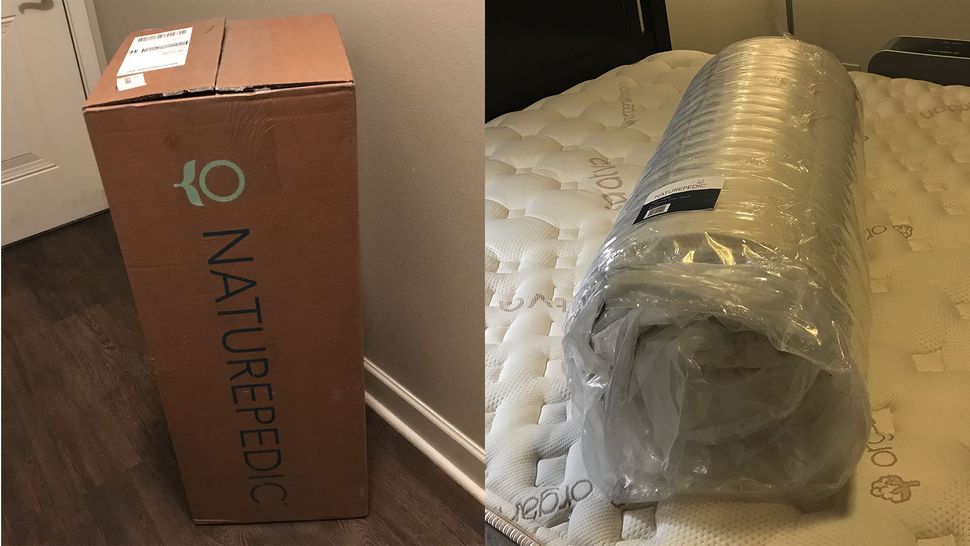 (Image credit: Terry Williams)
The extra features are good, as you'd expect from a premium price. There's free shipping and returns, as well as a full 100 night sleep trial you can use to make sure this topper suits your needs. There is also a 10-year limited warranty.
Naturepedic Adagio Latex mattress cover review: customer reviews
Very limited number of reviews at the time of writing
Most of the reviews are overwhelmingly positive.
Complaints include its heavy weight and lack of a removable lid.
The Naturepedic Adagio 2″ Organic Latex Mattress Pad is only available from the Naturepedic website. At the time of writing, it has 25 reviews with an average rating of 4.6 (March 2023), with 100% of respondents saying they recommend the mattress pad. friend. Overall, verified buyers found it really comfortable and light, with some praising it for its support and relief from pain and joint pain. However, there were also several complaints. One person returned it for being too heavy, another person thought it was too thin, and a third person commented on the latex smell that made her remove it from her bed.
Should I buy Naturepedic Adagio Topper?
How good is the Naturepedic Adagio 2″ Organic Latex Mattress Pad? Let's put it this way: our tester has tried a lot of mattress pads, but comes back to this one after testing. That's because she thinks this mattress pad is Goldilocks: the 2″ profile isn't too soft (although it's soft). ) and not too hard, pain relief, this seems like the perfect buy.
We have only two complaints: the mattress topper cannot be washed and the price is too high. But if you want to treat yourself to an organic latex mattress that feels plush and marshmallow while also providing support, this is a great choice.
Naturepedic Adagio Mattress Pad Review: Alternatives to Consider