For the very first time in franchise history, MLB The Show 21 is coming to Xbox and is no longer a Sony exclusive even though the title is still being developed by SIE San Diego Studio. In addition, from the day of its release, it integrated the Xbox Game Pass catalog (Console + Cloud) to allow subscribers of this service to be able to enjoy the game at no additional cost. Still, like every iteration, is there enough new stuff to entice players to get hold of this 2021 edition? The answer in this comprehensive test!
Technical sheet
Release date : April 20, 2021
Style: Action
Ranking : ESRB E / PEGI TBA
Developer: San Diego Studio
Publisher: Playstation studios
Operating language: only available in english
Available on PS4, Xbox One, PS5 and Xbox Series X / S
Tested on PS5
Price during the test: CAD $ 79.99 / € 59.99
Official site
Digital version sent by the editor
Multi-level home run
As indicated, MLB The Show 21 is developed by SIE San Diego Studio and once again we find the undeniable talent of the developers to offer an immersive experience on several levels. First of all, as regards the game modes, we find the career (Road to The Show), the franchise, the post-season tournaments, the immediate matches and of course the Diamond Dynasty mode which allows, to the way of a FIFA Ultimate Team, to collect cards to form the best possible team with current players or even legends such as Babe Ruth or Jackie Robinson. It is also the latter that is in the spotlight on the cover of special editions. If on paper, there is not much novelty at this level, the developers have all the same integrated new franchise functionality to have a little more control over our team, but also for the Road to The Show mode which now offers MLB expert interventions based on our results. An aspect that particularly appealed to me and which adds even more realism to the game. We feel much more involved and we understand a little better certain decisions of the leaders of the team for which we play. Note, however, that there are no more draft systems. It is the player who chooses his team from the start. For my part, I did not understand that we removed this feature which offered a bit of randomness to our career.
Customize your player and attributes
Now, and much like most sports games, our player accompanies us regardless of the game mode of MLB The Show 21 and allows us to accumulate experience to improve our abilities. It is also possible to add and equip assets in order to offer bonuses of all kinds. In terms of customization, there is enough choice when you can practically modify anything you want. The equipment is also customizable and automatically adapts to the colors of your team if you wish. No need, therefore, to manually change the color of your shoes or your glove.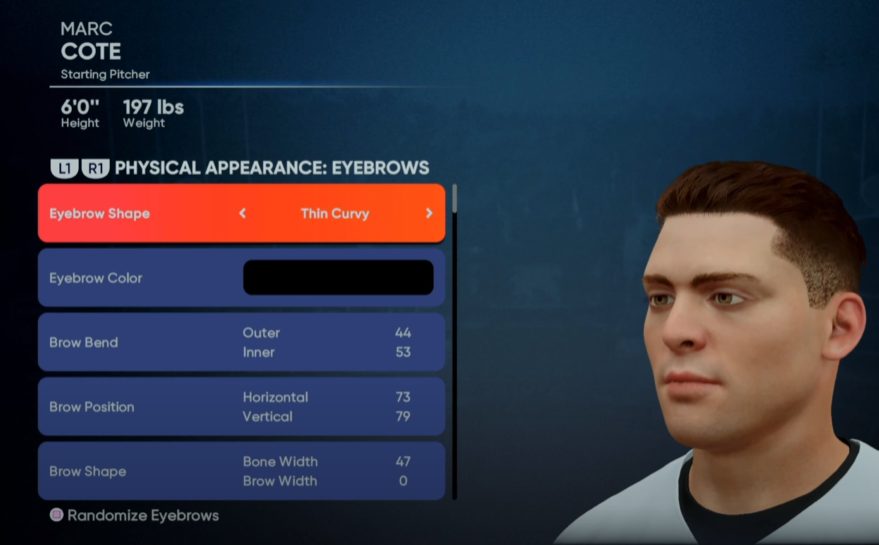 An ever so precise gameplay
One of the strengths of the franchise has always been to offer precise gameplay that is quite difficult to fully master. This is still the case with this MLB The Show 21 which always offers several sets of controls to adapt to your playing style. From the first opening of the title, you are quickly offered to play a tutorial match in which it is possible to try out the different ways of playing. Note that you can modify everything as you see fit in the game menus. The only novelty in terms of gameplay is a new type of throw which allows you to be even more precise. The latter remains inaccessible for neophytes by being very difficult to manage. With a little practice, have been successful in using this type of throw if desired. Even though there are hardly any new features, I must admit that I remain satisfied because in my opinion the franchise is one of the best sports sims out there. It would have been a shame to spoil something that is already working well.
A new interface
With the arrival of the series on multiple platforms, MLB The Show 21 incorporates a whole new interface. The latter is quite effective although at times I have found that there is perhaps a little too much menu and submenu. Nevertheless, everything remains pleasing to the eye in addition to being able to access the main options quickly. Whether you are on Playstation or Xbox, the interface remains the same in order to remain as consistent as possible regardless of the version. In addition, I would like to remind you that the developers offer a cross-save and cross-progression system allowing you to pursue your career by downloading your save data directly into a cloud computing system.
A complete stadium editor
The BIGGEST novelty of this MLB The Show 21 is the integration of a complete stadium editor to create and customize your own home. To my great surprise, the developers have done a colossal job for this feature which, once the professional mode is activated, allows you to modify a stadium from A to Z. You can even add or remove the buildings that are found in the background. It is clearly in my opinion the best field editor I have had the chance to try for a sports game in addition to being accessible even with the controller. We quickly get our bearings and I can not wait to see the creations of players around the world, because it is obvious that there will be some nuggets.
Conclusion
MLB The Show 21 makes an entry a little more timid than usual even if for the first time in the franchise the title is available on PlayStation and Xbox and that we find a gameplay still as successful. I would have liked a little more novelty for this opus and a significant visual improvement, but having to release a PS4 and Xbox One version is undoubtedly a drag at this level. Still, if you have an Xbox Game Pass membership, there's really no reason not to try it out when baseball fans should be happy with it. Note that once again, the game does not have a French translation, even for the menus. I believe it is high time for the San Diego Studio team to set things right next year!