⇧ [VIDÉO] You may also like this partner content (after ad)
The transition from Web 1.0 to Web 2.0 in the early 2000s essentially resulted in the transformation of static web pages into interactive, user-driven sites. This trend of sharing content has been mainly driven by the rise of social networks. The arrival of the smartphone has greatly increased the user base and the very use of the Web: it's very simple, most people are now permanently connected. And the mobile app market has never been better.
New interoperability tools
The mobile web sector is primarily dominated by two players, Apple and Google, through their respective mobile operating systems, iOS and Android. The challenge when developing a mobile app, especially in a highly competitive industry, is ensuring that it is compatible with these two operating systems and with all mobile devices. To do this, some professionals, such as theTribe, a React Native agency, rely on new tools specially designed to facilitate app interoperability.
React Native is an open source framework developed by Facebook (/Meta) in 2015; It is based on the React.js JavaScript library, designed to simplify the creation of single-page web applications. Used by several of the major web players (including Facebook of course, but also Airbnb, Pinterest, Skype, and even Uber), this framework allows for faster development, as the various components provided by default meet most needs on the web. terms of functionality.
Since 2007, when the iPhone was launched, the number of mobile applications has been steadily increasing. But tools like React Native, which are particularly easy to use and support the different specificities of mobile devices and operating systems, have certainly contributed to the exponential increase in the number of mobile apps seen in the last few years… Q1 As of 2021, Android users could choose from 3.48 million apps; the App Store offered almost 2.2 million; Note that these figures are, however, very fluctuating, because many applications are removed and uploaded every day in these two stores.
Over $600 billion in revenue expected by 2025
The number of downloads of new mobile applications worldwide has been increasing steadily since 2016, reaching more than 200 billion in 2019. By 2021, the figure rises to 230 billion and, according to forecasts, the market is expected to generate over $613 billion in revenue by 2025. led by mobile games, followed by social media apps.
In addition, according to the latest data from App Annie, the benchmark for analysis and data on the mobile application market, in 2021 users spent an average of almost 5 hours a day on mobile applications (3.6 hours for the French), which That represents an increase of 30%. Compared to 2019, the pandemic is certainly no stranger to this trend. They also reportedly spent $170 billion on app stores (Google Play and App Store).
However, it is interesting to note that paid apps are far from the majority in these stores: they now represent only 6% and 4% of the applications available in the Apple App Store and Google Play Store, respectively. Subscription-based apps are mostly on the rise, mainly music and video apps.
Pandemic, lockdowns and decreased social interactions force, gaming was not the only occupation of mobile users in 2021: the report highlights an unprecedented increase in spending on dating apps, which amounted to 4.25 billion dollars globally ( an increase of more than 95% since 2018!).
Revenue generated by applications worldwide, in millions of dollars and by sector. Since 2017, the mobile gaming sector generates more than half of the annual revenue. © Statista 2022
The most popular applications
Obviously, depending on the age of the users, the centers of interest differ. Each app has its following: in France, again according to data from App Annie, generation Z (15-25 years old) mainly use Instagram, Snapchat and Netflix; Millennials (25-40 years old) prefer WhatsApp, Facebook and Messenger. As for Generation X (40-60 years old) and baby boomers, their concerns are quite different: TousAntiCovid, Adobe Reader and OneDrive.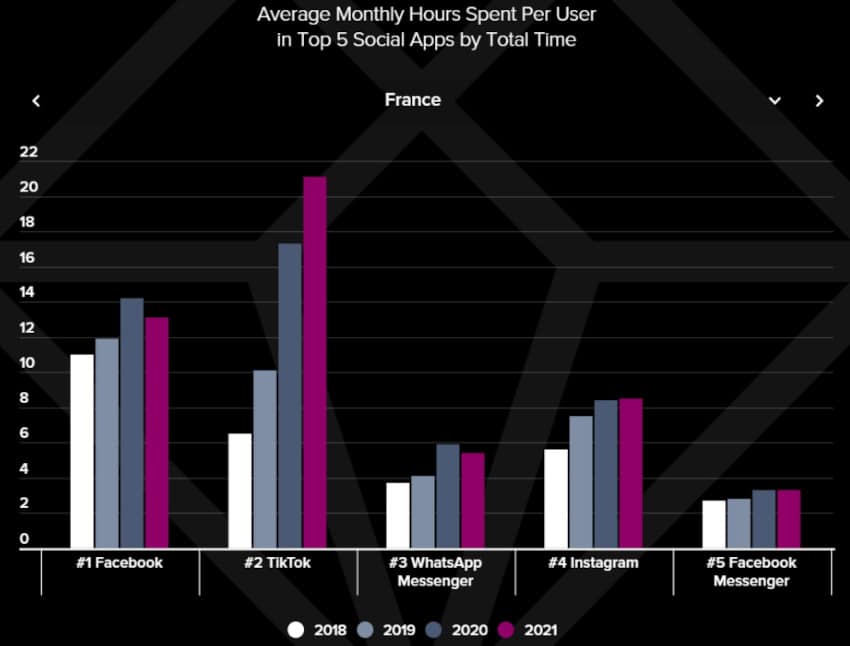 In terms of the time the French spend each month on social media apps, TikTok clearly stands out from the competition. ©Annie App
Which app shows the highest growth rate? TikTok, with an annual growth of 75%. In France, it even beats Facebook and Instagram in terms of time spent on social media apps each month; on average, French people (all ages combined) spend more than 21 hours there per month. But the podium of the French's favorite apps, all sectors combined – always in terms of time spent – is made up of the Deezer app, followed by Disney+ and Tinder. If we only consider the games, the top 3 are made up of 1) Coin Master, 2) Brawl Stars and 3) Clash of Clans (don't worry, Candy Crush is positioned right after…).
Finally, it should be noted that TousAntiCovid was the most downloaded application in France in 2021, a download undoubtedly motivated more by the practical side of the digital display of the health pass than by the desire to facilitate the search for contact cases, which is why which was originally developed.
PHP Script, Elementor Pro Weadown, WordPress Theme, Fs Poster Plugin Nulled, Newspaper – News & WooCommerce WordPress Theme, Wordfence Premium Nulled, Dokan Pro Nulled, Plugins, Elementor Pro Weadown, Astra Pro Nulled, Premium Addons for Elementor, Yoast Nulled, Flatsome Nulled, Woocommerce Custom Product Ad, Wpml Nulled,Woodmart Theme Nulled, PW WooCommerce Gift Cards Pro Nulled, Avada 7.4 Nulled, Newspaper 11.2, Jannah Nulled, Jnews 8.1.0 Nulled, WP Reset Pro, Woodmart Theme Nulled, Business Consulting Nulled, Rank Math Seo Pro Weadown, Slider Revolution Nulled, Consulting 6.1.4 Nulled, WeaPlay, Nulledfire