Over the years, there have been many contenders who have challenged the master of the multiplayer fighting game or Platform Fighter. In 2022, a new competitor enters the arena with a cast from the Warner Bros. universe. and the Free to Play formula. Can MultiVersus take down Super Smash Bros?
Warner Bros. multiverse
Fights rarely shine with their script. The Mortal Kombat, Tekken, and Guilty Gear franchises are all exceptions that prove the rule, but in general, video game fighting struggles to offer story campaigns worthy of the title. MultiVersus, knowing this, made a drastic choice… just dropping that aspect to focus 100% on multiplayer that is both competitive and cooperative. The game, developed by Player First Games, still offers context, in the absence of real "backstories" to justify the presence of all these fictional characters.
For a mysterious reason that will remain so, several iconic figures from major Warner Bros. licenses. are invited to the competition after they are transferred to the general arena. Nothing else enriches the multiverse, serving primarily as an excuse for bitter struggle. MultiVersus literally features a multi-generational cast for its launch with no less than 17 fighters including Batman, Superman, Wonder Woman and Harley Quinn (DC Comics), Bugs Bunny, Tom and Jerry and Taz (Looney Tunes), Arya Stark (Game thrones). ), Sammy and Vera (Scooby-Doo), Garnet and Steven (Steven Universe), Finn the Human and Jake the Dog (Adventure Time), Iron Giant and finally LeBron James in the Space Jam version. A Fist Games player even came up with an original character named Chien-Reindeer. Note that two more fighters will arrive during August … Rick and Morty from the series of the same name.
Encounters necessarily take place at the iconic locations of the various sagas mentioned above. There are 7 arenas available during the open beta, starting with the Batcave, the Haunted Scooby Mansion, the TROPHY ROOM, the Lab, the Tree House, etc. Warner Brazzers. does nothing by halves and relies primarily on fan service to please various communities. So actress Maisie Williams voices the character Arya Stark (Game of Thrones), and the same goes for Kevin Conroy, the interpreter of the Dark Knight in the legendary 1992 Batman: The Animated Series.
Providing a perfect representation of the entire list within an overall artistic direction is not easy. However, the artists at Player First Games have succeeded in bringing all the franchises together, offering extremely neat "cartoon 3D" visuals that bring out the features of the fighters. In this way, these pop culture icons are honored and gaining a second youth for someone, which cannot but please fans. Then MultiVersus remains fluid under all circumstances, regardless of the car, which is very important for fighting games.
Art vs.
MultiVersus is a multiplayer fighting game inspired by the master of… Super Smash Bros. Player First Games has taken the formula for the perfect platform game and kept the essence of it. The concept is as simple as it is effective. Several players compete in a 2D arena and try to jump out of it, increasing the damage bar, making it easier to eject. Game from Warner Bros. however, it tries to stand out from the competition, making some adjustments and innovations, never touching the basic principles inherent in this subgenre.
The regulars will not be too disorientated by the game mechanics, which are very quickly absorbed in order to make the gameplay accessible to as many people as possible. Fighting makes for instant fun, consisting of chain attacks, dodges, and calculated risk. MultiVersus relies heavily on jittery, sometimes chaotic games and a cooperative dimension to entice players. Cooperation is central here, and at a high level it can be the deciding factor between victory and defeat. As such, all characters with fairly few moves are designed to create synergy with others, which changes the approach to combat by encouraging players to take a strategic approach.
Despite the lack of a campaign script, MultiVersus offers several game modes, all online, to satisfy the fight fans. Unsurprisingly, collaboration is highlighted by 2v2 and Co-op vs. IA modes, to which are added the eternal 1v1 and Every Man for Himself designed for purists, as well as a lab that acts as a training ground. The only solo option is to fight the bots in the modes mentioned above. The latest production from Warner Bros. also has the same local multiplayer modes for 2-4 players, with the exception of Coop vs IA, which will talk with lovers against between friends.
Good news never comes alone, MultiVersus is all about cross play and cross save. This way you can play against PC, PlayStation and Xbox players without distinction and transfer your progress from one machine to another. Moreover, fortunately, because the developer-integrated dimension of Light-RPG pushes to play with a specific character in order to increase their skill level and thus unlock passive bonuses called assets. Having to "farm" this increase in power on every machine was simply unthinkable, and Warner Bros. understood it well. However, it must be recognized that these skills give their users a certain edge in the arena without ever becoming prohibitive. Players also earn XP and therefore levels for the sole purpose of unlocking cosmetic rewards and virtual currency.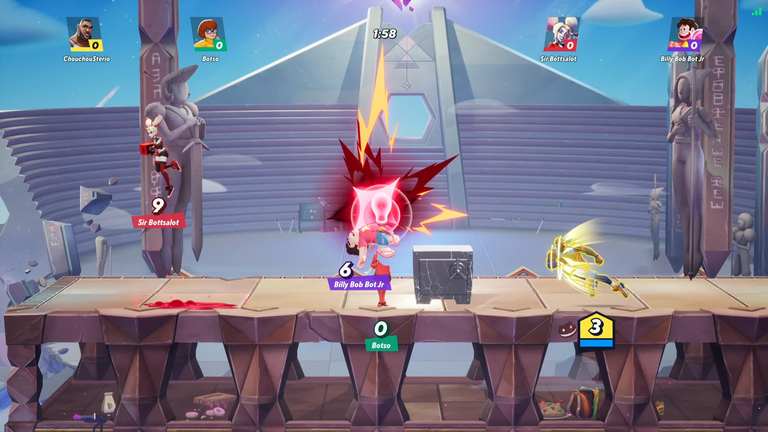 Free to fight
MultiVersus is a free to play game, it should be understood here that the game published by Warner Bros. available for free. However, this business model includes in-app purchases and an entire environment that encourages spending. Two virtual currencies – gold and glymium – allow you to choose characters, assets, or even increase experience to unlock characters faster and even buy a battle pass for the current period. Please note that free fighters are rotated weekly every Tuesday. So an available character may become unavailable later if you haven't "purchased" it yet.
The Battle Pass, a classic of the modern free-to-play game, challenges players to complete a long series of "level" challenges to complete different levels one after the other (50 in total). The end goal comes down to earning rewards, often cosmetic ones, with the Holy Grail being new options for fighters. In fact, there are two battle passes with their own rewards… one is free and the other is premium and therefore paid, which offers many more interesting items and, above all, new skins. All these features will be useful above all for players who want to unlock everything in order to enjoy MultiVersus 100%. However, the experience created by Player First Games is enjoyable without even paying a dime. The Free-to-Play approach allows anyone to try their hand at fighting games… and that philosophy is to be applauded.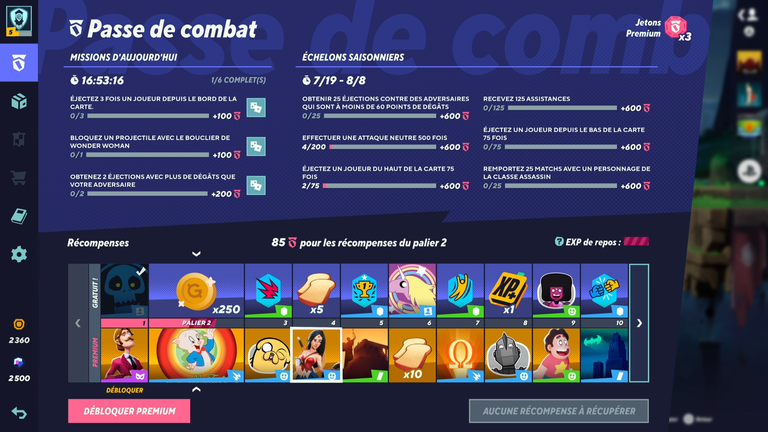 Conclusion

Significant Arguments
Art direction "Cartoon 3D"
Nervous, fun and accessible fights
Collaboration at the core of gameplay (except 1v1)
Online and local game modes (1v1, 2v2, Every Man for Himself, Co-op vs. AI)
A diverse roster of fighters drawn from Warner Bros. franchises.
Original cast voices (Batman and Arya Stark – English only)
Cross play and cross save
Additional in-app purchases
Weak points
Sometimes random collisions
No true solo mode
The cast is still too limited (17 – late July 2022)
"Assets" can unbalance matchmaking
Currently in beta but already available, MultiVersus enters the ring with an accessible gameplay that is a little technical and immediately fun. He provides the show with a five-star cast and vibrant art direction. The character count is still low and the encounters are sometimes tough, but that doesn't stop the Player First Games title from doing well. gateway for neophytes wishing to discover the genre.
—
Readers' opinion

Give your opinion about the game!