Exchanges are empty. There are only 2.3 million bitcoins in existence right now.
Welcome millions of budding maximalists
Glassnode shows in its network report that exchanges are facing massive BTC withdrawals. On Monday, the company revealed that it had withdrawn 72,900 BTC in a week.
Now we have 161,000 BTC weekly. Historical record.
There are only 2.3 million BTC left on the exchanges. In other words, at this rate, there will be no more bitcoins on exchanges within 11 weeks…
Knowing that 19.2 million BTC is already in circulation, or 91.4% of the 21 million BTC that will eventually exist.
The number of bitcoins left on exchanges is the lowest since March 2018: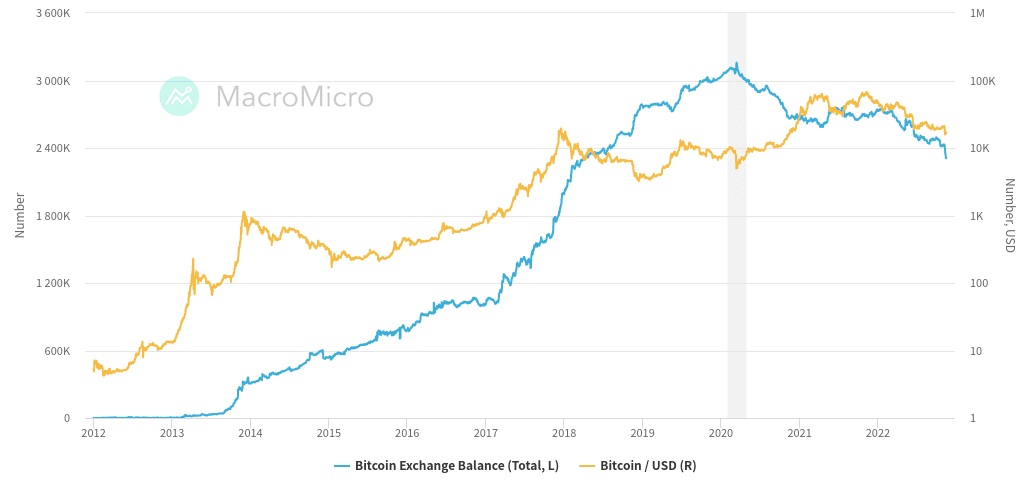 Blue curve: Amount of BTC on exchanges / Yellow curve: BTC price (logarithmic scale)
The French company Ledger even claims that it will never have as many sales as this week. This suggests that these BTC will not be returning to exchanges anytime soon.
In this regard, here is the ranking of exchanges by the size of their BTC reserves according to coinglass.com:
Coinbase: 532,193 BTC
Binance: 466,654 BTC
Bitfinex: 357,177 BTC
Gemini: 186,935 bitcoins
Kraken: 67,917 bitcoins
Bitmex: 59,938 BTC
Okex: 58,995 bitcoins
BitFlyer: 52,845 bitcoins
Bitrex: 27,924 BTC
Bybit: 23,697 BTC
Huobi: 18,198 bitcoins
….
FTX: 6 bitcoins
The 17 largest exchanges in the world collectively own 1.891 million BTC. This is about 10% of BTC in circulation.
Not your key, not your bitcoins
Notably, bitcoins are leaving exchanges where they are at the mercy of being hacked or stolen on FTX…
The Sam Bankman-Fried exchange is guilty of creating the ex nihilo token, the famous FTT, and using it as collateral to borrow $10 billion through its bank. The problem is that FTT's value collapsed at the same time as SBF's reputation, ruining all of its customers.
Bitcoins found on exchanges are IOUs (you belong to me). That is, they are a promise to receive these bitcoins.
To trust and leave your money on the exchange means to trust them:
Do not use your BTC as collateral for borrowing and bad investments.
Effectively owns the BTC it sells to you, holding it securely.
Does not lend your BTC to intraday traders.
Don't sell your information.
Returns your BTC to you on demand.
Unfortunately, the exchanges have proved unreliable time and time again. Hence the leitmotif of the maximalists: Not your keys, not your coins!
Here is an article by our colleagues at Bitcoin magazine explaining how to store bitcoins on your own.
Self-ownership of your bitcoins is absolutely essential. Only when all of humanity holds their own savings in the store of value of BTC will the privileges end.
Forget the dystopian CBDC that the bankers would have "absolute control" over. The future consists of eight billion bitcoin addresses that can be spent without any censorship.
Get a digest of news in the world of cryptocurrencies by subscribing to our new service Newsletter daily and weekly so you don't miss any important Cointribune news!
Journalist reporting on the bitcoin revolution. In my work, bitcoin is viewed through geopolitical, economic and libertarian prisms.