After the copious month of July which has just passed, where we could see the Switch release of Zelda Skyward's Sword, Pokémon Unite and many JRPGs, the month of August is getting quieter. A quieter period therefore, but also more eclectic with a varied selection that offers a wide choice to meet the desires of the players.
The Falconeer: Warrior Edition
It's been a little over eight months since The Falconeer was released on Xbox and PC consoles. When it was released, the game, developed solo by Tomas Sala, managed to take us on a journey into a universe with particularly detailed lore, served by careful artistic direction, both in terms of visuals and sound design, and dogfights. rather pleasant. Far from being free from all reproach, The Falconeer still left us hungry for a mixed result. However, this release on Switch, in an expanded edition including all the DLCs already released, seems to want to reshuffle the cards and is accompanied by a new extension called "End of the World". In The Falconeer, you play as a pilot in command of a warbird, whose endurance you manage, through the open world of the Great Ursea. Here you will find artifacts and ancient relics coveted by various factions that you will have to defeat in aerial clashes.. With this brand new edition, the game has new missions, increases the level limit and introduces two new classes (Judge and Corsair) accompanied by their mount (Phoenix and Prehistoric Pteron).
Buy The Falconeer Warrior Edition for € 34.98 on Switch at Amazon
Black Book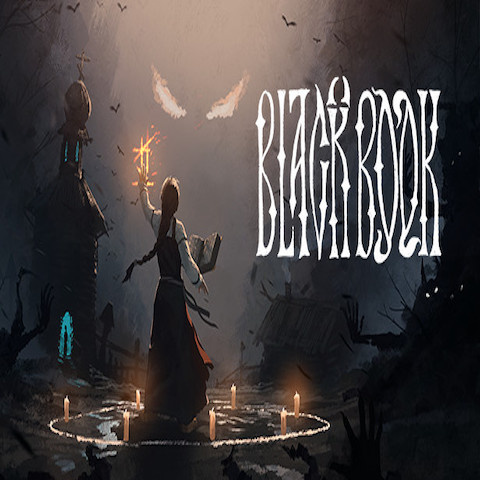 It all starts with a well-run Kickstarter campaign. In the space of a few days, Black Book's funding exploded and reached, in the end, nearly € 138,000 out of the 32,000 and some requested. Funded by almost 5,000 people, the game draws inspiration from Slavic folklore and myths to tell us the mystical and tragic story of Vasilisa. Destined to become a witch, she renounces, for love, her vocation to marry her fiancé. Nevertheless, the story of the two lovers turns into drama when Vasilisa's beloved mysteriously dies. Determined to find her lost love, Vasilisa sets out in search of the Black Book, a demonic artefact powerful enough to grant the wish of the one who will reunite the seven seals.. Carried by a mechanism of deck-building, Black Book takes you on a journey mixing exploration and puzzles, tinged with encounters with the inhabitants of the region who will call on your talents. As a witch, you will have to fight demons, using spell cards and skills scattered throughout the game, and perform exorcisms throughout the Russian countryside and its many legends.
Road 96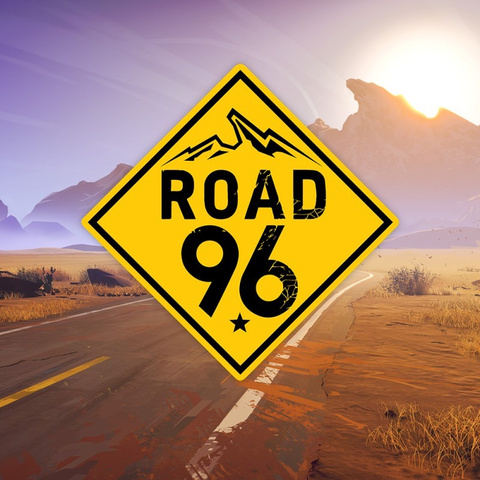 Following on from its two previous successes, the Montpellier studio DigixArt is embarking on a whole new adventure, that of Road 96. Located in the land of Petria, which displays uninhibited propaganda to extol the merits of its regions and the activities that it does. they offer, the plot takes you on an emotional journey, punctuated by intriguing encounters and striking places, made unique thanks to the procedural system on which Road 96 is based. Having become a totalitarian paradise, you must leave Petria as soon as possible to hope to regain your freedom. However, every decision you make along your journey will have a decisive influence on the route that takes you to the border, as well as the country itself.. As much a tribute to road trip films as to certain cinema classics, Road 96 plunges you into a headlong rush that smacks of the 90s and pop music, and which does not forget to be, above all, a human story with many unusual situations and other contemplative moments.
Release Date: August 16, 2021
Read our preview of Road 96
Also available on PC via Epic Games Store, Steam and GOG
Greak: Memories of Azur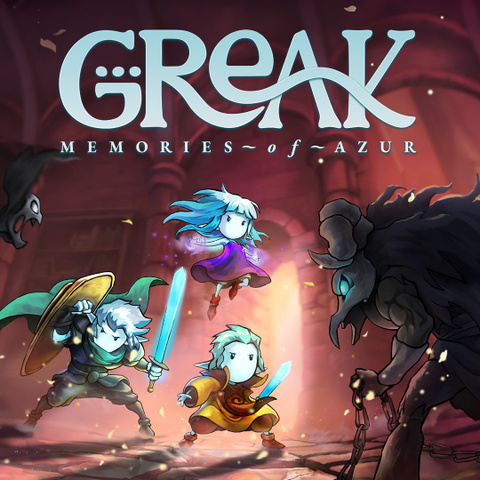 The recipe for Greak: Memories of Azur takes three steps, according to the words of its creators, Navegante Entertainment. First, take the Castlevania series as a base and add the Metroid series to it. This first combination gives you the already well-known genre of Metroidvania, to which you incorporate mechanisms taken from the Trine license: you thus obtain the main proposition of Greak: Memories of Azur. Through a hand-painted artistic direction made up of hand-made animations, you play as three characters from the same family: Greak, Adara and Raydel, all three from the magical race of the Courines. In turn, their specific skills will allow you to solve puzzles, triumph over enemies and progress, side-scrolling, in the world of Azure in order to escape the Urlag invasion.. However, to escape, they will have to build an airship and recover, throughout an adventure rocked by a sweet orchestral soundtrack, the parts necessary for its creation. But that's without counting on the agility of Greak, the magical powers of Adara and the powerful shield of Raydel which should greatly help them in their tedious mission: that of sowing the enemy faction and saving their people.
Buy Greak: Memories of Azur for € 39.99 on Switch at Amazon
King's Bounty II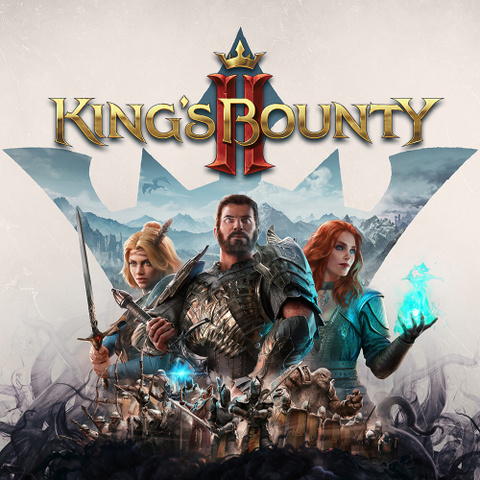 Two years: that's the time it took to (finally) try King's Bounty II. Initially announced in August 2019, it is finally in August 2021, after a double postponement, that the title will appear on Nintendo Switch, among others. A franchise over thirty years old, King's Bounty made a comeback on PC at the end of the 2000s and the beginning of the 2010s. promises an adventure that is both non-linear and a highly immersive RPG experience. For the occasion, King's Bounty II sports a new aesthetic and enhanced tactical combat. Far from being confined to simple confrontations in the form of Tactical-RPG, the title also offers phases of exploration in the third person within the regions of Antara.. The latter are, moreover, struck by a strange plague responsible for the appearance of creatures which terrorize the inhabitants of the kingdom. On the narrative side, King's Bounty II embeds three heroes, to choose from, for three unique stories where each of your decisions will be of crucial importance.
Buy King's Bounty II for € 59.99 on Switch at Amazon
No More Heroes III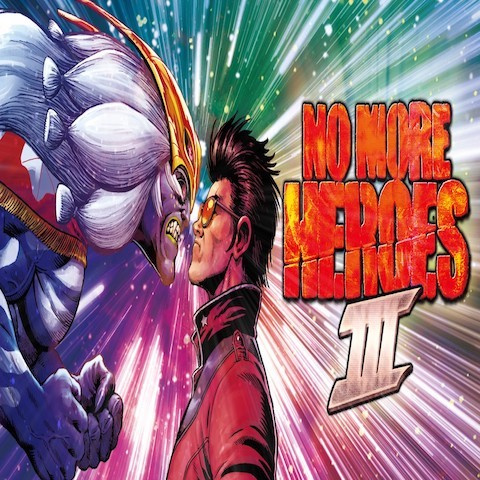 Taken up by many video game projects, such as Killer is Dead, Let It Die or Sine Mora Ex, it took eleven long years for Goichi Suda, known as Suda51, to deliver us a third part of the No More franchise. Heroes. We take the same and start again ? Sort of. After an interminable absence, Travis Touchdown, the famous assassin at Beam Katana, returns to service in his hometown of Santa Destroy. The timing of his return is perfect as Earth is suddenly threatened by an alien invasion orchestrated by Lord Jess-Baptist VI, also known as Prince FU. To decide the future of the Earth, the latter has established a Galactic Ranking of Superheroes but his Machiavellian plans will be thwarted by Travis who intends to recover, again, his title of assassin number 1. This third episode you will ask, again, to move up the rankings by kicking the buttocks of powerful Assassins and their minions. But it is not because the Earth is in danger that you have to be in a hurry: No More Heroes III also allows you to ride the Demzamtiger, Travis' tuned motorcycle, to discover the city of Santa Destroy and take the opportunity to change. your look, improve your Death Glove or expand your collection of figurines.
Buy No More Heroes III for € 49.99 on Switch at Amazon
KeyWe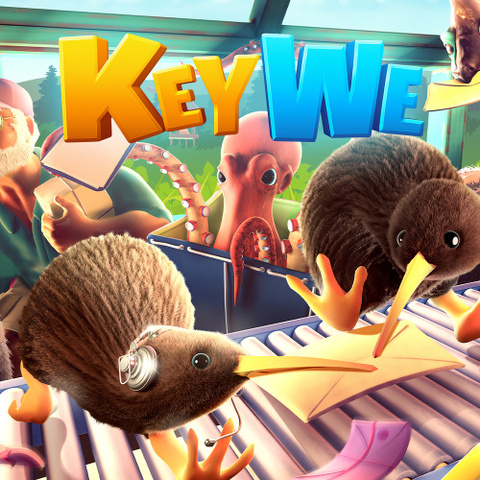 The video game industry is giving us more and more, say, down-to-earth simulators. Far from wanting to follow the trend, the developers of Stonewheat & Sons have opted for the total opposite to deliver us a post office simulator where we camp not two PTT agents lapped in the exercise … but two adorable kiwifruit named Jeff and Debra. But small problem: these birds have no hands and will only have their legs and their beak available! In this interactive workplace, the two friends, embodied by two players in local or online cooperation, will therefore have a lot to do between the telegrams to write, the urgent missives to send, the packages to be sent or the mail to be sorted. And since the postal services are also dependent on weather conditions, KeyWe offers a seasonal cycle to add (still) a little more difficulty in your pair tasks.. In this regard, and even though the two birds are the keys to success if we trust the title of the software, it is possible to play solo and control the two kiwis using a controller.
Buy KeyWe for € 40.00 on Switch at Amazon
Rustler
Rustler, too, went through the Kickstarter box to see the light of day, like Black Book which we talked about a little above. Inspired by the irreverent Grand Theft Auto franchise and humor modeled on that of the Monty Python, Rustler does not hide his inspirations and even allows himself a very strong tribute to the hits of Rockstar Games in his subtitle, Grand Theft Horse. Admittedly, the framework is quite different there but the misdeeds to be accomplished are just as politically incorrect as those of GTA. Propelled in the Middle Ages, you play, in an open world in top view, an anti-hero named Guy, born at the bottom of the social ladder, whose ambition can only be satisfied with the help of the missions he will carry out and the crimes he will commit. His ultimate goal? Win the Grand Tournament as well as the hand of the princess. To achieve this, Rustler gives you complete freedom of action, whether you decide to play as one of the available factions or turn the village upside down by stealing horses or murdering the barges who will have the misfortune to upset you. . The key word is to be unscrupulous, because the path that awaits Guy is as long and perilous as it is punctuated by anachronisms and popular references.
Buy Rustler for € 29.98 on Switch at Amazon
This page contains affiliate links to certain products that JV has selected for you. Each purchase you make by clicking on one of these links will not cost you more, but the e-merchant will pay us a commission.
Find out more.