Microsoft is introducing several key new features in the beta versions of Windows 11 released today, though they're not all in the same release.
Windows Insiders on the Dev channel can see new "treatments" to personalized Windows Spotlight images, as well as an updated Settings menu that focuses on improving PC graphics settings, as part of Windows Insider Preview Build 25281. Microsoft also released Windows 11 .Insider Preview Build 22621.1180 and 22623.1180 for a beta channel that customizes OneDrive widgets and toolbar.
Microsoft has separately released an updated version of Notepad that adds a tabbed user interface to the Dev channel.
As a reminder, Microsoft uses the Beta Channel as a means of testing the code it plans to eventually release, while the Dev Channel is marked as experimental code. So it's much more likely that you'll see these two new enhancements end up rolling into the Windows 11 stable code base, even if you don't want to test them yourself. (Two builds for the beta channel determine whether new features are actually enabled: 22621 disabled, 22623 enabled.)
Two improvements here are minimal: Microsoft has added an updated toolbar to the Accounts page in the Settings menu that will list your available OneDrive storage quota, broken down into Outlook attachments and shared storage, and offer the option to add more storage, too. The second update is also minor, but somewhat initial: the widget control panel doesn't require you to sign in with a Microsoft account to use it. Usually, Microsoft leans heavily on forcing you to use a Microsoft account — even to set up Windows 11 Home — so it's unusual for users to be exempt from the account requirement.
Updated settings page in Windows 11 with a focus on the user's OneDrive cloud storage.
Microsoft
Windows 11 Insider Build 25281 is rolling out to the Dev Channel with two key features. First up is the new "handling" of Windows Spotlight, a key personalization feature in the Windows 11 2022 update, which you can see at the top of this page. Spotlight takes one of the often breathtaking nature shots in the Microsoft archives and uses it as a home screen. However, sometimes you want to know more about an image. Microsoft is currently adding a small camera icon to the desktop as a link to the explanatory page. The update, however, will either add previews, pop-ups, or a full-screen mode that offers more details.
Microsoft is also improving the user experience in the Settings > Display > Graphics section of the Windows 11 Settings menu "to help you access graphics configurations like GPU Preferences and Auto HDR more easily." ," Microsoft said in a blog post. .
Updated Windows 11 settings menu with a focus on graphics.
Microsoft
Finally, Microsoft is also releasing a tabbed version of Notepad for the Dev Channel. There are no surprises here; The tabbed layout is very similar to a browser or Windows 11's new File Explorer. However, if you're used to having multiple text documents open at the same time, this will probably help organize your desktop more neatly.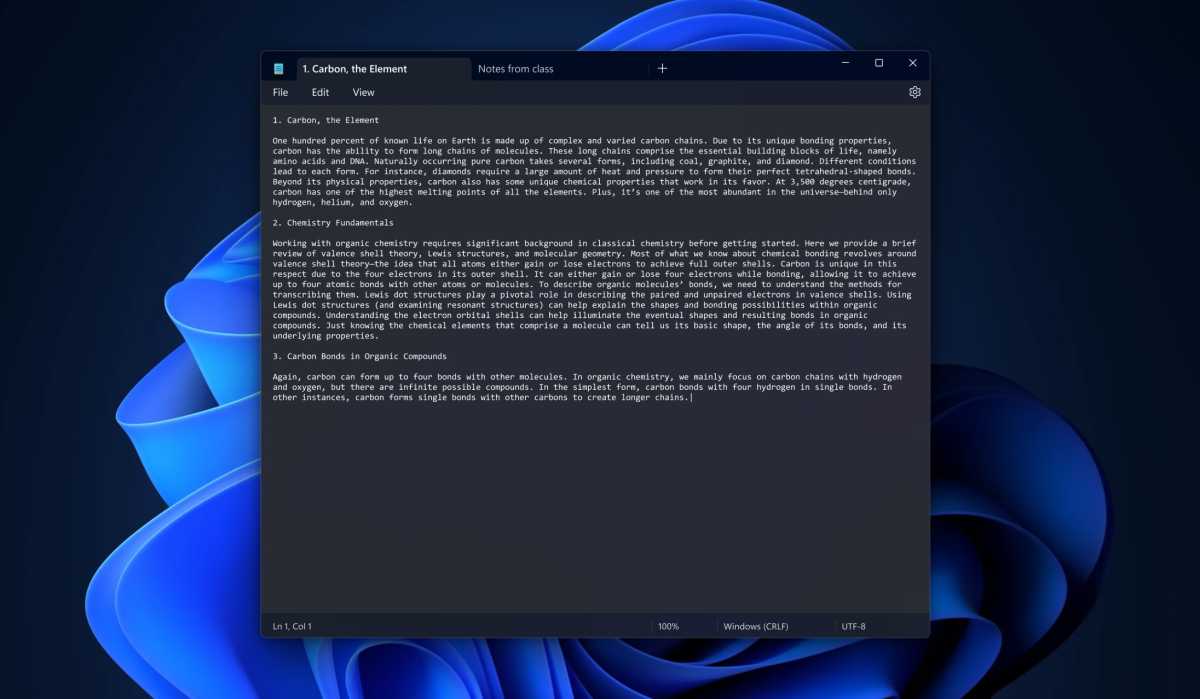 If you like tabs, Notepad is the way to go.
Microsoft