When we talk about sound bars, it is irremediably the image of a fairly long product, sometimes accompanied by a subwoofer and which proudly sits in front of a TV that comes to mind. The interest of a sound bar for the living room is no longer to be proven: reduced size compared to a 5.1 or 7.1 satellite system, ease of installation and use… A product category that has convinced the audience and which can significantly boost the sound quality of its TV. What if all of this also applies to your PC?
Buy the Panasonic SoundSlayer at the best price
Offers
Amazon

€ 299.99Free delivery
The idea of ​​a soundbar for PC, like the SoundSlayer from Panasonic that we are testing here, is to replace a 2.1 installation (subwoofer + 2 satellite) with a single device, which will easily fit. install under your screen, facing you. On paper, the SoundSlayer has strong arguments to convince : 80 watts RMS power, 5 speakers (2 for midrange, 2 tweeters for treble, 1 woofer for bass), Dolby Atmos, DTS Virtual: X and DTS: X compatibility, a Bluetooth mode to connect a smartphone or a tablet, all in a really small size. The SoundSlayer is indeed only 43 cm long, 13 cm wide and 5 cm high, for a weight of 1.8 kg. The bar is about as bulky as a gaming keyboard, so it's easy to install, with a few minor details. It is indeed necessary to provide a little distance on your desk to properly wedge it flat, or else hope that the foot of your screen is wide enough for it to fit entirely on it.
The installation itself is rather simple: the soundbar requires a remote power supply to operate and it connects via two HDMI ports, one to the screen and the other to the source (PC or console). It is an HDMI ARC (Audio Return Channel) type "passthrough" system, which reduces the number of cables required for proper operation. No driver is therefore present and the bar is detected, conventionally, as a new audio source by your operating system.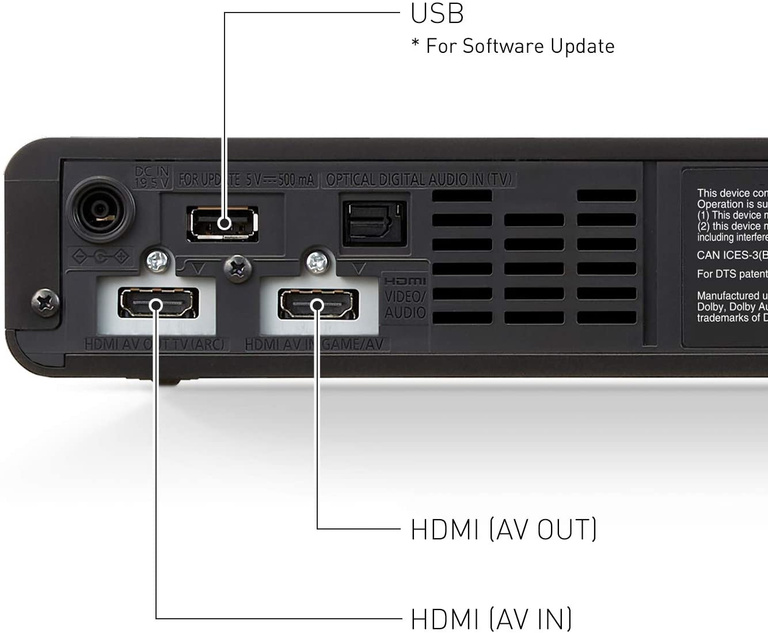 Ergonomics to review
If the installation is simple, the daily use is unfortunately a little less. Panasonic seems to have forgotten that a soundbar for PC is located within arm's reach of the user and has not provided its product with a button on the front. Only a few buttons on the right side, relatively difficult to access, allow you to turn the device on or off, adjust the volume, change the source and start Bluetooth pairing. All other settings must be made via the supplied remote control, which is not an ergonomic model either. It is thanks to it that you will change the sound profile (music, cinema, games, or "standard"), activate or not surround sound, adjust the bass level or even activate the "Clear Dialog" function which puts the voice forward. The remote control is therefore quite complete, but we are therefore extremely dependent on it and the sound bar becomes almost unusable if we lose it.. Add to that a rather incomprehensible LED system on the front and you get a product that is not very ergonomic, which does not encourage experimentation with the different modes. And that's a shame, especially since, on the sound side, the SoundSlayer is doing surprisingly well.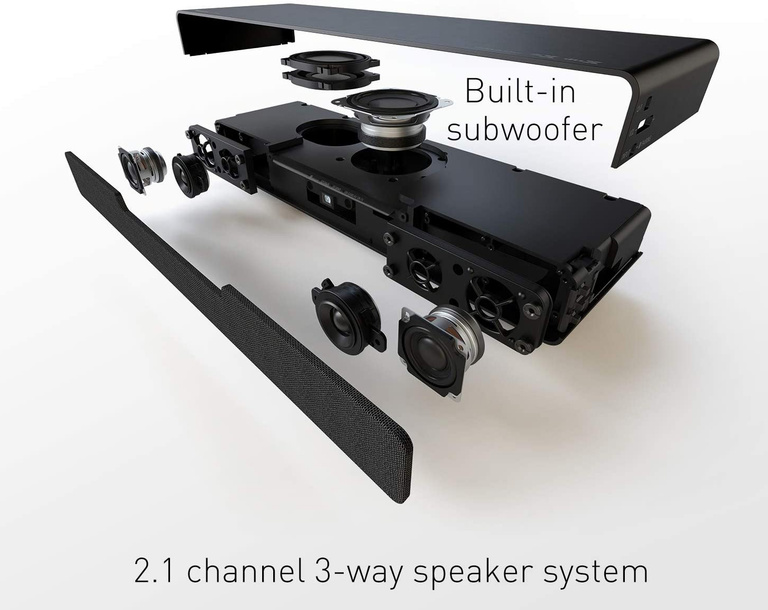 First reflex to have when you turn it on: activate the "3D Surround" mode to gain in scale. Without this option activated, the sound remains very flat and cramped, even for music. The SoundSlayer thus becomes a very correct speaker for listening to music on your PC. It is anyway powerful enough to properly sound a medium-sized living room. By increasing the volume, the rendering remains very clean with little audible distortion. In short, without achieving the quality of a high-end model or an audiophile hifi system, the Panasonic SoundSlayer. Effectively can greatly improve the sound of any PC screen. The highs are precise, the mids are not aggressive and the bass, although a little behind, keeps a sufficient presence, both for music and for a film.
Very good short-range spatialization
But what really interests us here is of course the sound services involved. Remember that the product is Dolby Atmos compatible and that we must therefore download the Dolby Access application to take advantage of the technology. There's also nothing to prevent you from setting the soundbar to 5.1 or 7.1. Either way, our in-game sound experience turned out to be very convincing. It should be noted first of all that the SoundSlayer offers three distinct game modes: FPS, RPG and "voice". To change mode, you have to press the "game" button, but nothing indicates which mode you are in and you must therefore refer to the user manual … That being said, the differences between the three modes are not flagrant. The "voice" mode is still effective, but is anyway available in all modes thanks to the "CLR Dialog" button on the remote control.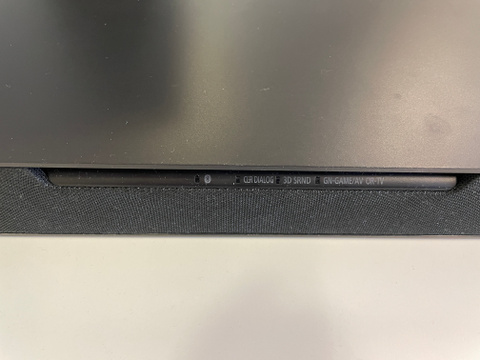 When 3D Surround is activated and everything is correctly configured on Windows 10 and in game, we must admit that the SoundSlayer offers astonishing spatialization for such a small soundbar. At less than one meter from the screen, the sound is very enveloping and the noises in play can be precisely localized. We are obviously not on 360 degree effects, but the sound can be perceived "at 180 °", with in particular a diffusion of sounds "in height" (at the level of the screen and therefore of the gaze) quite impressive. We were therefore very surprised by the experience delivered on a game like CoD: Modern Warfare, where the interest in the spatialization of shots, explosions and footsteps makes perfect sense. On a game that relies heavily on immersion, Random Cyberpunk 2077, the experience is also very good, with urban noises well emphasized and localized, voices during the cutscenes perfectly audible and a certain emphasis on more sounds. strong, like shots.
On the other hand, we must be aware that this sound bar, due to its compact size, is only really effective at close range. In summary : if you thought to put it under your TV at more than 2 meters, forget, the spatialization indeed losing its interest from the first meter. But the SoundSlayer, on the other hand, is an interesting choice if you want to effectively provide sound to your PC, without having to install a pair of speakers and a subwoofer. In the future, we would especially like Panasonic to think more about the ergonomics of its product, with a view to short-distance use.
The notes
+Good points
Quality of short-range spatialization
Versatile sound rendering (music, games, film)
Good build quality
Bluetooth connectivity included
–Negative points
Poorly designed ergonomics for short distance use
Remote control a little "cheap"
Much less interest under a TV
Compact and powerful, the Panasonic SoundSlayer sound bar amazes with the quality of the spatialization it offers at close range. This sound bar of a somewhat special kind indeed finds its full meaning wedged under a monitor, less than a meter away from the user. Difficult to advise it for a TV therefore, because we quickly lose rendering efficiency as soon as we exceed the meter fifty. Too bad, also, that its ergonomics are so poorly thought out and that it is necessary to use the remote control for the slightest adjustment. But once you've spent some time tweaking all of that, the sound experience is excellent, whether for music, video or games. We now expect a better-designed "V2" for its format.

Journalist jeuxvideo.com
January 27, 2021 at 6:19:45 PM
15/20
Offers
Amazon

€ 299.99Free delivery

By Jiikaa, Journalist jeuxvideo.com
MP