Released on November 15 on Xbox consoles as well as PC, developed by renowned studio Obsidian, Pentiment is a highly original game set against the backdrop of a 16th-century Europe engulfed in religious and political upheaval.
Obsidian Entertainment
Video games have studios that, like movies, have more aura than others. Among them is undoubtedly Obsidian Entertainment, founded in 2003. Baldur's Gatewe owe him such masterpieces as Star Wars: Knights of the Old Republic II Where Fallout: New Vegas. We will also add, for good measure, delusional and super-faithful South Park: The Stick of Truthor The Outer Worldssolid retro sci-fi game with dieselpunk elements.
This development studio, bought by Microsoft in 2018, has a very high reputation in the field of role-playing games, more specifically games based on "choice and consequences". His new title Repentance, released on November 15 and developed by a small team of 13 people, is quite amazing; wonderfully blending fiction and a great Story, capable also of being very witty, in an adventure with several narrative branches. An adventure whose form is as important as the content.
What does it look like? Trailer below…
"In general, I tend to view fictional conflicts through a materialistic historical lens, meaning they are rooted in the material needs of individuals and societies, even if the setting is fantasy or post-apocalyptic," explains Josh Sawyer, game director of the game. Who adds: Repentance, these conflicts are based on historical records, even if they are embodied by fictional characters. I think it will help players feel a little closer to these characters and what they've been through over the course of the game's 25-year history."
Wrapped up in a gorgeous visual case reminiscent of Duke Berry's Very Rich Watch, Repentance unfolds a gripping story set in the early 16th century in a small (fictitious) town in Bavaria called Tassing. You play as Andreas Mahler, a very talented and well-known artist, specialist in illumination and woodcarving.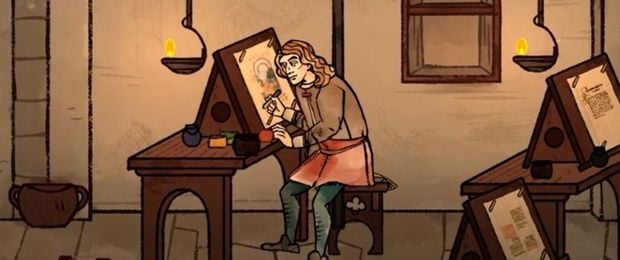 Obsidian Entertainment
He took advantage of the exceptional setting offered by the neighboring Kirsau Abbey to showcase his talent. One of the last, where scribe monks and illustrators coexist and practice their art, relying on a very extensive library, which also has its share of forbidden books… Until the day when a murder is committed within the walls of the abbey, forcing Andreas Mahler to investigate and make a decision within a limited time… A choice that can also turn out to be quite dramatic.
We mentioned the name of the rose in the title. This is not just the effect of homage to the work of Umberto Eco, brilliantly adapted to the cinema. This story of the forbidden manuscripts against the backdrop of a theological dispute between the Franciscan friars and the papacy is a common reference in Repentance, even appearing late in the game in a suggested bibliography and fueling the studio's creative imagination profusely. Quite a rare initiative.
What is absolutely captivating is the game's ability to mix with a twisted intellect many aspects of history that are all intertwined: the importance and weight of corporations; the role and place of women in society; the predominance of knowledge emanating from the church world; theological disputes between the papal authority and the Lutheran religious movement, which is gaining more and more influence; the bonds of vassalage between the lord and his subjects; the importance of solidarity in a peasant world still permeated with pagan beliefs…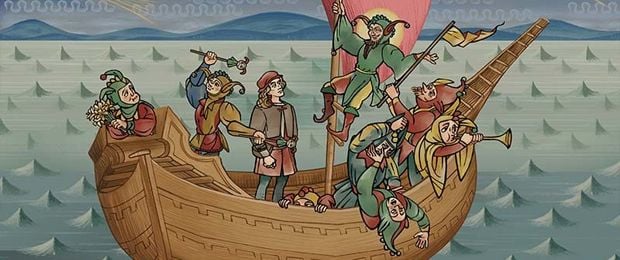 Obsidian Entertainment
We will even add the events that have been called the German Peasants' War; social and religious conflict that took place in the Holy Roman Empire between 1524 and 1526 in various regions now divided between five European countries. And we are quoting here only a handful, already very numerous, of subjects touched upon in Repentance.
When we told you above that the game is entering very specific territory… With that in mind, we welcome the initiative to offer the player an extensive glossary with links to historical terms and various events, which helps to immerse the world a little more. the frame of your subject.
Dialogues, very, very numerous, were the subject of special attention, including visually. The font style will change depending on Andreas's perception of the social status and upbringing of his interlocutor. The font has stroke masks that let you draw each letter as if it were handwritten and the character is writing to you.
Because fonts reflect handwriting, characters can make mistakes and typos are rewritten in real time. Printing becomes more dominant during the early modern period and is reflected in the printing press type invented by Johannes Gutenberg where certain characters are engraved in a single stroke.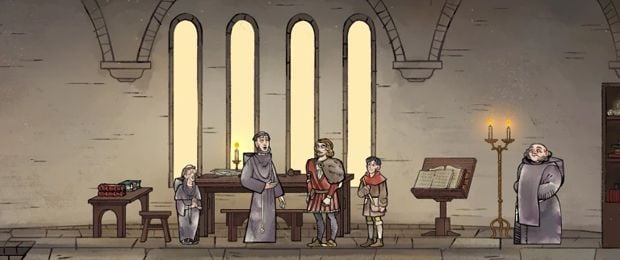 Obsidian Entertainment
As a consequence of this very text-based approach, it can also be tedious, even if it is possible to speed up the display. Because this game uses stylized fonts and writing effects that may be difficult for some readers, the "Easy Reading" font option, accessible from the menu options, improves readability by disabling certain fonts and writing effects.
The advantage of an excellent lifespan (between 15 and 20 hours of play), a very original art direction rarely seen in video games, an interesting story that also knows how to be demanding without necessarily leaving the player on the side of the road, Repentance this is certainly a great discovery.