news council PS5: a secret Internet browser hidden in the console, how to access it?
Posted on 01/14/2022 at 16:39
If the PlayStation 5 contains a lot of very practical multimedia applications, it still lacks a good old Internet browser, which its predecessors had. Actually, she has one, but it's kind of hidden. Here we explain where and how to find it to browse the internet from your PS5.
What's missing from the PlayStation 5 5 (besides maybe some exclusives)? Sony's latest addition comes with a large number of applications such as Netflix, Twitch, YouTube… but one of them, the one present on the PlayStation Portable (and therefore available on PlayStation 3, PS Vita and PlayStation 4) missing: an Internet browser, simply! Turns out the PS5 actually has one, a pretty rudimentary one and access to it isn't particularly obvious. Here's how to find and use it.
A hidden web browser on the PlayStation 5
If you've already looked closely at your console's settings, you've probably already noticed that Internet browser preferences are mentioned there, while the latter doesn't seem to have any. In fact, a bit like the Nintendo Switch, which goes through a browser for you to link your Nintendo and Facebook/Twitter accounts to share your screenshots, the PS5 has one automatically, but it's not directly accessible for lack of a related app. Which is still a shame: admit that you'd like to play, say, Wordle on your PS5…
Do you want to play Wordle, the web game of the moment, on your PS5? It's possible !
Fortunately, unlike the Switch, the PS5 has an exploitable "loophole": its messaging system, where you can write to your contacts. When you send a message to one of your contacts that contains a valid URL (Internet link), such as https://www.jeuxvideo.com, for example, the latter will be clickable and therefore displayed on the famous secret browser. Admittedly, this won't be done in full screen (it has two formats, including a vertical, mobile-like one) and many sites aren't (yet?) supported (for example, SUTOM, the Motus-inspired French version of Wordle doesn't work. ). But it has the merit of existing, and furthermore, JV is perfectly searchable in this browser!
You can now go to your favorite place from a PS5!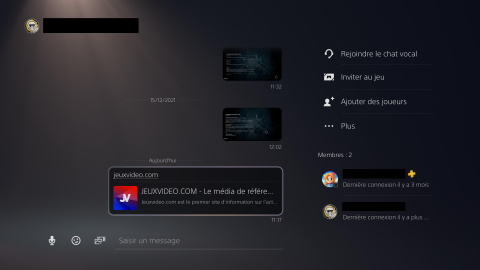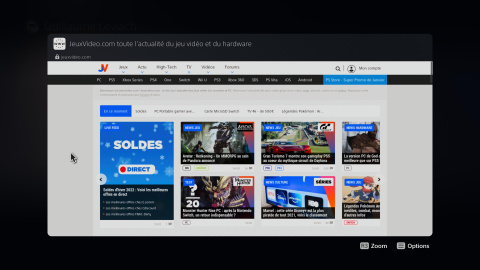 As a reminder, you can access PS5 messaging by pressing the "PS" button on your DualSense, which will activate control center, and going to "Game Base". All you have to do is select someone from your friends list (by notifying this person beforehand, out of courtesy!) or even your secondary account if you have one. Then type in the address of the site you're looking for (the "www." is not required), or simply "google.com", or the URL of the search engine of your choice to navigate from there. Be careful though, if you go back to the console menu, you'll lose your current browsing session – this method is still very imperfect, not really official, and needless to say, you won't be able to browse the web as efficiently. only on your computer or mobile device.
We tried to play SUTOM, but the PS5 browser doesn't want it or doesn't load it completely.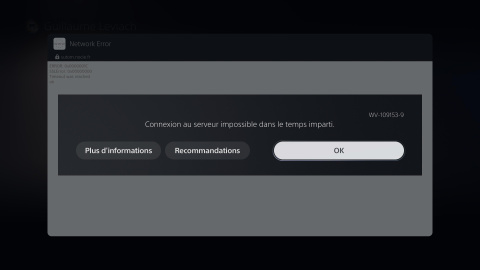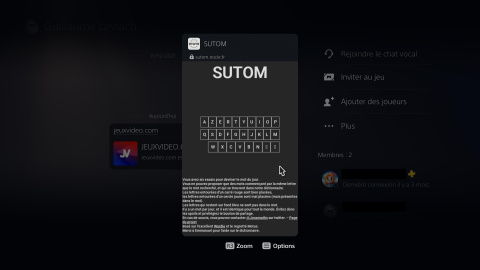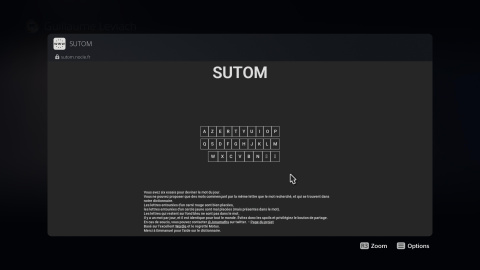 And you, which site will you go to first in the PS5 browser (if you have it, of course)? Feel free to let us know in the comments!
Through antistar, Journalist jeuxvideo.com
parliamentaryTwitter
Astra Pro Nulled, Woocommerce Custom Product Ad, Nulledfire, Yoast Nulled, Slider Revolution Nulled,Woodmart Theme Nulled, Wpml Nulled, Rank Math Seo Pro Weadown, Wordfence Premium Nulled, Newspaper 11.2, Fs Poster Plugin Nulled, Plugins, Elementor Pro Weadown, Consulting 6.1.4 Nulled, Avada 7.4 Nulled, WordPress Theme, Elementor Pro Weadown, WP Reset Pro, WeaPlay, Business Consulting Nulled, Woodmart Theme Nulled, PW WooCommerce Gift Cards Pro Nulled, Newspaper – News & WooCommerce WordPress Theme, Flatsome Nulled, Jnews 8.1.0 Nulled, Premium Addons for Elementor, Dokan Pro Nulled, Jannah Nulled, PHP Script