Game news PS5: On track for a huge PlayStation Showcase with a big exception on the sidelines of gamescom?
Published on 08/04/2022 at 20:07
Viewed from here, the Summer Game Fest period seems far away. And yet the main meetings did not say their last word. Little by little, we are getting closer to the annual Cologne fair, namely Gamescom, before the Game Awards closes 2022. A few weeks before the German video game event, the presence of Sony and PlayStation in the fields feeds the corridor. noises, and it could very well be a big surprise!
Summary
Sony and PlayStation getting closer to Gamescom?

God of War: Ragnarok, Marvel's Spider-Man 2, Hogwarts Legacy… Who will be there?
Sony and PlayStation getting closer to Gamescom?
In less than three weeks, gamescom 2022 will host the Opening Night Live event. Unlike E3, the German video game fair has decided not to ignore it, but instead put on a big show to celebrate the future of video games. And this is both with its consumers and in the company of the most notorious players. Despite this enthusiasm on the part of the organization, some manufacturers, such as Nintendo, still decided not to participate in the event in order to ensure their own communication through an internal presentation. Japanese manufacturer Sony has also been at the center of the debate over its decision not to respond, but that doesn't mean it won't cook up something.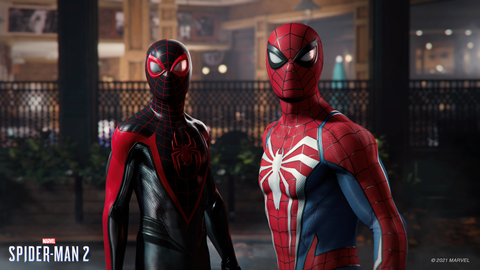 Like E3, Sony may decide to organize a separate event. And what an event, because it's not just a State of Play! Usually Sony sets us up in September for their PlayStation Showcase: last year the manufacturer bombarded us with important announcements such as the return of God of War: Ragnarök, the announcement of Gran Turismo 7, the re-release of Grand Theft Auto V. on new consoles, the joint adventure of Peter Parker and Miles Morales in Marvel's Spider-Man 2, or even the announcement of a remake of the mythical Star Wars: Knights of the Old Republic (which seems to be elsewhere, in pretty bad shape). Behind the scenes, however, things seem to be cooking up and the rumors are making you salivate.
God of War: Ragnarok, Marvel's Spider-Man 2, Hogwarts Legacy… Who will be there?
As is often the case, rumors are taken with a pinch of salt, even if they come from a tweet posted by Nick Baker, the founder of XboxEra, who has repeatedly stood out for the quality of his information. According to sources he has, he recently revealed that Sony could move its schedule forward a few weeks to host the PlayStation Showcase in August instead of September. However, to avoid grumbling from disappointed players, he mentions that the course of the event is not entirely certain and that it may indeed take place as usual in September.
So, since *me* was being asked, I asked if the Sony show was scheduled for September and was told it was currently scheduled for August. But just to make sure those who want to get mad at me will, "not sure if this will be moved" was also part of the answer!

— Nick  (@Shpeshal_Nick) August 1, 2022
Thus, everything falls into place so that Sony can promote their future exclusives and games that will be released on the PlayStation 5. We imagine that the new trailer for God of War: Ragnarök could tell us more about the disastrous epic that Kratos and Atreus will accept. I assure you that Marvel's Spider-Man 2 could be reappearing a year after it was revealed, or that Hogwarts Legacy, which hit the news just recently, is finally giving us a release date! The program can be attractive, especially since this beautiful list of books to be published could include a few surprises. In short, let's keep an eye on the upcoming announcement from the manufacturer!