Last year, Nexon introduced Project HP, a 16-player skirmish game between two teams. The game becomes Warhaven and will be in international beta testing on Steam from October 12 to November 2.
Last March, Nexon unveiled several of its upcoming projects, including Project HP: an online PvP game between two teams of 16 players competing to conquer a fortress. We remember that in August 2021 the game was the subject of fairly confidential internal tests. Now the game is back on the scene with its final title, Warhaven, and an "international beta" scheduled for next month.
Warhaven has always been envisioned as a game for worldwide distribution, and now its title has been published on the Steam page (translated into French) where it will be in its international beta test. Test dates have already been set from October 12 (at 2:00 a.m. Paris time) to next November 2 at 8:00 a.m. And to participate, all you have to do is request access to Steam – a Steam account is enough, a Nexon account is not required.
The developer takes the opportunity to point out that no privacy clause will be a burden on testers, so testers will be free to broadcast or share their experience of the game.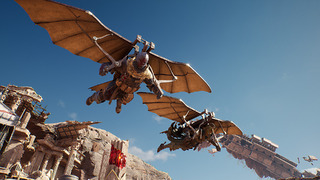 For the record, Warhaven is therefore based around 16v16 PvP encounters. The game includes several different character classes (depending on the weapon used), each with specific abilities, whether that be range or hitting speed. And while most characters fight in close combat (sword, spear, mace, or warhammer), archer and spellcaster classes are also available. And if players start the game as a simple soldier, they can gradually rise to the rank of Immortal according to the battles and thus unlock enhanced abilities.
Several game modes were announced at launch: Assault to capture the opposing team's flag, Skirmish which consists of conquering enemy strongholds to unlock siege weapons, and Arms Race based on defending one's siege weapons while advancing outside the enemy line.
Details will be revealed next month during beta testing.
.