Chance would have it. Or rather should I say… targeted social media advertising does things right. If you are a two-wheeler like me, there is a good chance that between two videos ofoff-road, you've seen Quad Lock's sponsored campaigns on Instagram and Facebook. An Australian brand that sells smartphone mounts suitable for many uses. There are models for bicycle stems, scooter mirrors, motorcycle handlebars, walls and even arms for those who want to go for a run.
Launched in 2011 thanks to a Kickstarter campaign, Quad Lock wants to make it easier for us to access our smartphone in all circumstances, the digital Swiss army knife that serves us both as trackers, jukebox, communication tool and GPS. This is one of the reasons why I accepted to test this support to relieve myself of… 123.88 €.
We can get by for 88 € "only" if we are satisfied with a shell and a Quad Lock support.
A high price that must be paid to have a handlebar support, a vibration damper (important), a purely aesthetic black tongue and two shells specific to the Quad Lock system. They are designed for Google Pixel 4 XL and the iPhone SE (2020) that I use daily and allow, via a patented two-level locking mechanism, to fix the phones on the holder and to take the road serenely. Finally, this is what I wanted to check in order to (r) make sure that the investment was worth it.
NB: there are specific cases for iPhone, Google Pixel, some Huawei and Samsung flagships. If you do not have one of these devices, you will have to order a universal mount that we have not tried.
Support to rule them all
The Quad Lock box includes a quality plastic support accompanied by 3 arches of different sizes to adapt to a maximum of handlebars and an Allen key. This is the only tool you will need to set up the system and the operation takes less than 5 minutes including thinking time to find the right position on the handlebars, which was not easy on the Yamaha MT -07 because of its small size, and the unpacking of the vibration damper.
In addition to the Quad Lock support, there are three hoops, a blue tab, an Allen key and instructions inside.
Of course, this time will be extended if you want to add one of the many accessories offered by the firm such as spacers, a (small) articulated arm, a hook for sports camera, a USB or wireless charger. Very varied and very appreciable options, but proprietary and which quickly explode the bill, especially if you want to have the same configuration on several machines.
If I can build the system on my own, anyone can do it.
And yes, because by marketing a system based on the same locking technology, Quad Lock intends to equip you from head to toe. The advantage you will get from this, if you have the budget (and the inclination), is to be able to fix your smartphone on all the things you want, as mentioned in the introduction, which is interesting if you are juggling your car during the week and mountain biking on weekends for rides, and you need a GPS.
Fast and dangerous
The Quad Lock's blue tab, the one that comes into contact with the hull, is cross-shaped. To fix your smartphone, just push it against the support and turn it until you hear a security "click". Then just pull the tab and turn the smartphone again to remove it.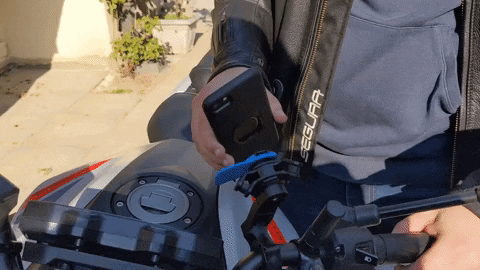 It's a bit special at first, and you'll probably need to pull on the tab to make it easier to fit, but you get the hang of it quickly. This system allows you to position your smartphone in portrait as well as in landscape mode according to your preference, and that's an appreciable thing.
Rather portrait or landscape mode?
Containment and curfew oblige, we could not drive very long with the Quad Lock, but know that our iPhone SE (2020) has never stalled in more than 200 km. We also simulated a snatch "theft", which can be a legitimate fear when your smartphone is exposed for everyone to see, and again, it is impossible to dislodge the device, even by forcing it. So unless you know the Quad Lock system or try to remove the shell quickly, it is almost impossible to steal your device at a red light.
On a daily basis, you will have to pay attention to bad weather that could damage your phone if it is not waterproof, in case of heavy rains for example, or even block it if the climate is too freezing (it's a real experience). But unlike support covers, leaving the smartphone in the open should protect it from overheating in the middle of summer. Also, "unidentified" flying objects like insects and gravel thrown from the wheels of trucks are likely to land on your screen, and at 130 km / h as at 50, the damage can be significant.
Vibrating rope
Some users, especially iPhone owners, have complained on social media about their camera malfunctioning after using the Quad Lock system. In fact, the vibrations of the heat engines would damage the optical stabilizers. The brand does not provide statistics on the number of people affected, but it has listed on its website the models most likely to encounter this problem. And guess what? Yamaha's MT range is one of them, among others, with the CBs from Honda, the Z650 from Kawasaki and all the KTMs. This is why the firm has developed a vibration damper.
The vibration damper is added to the Quad Lock.
The vibration damper is based on 3 silicone eyelets which would reduce the effects of high frequency vibration by 90%. These would be the most dangerous for phones according to the brand. From our side, we have the feeling that the device moves a little more with this accessory (obviously, there is more play allowed by the buffers), but the GPS reading is still readable.
The vibration damper would reduce high frequency vibration by 90%, but shouldn't this product be offered? Photo / Quad Lock
However, we are not sure what to think of this graph, because the y and x axes are not graduated. What does the "Vibration Zone Danger" mean? Quad Lock says it has carried out rigorous tests with engineers and scientists, but does not give further details on its website. We then contacted the firm to find out about their testing process, but they have not yet responded to us. We will amend our article with new information when this is the case.
Test protocol
While waiting for feedback, we performed tests on our own using two apps on iOS: Seismograph and Vibration Analysis. The results are not scientific, but they already give some idea of ​​the effectiveness of the vibration damper.
Seismograph is an application that maps maximum ground acceleration and maximum ground speed on an intensity scale similar to that of Mercalli. Values ​​used by seismologists to create earthquake maps. On a 15 min ride in a Yamaha MT-07, and going up to 110 km / h, we found that the maximum intensity degree was 3.38 and that on average it was 0.38 with vibration damper. Conversely, the maximum degree of intensity was 3.10 and on average only 0.02 degrees without the shock absorber. Our hypothesis to explain these figures is that the flexibility of the skates allows the smartphone to move more in order to limit the effects of vibrations.
Screenshot of the Seismograph application. We drove with the shock absorber on April 1, and without the 2.
With Vibration Analysis this time around, we are entitled to a graph similar to that of Quad Lock. The force G is represented on the y-axis and the frequencies on the x-axis.
The slider can be moved to see the differences in vibrations. Screenshots of Vibration Analysis.
Still on the Yamaha MT-07, but at a standstill this time, we see that the curves are quite similar with and without the shock absorber up to 28 Hz. The accessory seems to have its effect, however, since the vibrations after 38 Hz are very limited. There is therefore an advantage in being equipped with it if you regularly ride on a thermal machine.
Do we equip the whole family?
Buying a lambda smartphone holder for your office, or even for your car, costs much less than buying a Quad Lock. But here we are talking about a support specially designed for two-wheelers, practical to use and solid. We understand that users do not hesitate to invest more than 80 € in it to have a clear conscience while driving. Nevertheless, it is a pity that the accessories are so expensive and that the vibration damper is not free (18 €) when it seems to correct a major problem for combustion vehicles.