A true pop culture phenomenon in Japan, Jojo's Bizarre Adventure is considered by many to be one of the best manga of all time. Hirohiko Araki's 131 volume work remained limited to its country of origin for a long time before reaching the western lands. A saga with an often eccentric and uninhibited tone, JoJo's Bizarre Adventure hasn't escaped the demands of video game adaptations, and this All-Star Battle R is a booster that should delight all fans.
Divided into eight story arcs, JoJo's Bizarre Adventure is notable for focusing on a different character each time, but sharing (almost exclusively) the same initials: Jo. If the saga was already very popular, it was even more pronounced success with the appearance of the series on Netflix. The cast of this incredible tale has grown significantly over the years and generations, and JoJo's Bizarre Adventure: All-Star Battle R, nothing less than a remaster of the game released in 2014 on PlayStation 3, promises to bring to life all the iconic characters of the franchise – and even beyond – in addition to many improvements.
family history
True to the original, the CyberConnect2 developers weren't looking to change the formula. On the contrary, they chose to optimize what could be optimized, highlighting the game's formidable cast (which brings together the main characters previously offered in DLC). So, in order to fully immerse yourself in the crazy universe of the series, the player can choose between 51 characters, including 10 completely new compared to the 2014 software. This way fans of the license can juggle between different generations (heroes, villains, secondary characters…) even if fans regret the meager eighth arc. Indeed, in the last part of the manga, only Josuke Higashikata is present. The most astute will not fail to point out that if paid extensions have been offered in the past, it's safe to say that the same will be true for this new generation version. Moreover, looking at the casting, we quickly realize that it is the first story arcs that stand out the most.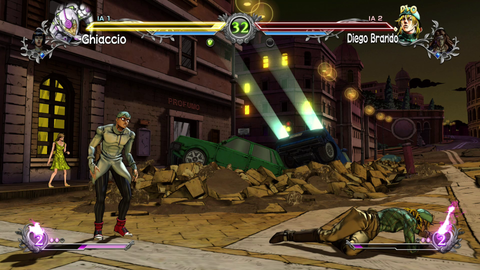 big tournament
If you're not familiar with Jojo's Bizarre Adventure and its wacky universe, unfortunately this title won't help you connect with each character. Even if it was pretty fast, the PS3 version's story mode has disappeared in favor of a sort of big tournament called All-Star Battle R, which consists of a set of battles – some of which are canon fights from the manga – shipped in little manga-like boxes. . In addition to the level of difficulty that evolves from one encounter to the next, the game offers a challenge system and each victory awards gold coins to spend on unlocking upgrades, cosmetic items, victory poses, kill phrases, etc. With hundreds of bonuses, to reset, you can also say that it will take you a long time to get them all back! This mode, quite well thought out, therefore, allows you to appreciate the much more pronounced dynamism of this remaster. But due to the lack of a real scripted mode, it is the fans and connoisseurs of the work who will get great pleasure from unlocking all the rewards. In addition to the main mode, players can indulge in Versus, chat in arcade mode, or improve their gameplay skills by practicing in a special mode.
Real improvements or timid optimizations?
Just compare the original with this part to appreciate all the subtleties of the gameplay. Faster combat, rebalancing attacks, adding visual effects… the enchantment works instantly on anyone who is addicted to the JoJo universe. The style is so idiosyncratic that not everyone will like it, but All-Star Battle R cannot be torn away from its fan service and countless ubiquitous winks. In terms of combat, CyberConnect2 is very effective with really different characters (in styles evocatively named Stand, Vampirism, Fashion, On Horseback, etc.) who can now count on life-saving support. Indeed, now we can choose two characters, the second will intervene in the middle of the battle to provide assistance. It doesn't look like much to say, but compared to the original, it adds dozens of extra combinations (in addition to being visually stylish). It is also necessary to emphasize the presence of traps that act as obstacles that are triggered in the middle of the match and cause damage. This can range from a dinosaur out of nowhere to a giant chandelier and vehicles (trains, cars) running at full speed. If it's possible to tailor aids to your experience level, it's worth acknowledging that Jojo's Bizarre All-Star Battle R is sometimes torn between wanting to be picky about purists and having to open up to more. The mechanics of the game are quite technical and require some preparation, but we have fun finding all the references hidden in the stands, those "ghost waves" directly inspired by the great rock bands and music stars of the 80s and 90s.
screaming
Although JoJo's Bizarre Adventure All-Star Battle R doesn't look visually stunning, it does have very attractive and detailed cel shaders. This process, which is to increase the line of characters and decorations to give them a cartoonish visualization, works great in this title! This gives a lot of space and style to the different environments, and we feel that CyberConnect2 did its best to sublimate the most impressive effects of the time. After that, of course, you should like the design of the mangaka Hirohiko Araki, but it's all really very clean and effective! The atmosphere is also high quality thanks to the very successful Japanese voices and consonant music. From there exactly hack? Everything will depend on your attitude to this series. If you haven't seen/read the first arcs of the script (at least the first three), you risk getting completely lost in this universe. For now, and even if the gameplay is explained, it lacks a scenario mode that would open up the game to more people. Another devastating advantage is the lack of rollback of network code, which improves the stability of online games. Consequently, and despite the rather interesting chasm on this side (online missions, friendly match, rankings, etc.), many of our fights suffered from latency. Let's see if the situation improves in the coming days…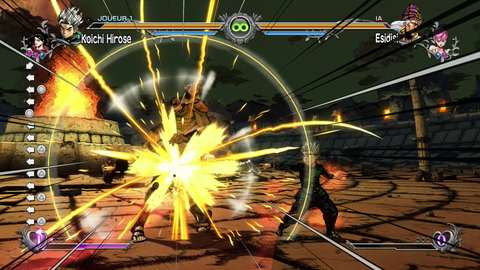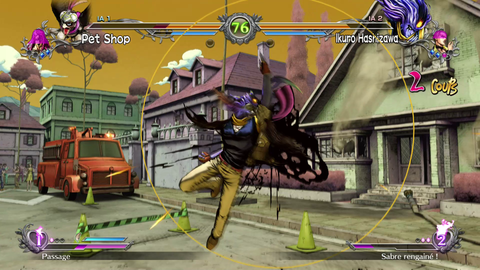 Conclusion

Significant Arguments
Cast of over fifty characters
Styles (special powers) and Stands (ghost waves)
Visually sound and faithful to the original artwork
Musical atmosphere and Japanese voices
Pretty fast paced gameplay
"Supporting" characters of this version
104 All-Star Battle R Challenges
Weak points
Online game without netcode rollback
Power imbalance between characters
Too little explanation for the neophytes
Gameplay is torn between openness and elitism
The game is clearly for fans and only them
JoJo's Bizarre Adventure All-Star Battle R, with its fan service and numerous links, is primarily dedicated to the community passionate about the work of Hirohiko Araki. A spoiled remaster of the PlayStation 3 toy library game of the same name, it features an impressive cast and fast-paced gameplay. If the balance of power is not optimal (some characters are much stronger than others), CyberConnect2 has enough resources to convince fighting game enthusiasts. Assuming you know manga or anime. Otherwise, Battle R may be too hermetic for beginners and manga ignoramuses.
—
Readers' opinion

Give your opinion about the game!