Available for purchase at:
RIG 800 Pro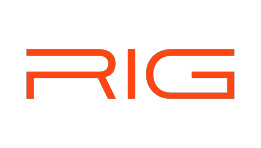 Last October, Nacon released a new line of RIG Pro gaming headsets, consisting of three different versions. Two of these versions feature a 3.5mm cable: the RIG 300 PRO headset with 40mm drivers is for gamers on a budget, while the RIG 500 PRO offers Dolby Atmos surround sound and 50mm drivers.
The third headset, RIG 800 PRO, is wireless and it is on this model that we will focus in this article. It is available in three versions: RIG 300 PRO HX for Xbox, RIG 800 PRO HS for PlayStation 4 and 5, and RIG 800 PRO HD for Windows. The HX for Xbox and HD for Windows models have the same technical configuration, including Dolby Atmos technology. Let's take a look at this on the RIG 800 Pro headphone test.
Nacon RIG 800 Pro Headset Delivers Exceptional Sound Quality
Unpacking and contents
The premium packaging comes in an impressive black color, and the RIG 800 Pro headphones are printed with varnish, which immediately catches the eye. On the front of the box are the Made for Xbox and Dolby Atmos logos, which make me curious as I look forward to testing this feature with the headset. I will return to this later in the article. The main features of the product are also highlighted, namely that it is a wireless headset with 24-hour battery life and it comes with a charging stand.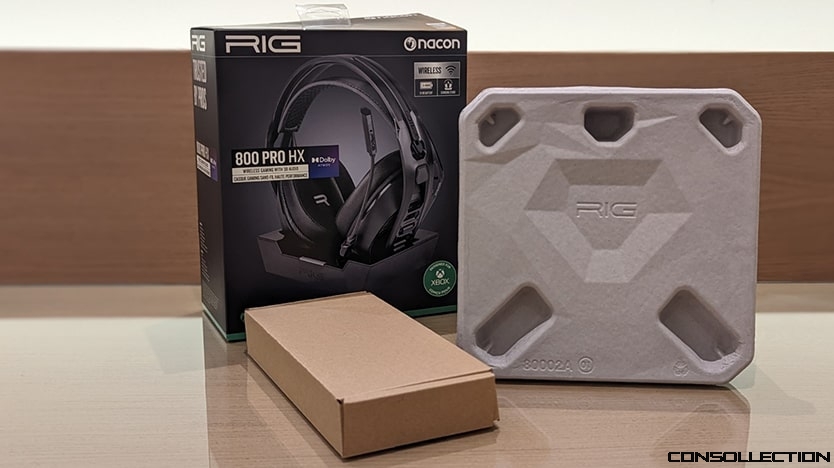 RIG 800 Pro HX
To guarantee optimal impact protection, the RIG 800 Pro is carefully packaged in a sturdy carton. In addition to the headphones, the box contains a charging station, a charging cable, a USB dongle, a Dolby Atmos activation card, a quick start guide, a warranty card, and an information document about the risks of listening at high volumes. .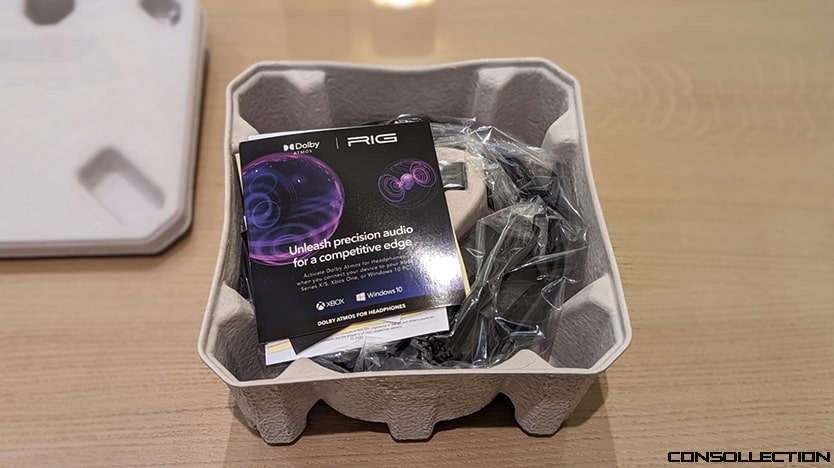 RIG 800 Pro HX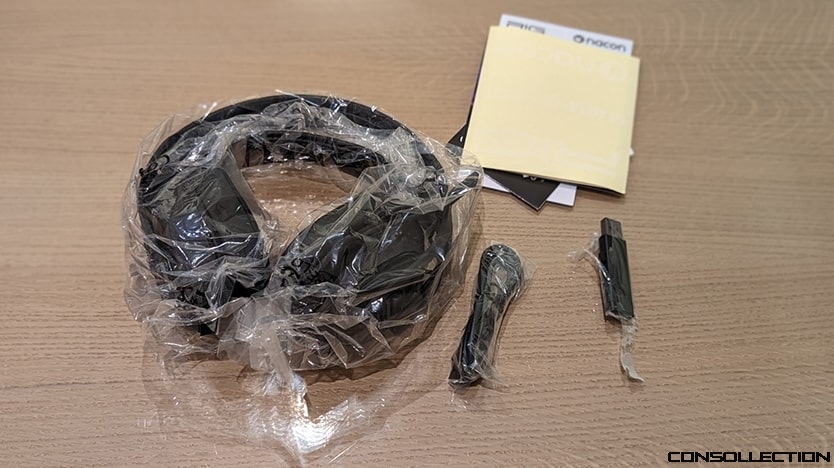 RIG 800 Pro HX
Helmet features
– Compatibility: XBOX Series/XBOX One/Windows

Ear muff: Circumaural

– Wireless headset: Yes

– Volume control: on the ear

– Weight: 290 g

– Battery life: 24 hours

– Colors: black

– Range: up to 10 m

– 2 years warranty
Sound characteristics
– Bandwidth: 20Hz-20kHz

– Resistance: 32 ohm

– Maximum sound pressure level: 111 dB SPL/V

Surround sound: Dolby Atmos for headphones

– Loudspeaker diameter: 40 mm with woofers.
Microphone Specifications
– Microphone bandwidth: 100Hz-10kHz

– Detachable microphone: No
Beginning
The gaming headset is based on the exoskeleton-like plastic construction that RIG uses in all of its models, making it remarkably light and flexible. Thanks to its thoughtful design, the helmet is comfortable to wear even during long games without compromising its durability.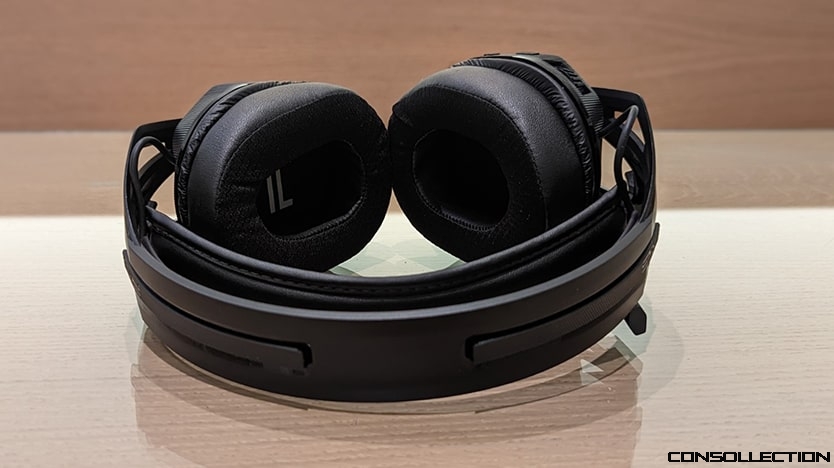 RIG 800 Pro HX
The earbuds can be easily detached and adjusted to one of the three available notches with a flick of the wrist. Simply pull on the earcups to detach them, then clip in place for a snug, personalized fit.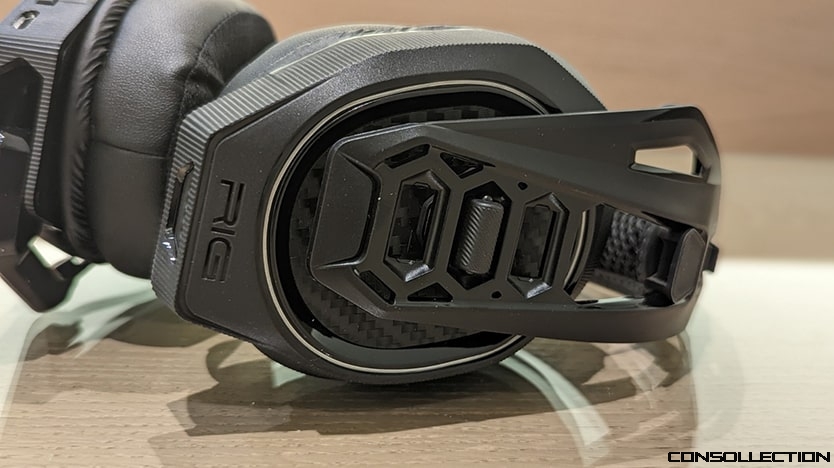 RIG 800 Pro HX
Under the right ear cup, there is a connector with four small holes for easy connection to the charging station and convenient charging of the earphones without the use of wires.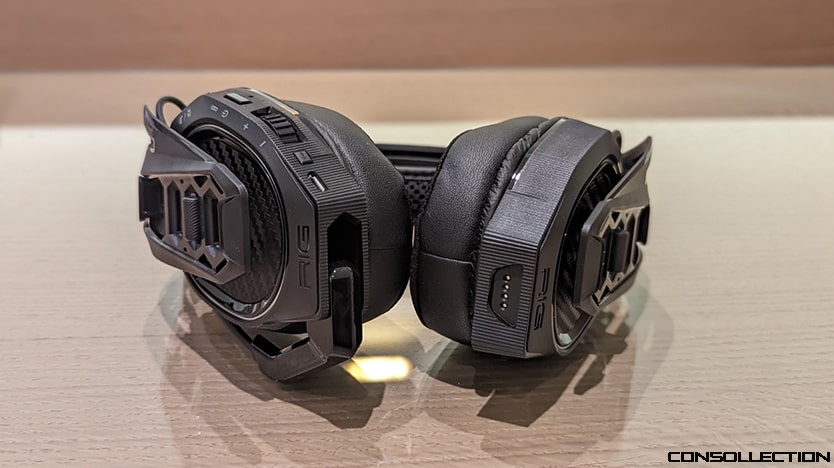 RIG 800 Pro HX
The RIG R logo is visible inside the right ear cup, serving as both a marker of meaning and a signature brand design element. This logo is indeed present on all helmets in the RIG range, giving these products a playful and distinctive touch.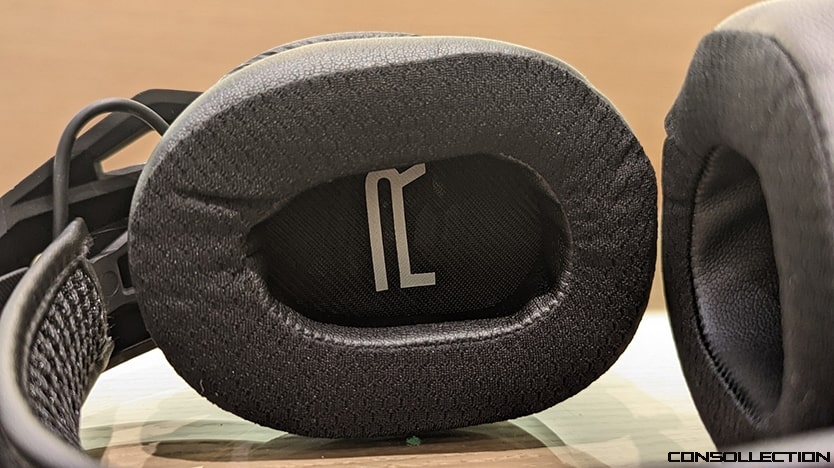 RIG 800 Pro HX
The settings are located on the back of the left atrium, presenting a configuration almost identical to that of the RIG 700HD headphones. Various elements include, from top to bottom: an audio balance wheel for adjusting game volume versus audio chat volume, an on/off button with an LED to indicate headset power status, an infinity wheel. volume, microphone mute button and micro-USB charging port.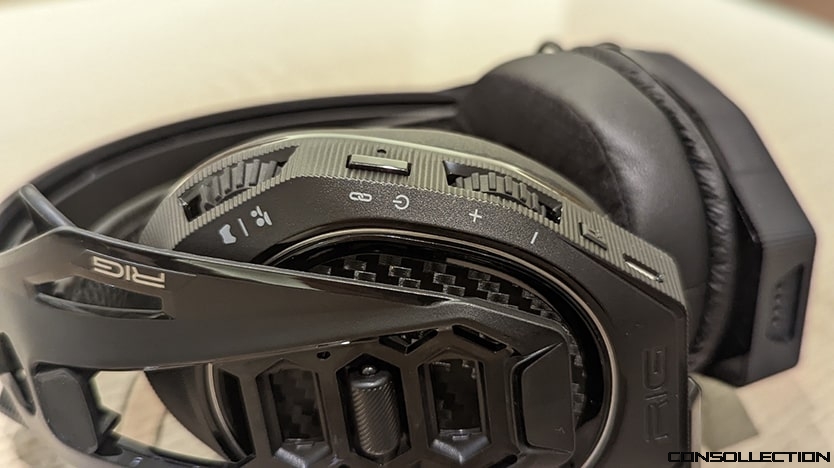 RIG 800 Pro HX
The headband is not covered with foam, but is equipped with an elastic headband that adapts perfectly to the shape of the skull. The ear pads, on the other hand, have a thick layer of foam covered with faux leather material around the edges. This helmet is very comfortable because the foam is neither too soft nor too hard.
The microphone is attached to a flexible shaft with shape memory, which, due to its sufficient length, can be easily placed in front of the mouth. The sound quality is amazingly clear and distortion-free, allowing easy and smooth communication. In addition, pulling the stem up instantly mutes the microphone by emitting two short muffled beeps, providing convenient communication control.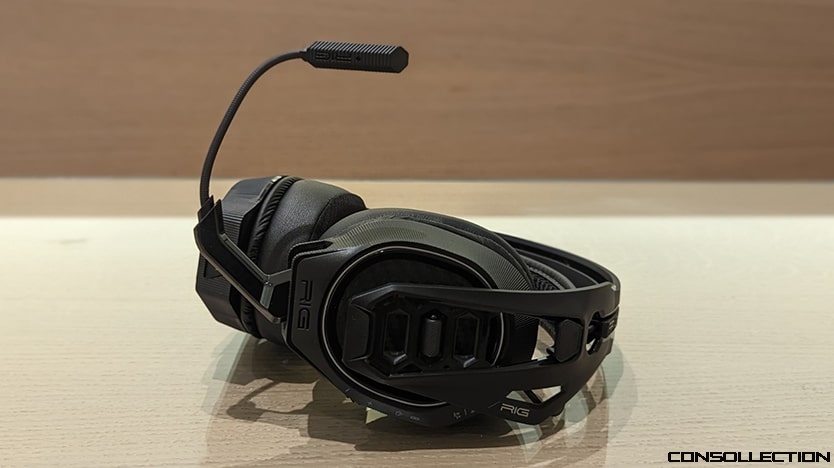 RIG 800 Pro HX
Dock station
The Charging Station is powered by the included USB cable and easily plugs into an available USB port on your Xbox console or your Windows PC (you can also connect a USB key directly to your computer without bypassing the Charging Station). Welcome).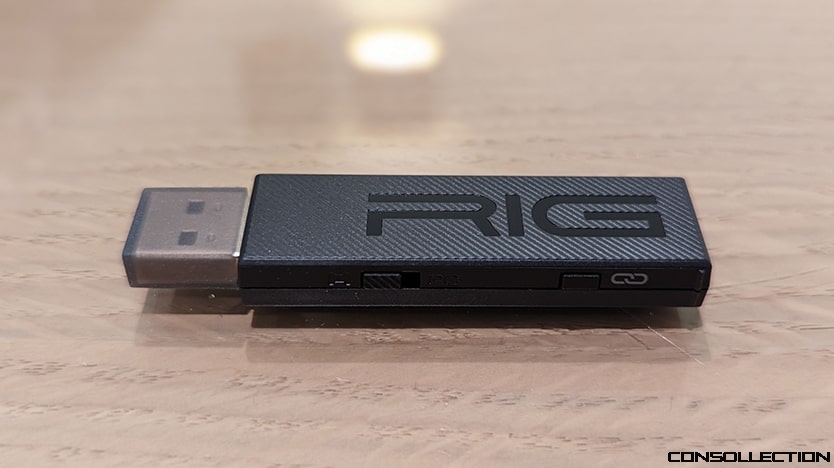 RIG 800 Pro HX
It has four rubber pads that provide optimal stability even on a glass surface. The center of the station allows you to store a USB dongle when not in use, and a plug socket is on the right to conveniently power your headphones.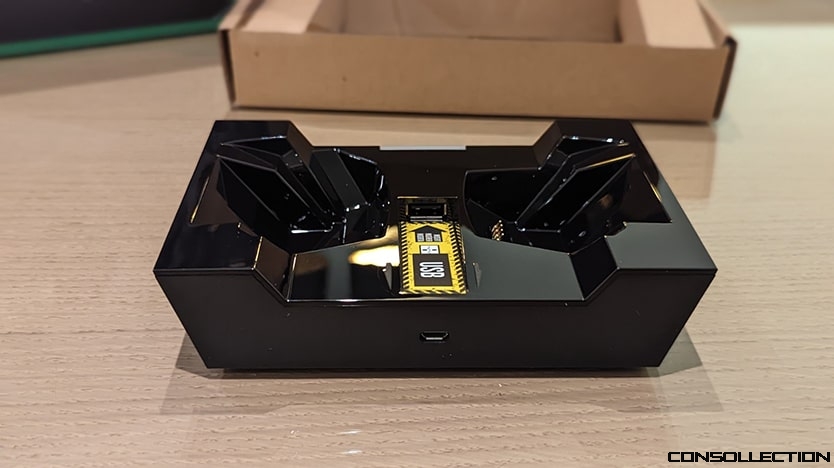 RIG 800 Pro HX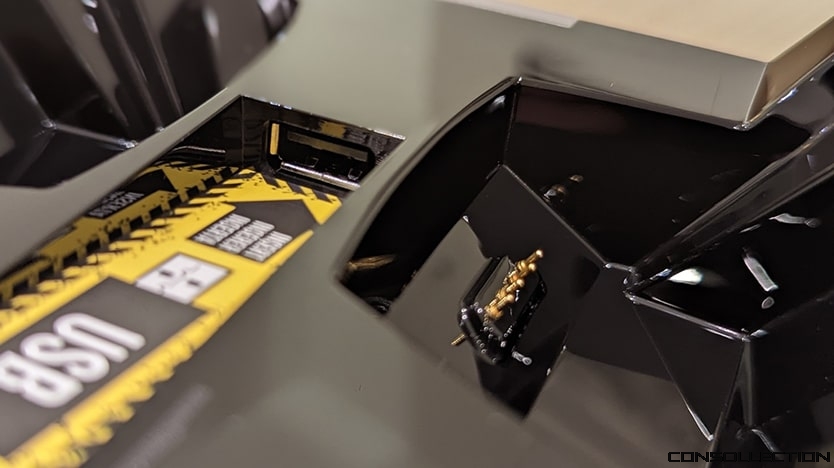 RIG 800 Pro HX
Placed on the docking station, the helmet is easily held upright by first lifting the stem. The red LED indicator lights up to indicate that charging is in progress. When this is completed, the LED will turn blue, indicating that the headset is ready for use. The documentation states that it takes 7 hours to fully charge the device. This is perhaps one of the main disadvantages of the helmet.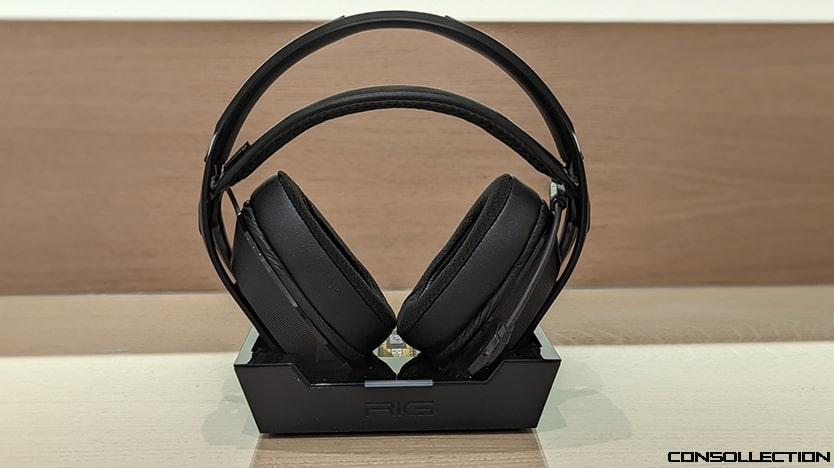 RIG 800 Pro HX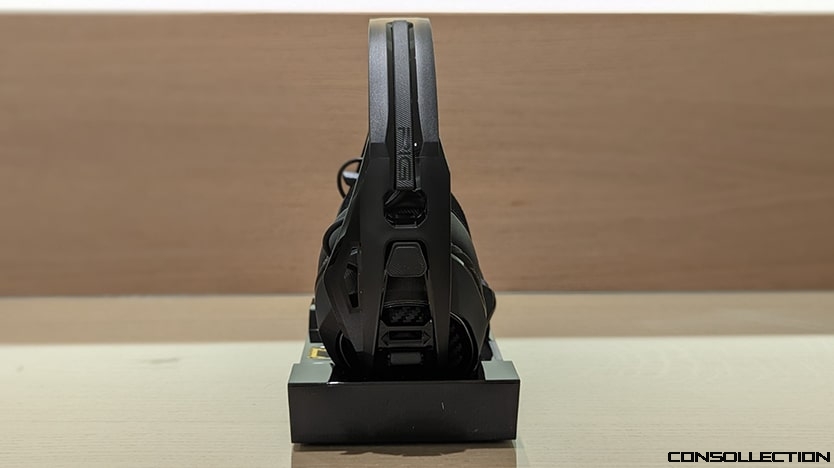 RIG 800 Pro HX
Dolby Atmos
Available for free from the Microsoft Store, the Dolby Access app lets you select the audio output in Dolby Atmos after installation. This app is compatible with TVs and home theater systems, but does not work with headphones (Dolby Atmos for headphones). To use this feature with an audio headset, you need to purchase a license worth €17.99. Why am I talking to you? Simply because RIG offers you a license with the 800 Pro headphones. And it's nice! So, not all games with Dolby Atmos, but there are 42 of them in the Xbox store.
sound quality
I have several headsets at home and I have to admit this is the best I've had on Xbox. Usually, headphones change the appearance of the sound a bit: the bass becomes too accentuated, and the treble is not enough. But with this, the sound is so realistic that you might think you are immersed in a real home theater experience. Moreover, I was even able to hear some sounds that I had never perceived before, which is really impressive.
When it comes to sound recording quality, the microphone delivers remarkable accuracy with minimal ambient noise.
My opinion about RIG 800 Pro
18/20
Nacon's RIG 800 Pro headset, despite its relatively high cost, plastic appearance, and rather long charging time, delivers exceptional sound quality. In addition, it is extremely light and easy to carry, and thanks to the docking station, its wireless connection is absolutely reliable.
Presentation of the PRO SERIES helmet line from Nacon