Ripple's XRP, once the 3rd largest cryptocurrency and now in the 6th position, posts the strongest performance in the Top 10 Cryptos at the time of writing, gaining over 17% over 24 hours and up close 43% over one week. This allowed XRP to break through the $ 40 billion cap threshold, and also the $ 1 per token target, with XRP currently worth $ 1.03.
If XRP has benefited like most cryptocurrencies from the positive trend of Bitcoin in recent days, the performance of Ripple also responds to news of its own, as we will explain in this article, before taking stock of the immediate technical context of XRP / USD.
Ripple benefits from key new partnership in Asia
XRP saw immense demand from retail traders on Wednesday after Global Money Express (GME Remittance) announced that the company has joined RippleNet, Ripple's global financial network.
Ripple's recent partnership played a big role in the XRP price jump. The blockchain company mentioned that the latest partnership with GME will increase the adoption of RippleNet in Asia.
GME Remittance is one of the largest providers of non-bank money transfer services in South Korea. By joining RippleNet, GME Remittance is now connected to Siam Commercial Bank (SCB), Thailand's largest bank by market capitalization.
"We chose Ripple as our partner because with RippleNet we can go into new countries with new partners in one to two weeks. This has significantly reduced the time to market and gives us an advantage over our competitors ", Subash Chandra Poudel, Director and COO of Global Money Express Co. Ltd. (GME Remittance) said in the recent announcement.
Remember that partnerships are more and more numerous for Ripple. As recently as the last week of July 2021, Ripple had already announced a collaboration with Japanese company SBI Remit and Philippine company Coins.ph to launch the first implementation of the on-demand liquidity service (ODL ) live from RippleNet in Japan.
Should we buy XRP following its rally? What does technical analysis say?
The first few days of August were the occasion to confirm a fundamental bullish reversal of XRP which started following a low towards 0.50 $ on July 19th. And the last two days of Ripple's XRP rise have been an opportunity to powerful buy signals, which confirm the prospect of a positive Ripple (XRP) future.
Indeed, the cryptocurrency confirmed a breakout above its 200-day moving average on Tuesday. The next day, i.e. yesterday, XRP sent another major buy signal by going above its 100 day moving average, and especially above the symbolic $ 1 mark.
The XRP of Ripple has therefore now clearly entered a fundamental uptrend. However, the more than 40% acceleration in cryptocurrency over the past 7 days calls for caution, and suggests that it may be better to wait for a correction to position long on XRP.
This is all the more true as the daily chart shows that the Ripple is facing significant resistance located around 1.1020, a threshold reinforced by the proximity of the 38.2% Fibonacci retracement of the drop posted from April 14 to June 22. In this context, the zone of $ 1, then $ 0.95 will be the first supports to watch.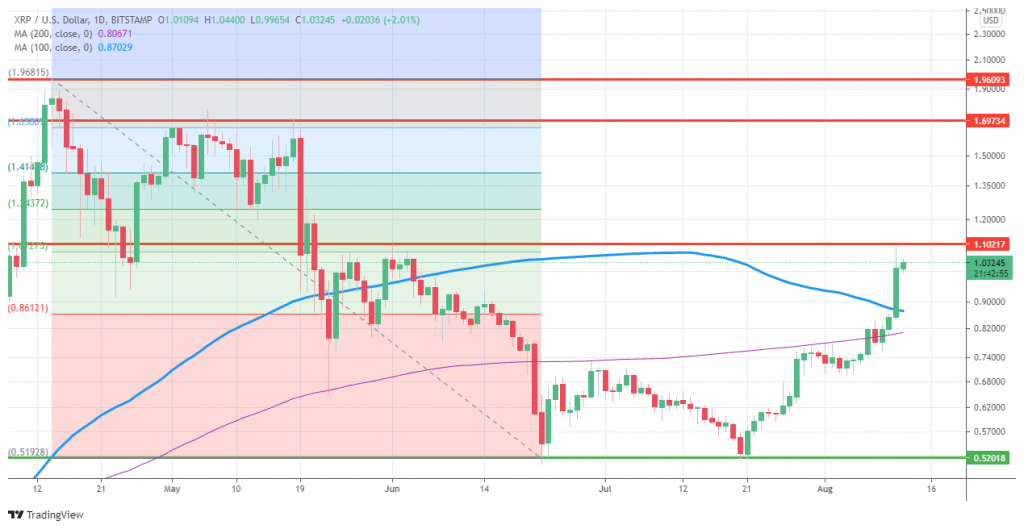 If Ripple's XRP rise deepens further, the $ 1.25 area should be seen as potential resistance on the daily chart. This is the 50% retracement of the aforementioned downward movement. Higher further resistance is found at $ 1.65-1.70, before the major psychological threshold of $ 2.
So there are several ways to look at it when it comes to Ripple trading for this Thursday and the rest of the week:
Aggressive traders might buy now, with a tight stop, for example around $ 0.97, aiming for $ 0.25
Traders who are afraid of facing a correction by buying at current prices might register a trigger buy order in case of decline to $ 0.95 or $ 0.90. In this case, a target of $ 1.15 would already allow for solid gains. However, there is a risk in this strategy that the Ripple will continue to rise without a correction, and that the opportunity will be missed.