At a glance
Expert rating
pros
Short (length 30 mm), form factor 2230
Very good everyday performance
Attractive label and packaging
Minuses
A little pricey for the capacity
Somewhat low TBW rating
Our verdict
The Sabrent Rocket 2230 is perfect for upgrading devices and laptops that the longer 2280 won't fit, like Valve's Steam Deck. Everyday performance is roughly on par with the DRAM-free design, and we even like the color.
The regular 2280 (22mm wide, 80mm long) NVMe SSD is great for most tasks, but there are some devices, like the red-hot Steam Deck, that don't have room for this form factor. Therefore, you need an option like the Sabrent Rocket 2230, a short SSD at just 30mm long. Rocket 2230 is great for HMB (Host Memory Buffer/DRAM free) design and is a good choice for such devices.
Note that for some reason, all of the Rocket 2230 SKUs are erroneously numbered 2130 and not 2230 – for example, the 1TB drive we tested is the SB-2130-1TB. (Perhaps 2230 SKUs are already taken?)
Note. This review is part of our ongoing roundup of the best SSDs. Go there to learn more about competing products, what to look for in an SSD, and get buying advice.
Sabrent Rocket 2230: design and features
The size of the Sabrent Rocket 2230 has already been discussed, so let's talk about the innards: the Phison e21 controller and 176-layer B47R Micron TLC NAND memory. As mentioned, the Rocket 2230 is an HMB design, which means it uses some of your system DRAM for basic caching tasks.
The HMB can't match the peak performance of a design that includes built-in DRAM, but it's darn fast and much cheaper. The elimination of DRAM also greatly simplifies the implementation of SSDs in a shorter form factor. Of course, you can use a 2230 SSD in any M.2 slot, which can provide better cooling and more space for other things. I'm just saying.
The Sabrent (or the Phison controller if you prefer) uses the NAND parts as a secondary cache, writing only one bit to it (writing as SLC), passing it on later, writing as TLC when time permits. This is standard for all modern SSDs and is one of the reasons to buy capacity. The less free NAND memory, the less it can be used as a cache.
A perfect illustration of just how short the Rocket 2230 is, it's half the length of standard 2280 drives.
In terms of that capacity, the Sabrent Rocket 2230 is available in 50/256GB, 90/512GB, and $150/1TB capacities. It's a bit overpriced for the latest capacity, but you're paying for a smaller size to some extent. The same as with kitchen appliances – less is more expensive. Go find out.
I'd be happy if I didn't back the Sabrent for my favorite packaging touch: the copper-colored body. It's actually packaged in a retail box but I smile when I see it. It can be re-deployed as a tablet or parts case after the disc has been ejected. It makes you glad that you spent a little more.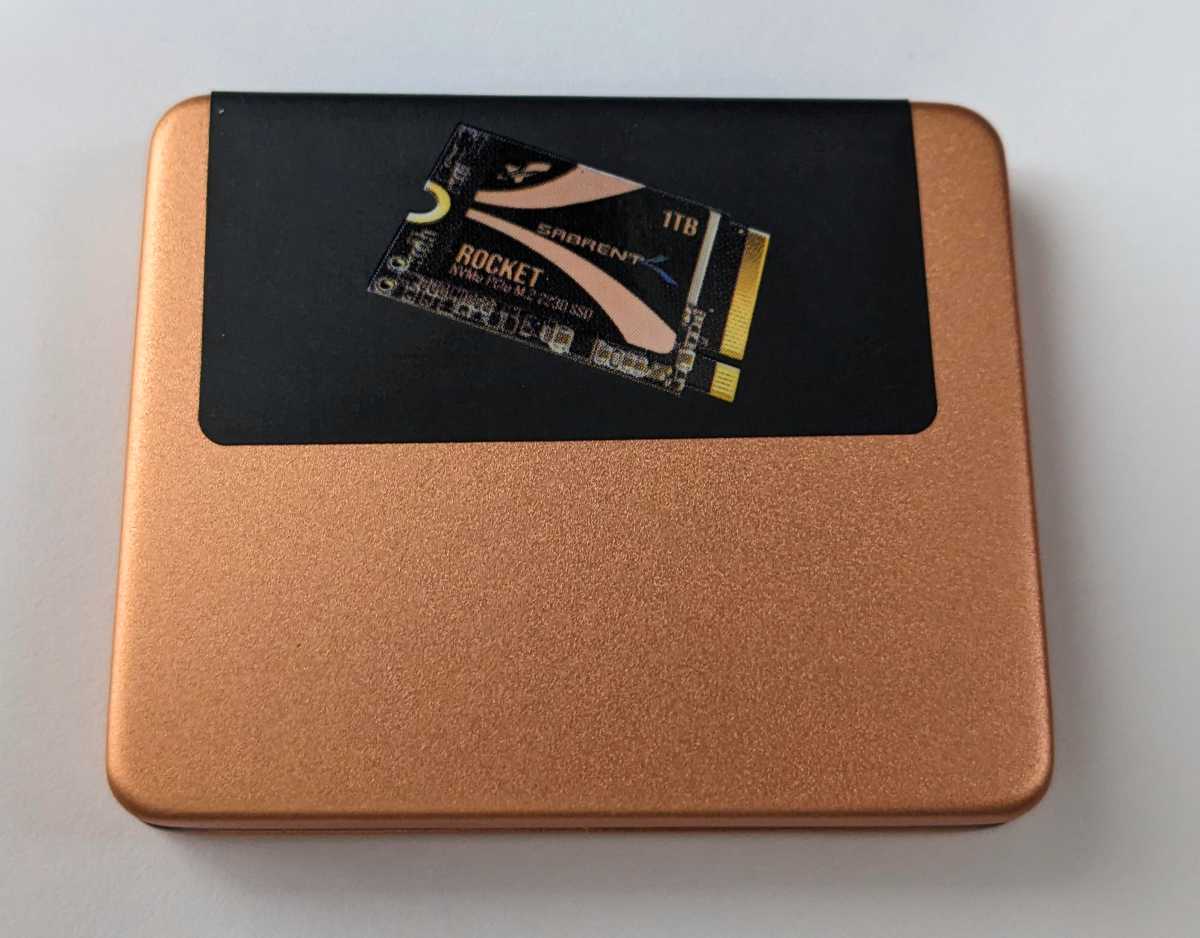 This photo does not represent the box that the Sabrent Rocket 2230 comes in.
The Rocket 2230 is warranted for five years and 600 TBW (terabytes that can be written) per TB of capacity. About average for the genre.
Sabrent Rocket 2230 Performance
Actually I have tested both 1TB and 512GB versions of the 2230. Performance was almost the same, except that the 512GB version lacked cache during 450GB writes, and write speeds dropped to around 100MB/s. This was not a problem with the 1TB drive, as you will see in the third diagram below.
First, the CrystalDiskMark 8 results. They are pretty fair for a Tier 2 NVMe drive using a host memory buffer. It actually outperformed the two HMB competitors in several tests.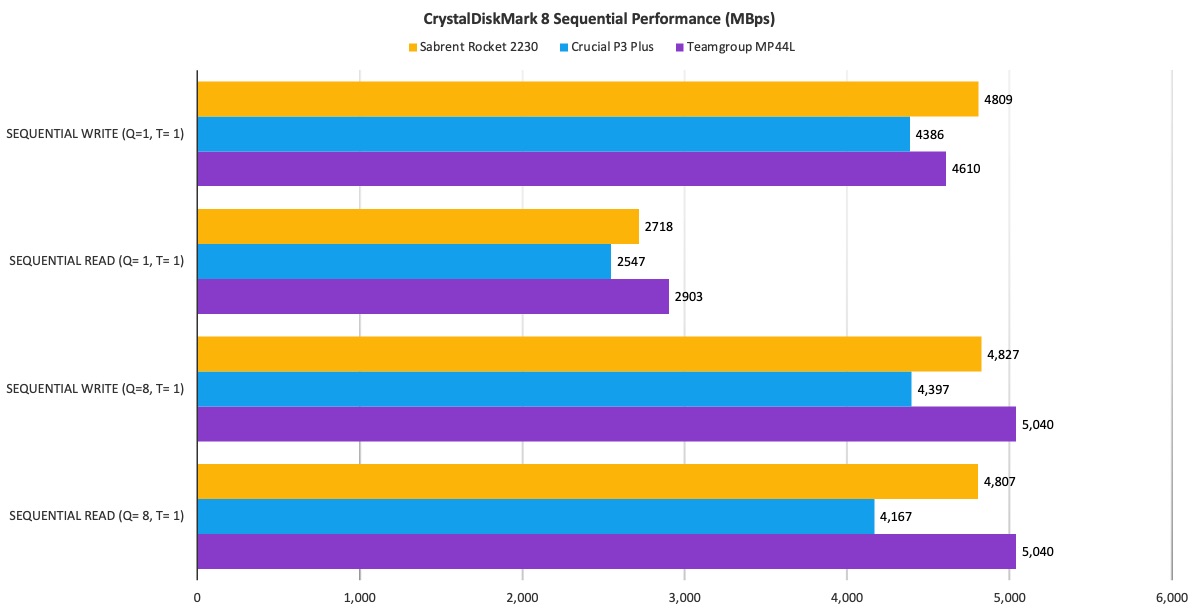 The Rocket 2230 took first place (out of those three drives) in several CrystalDiskMark 8 tests. In the real world, it wasn't that impressive.
Keep in mind that the other two drives (Crucial P3 Plus and Teamgroup MP44L) in these diagrams were 2TB in capacity, allowing them to allocate more cache for larger transfers without undue computational overhead, i.e. to determine whether they would run out whether they.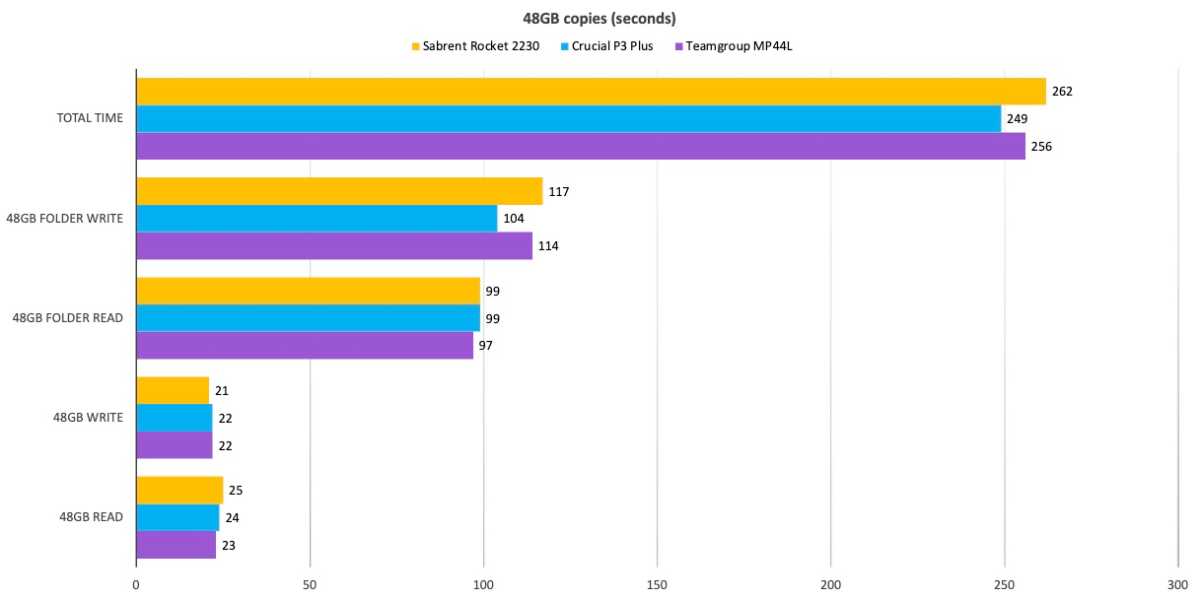 While on the low end for a 48GB transfer test, it's still good performance. All NVMe drives are fast.
The Rocket 2230's 1TB capacity didn't cause problems during 450GB writes, but the 512GB version slowed down to a measly 100MB/s about halfway through due to a lack of secondary cache. This is normal and one of the reasons to outbid any SSD in terms of capacity.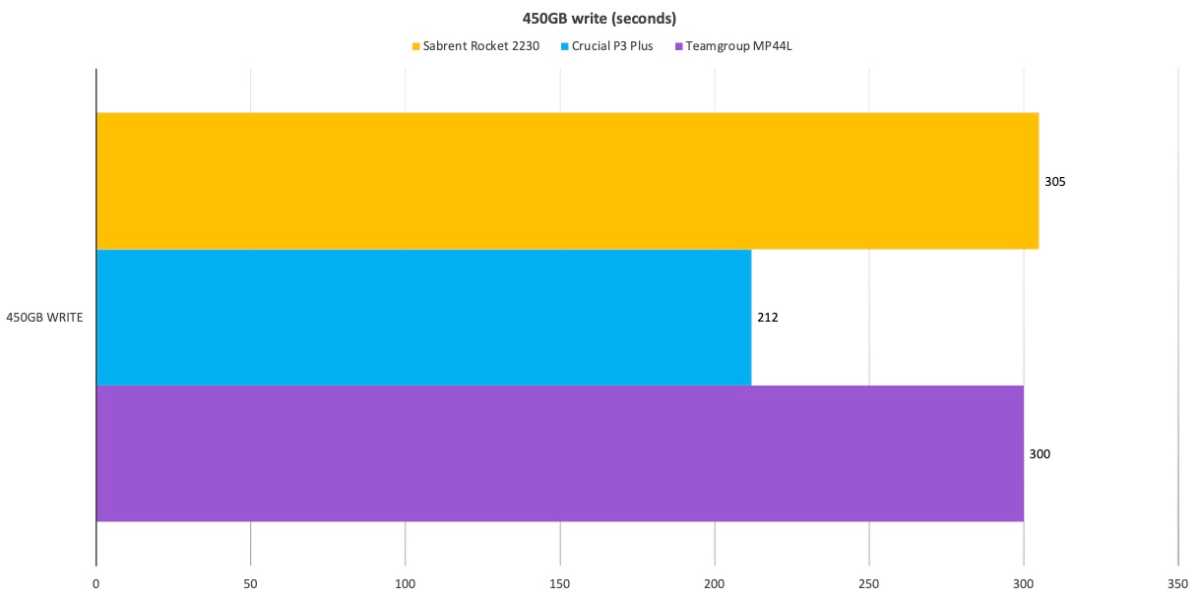 The 1TB Rocket 2230 performed well in the 450GB write test. Lower capacities will be significantly slower as the drive drops to 100MB/s when writing without cache.
Given that the Rocket 2230 I tested had 1TB less NAND than the comparison drives, the numbers above are very good. Bottom line, but hey, it's NVMe – it's still very fast.
Internal storage tests currently using Windows 11 64-bit running an MSI MEG X570/AMD Ryzen 3700X combo machine with four x 16GB Kingston 2666MHz DDR4 modules, a Zotac (Nvidia) GT 710 1GB x2 PCIe graphics card, and ASMedia ASM3242 USB 3.2×2. map. The copy tests use an ImDisk RAM disk using 58 GB of the 64 GB total memory.

Each test is performed on a freshly formatted TRIM drive so results are optimal. Over time, as the drive fills up, performance will degrade due to less NAND for caching and other factors.

The performance figures shown are only for the drive we shipped and the capacity tested. SSD performance may vary by capacity due to more or less shotgun read/write chips and the amount of NAND memory available for secondary caching. Vendors also sometimes swap components, although Sabrent has never been among those we know of.
Should you buy a Sabrent Rocket 2230 SSD?
The Rocket 2230 is a good, if not impressive, performer for the HMB drive. It's also attractive and has a decently long warranty. I have no reason not to recommend it as an upgrade for devices that don't support 80mm M.2 drives. This would be a stellar SSD for your Steam deck. But if your computer supports longer standard SSDs, you can get the same capacity and performance for less money.