Briefly about the test
The Samsung T7 Shield is a rugged external SSD and is the third member of the T7 family after the T7 and T7 Touch released in 2020. The latter impressed us for a long time by introducing a feature that was never offered at this level. price – fingerprint scanner. The T7 Shield does the opposite, offering a fairly common feature at a premium price. Yes, it's a bit sturdier, and yes, its performance is decent, but not exceptional. The same goes for the 3 year warranty. Aside from the manufacturer's prominence, there aren't many good reasons to buy the T7 Shield when there are plenty of viable alternatives out there.
Samsung T7 Shield: price and availability
The T7 Shield is available in black, blue, and brown in 1TB and 2TB capacities, priced at around $180 and $320, respectively. There are no 500 GB or 4 TB models.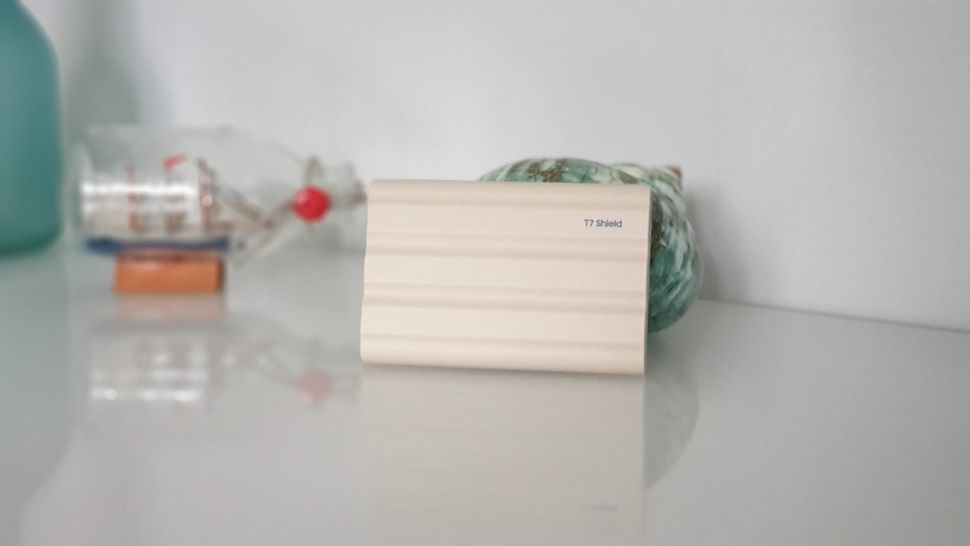 (Image credit: Future)
Samsung T7 Shield in Darty FR for 179.99 euros
Samsung T7 Screen: Design
Like the T5, T7, and T7 Touch, the T7 Shield shares the same design as its predecessors with an all-metal aluminum body (great for conductivity) and rubber-coated for durability. Samsung's latest external SSD is rated IP65 (not IP68) and can withstand drops up to 3 meters. Weighing less than 100g and measuring 88 x 59 x 13mm, it is very portable like its predecessors and retains the same overall shape.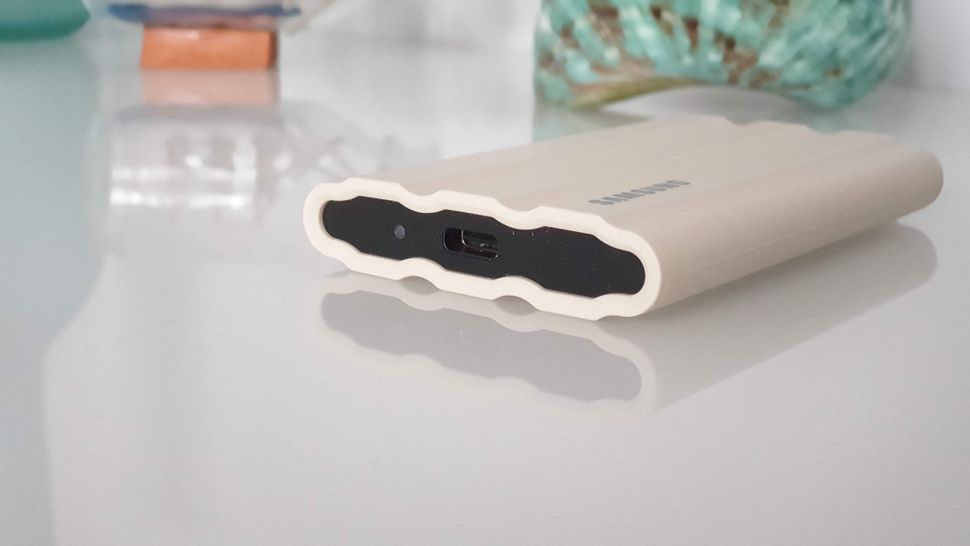 (Image credit: Future)
Apart from the Type-C connector (USB 3.2 Gen2), there is not much to report.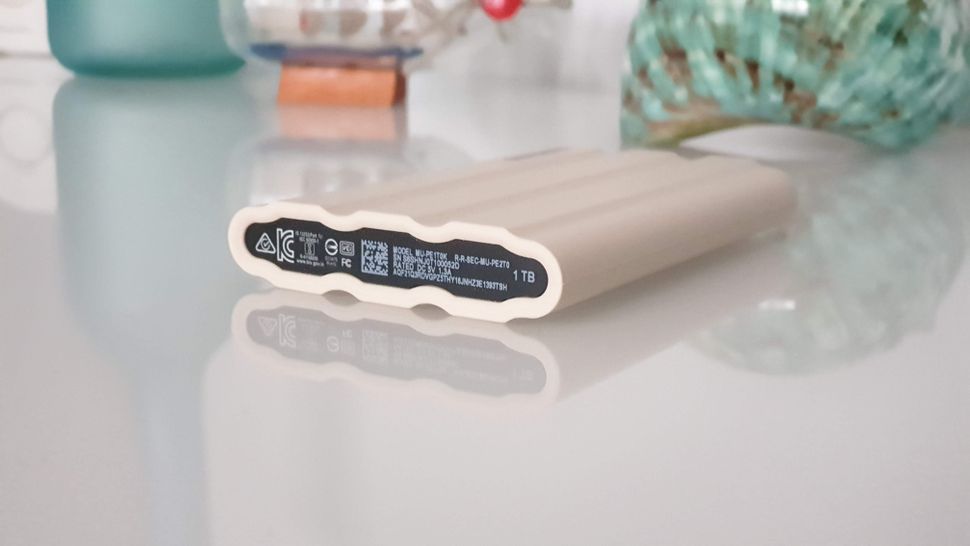 (Image credit: Future)
Samsung T7 screen: hardware
We haven't opened the T7 Shield, but a brand representative has confirmed that the T7 Shield uses Samsung's sixth generation 128-layer V-NAND with a DRAMless-free NVMe controller provided by Samsung. So in terms of architecture, the T7 Shield is better than the T7.
The T7 Shield package contains two cables, one with a Type A connector and the other with a Type C connector. The latter allows you to easily connect an external SSD to a mobile device such as a tablet or smartphone.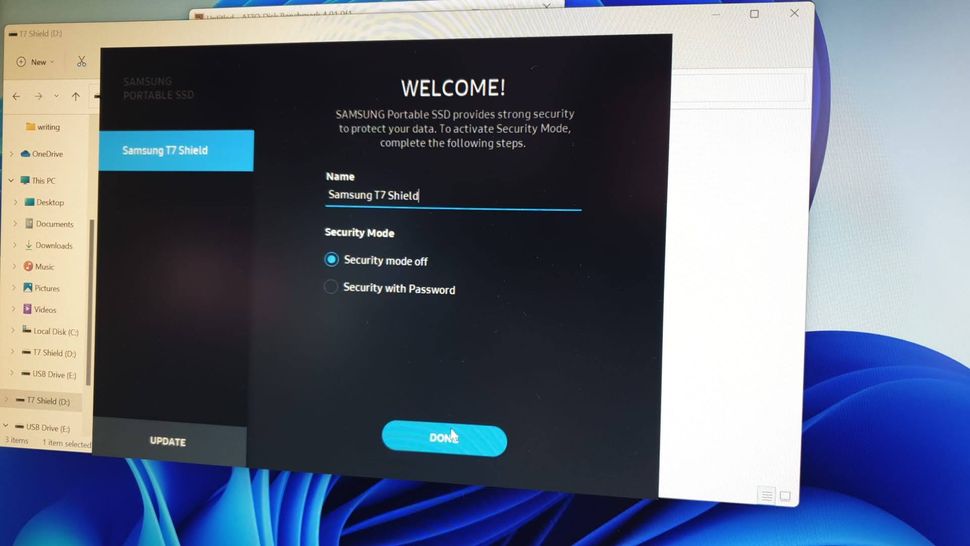 (Image credit: Future)
Samsung T7 Screen: Performance
Landmarks
Here's how the Samsung T7 Shield performs in our test series:
CrystalDiskMark: 970 MB/s (read); 944 MB/s (write)
Atto: 928 MB/s (read, 256 MB); 881 MB/s (write, 256 MB)
AS SSD: 864 MB/s (sequential read); 833 MB/s (sequential write)
AJA: 827 MB/s (read); 812 Mbps (recording)
The T7 Shield comes with two software applications:
– Magician – SSD storage utility to help keep your device in shape;
– Portable SSD, which allows the user to password protect (and therefore lock) the contents of a portable SSD.
Could these two applications be combined? Absolutely. Since Samsung offers Microsoft OneDrive with all of its latest Galaxy smartphones, we would like to see such a storage offer for the T7 Shield that allows you to back up your data to the cloud.
Samsung claims that the T7 Shield can achieve read and write speeds of up to 1.05 GB/s and 1 GB/s, respectively, which is on par with the T7 Touch. In our synthetic tests, read speeds ranged from 827 to 970 MB/s, while write speeds ranged from 812 to 944 MB/s. During the actual transfer of 10 GB files, the average speed was 477.3 MB/s, which is about 20% slower than the Kingston XS2000.
Should I buy Samsung T7 Shield?
Competitors to Consider
The Sandisk Extreme Portable SSD is as good as the T7 Shield in terms of performance and capacity. It completely crushes it when it comes to value for money. It's noticeably larger, and its bright orange color might not be to everyone's taste, but we appreciate the carabiner and the fact that there's a 4TB model.
The Adata SE800 is one of the most underrated external SSDs out there. It is a fully waterproof model (IP68 vs. IP65 for the T7 Shield) and outperforms all of its competitors when it comes to value for money.
Kingston XS2000 is IP55 rated but has longer warranty and better price. It's much faster than the T7 Shield, with the added bonus of increased speed if you have a compatible USB3.2 Gen2x2 system.
Retrieved April 2022.
BEST OFFERS OF THE DAY