You probably know that properly storing your cryptocurrencies is a priority in protecting your assets. The star in terms of secure offline crypto storage is the Ledger Nano S. At the moment Ledger (re) offers us a little surprise: the Nano S in 5 trendy colors. Discover 3 great reasons to fall in love with the Ledger Nano S Color!
Ledger Nano S gets color with Color Edition
The Nano S ledger is a hard crypto wallet, also known as a physical crypto wallet. Indeed, it is a small physical device that allows you to store your cryptocurrencies offline.
Ledger has firmly established itself as the benchmark in the crypto storage space. The first Ledger Nano S was released in 2016. Since then, around 1.4 million units have been sold worldwide!
In 2018, the brand released a limited edition of its star: the Color Edition. Missing the opportunity to buy a colorful Ledger Nano S in 2018? Good news ! This special collection has just been expanded. The Nano S keys are again available in the following 5 new colors:
Saffron yellow;
Pink flamingo;
Jade green;
Blue Lagoon;
Transparent.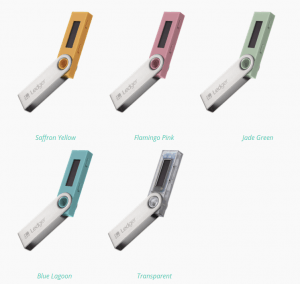 Why use a physical crypto wallet?
There are different ways to store cryptocurrency. In particular, there are two types of crypto wallets:
Hot Wallet is an online cryptocurrency wallet;
Cold Wallet is a standalone crypto wallet.
However, you should be aware that the security of a cryptographic store is essentially based on the private key associated with the crypto address. In short, the person who owns the private key owns the cryptocurrency.
In the case of online storage, your crypto wallet is by definition connected to the Internet. Therefore, your private keys stored on the platform can be compromised. Conversely, a cold wallet stores your private keys offline. This way, your cryptocurrencies are better protected because they are protected from cyber attacks.
This is why it is recommended that you never leave large amounts of cryptocurrency online. It is much safer to store them on a hardware wallet like the Ledger Nano S.
Why Trust the Ledger Nano S?
The Nano S is a reference wallet from Ledger. Among the advantages of the Ledger Nano S are the following:
Compatible with over 700 cryptocurrencies;
Buying, trading and staking cryptocurrencies through one interface;
Ease of use;
Very affordable price;
Unbeatable value for money.
Read our article to learn more about the value of securing your cryptocurrencies with a hard wallet like the Ledger Nano S.
3 reasons to buy a Ledger Nano S Color
Aside from the inherent quality of the model, there are at least three reasons to fall in love with the colored version of the Ledger Nano S.
To separate angles on different Nano S
If you are investing in multiple cryptocurrencies, the colors allow you to split your coins into different Ledger Nano S. Thus, you can allocate each Nano S key to hold one or two cryptocurrencies. For example, you can store Bitcoins and Litecoins on the Nano S Flamingo Pink and send your ETH and SOL to the Nano S Blue Lagoon. You will then be able to differentiate your devices in no time, making your job easier.
For maximum security of your storage
Plus, it's always safer to have two cloned hardware wallets that are strictly identical (except for the color, of course!). For example, you can leave one key at home and keep the other close at hand for use outside the home. If ever one of your physical wallets is lost or stolen, you can respond as quickly as possible. Your second Nano S then serves as a backup for immediate access to your stored cryptocurrencies.
Because the Ledger Nano S Color is really beautiful!
And finally, the third advantage of the colored Ledger Nano S is simply that it is … beautiful! Yes, not because we are developing in the world of cryptocurrency, we should neglect style and elegance – two qualities that the Nano S Color definitely lacks. Nano S Color is delicate and charming. So, whether you are a beginner or an experienced one, add some color to your crypto space!
Don't miss the limited edition this time. Hurry up to buy a Ledger Nano S Color before it's too late!